HFM Review Overall
HFM (former Hotforex) or HF Markets represents a world-renowned CFD broker regulated by high trust FCA (UK Financial Conduct Authority), CySEC, FSC, and DFSA. With more than 2 million accounts, a minimum deposit of $5, and excellent support, HFM offers trading assets such as forex, stocks, commodities, and ETFs.

Additionally, HFM has an excellent forex affiliate program.
RANK 99

10 types of trading products
Various deposit and withdrawal options
Zero spreads offer
Excellent support




100% bonus
This HFM Review represents a high score (99 from 100), one well-organized brokerage company with exceptional communication, payment options, and speed. This broker is well regulated and made considerable improvements in all service areas in the last ten years. Forex.in.rs evaluation rates this broker as the best broker in the market.
HF Group forex (HF Markets Group) consists of the following branches:
HF Markets Fintech Services Ltd (headquarters) is registered in Cyprus.
HF Markets (SV) Ltd is registered in St. Vincent and the Grenadines.
HF Markets SA (PTY) Ltd is registered in Johannesburg, South Africa.
HF Markets (Seychelles) Ltd is registered in the Republic of Seychelles.
The trading bonus can use only non-European Union residents. Therefore, potential EU clients can not use forex or any CFD bonus. However, other broker promotions are usually available for all clients.
HFM broker is the highest-rated broker on our best forex brokers list. See our review:
Who owns HFM?
The HFM brand was founded in 2010 by the HF Markets group. St Vincent.
Where is HFM based? The head office is located in Cyprus, while the other offices can also be found in Grenadines, St Vincent, and Kingston.
Visit HFM. Get forex bonus!
How does HFM work?
HFM (former Hotforex) works on the ENC/STP model, implying that the trades are passed through third-party liquidity providers to ensure no conflict of interest with the clients and lower spreads. So, is HFM an ECN broker? HFM is an ECN broker and STP. HFM is a company that has won many awards for providing excellent brokerage services to people investing in CFD and forex trading. This brokerage firm claims to serve more than one million people from various countries trading in bonds, cryptos, indices, currency pairs, and commodities.
Is HFM a regulated broker?
Though regulatory laws and best safety practices protect forex traders' investors, some brokers still provide their clients with additional protection through their regulations.
In South Africa, HF Markets SA PTY is regulated under authorization number 46632 by FSCA or the Authority of Financial Sector Conduct (visit our HFM review, South Africa)
In Cyprus, European HF Markets Ltd. with license no; 183/12 is regulated by CySEC or the Cyprus Securities and Exchange Commission.
In the UK, HK Markets Ltd is regulated under reference no. 801701 by FCA or the Financial Conduct Authority. You can use this reference number to get details about their compliance with regulations.
HK Markets Ltd is controlled under license no F004885 by DFSA or Dubai Financial Services Authority in Dubai.
You can get information in this regard from this office. In the Mauritius Republic, HF Markets Ltd is regulated under license number 094286/GBL by FSC or the Financial Service Commission.
In Seychelles, HK Markets Ltd, license number SD015, is regulated by FSA or the Financial Services Authority. HFM belongs to one of the high leverage brokers in Seychelles.
In the Grenadines and St. Vincent, HF Markets Ltd was incorporated 2015 under registration number 22747 IBC.
Segregation of Client's Funds: HFM uses segregated accounts of Major Bank to maintain and ensure its clients' funds; in the upcoming years, it will become bankrupt.KYC: To check financial crimes like money, laundering, etc., it has been made mandatory for every client to submit proof of address and their legal existence. Protection of website: They have used SSL or Secured Socket Layer to protect their trading platforms and website of HFM from securing data encryption during online transactions. Insurance: To protect HFM from fraud, negligence, and errors, they have an insurance policy for 5,000,000 euros. Compensation scheme for investors: HFM has offered a compensation scheme via FCA for 50,000 GBP and CySEC for EUR 20,000 to its clients.
HFM-restricted countries list
Afghanistan
Belgium
Bosnia and Herzegovina
Burma
Canada
Cuba
Cyprus
Democratic People's Republic of Korea (DPRK)
Eritrea
Guinea
Haiti
Iran
Iraq
Kosovo
Liberia
Libya
Mauritius
Myanmar
North Korea
Northern Marianna Islands
Palestine Occupied Territory
Puerto Rico
Saint Vincent and the Grenadines
Sierra Leone
Somalia
Sudan
Syria
Turkish Republic of Northern Cyprus
USA
Vanuatu
Yemen
Is HFM a market maker? HFM is a regulated broker with a market maker license and sometimes acts as a market maker.
HFM is a regulated broker that verifies all live account clients, and in the HFM platform, each client can upload documents.

Thus, HFM regulation HK Markets Ltd, the parent company of HFM, has provided additional protection to its clients. Although various regulatory laws in different countries regulate HK Markets Ltd, it still offers extra security to its clients using the latest protection systems.
HFM regulations implemented by HF Markets Ltd to provide enough protection to its customers include:
Flexible trading conditions in the platform
Tight spot with as low as zero pips
It offers multilingual customer support.
There are multiple regulations in various parts of the world.
HFM Dashboard – rich and excellent user experience!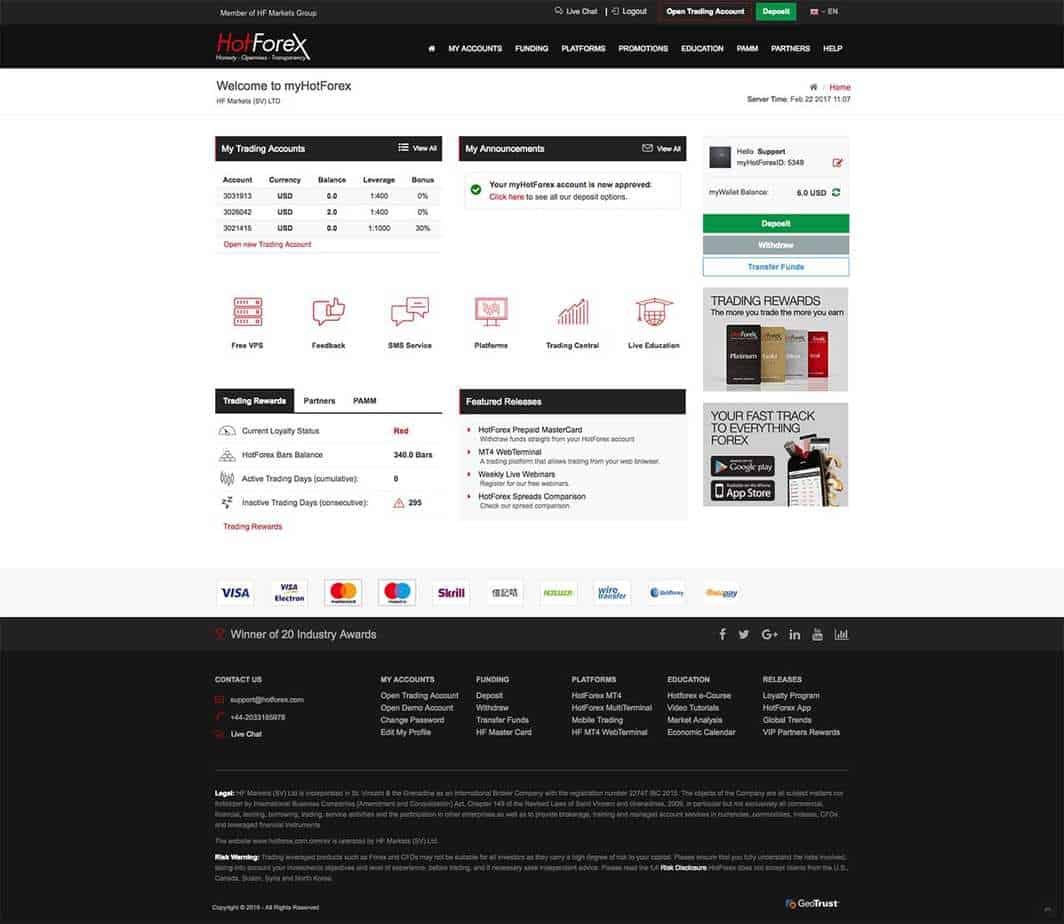 How to open an HFM live account?
If you want to open an HFM live account, please register using the link below:

HFM trading platforms
HFM platforms are MT4 desktop, Multiterminal, MT5, MT4 web terminal, iPad trader, iPhone trader, and Android.
HFM (former HotForex )provides the most reliable trading software, including the MT4 platform and Meta Trader 5, which offers the latest technology and tools to make trading more efficient. It also provides excellent trader tools, a traders board for analysis, VPS hosting, and Autochartist. MT4 and MT5 are compatible with web terminals and desktop versions, making it easy to manage multiple accounts. In addition, it allows traders to copy and trade the PAMM technology, which can be very useful for beginners. Therefore, this is an all-inclusive trading platform that allows all the traders to be the beneficiaries of the tools that will help them advance in their trading.
See the video about the HFM PAMM account :

The next benefit of the MT4 & MT5 mobile app is complete account management. Total account management is one of the main advantages of cellular service. Many traders enjoy this benefit as it lets them stay focused and on track with their trading goals. Order history is another component offered through the application. Order history is the best way to stay organized and prepared for the next trade, combined with account management. It is vital for traders to always stay current on trends, patterns, and market values. The mobile app also offers chart analyses. Chart analyses help traders make decisions quicker regarding the status of the market at any given time.
The last main benefit of the mobile platform is utilizing 20 different indicators and multiple time frames. With more than 20 symbols, traders have constant access to the information to make the best decision. All of these benefits are included in HotForex's services. The MT4 & MT5 version is the most reviewed and celebrated in the service. Many traders have experienced success through the mobile application and recommend it to those beginning to work with the forex market. Traders need to review their experience with new applications that help make the process of traditional trading simpler while on the go. With many different countries, time zones, and business deals, traders can stay on top of all the latest trends with one click.
Visit HFM. Get forex bonus!

How to find HFM on MT4?
HFM offers MT4 and MT5 platforms, and clients can download media from the website. See the video on How to install HFM Metatrader.
HotForex provides clients with the MT4 & MT5 trading mobile platform. This ensures no downloads are required for the client. HotForex is guaranteed to run on all operating systems with all devices. The MT4 & MT5 are certified downloadable options. This means that clients can access them on their desktop version. HotForex MT5 is available on Windows PC as well as Apple Mac. The MT4 version is available on Linux, Windows, and MAC. HotForex offers trading platforms for their clients with unique benefits to enhance their experience. The platform also provides free options. Offering a mobile opportunity is one of the most efficient methods for catering to younger traders in the industry. See the video on how to download and install the HFM MT4 platform.
Of course, if you need to know the IP of HFM Servers, you can read the list on our website.
The HotForex platform can be used on iPhones with the app store's official mobile device. This is one of the best ways for traders to work on the go. Some of the basic features of the MT4 app include one-click trading. One-click trading enables traders to complete a deal from anywhere in the world, at any time, with one click. This is one of the most efficient methods for keeping traders engaged and interested in the market, even when busy schedules. In addition to one-click trading, HotForex MT4 mobile app also offers real-time quotes and market overview prices. These two features are paired hand in hand. Real-time quotes ensure that traders access the most relevant and current information. The market overview price can help traders make their final decision.
How to use HFM?
HFM can be used for demo trading on the MetaTrader platform, live trading on the MT4 platform, HF Copy, and PAMM trading. Clients must register,  choose one of the trading accounts, deposit money, and trade on various platforms.
Does hotforex allow hedging? HFM allows hedging on all accounts as a regulated broker outside the US.
Does hotforex accept US clients? HFM does not get US clients. HFM is a regulated broker that doesn't take US clients under any circumstances.

How many forex accounts can you have at HFM broker? The unlimited number of live performances.

HFM Trading Accounts specifications
Read how to open the HFM account. HFM has covered most of the financial markets by providing different trading accounts. This is part of offering a diverse product portfolio because everyone has his preference, and the company is trying to accommodate various user needs by providing multiple trading platforms. To open an account, you must deposit a minimum of $5, whereas the maximum leverage is 1:1000.
How to change leverage on HFM? If you want to change leverage on HFM, log in to the HFM members area, select the accounts section, and an option, Actions change leverage level.
Trading accounts types are :
HFM Demo account
Any account you open with an HFM market allows for a demo account. The good thing with such a statement is that it is not limited to a trial period; hence you can have up to 3 accounts. You will have access to real trading conditions under the MT4 trading platform. Read how to open the HFM demo account and hotforex live account.
HFM Micro account
This account is available to traders in FSCA, SV, and CYSEC areas. The leverage depends on your location. For instance, a limit of 1:1000 is for those under FSCA and SV, while those in the EU will have a limit of 1:30. Trading platforms may also differ depending on the area.MT5 is accessible to FSCA and SV.

HFM Zero account
Every trader with a zero account on the HFM market will benefit from the variable spread, which begins with 0 pips. It has no markups and is available under FCA, DFSA, CYSEC, and FSCA. EU holds leverage of 1:30, and those under DFSA are 1:50. For FSCA and SV, the zero accounts have the advantage of 1:500.
HFM VIP trading account

This is similar to zero accounts but is gas more benefits. It is available for those trading under DFSA. The good thing about this account is that you can contact your HFM manager directly. However, you will be required to deposit up to $20,000 though it has no markups, and the variable spread starts at 0 pips. The maximum leverage is 1:50.
Trading a VIP account usually implies trading with exceptional benefits. VIP traders typically get a low spread, better execution of trades, personal manager, and special trading conditions.

HFM Auto account
This account is available for both FSCA and SV regulations. With this account, you can access leverage of up to 1:500. The availability of the trading platforms also depends on your location.
HFM Fixed Account
This account was available to SV traders with fixed traders, requiring a minimum $500 deposit. Its leverage is up to 1:400 (none EU clients). However, this type of account is no longer available.
HFM Islamic account
If any position is held overnight, swap or rollover fees are not charged for this account. This option is available in Auto, Micro, Premium, and Zero accounts.
HF Copy Account
To some extent, the HF Copy account is between a pamm account and an auto account. Here, there can be both providers and receivers. For example, providers will sell their trading signals, and receivers will be interested in copying/buying others' trades. As a provider, the minimum initial deposit amount is $500, and it's $100 for a receiver. Here, the max leverage is 1:400. This account is allowed to trade on the following instruments: Bitcoin, Forex, and Gold.
What is The Program HFCopy?
HF Copy or Copy HFM Signals is a mirror trading platform where traders can copy trades from other trading experts. Each trade is a visible MetaTrader platform, and traders can set risk and trading size and remove signals at any time.
The tool and account HotForex HFCopy can be accessed easily through browsers letting traders work and unite together like allies and help you in eventually mastering the market. This platform is a solution for investors – the platform will copy HFM positions from expert traders. So if you're a highly professional and experienced trader, you can quickly become a strategy provider while showcasing your knowledge and expertise in trading while charging a performance fee of more than 35%.
However, when your main focus is on the outcome, and you won't depend on trading strategies, it's essential to be a follower in such a case. In such a way, you can easily copy the system from a strategy provider while paying more than 35% for the included services. Beginner traders who know the scenario's ins and outs can become followers.
Investment with HFCopy is just as simple as creating an account that you can easily control. You can simply withdraw funds, deposit, and close trades according to your requirements.
Visit HFM. Get forex bonus!
How does HFCopy work? New to Forex trading can sign up as HotForex HFCopy Follower and use seasoned traders' experience. You can simply follow a strategy provider like copy strategy and pay the total fee.
You would also get entre account access for monitoring close positions, withdrawing profits, trades, setting Rescue Volume and Level Percentage Allocation, etc.
On the other hand, smart and experienced traders can select to become Strategy Providers. You have to register as a Strategy Provider while creating a HotForex account in such a case.
Advantages of Becoming a Follower (Investor)
Being a follower, you surpass the complexities of trading strategies in the Forex market, and others would do the work for you. Various benefits are associated, such as:
Control of trades at any time. Deciding on how much you're risking. Unfollow whenever you want. You can set your level for rescue and withdraw your finances anytime.
Advantages of Joining as a Strategy Provider (Becoming Professional Trader)
People with rich Forex trading expertise can open strategy provider accounts while getting a lot of benefits such as:
A performance fee of more than 35% monthly Payments showing off trading knowledge and expertise. Make the best of automated calculations. Have three strategy Forex accounts.
Upon joining as a Forex Strategy Provider in HFCopy, your work would formulate the best Forex trading strategies for self and your followers. For details and numbers, you can rely on the automated calculation of HotForex HFCopy. This calculates followers' Rescue Level, Volume Allocation, and other vital data.
How To Receive HFM Bonus?
HFM Bonus is available only for non-EU clients.
HFM has a bunch of promotions, and bonus offers, such as a loyalty program, a 100% supper charged bonus (minimum deposit to avail this bonus must be $250), a 30% rescue bonus (minimum deposit to avail this bonus must be $50), and 100% credit bonus (minimum deposit to avail this bonus must be $100). Additionally, the platform arranges various trading contests from time to time.
When you make a deposit, you will receive the best bonus of 100% of either credit bonus or cash bonus, which doubles what you had in your trading account. HFM is among the few forex brokers that offer exceptional trading conditions and gifts, which are helpful for the trader.
HFM contests

HFM consistently organizes contests for traders to win certain items, including cash prizes.
Some of the contests to be organized soon include:
Gadget Giveaway contest by HFM: A trader is given a free Bluetooth speaker, tablet, or another gadget every month.
2020 Traders Awards: The successful trader will be awarded monthly with a reward of $1,000, entry to the Hall of Fame of HFM, and an obelisk.
Demo Contest: Three monthly rewards of $2,000, $1,000, and $500 are given to 3 top gainers of demo accounts.
Merchandise of HFM: Certain merchandise branded with HFM, including bags, T-shirts, coffee mugs, caps, umbrellas, etc., is accessible to the traders.
For Partners, HFM offers excellent contests where the main goal is to bring many clients, new deposits, and significant cash flow. One of the most famous contests was the HFM VIP contest.
HFM VIP contest was the contest (before COVID-19) where the main goal was to bring as many new clients, large deposits, and significant cash flow so the winners could get substantial prizes (up to $10 000). The first prize was a plane trip to Cyprus and first-class hotel accommodation.
HFM deposit and withdrawal
HFM Withdrawal methods (and deposit) are:
Bank wire transfer takes two to ten days depending on the banks involved; the minimum amount is $100, and there is no maximum.
Master, Maestro, and Visa cards: The minimum amount for deposit is $5, while the maximum deposit is $7500 for MasterCard and $10,000 for Visa/Maestro cards. Typically deposits are processed immediately, yet may sometimes take up to ten minutes. Withdrawal processing with taking two to ten business days
China UnionPay: The minimum deposit is $50, while the maximum is $8000. Processing of deposits will take up to 24 hours, while withdrawals may take two to five business days.
BitPay: The minor bitcoin deposit accepted is $5, while the maximum deposit is $10,000. It may take up to ten minutes to process, while the withdrawal time is one to 3 working days.
Neteller: The minimum and maximum deposits are $5 and $50,000, respectively; all transactions are processed immediately
Skrill: The minimum and maximum deposits are $5 and $50,000, respectively; all transactions are processed immediately
WebMoney: The minimum and maximum deposits are $5 and $50,000, respectively; all transactions are processed immediately
Fasapay: It processes transactions immediately, with the smallest deposit of $5, a maximum deposit of $5000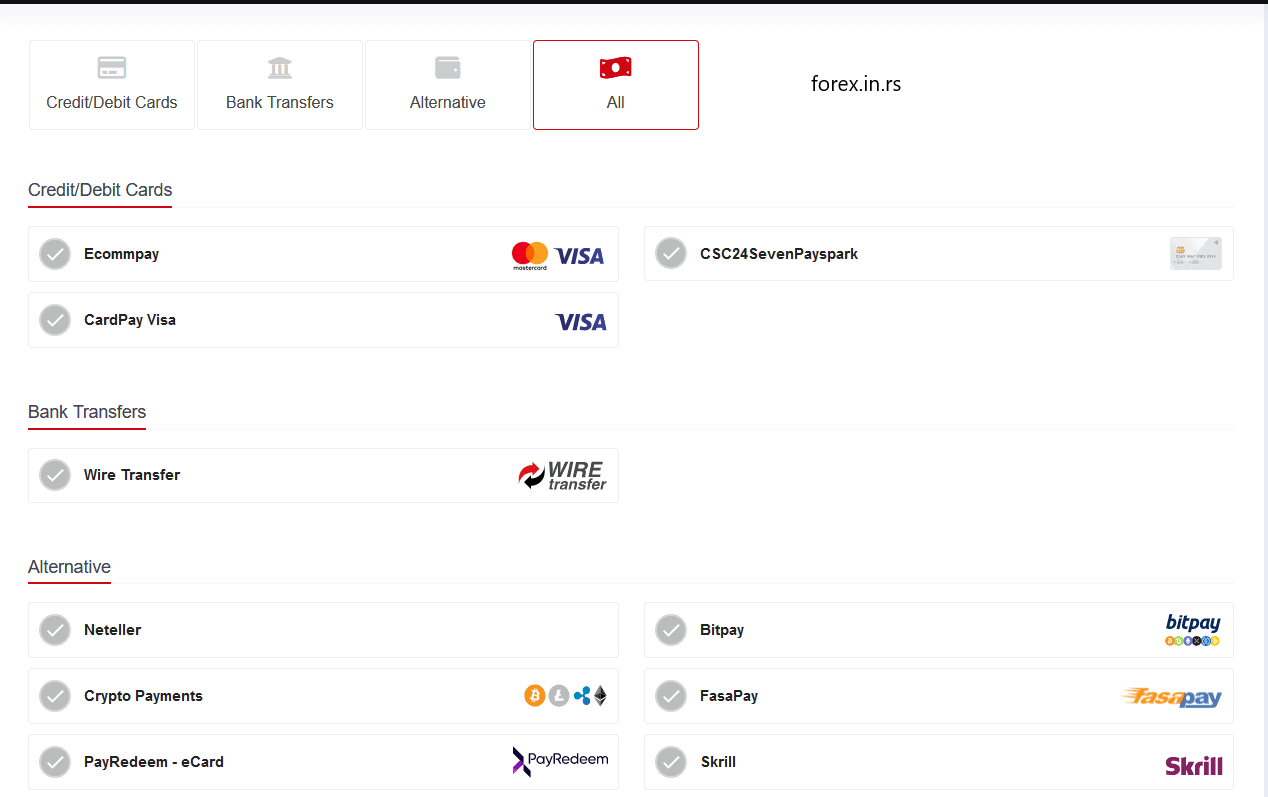 HFM has confirmed that all the funds and payment gateways are safe. No funds with forex are reported lost or stolen. Multiple options like e-wallet payment, credit or debit card, and bank transfers are accepted for withdrawals and deposits.
HFM withdrawal fees
There are no withdrawal fees for all withdrawal methods at HFM broker except Bitpay, where the fee is 1%. However, HFM does not charge for bank wire transactions. Correspondent and receiving banks may charge according to their fee structure.
No fee is charged for deposits and withdrawals, and most transactions will be processed within ten minutes. Processing withdrawals takes 24 hours, and the payment processor may charge a fee. The withdrawal method should be the same as the deposit method. Transactions by third parties are prohibited. All withdrawals should be submitted before 10 am if processed on the same day. The payment and deposit methods are listed below.
Deposits can be made through e-wallets, online payment processors, Bank transfers, and credit cards. Traders also have access to instant withdrawals and deposits. The platform accepts different withdrawal and deposit methods like Mastercard, Visa, Bitcoin, Wire transfer, Union Pay, Fastpay, Neteller, Webmoney, and Skrill. (Payments providers are: Astrobank Limited, BG? BNP Paribas SA, CSC24 Seven.com, Eurobank Ergasias A.E., Eurobank Cyprus Ltd, Ecommpay (Ecommpay Mauritius regulated by FCA), Neteller, Safecharge, Skrill, TrustPay.)
HFM Card
How to get an HFM card?
The HotForex Spark debit card allows its owners to use their funds for shopping or ATM withdrawals. All you have to do is to become an HFM client and transfer money from the MyHFM balance to the HotForex debit Spark card balance, and you can instantly use it everywhere Mastercard is accepted.
HotForex Instruments
The platform currently accepts more than 150 types of instruments. Moreover, more than fifty types of currency pairs can be traded too. For example, you can start selling with HFM on the following tools: Cryptocurrencies, Indices, Metals, Energies, Shares, Bonds, and Commodities. This platform will be pretty apt if you prefer to try many different options.
HotForex is a top award-winning platform for forex trading. They are known as one of the most reputable forex brokers online. HotForex serves as a commodities broker as well. They provide extensive trading services and facilities for institutional customers and retail customers. They have received many positive reviews from past clients and positive feedback from the forex market. Their main goal is to provide clients with a range of options for trading. They offer their trading instruments (also known as products) to clients. HFM offers its clients more currency pair options, allowing them to rapidly grow and expand their portfolios.
One of their main goals is continuously verifying their status as certified multi-asset brokers. HotForex is recognized as a successful multi-asset broker for its broad range of clientele. It is also important to note that their trading instruments are continually expanding and growing as the company advances. This means more and more opportunities for clients to benefit from and experience.
Some of the main assets used on HotForex are cryptocurrencies, metals, forex, commodities, and bonds. These are some of the main elements that help make up their clients' services. Clients can utilize HotForex for various reasons, from trading Bitcoin to trading gold. Some of the most popular cryptocurrencies traded on the market include Ethereum, Litecoin, and more. It is also important to note that HotForex provides top trading conditions for all spot metals without extra fees. Typically there are forex fees associated with trading gold and silver. HotForex offers spot metals in both USD and EUR. The margins are as low as 1% for gold and silver. This is a primary benefit when trading with HotForex. They are an award-winning platform with the skills ad experience to help clients receive the most out of their trades.
Some of the other most common trading instruments include oil. HotForex offers spot and futures contracts for the oil and gas sector. This is very important as many clients seek to invest in these industries. Some of the most common types are Brent and Crude oil. They offer clients small margins, which benefit them in overall trade and investment value.
Bonds are also an essential aspect of HotForex's service. Bonds are used for trading during different types of foreign transactions and exchanges. Bonds can be in USD, EUR, GBP, and more. The global economy utilizes bonds and trades them regularly. HotForex helps clients to understand how this process is accomplished. Trading bonds is a fundamental and widely-used financial instrument. Overall, the platform has pleased many clients and encouraged them to use the service repeatedly. It is essential to select a service that features the best the industry offers on one simple and convenient site.
Does HFM have NASDAQ? Does HotForex offer Nasdaq? HFM offers NASDAQ for all clients. HFM offers excellent trading conditions for the NASDAQ, Dow Jones, DAX, S&P 500, and indices. So, does HFM have nas100? HFM has a NAS100 index.
HFM spread
If you are now eager to start trading with HF, you must know clearly about their spread. According to this platform, their spread starts with one pip for all types of accounts (except zero). For none-ECN accounts like EUR/USD, the spread is 1.2 pip. For your quick reference, a spread table is given below.
AUD/USD – 1.5
EUR/JPY – 1.7
USD/JPY – 1.7
GBP/USD – 1.8
USD/CAD – 1.9
USD/CHF – 1.9
GBP/JPY – 3
HFM tools
Specific tools can be used with this platform for successful and profitable trading. For the clients, HFM offers some of the following tools to be used — Trade Terminal, Connect, Session Map, Sentiment Trader, Mini Terminal, Excel RTD, Correlation Matrix, Market Manager, Correlation Trader, MT4 & MT5 Indicator Package, Tick Chart Trader, and much more too.
Other tool/feature options for HF or HFM include an economic calendar, traders board, auto trading, one-click trading, multi-target calculator, pivot points calculator, and Fibonacci calculator.
HFM card was an excellent offer that this broker provided to clients. HotForex MasterCard prepaid card is not valid to offer anymore.
Visit HFM. Get forex bonus!
HFM Traders Education
HFM provides Forex educational content for traders of all levels of experience and investment. This educational material is available in the form of instructional videos and eBooks. Realizing that traders with less knowledge will require more assistance, HFM provides a comprehensive tutorial for those who have just started Forex trading. Some tutorials are also available for intermediate traders and experts in forex trading. A set containing ebooks and videos will be provided for the training course. The videos are produced professionally and have quality audio. The ebooks explain the various Forex terms, providing many illustrations for better understanding. Most users are delighted with the training provided by HFM.
Trading experience
Many Forex traders interested in using HFM would like to determine the HFM Trading Experience of the platform's existing users to decide accordingly. HFM claims it is suitable for all traders, from those who have just started trading to professional traders with many years of experience. HFM has selected a large number of assets for trading. Traders can choose from multiple trading platforms. The research information and reports provided are suitable for Forex traders.
For a better and more profitable Trading Experience for their clients, HFM offers many research tools, including news, analysis, market reviews, and technical reports. To help traders with an HFM account, HFM Research has a separate website https://analysis.hotforex.com with only research analysis-related information on the Forex market. This research section is managed by three forex experts who are employees of HFM. The website has many trading tools and offers Market News, daily market reviews, market outlook, and the economic calendar. Technical analysis, video analysis, special reports, and the economic calendar are also provided for reference.
The HFM App is a mobile app that provides trading, market news, and news analysis tools. In addition to HFM account management, it is possible to access live quotes using the app. The app can be used for all smartphones, like the iPhone and Android. The app features trading positions, calculators, traders' boards, advanced charting, and watch lists. Live webinars and daily market analyses can also be accessed. Traders can conveniently deposit and withdraw funds from their HotForex account using the app.
HFM support

HFM support offers phone support (+44-2030978571), live chat, and email support. Usually, there are several operators, and the service is speedy and professional.
A customer support facility is a crucial part of any business, Isn't it? For example, when you encounter specific problems and issues or have any queries, you must have the option of contacting support. The best part is that HFM has an outstanding customer support facility.
The customer support team is knowledgeable, prompt, and helpful. You can easily reach out to them via the live chat option. In this way, you should contact the customer assistance team if you have any queries or resolve any problems.
HFM live chat operates in several foreign languages. When clients use the live chat support (link from the top of the page), they will get a pop-up to choose the option with or without an HF account. Support service is professional and ready to open support tickets for advanced user problems.
Live chat can be done in different languages.
Phone customer support can be obtained at the client's residence by dialing +44 2033185978 or eight other numbers in China, Russia, Taiwan, Brazil, Indonesia, India, Turkey, and Nigeria. You can send your message at support@hotforex.com or eight other email addresses for different languages and departments through Email. You can meet the HFM support team through social media at Instagram.com/HotForex, Facebook.com/HotForex, LinkedIn.com/HotForex, Twitter.com/@HotForex_Broker, and YouTube.com/HotForex.You can also get customer support by filling the Contact Form available on the page Contact Us on the website of HFM.
The staff on the support desk is easy to contact and very helpful. The knowledgeable support assistants respond to your phone calls quickly. The social media channels are updated frequently to keep them active for many followers. The support assistants on Live Chat react in less than 20 seconds to initiate a chat.
Is HFM allowed in all countries?
HFM accepts clients mostly from all over the globe. But, there are a few territories where the platform is not allowed, such as Sudan, North Korea, Syria, and the US.
If you do not belong to any of these countries above, you can surely use HFM.

In Conclusion:
HotForex is a much more secure and well-equipped broker, suitable for new and experienced traders. They support over 1 million users and received numerous awards from different intuitions.
Visit HFM. Get forex bonus!