The RoboForex website provides all the information to help traders learn how to trade, their minimum deposits, and the fees charged. In addition, this Forex broker offers a demo account that can be used for practicing, and their multiple accounts can be used if you want to start investing in Forex trading.
RoboForex is a renowned forex broker that was established in 2009. It provides online trading services for various financial instruments, including currencies, stocks, indices, ETFs, commodities, and cryptocurrencies.
Regulation: RoboForex is regulated by the International Financial Services Commission (IFSC) of Belize, a reputed regulator but not as prestigious as the UK's Financial Conduct Authority (FCA) or the US's National Futures Association (NFA). It's essential to note that the level of client fund protection might vary depending on the regulatory environment.
Trading Platforms: RoboForex offers a variety of trading platforms, including MetaTrader 4, MetaTrader 5, cTrader, and its proprietary R Trader platform. This variety caters to different trading styles and preferences. These platforms are also available on mobile, allowing traders to manage their positions on the go.
Account Types: RoboForex provides a range of account types, including Prime, ECN, Pro-Standard, Pro-Cent, and R Trader. These different accounts cater to various kinds of traders, from beginners to experienced ones and those who prefer small or more significant volumes.
Spreads & Commissions: Spreads at RoboForex can be competitive, particularly for Prime and ECN accounts, where spreads start from 0 pips. However, commission charges apply to these accounts. On the other hand, standard reports offer spaces beginning from 1.3 pips with no commission, which is relatively competitive.
Deposit/Withdrawal: RoboForex provides a variety of methods for depositing and withdrawing funds, including bank wire, credit/debit cards, and several e-wallets. As of my last update, RoboForex didn't charge for deposits or withdrawals, but the payment processors might.
Customer Service: RoboForex offers 24/7 customer support, uncommon among Forex brokers. They provide support via live chat, phone, and email and have a reputation for being responsive and helpful.
Education and Research: RoboForex offers a variety of educational materials, such as video tutorials, webinars, and articles about forex trading. They also provide analytical tools for market research, including free technical analysis, signals, and an economic calendar.
Safety: The broker has a membership with the Financial Commission, an international organization that resolves disputes within the financial services industry. Moreover, they provide Negative Balance Protection to their clients.
RoboForex Advantages
Flexible Account Currencies: The availability of multiple account currencies, including traditional currencies like USD and EUR, precious metals such as GOLD, and popular cryptocurrencies like BTC, ETH, and USDT, allows traders to diversify their portfolios and hedge against currency volatility. This feature is also handy for international clients wanting to hold their balances in a specific currency.
Low Minimum Deposit: A minimum deposit of only $10 makes the platform accessible for beginners and small-scale traders. This low barrier to entry can encourage newcomers to start trading without the need for significant capital.
High Leverage: The offered Leverage of up to 1:2000 is relatively high, which can significantly increase the potential for profits. However, it's important to note that higher Leverage also means higher risk.
Competitive Spreads: RoboForex offers floating spreads starting from 0 pips. Lower spreads can lead to reduced trading costs.
Wide Range of Trading Instruments: Traders can access various instruments, including Forex pairs, ETFs, index CFDs, oil CFDs, CFDs on European and U.S. stocks, cryptocurrency CFDs, and real securities. This diversity allows traders to diversify their investment portfolios.
Flexible Margin Call / Stop Out Levels: With different levels of margin call and stop out (40%/10% to 60%/40%), traders can choose a risk level that suits their trading strategy.
CopyFx Investment Program: This program allows novice traders to copy more experienced traders' trades, potentially improving their trading outcomes.
Affiliate Program: RoboForex offers high affiliate payments, with up to 84% of the fee paid by the referral. This could be a substantial additional income for active members who can refer other traders to the platform.
STP and ECN Market Execution: Straight Through Processing (STP) and Electronic Communication Networks (ECN) ensure faster, more efficient, and transparent trade execution.
Instant Withdrawal of Funds: The ability to instantly withdraw funds provides convenience and ensures liquidity for traders.
RoboForex regulation
RoboForex Ltd holds a special brokerage license (number 000138/437) under Belize's Financial Services Commission (FSC). This license allows RoboForex to trade in financial and commodity-based derivative instruments and other securities.
The FSC is the primary financial regulator in Belize, an independent nation in Central America. It's a well-established body that supervises and regulates the financial services market. The FSC operates under the Ministry of Belize Securities and the Financial Services Commission Act (FSC Act) auspices.
As a regulator, the FSC ensures that the financial markets operate effectively, transparently, and reliably. Accordingly, the FSC enforces strict regulations on financial services providers, including forex brokers like RoboForex. These regulations are designed to promote fair and efficient market practices, protect consumers, and reduce the risk of financial fraud and misconduct.
The FSC achieves these goals by regularly overseeing licensed entities and taking enforcement action when necessary. This includes issuing licenses, monitoring the activities of authorized entities, and ensuring that they adhere to the rules and regulations stipulated in the FSC Act.
The FSC also ensures that only the most reliable and socially responsible companies receive licenses to operate in Belize and beyond. To maintain its support, RoboForex must demonstrate a commitment to working responsibly, transparently, and efficiently and to adhere to all relevant regulations and guidelines.
However, it's important to note that while the FSC is a legitimate financial regulator, it is not considered as stringent or prestigious as other financial regulatory bodies, such as the UK's Financial Conduct Authority (FCA) or the US's National Futures Association (NFA). These bodies often require higher capital adequacy levels and offer more extensive customer protection measures.
Roboforex Prime account
RoboForex Prime accounts are trading account offered by RoboForex that provides traders with more advanced features and competitive conditions than their standard accounts. Here are some critical elements of the Prime account:
Maximum Leverage: Prime accounts offer a maximum leverage of up to 1:300. Leverage in forex trading is a tool traders use to increase their market exposure, meaning they can control a more prominent position with a smaller amount of capital. A leverage ratio of 1:300 means for every $1 in their account, traders can trade up to $300 in the forex market. It's important to note that while Leverage can amplify profits, it can also magnify losses.
Low Commission: The commission for the trading volume of 1 million USD is reduced to 10 USD in Prime accounts. This means that for every 1 million USD traded, the trader only needs to pay a commission of 10 USD. This is a very competitive rate and beneficial for high-volume traders.
No Minimum Deposit: There's no minimum deposit requirement for the Prime accounts, which means traders can start trading with any amount they prefer. This can benefit beginner traders or those with smaller amounts of capital.
Trading Conditions: Prime account users typically have access to better trading conditions, including tighter spreads. This can make trading more cost-effective and allow traders to maximize their profits.
Access to Assets: Prime accounts often offer a more comprehensive range of tradable assets, including forex pairs, stocks, indices, commodities, and cryptocurrencies. This allows traders to diversify their portfolios and spread their risk.
Remember, while these features make the Prime account attractive, it's essential for traders to understand their personal risk tolerance and trading objectives. Trading in forex and other leveraged products involves a significant risk of loss, and it's possible to lose more than your initial investment. As such, it's essential to understand the risks and have appropriate risk management strategies.
You can get a $30 free bonus if you Deposit at least 10 USD to your account!
Roboforex deposit and withdrawal payment methods
RoboForex offers the following deposit and withdrawal plans:
Bank Transfer: This is a traditional method of transferring money from your bank account to your trading account. It's secure, but the funds can appear in your trading account for several days.
Credit/Debit Cards: RoboForex accepts major credit and debit cards, including Visa and MasterCard. This is one of the quickest and most convenient deposit methods.
Electronic Wallets: RoboForex accepts a variety of e-wallets, which offer fast and convenient deposits and withdrawals. These may include:

Neteller
WebMoney
Qiwi
Perfect Money
FasaPay
ePayments

Cryptocurrencies: RoboForex also allows deposits and withdrawals in specific cryptocurrencies, such as Bitcoin and Ethereum.
Online Payment Systems: Some other online payment systems like POLi, Trustly, and Rapid Transfer were also supported.
Prepaid Cards: RoboForex also accepts prepaid cards like Paysafecard.
Please see a screenshot from my personal trading account, where you can see the deposit page: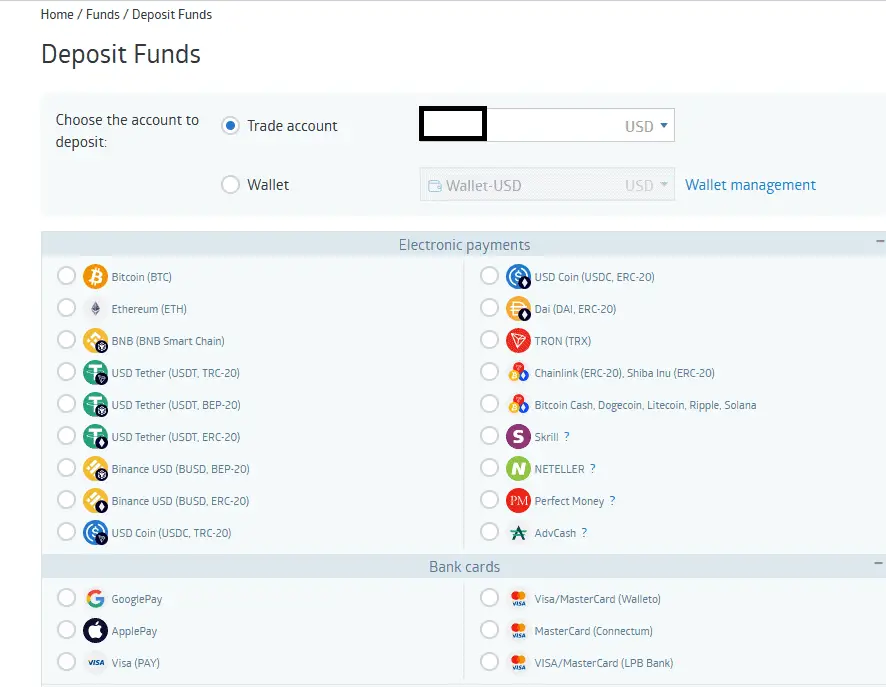 Here is a list of tools and educational resources provided by RoboForex:
Roboforex Trading Tools
Economic Calendar: This tool provides information about upcoming economic events that could impact the financial markets.
Forex Calculators: Traders can use this calculator to determine various trading parameters, such as margin, pip value, and swap.
Technical Analysis: RoboForex provides specialized tools for traders to analyze price trends and identify potential trading opportunities.
Trading Signals: RoboForex provides trading signals suggestions for entering a trade on a currency pair at a specific price and time.
CopyFX Platform: This is a social trading platform where traders can copy the trades of successful investors.
R Trader Strategy Builder: This tool allows traders to create and test their automated trading strategies.
Roboforex Educational Resources
Forex Education: RoboForex offers a range of educational materials designed to help beginners understand the basics of forex trading.
Webinars: RoboForex conducts webinars on various topics related to forex trading.
Tutorials: RoboForex provides video tutorials on using their trading platforms and other trading-related topics.
FAQs and Help Center: A detailed section where traders can find answers to common questions about trading with RoboForex.
Glossary: A list of trading-related terms and their definitions.
Free eBooks: RoboForex offers free eBooks that cover a range of trading topics.
Blog and Articles: RoboForex regularly posts articles on various trading-related topics.
Visit RoboForex:
VISIT ROBOFOREX
And get free bonus:
Please visit more best forex brokers: