AvaTrade is a company that was launched in the year 2006 as a CFDs and online forex broker based in Ireland, Dublin. Avatrade's slogan is the best forex trading experience. So Avatrade experience is the most important advantage of this forex broker. The company specializes in providing services of trade for commodities, market indices, bonds, Bitcoin, equities, and Exchange Traded Funds. Since the establishment of AvaTrade (avatrade.com), the company has rapidly expanded to serve almost 210,000 accounts worldwide. The company executes over two million transactions monthly. It always goes beyond the mark of $60 billion in total value. In this AvaTrade forex review, we can see that Avatrade is a company with a focus that is customer-oriented and a strong financial background which enables it to give its customers a full range of products and services. This is evident from the diverse platforms of trading that AvaTrade avails and has gained support from global support staff available in five days a week. Apart from the main centers in Ireland and Dublin, the company also operates other offices is some countries' big cities like South Africa, Tokyo, Sidney, Nigeria, Milan, Ulaanbaatar, and Paris. In this Avatrade Review, we will now analyze the main characteristics of this broker.
AvaTrade Regulations
In 2020., Avatrade won the prize for the Most Regulated Broker.
The company is regulated by Ireland's Central Bank with other regulators that are well known including the Financial Services Commission and Australian Investments and Securities. The company is regulated tightly in areas like Japan with a number of agencies like Japan's Commodities Future Association, Japan's Financial Future Association and the Financial Services Agency. The broker has been able to meet the requirements of the regulatory agencies and other trading requirements since it was a beginner until now it is a trader that is experienced.
Regulation list :
• The Central Bank of Ireland, (Reference No.: C53877) Avatrade EU Limited
• Japan's Financial Services Commission – the Financial Futures Association of Japan (License No.: 1574).
• Australia's ASIC – Australian Securities & Investments Commission (License No.: 406684)
• Worldwide – British Virgin Islands Financial Services Commission
AvaTrade USA – Avatrade is not regulated in the USA.
Below is promotion Avatrade video – Avatrade trade with confidence
AvaTrade Reliability
Reliability is among the biggest concerns of traders concerning a broker. This can be associated with the fact that the online industry of trading has been associated with scam traders for many years. Mostly, traders that are beginners are normally very careful to ensure that the broker whom they are being associated with is reliable and legitimate. For this broker, reliability is not a concern for traders anymore. AvaTrade is a broker which has been operating for more than ten years and therefore has established a good reputation in the online community of trading as a broker that is reliable and one with integrity. Also, the broker is regulated and authorized and complies with even the regulatory requirements that are the strictest. The broker is also in a position to offer its traders an environment that is regulated and safe which they trade with peace. The company specifically has authorizations and licenses from Jurisdictions like Japan, Australia, South Africa, the European Union, and the British Virgin Islands. AvaTrade has won various recognition awards since the year 2009 for its reliable record and its achievements. Best Customer Support, Best Financial Trading provider, Best Forex Trader, and Best Alert System are just but a few of its awards since the year 2009.
AvaTrade Platforms of Trading
AvaTrade has made available several platforms of trading for its customers and this makes it the most attractive thing about the broker. The company's customers have got a total of eight platforms of trading to select from. The broker has the MetaTrader platform for mobile trading, Mac, Floating spreads, web trading and MetaTrader 4. The other platforms are automated trading platform and the AvaTradeAct platform.
AvaTrade platform download
The platforms are also available for mobile phone devices. The broker supports the technology of iOS and Android as well. The customers or traders have a choice of between AvaTradeAct and MetaTrader platforms. For it to be suitable for beginners also, the broker provides automated trading which provides tools that can assist in improving the profitability of trading for the beginners. Those traders that do not have experience in trading can get platforms with automated trading to be helpful since they enable them to mirror or copy those trades that have been done by traders that are experienced. This is also helpful in boosting the level of confidence of the beginners making them engage more in trading activities.


Mirror trader Avatrade
AvatradeGO is a trading tool for mobile trading that is highly customizable and simple which enables traders to make automatic trades as per the style that they prefer. For Mirror Trader, the client is in a position to mimic the transitions of traders that are experienced even without access to the computer. The tool allows users to select the amount of trading to be automated and the one to control manually. Zulutrade enables clients to convert recommendations of the traders that are experienced automatically into dreading decisions. MQL5 signal service enables a user to have access to one of the biggest communities of auto trading. It is an account that is given for free and allows a trader to copy from several signal providers globally after subscription. API trading is for those clients with strong skills in programming whereby they can develop their own customized solutions of trading and link them to the platform of AvaTrader securely.
MetaTrader – MetaTrader 4 is one of the most widely used trading platforms in the world. It is specially designed for a trader's workplace enabling trading in most currencies and financial markets. It offers all the essential tools for analyzing price variations in different types of financial instruments. You can also use it for creating and using regular trading programs. Visit broker and download platform: Avatrade mt4 download
AvaTrade investment
Using Avatrade platform traders and clients can invest in the things they care about.See video "Invest In The Things You Love with AvaTrade":

Avatrade signals – Mirror trader Avatrade – Zulutrade and DupliTrade
Avatrade provides signals to clients in several ways. Clients can connect Avatrade's account with the ZuluTrade account or DupliTrade or use Metatrader signals directly from the Mt4 platform.You can read more about Zulutrade platform and automated trading.
AvaTrade Types of Accounts
The broker gives its customers two categories of trading accounts. The first one is a standard trading account and the second one is a demo trading account. For a client to have a trading account, they have to have a minimum of $100 depending on the account currency. There are accounts that are swap-free for the Muslim traders that want to conduct trade as per the Sharia principles.
For the traders that want to possess several accounts, the company provides a Multi-Account Manager account which comes with extra features. These include the capability to create several accounts of sub trading simultaneously, all the order types of MT4 like close, limits and stops, a minimum of 0.01 lots, multiple parameters of allocation, placement of orders for a number of clients that us unlimited and expert advisors. With this multi-account system, the trader is also in a position to have access to all information and can divide or separate client sub-accounts to manage the accounts sufficiently.
So, Avatrade minimum lot size is 1 micro lot.

AvaTrade Trading of Cryptocurrencies
AvaTrade has been providing the trading facility of cryptocurrencies since the year 2013. Initially, AvaTrade traders could trade Bitcoin on the proprietary platform and via the MT4 (MetaTrader 4) platform. With the popularity in cryptocurrencies, the company has several other cryptocurrencies in its portfolio of cryptocurrencies. Currently, there are eight cryptocurrency categories that AvaTrade supports. Avatrade Cryptocurrencies list: Ripple, Neo, Bitcoin, Dash, Bitcoin Cash, Litecoin, Monero, and Ethereum.
Trading of cryptocurrencies at AvaTrade entails dealing with financial derivatives like CFDs unlike other exchanges of cryptocurrencies. A client does not buy and sell using the cryptocurrencies but instead uses CFDs that enable them to capitalize on the movements of the price of the cryptocurrency. The pros of AvaTrade's cryptocurrency
Trading with CFDs is that it is affordable and has the ability to profit from a rising market and falling market as well. Trades can be leveraged by up to a 1:20 ration in addition to the facility of leveraging offered by AvaTrade. Avatrade bitcoin trading offer is one of the most interesting in the market.
The Spreads and Commissions of AvaTrade
AvaTrade traders can trade different instruments with spreads that are floating or fixed. Some of the spreads for the most frequent currency pairs that are traded include EUR/USD, USD/JPY, NZD/USD, EUR/JPY, GPB/USD, Gold, and others. AvaTrade provides variable, fixed and floating spreads which start from 0.8 pips. The spreads of AvaTrade are among the internet broker markets most competitive.
There are several categories of orders which are availed at AvaTrade and this includes limit orders, stop-loss orders, trailing stops, entry stops, entry limits, and market orders. The funds of clients are stored in accounts that are segregated for security reasons. Spread betting and hedging are allowed. Spread betting is a trading that is tax-free which entails placing both short and long spread bets on over two hundred different instruments of finance with a leverage of up to 400:1. This is available on the MT4 platform and can be conducted from a standard or demo account. It is exclusively available to Ireland and UK traders.
The Withdrawal and Deposit options at AvaTrade
The company's trading accounts with debit cards, credit cards or wire transfers. Other electronic transfers of payment can also be used with AvaTrade through eWallets. These include WebMoney, PayPal, NETELLER, and Skrill. The methods of withdrawal are similar to the deposit methods. For a client to make a withdrawal request, they simply fill the request withdrawal form via MY AVA and follow a list of instructions provided. It takes around five days of business for the process of the request to be completed. There are also additional days for the entire process to be done and money to be deposited in the client's account. For those that want faster processes of withdrawal, there is the option of applying for the Ava MasterCard which cuts the time of withdrawing significantly.
Learn more about deposit and withdrawal options and Avatrade credit card.
AvaTrade Promotions and Bonus
The company provides a welcome bonus for those that sign up for accounts. The range of the bonus is between $100 and $10000 as per the deposited amount. The other bonus program is the referral bonus which is available for all traders. This is offered for every referral that is successful. Currently, a 40%  bonus is the best promotion and offer from 2020. There are several conditions and terms which are subjected to withdrawing the bonuses offered.
You need to read more about avatrade bonus terms before bonus request.
There is also a special program which is the select program of Ava that gives awards to those clients that make a minimum single $100000 deposit or those which go beyond this amount in volume trade with a number of special offering like special gifts, benefits, dedicated select hotline of Ava, express approvals of withdrawal and education programs that are tailored.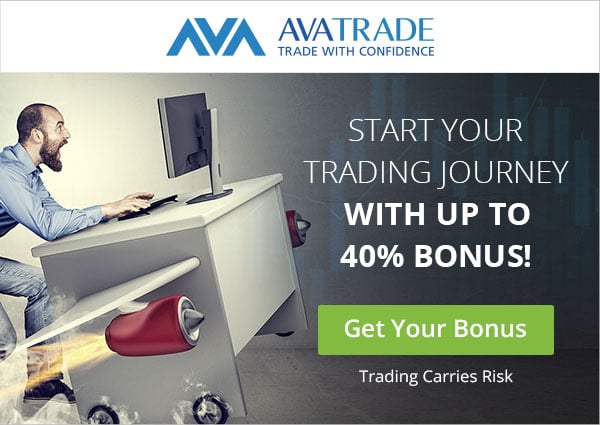 Anyway, before everything checks AvaTrade bonus terms and conditions
AvaTrade Customer Support
Customer support is handled by a multilingual team of support representatives at AvaTrade. The customer support services are available twenty-four hours in five days and this ensures that the traders at AvaTrade get the assistance they need always. The traders at AvaTrade can communicate to the members of support through email, telephone, fax, live chat, and social media. Among the best characteristics of the customer support of AvaTrade is that their support service is localized. There are several localized telephone numbers which the traders can take advantage of because of the cheap telephone charges.
The company has a commitment to offering high-end service. Therefore, they offer impeccable customer support services through Live Chat, e-mail, and local telephone numbers in almost 3 dozen countries. This makes it possible for almost every trader to reach the AvaTrade customer support in their own language. AVATrade customer care unit goes online for as long as the markets remain open. It is available for 24×5 hours except for the weekends. Along with corporate-based HQ, AvaTrade has also enlisted contact numbers of more than 20 locations spread all over the world that enables you to reach in your preferred language. Extremely responsive customer services are fairly assistive.
AvaTrade offers clients and customers with the most comprehended support system. The website supports various types of languages, such as:
• Spanish
• Russian
• Portuguese
• Japanese
• Italian
• German
• French
• English
• Dutch
• Chinese
• Arabic
Traders can contact with the customer support system through:
• Send mails by filling up the contact form
• Live Chat
• Trustworthy
• Telephone (more than 30 local numbers as available in different countries)
Education
In addition to the several benefits that a trader at AvaTrade receives, the traders are also entitled to access a series of courses online, daily analysis and live webinars. AvaTrade offers education courses through SharpTrader.com and AvaTrade. The information is comprehensive and organized well. It covers several topics like economic indicators, Forex, commodities, and CFDs. A trader is allowed to select between the written courses and the video-based courses. The written coursed provide a deep analysis of the individual subtopics. The video-based topics cover advanced topics and beginner topics. Also, there are courses on technical analysis, trading tools, trading strategies, and many more. The courses are also applicable to every trader regardless of the market they want to trade or are trading. The company also posts integrated live market news into the platforms of trading.
AvaTrade education video tutorial on how to use Autochartist platform:

The Pros and Cons of AvaTrade
The pros which are associated with the broker company include multilingual support, a generous bonus, regulated broker, and negative protection of balance, floating and fixed spreads availability, and multiple choices of the platforms of trading.
The cons associated with AvaTrade are; not having the best layout of a website, not having volume discounts, slow process of withdrawal and FAQ lack depth.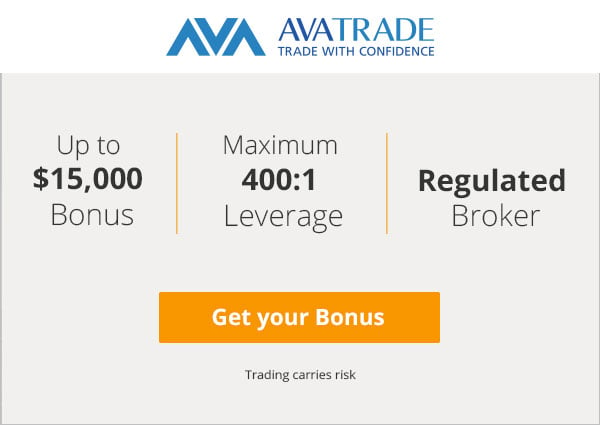 Avatrade partnership program – AvaTrade affiliate program
Avatrade as all major brokers offer an excellent affiliate program with huge marketing opportunities where affiliates can use banners on several languages and promote products. Avatrade referral program offers excellent rebate commission.
Conclusion
All in all, the company does very well. AvaTrade gives several customizable and stable platforms of trading to its clients. These range from simple platforms like MetaTrader 4, AvaTradeACT to specialized ones like RoboX and DupliTrade. Since clients can have access to mobile applications, browser-based applications, and desktop applications; it attracts beginners and even experienced ones as well. Beginners will find the educational opportunities and tools adequately comprehensive to get started. The traders who are seasoned will also appreciate the vast and flexible catalog of trading tools given by the platform of MT$. The company provides its clients access to several financial markets including commodities, individual equities, stock indices, and Forex.
An online broker, AVATrade has expertise skills that are applied to render award-winning performance and praising services in forex and also in Contract for Differences (CFDs). AvaFX in recent times has gained a reputation as AVATrader. Many significant awards like "Best Broker", "Best Forex Customer Service" and "Best Financial Derivative Trading Provider" are awarded to this popular brokerage service as available from 2009. With the noble aim of providing better and quicker services to the customers, CFD broker and Forex decided to rename themselves in spite of their prominent presence as maintained in the markets as "AvaFX". Emanuel Kronitz, Ava Group CEO said that launching this new brand as recorded in the past records of the company happens to be a very important milestone. She further added that it ensures long-term availability of dynamic and diversified trading product range which stimulates and the major driving force behind the growth of Ava.
I like Avatrade and its marketing as well. See this funny video: