The HF Markets is one of the famous, highly recommended regulated brokers. Therefore, in this article, we will present the Hotforex branch review – Hotforex South Africa. It is noted that Hotforex is under the regulation of FSCA, which means that it is a regulated Forex broker. The good news is that Hotforex is under double regulation in essence due to being regulated by the FSCA, which was already mentioned, and the FCA, which is located in the UK.
Hotforex South Africa Review
This Review considers Hotforex  South Africa as a safe broker for traders in South Africa because it is regulated by Financial Sector Conduct Authority (FSCA) in South Africa, under license number 46632. Low spread, small commissions,  and excellent support are the best advantages of this broker.
Hotforex South Africa contact details are:
email: support@hotforex.co.za
fax: +44-2030978570
customer support: +27-10-443-9924
affiliate support: affiliates@hotforex.co.za
Address: KATHERINE & WEST, SUITE 18, SECOND FLOOR, 114 WEST STREET, SANDTON, South Africa.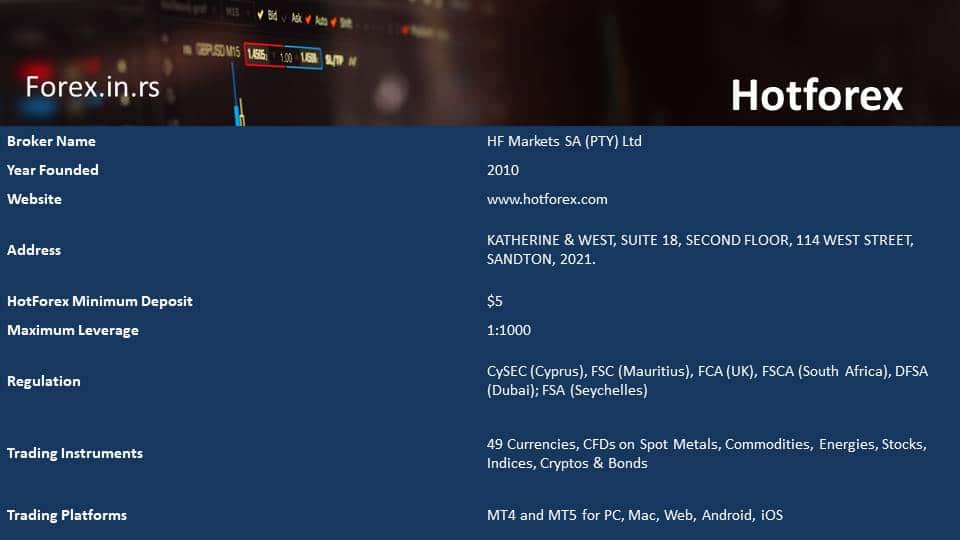 Many traders are highly impressed with the trading fee, which is quite low. There are zero deposit charges and zero withdrawal charges. Also, there is the implementation of a one hundred percent bonus.
It is really up to you to decide whether you will engage in using Hotforex. But this broker is reputable due to its ongoing honesty, openness, and well-known transparency demonstrated with integrity. The maximum leverage is set at a rate of 1:1000 for each trade. There is only a small deposit required for five dollars. This trading broker was ranked as being number one among fourteen other brokers who deal in Forex.
Hotforex is a broker that deals in Forex as well as commodities. This broker provides service to traders from about two hundred nations across the world. This broker is intensely regulated and boasts over 1.3 million accounts that are both live and registered.
This broker was formed in the year 2010 with the proposed objective to grant clients trading conditions superior. This company has experienced much growth at an impressively fast pace because it promotes a culture centered around pleasing its customers and meeting their needs.
It is interesting to realize that this company has been honored with winning over twenty awards at the international level for its best practices within the industry of trading. It offers client support in twenty-seven various languages, and it has made a strong presence on a global scale. Moreover, it is well renowned as a result of offering spreads that are considered to be tight.
This platform provides the opportunity to trade a broad spectrum of trading elements. It is noted that it possesses an execution rate that is deemed as fast and reliable. It is trusted due to being regulated by institutions that have a good reputation globally, and it is also held in South Africa. With this being the case, this broker is permitted to function under the authority of the regulations sanctioned by the Financial Sector Conduct Authority within the nation of South Africa. This is referred to in the abbreviated form as the FSCA.
It does seem to be reasonably safe to engage in trading via the usage of the Hotforex platform. The funds are backed with insurance. Suppose there are any occurrences of omissions, errors, fraud, negligence, or other risks that could result in the loss of finances to the clients. In that case, these issues are all under coverage by providing an insurance program of up to five million euros.
There is the segregation of funds. Suppose there happens to be the occurrence of default by Hotforex. In that case, the company is not allowed to engage in the usage of clients' funds because the funds of clients undergo segregation to keep them apart from the expenses of operation of the company.
This broker possesses accounts with significant vital banks. It is well recognized that Hotforex is known as an international brand. Because of this reality and its strong connections to repeatable banks globally, these elements empower this broker to provide liquidity at a high level.
When engaging in trading, it is undeniable that it is of utmost importance to consider fees. Every time that the trader conducts a transaction, the broker will apply a fee. Therefore, it is valuable to examine the various fees.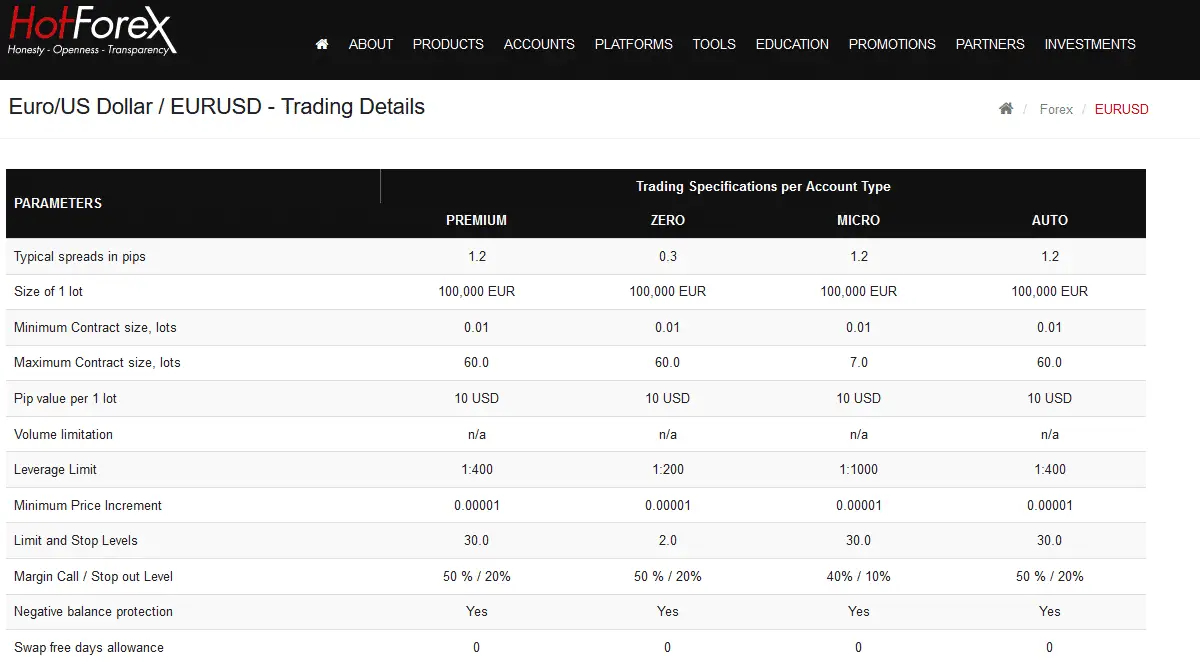 For instance, the company offers a spread that is lower than a zero account. It is noted that the spread is the amount of money that the broker is paid by the trader whenever the trader conducts a trade. The broker must engage in offering a low spread. Otherwise, the reality is that the costs of the fees for the trader will dramatically increase.

One of the impressive qualities of Hotforex is that it grants the provision of spreads that are regarded as being the lowest compared to those granted by other brokers that are regulated. In correlation to a currency combination such as EUR/USD, it is realized that the spread possesses a benchmark of about 0.3 pips about a zero account. If an account is premium or micro, the spread is set at a maximum rate of 1.3 pips.
Hotforex trading instruments: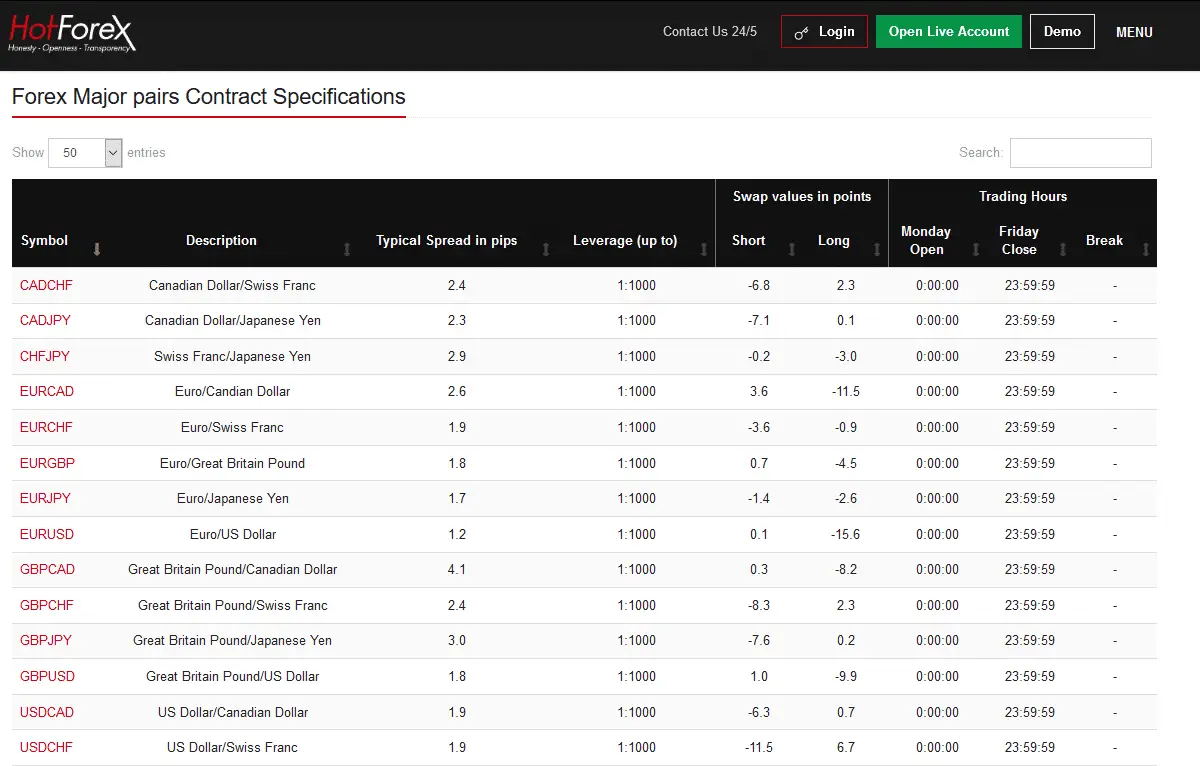 In terms of commissions, the company is transparent in this regard. This company's commission about a zero account is for three dollars, which is noted as being one and a half dollars to conduct the opening of trade and one and a half dollars to conduct the closing of trade for major currency combinations. On the other hand, it is realized that the charge for commissions for standard currency combinations is four dollars.
When it comes to the rollover fees for securing positions overnight, these fees are regarded as the interest paid or earned due to maintaining your position for the overnight period. In Forex's world, the rollover calculation entails the difference in the interest rates of both currency sources. Though the rollover fee is not much, traders who engage in long-term trading efforts should be careful to consider the interest differential because the rollover fees could become costly for an extended period of time.
Visit HFM. Get Bonus.