HF Markets offers investors a wide range of trading opportunities, allowing them to capitalize on the global markets. Whether you're an experienced trader or new to investing, HF Markets has something to offer.
What Can I Trade on HF Markets?
At HF Markets, traders can access over 1200+ trading instruments s across different categories, including Forex, Commodities, Indices, Metals, Bonds, ETFs, CFD Stocks, and Cryptocurrencies.
The Forex market is trendy because of its high liquidity and large daily trading volume. It is also one of the most volatile markets in the world and can be highly profitable if traded correctly. Traders on HF Markets can take advantage of the tight spreads provided by over 50 currency pairs and benefit from quick execution speeds when placing trades online.
Please check major forex pairs list below that HF markets offer: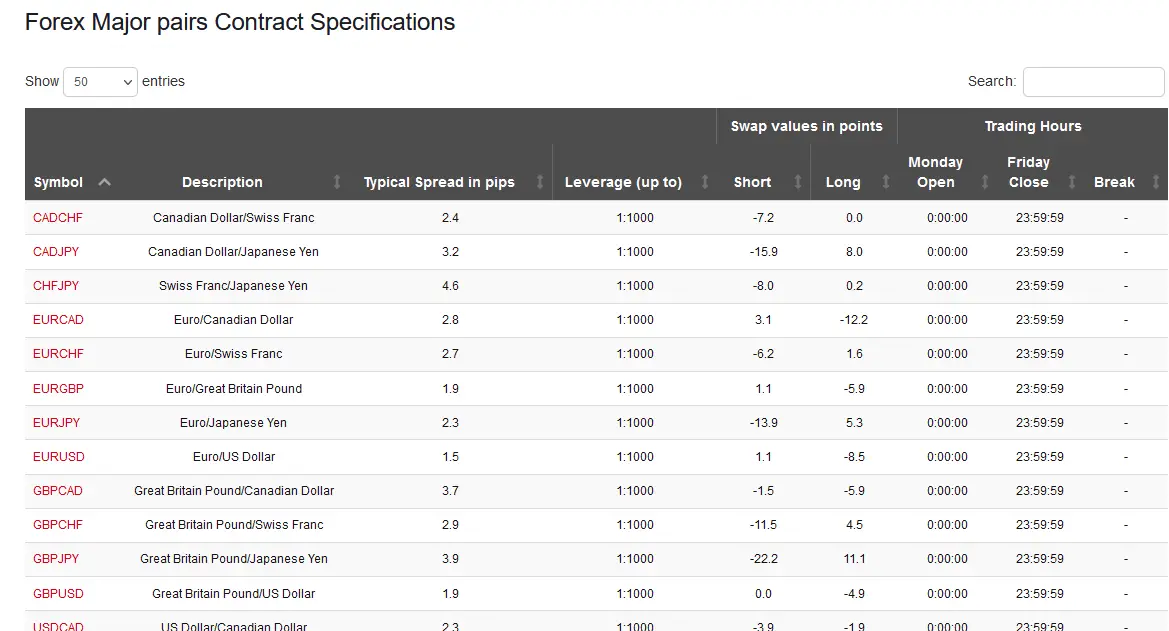 Below you can see commodities futures contracts that HF markets offer:

Commodity traders at HF Markets can access various contracts for commodities from international exchanges, such as Gold, Silver, and Oil. These commodities provide diversified exposure as part of a portfolio and can be used as a hedge against inflation.
Please check gold trading offers on HF markets: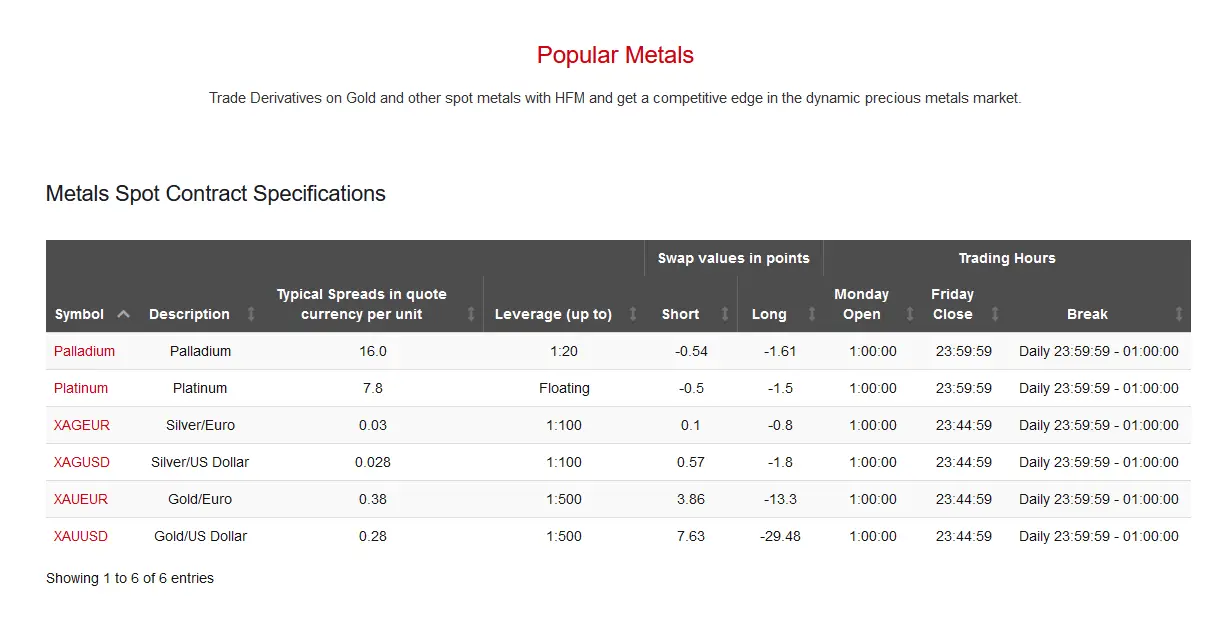 Index trading is available on several major global indices such as US30 Wall Street 30 Index (CFD), Germany 30 DAX Index (CFD), and UK 100 FTSE Index (CFD). These contracts enable investors to speculate on the future market direction without buying individual stocks outright. The tight spread these instruments offer makes them ideal for short-term strategies such as scalping.
Below you can see the indices that HF markets offer: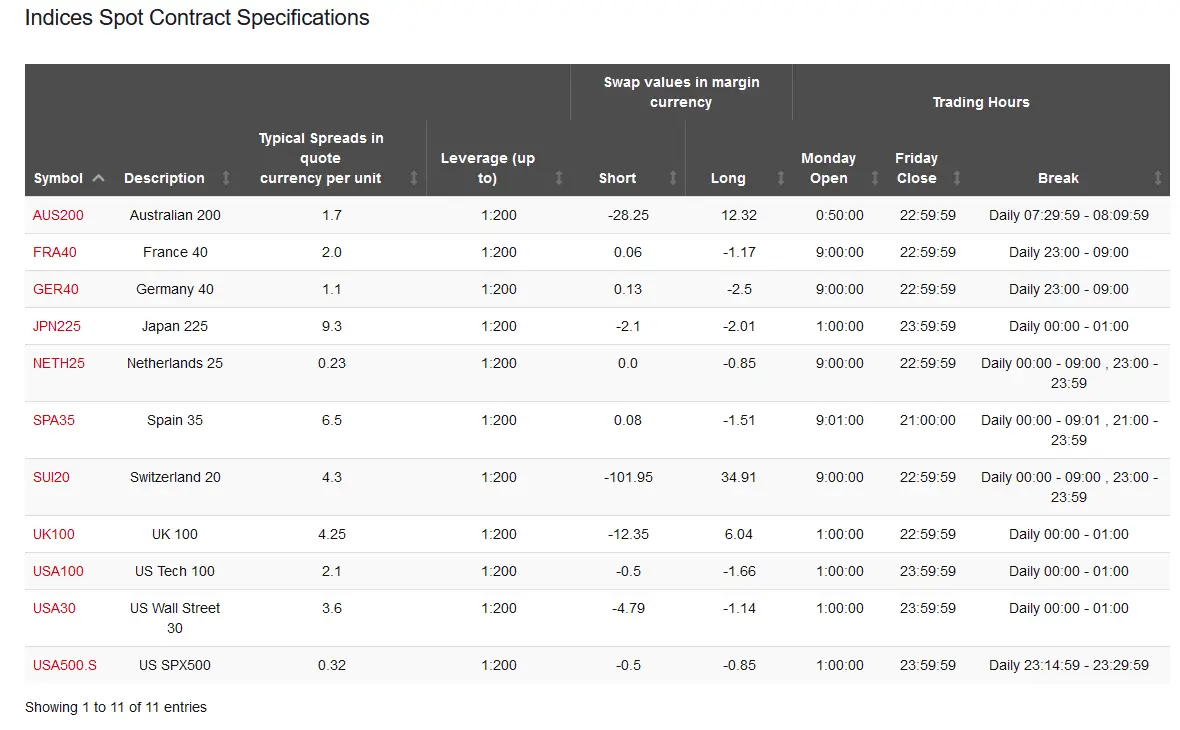 Below you can see an example of the NASDAQ stock market trading offer from HF markets: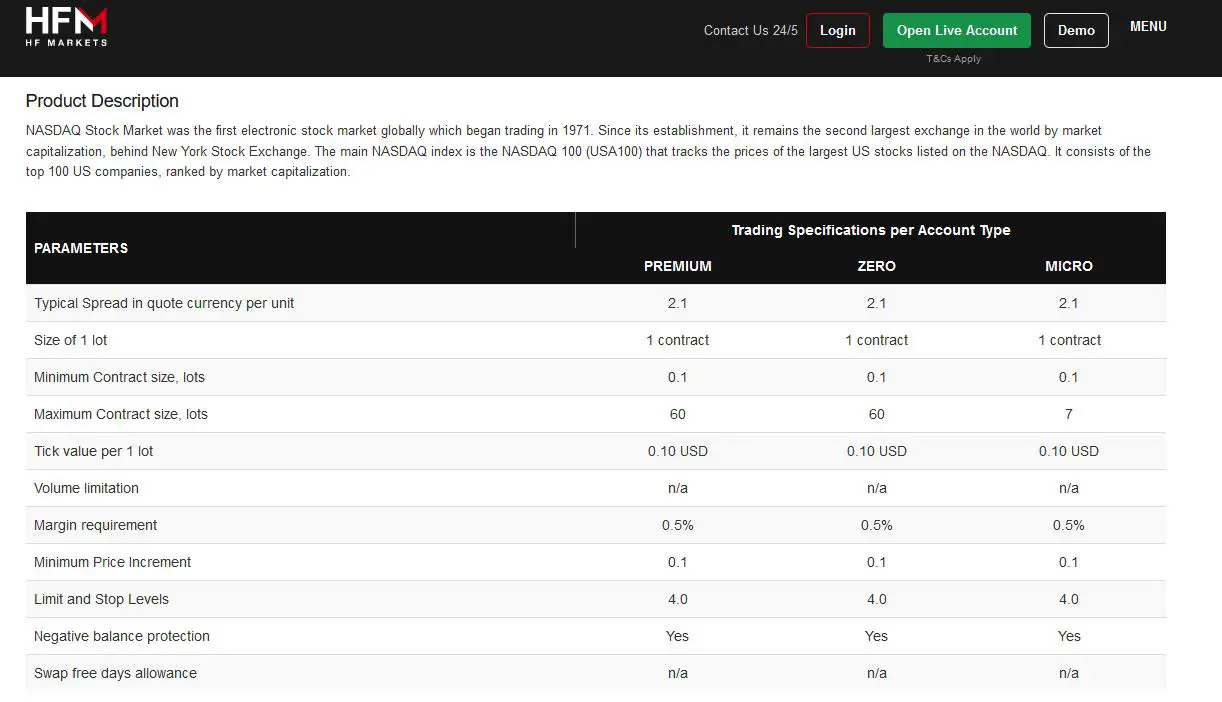 For those seeking exposure to metals such as gold and silver without buying physical bullion, HF Markets also offers metal CFDs – Contracts For Difference – which enables traders to directly benefit from price fluctuations in precious metals without asset ownership itself. This means that leverage can be used when trading with Metal CFDs, which allows smaller capital investments than would be required with traditional spot markets.
Finally, crypto traders at HF Markets are presented with an array of digital coins, including Bitcoin (BTC/USD), Ethereum (ETH/USD), Litecoin (LTC/USD), and Ripple XRP/USD). All crypto trades are executed 24 hours a day, seven days a week due to their decentralized nature offering the potential for greater returns compared to other financial instruments in shorter timeframes if leveraged correctly.
Please read the HF markets review to learn more about HF markets accounts.