New HF Markets review you can read in our recent fresh article.
Introduction
Are you a newbie in a forex trade? Unable to decide how to move ahead? Looking for a quality forex broker who could guide you according to your intellect and temperament apart from the amount of time and money you're ready to invest? In such a case, HotForex is the best option. We'll discuss in this article the HotForex review briefly.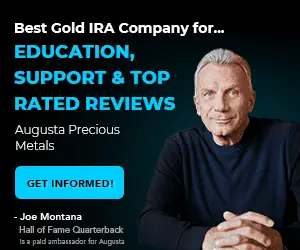 You can join and register at Hotforex Register as European Union customers and Register as Customers outside the European Union.
RANK 99

10 types of trading products
Various deposit and withdrawal options
Zero spreads offer
Excellent support




100% bonus
Special offer :
This forex broker offers a 100% rescue bonus.
Hotforex offers a 100% forex bonus. Complete bonus amount withdrawal is possible under the right conditions. All live customers will get protection from Margin Calls and Stop Outs during Drawdown periods using this bonus. One of the new promotions is Increased Leverage for live accounts.
The trading bonus can use only non-European Union residents. Therefore, potential EU clients can not use forex or any CFD bonus. However, other broker promotions are usually available for all clients.
HotForex Review – HotForex Forex Broker Bonus
HotForex Broker Review
HotForex is a worldwide provider of online trading services, providing better service to all types of traders.
This Forex broker offers a 100% credit and a 30% rescue bonus.
Can we trust Hotforex – is it a hotforex scam?
HotForex is a global company with its headquarters in Europe, but it has sub-branches. It specializes in providing online forex services and the contract for differences (CFDs). It mainly deals with trading commodities, bonds, cryptocurrencies such as Bitcoin, exchange-traded funds, and equities. This company has managed to have many clients since the number of people who have live accounts with this company is more than 500,000. Besides, the company has over 200 employees worldwide, the counties with branches. The company has also emerged winner of more than 200 industry awards since its founding. It supports more than 27 languages.
Hotforex has a high reputation. HF Markets (SV) Ltd is registered in St. Vincent & the Grenadine as an International Broker Company with the registration number 22747 IBC 2015. This broker has more than 20 prizes and awards as one of the top brokers in the world.
Contact :
Business Addresses
HF Markets (SV) Ltd.
Suite 305,
Griffith Corporate Centre,
P.O. Box 1510, Beachmont
Kingstown,
St. Vincent and the Grenadines
Founded in 2010, HotForex has gained popularity among forex brokers (as well as affiliates). The most significant consideration point is the high-quality, timely customer support service. It's this factor that the clients tend to stay with the broker.
Another important thing you have to consider is the forex trader is regulated by various authorities. These include CySEC (Cyprus), FSC (Mauritius), and FSB (South Africa).
This ensures transparency and stringent adherence to the laws as prescribed. All this is in the greater interest of customers and other stakeholders. Note that HotForex has offices in countries considered tax havens in the world. This may be an issue for traders from Australia, the United States, India, etc. Traders in the United States are under the purview of CFTC, and they must get the membership of NFA to be eligible to conduct business in the country.
Regulations and the security of funds.
Since the company is a retail broker, it has managed to offer beautiful trading conditions. This firm has allowed the clients to trade a more comprehensive range of instruments such as forex, spot metals, and CFDs on indices, commodities, and shares of famous companies like Facebook, Apple, and Google. This brand operates in different jurisdictions, but the most reliable one is found in Europe, its headquarters are in Cyprus, and it is registered under the European Union. Cyprus Securities and Exchange Commission is the body that has licensed this body. Its success has been contributed by tight and well-balanced regulation. Cyprus is a country with tough laws, and firms that want to invest in this country have to consider high entry capital requirements and low capital maximum leverage. This has reduced competition from other potential firms. Besides, these firms must keep customer funds in segregated accounts, and they should not be mixed with the company's operating funds. This makes sure that customers' funds are safe. Besides, companies regulated by the Cyprus Securities and Exchange Commission have to be members of a body known as Investors Compensation Funds. This body can pay up to 20,000 euros if the company fails to. This firm has been given the authority to operate in South Africa and Mauritius, and it holds investment licenses from these two countries.
How secure is it?
You will have a separate bank account. In these accounts, your funds will be held in accounts in different banks with assured protection against the balance going negative. This also ensures the continued safety of clients' funds even though the broker is sold off.

Protection with insurance
HotForex has bought insurance to the extent of €5,000,000. This protects the company against any financial difficulties because of fraud, errors, or negligence.
Safe website
The forex broker's official website is safe and protected with SSL (28-bit SSL ). By this, encryption of all the data happens, and data are protected against unauthorized entities when transmitted on the Internet.
Visit HFM. Get forex bonus!
HotForex Reliability
According to many traders, brokers' reliability is their biggest worry and concern. The worry is connected with the fact that there are many online scam traders, and they cannot imagine losing their hard-earned money. Many traders are often caring when investing with an online broker or platform. However, being reliable is not a concern for traders. This is by considering the number of years this company has been in existence. Besides, it has established a good and respected reputation in the online trading community. Winning more than 20 industry awards is enough proof that this company has been performing well, and customers have great faith in it and would like to invest with it. The company has also managed to succeed in Cyprus, a country with very tough and strict rules about investment. The company has more than 200 employees, proving that the firm is ready to perform according to the customers' expectations. Language is not a barrier since this company supports more than 27 languages, and this means that different traders can be served despite their language.
Is HotForex a scam?
As we have mentioned elsewhere, HotForex is under the purview of various financial regulatory and supervisory organizations across countries like Cyprus, the UK, South Africa, etc. Being under the scanner of such authorities, HotForex cannot survive as a scamster.
Investor compensation
Did you know that HotForex offers a scheme that entertains investors to get compensation?
HotForex offers investor compensation as the guidelines under the regulations of FCA and CySEC to the extent of GB £50,000 and €920,000 (Euros).
Trading Platform of Hotforex
This company has been supporting metatrade4 (download hotforex mt4 platforms), a known international acclaimed trading terminal, and it offers a full spectrum of tools and resources for trading. It consists of; built-in technical indicators, an advanced charting package, expert advisors (EA), and extensive back-testing options. On EAs, traders have two options. They can either download the ready-made ones or create theirs, where the program is allowed to perform all the duties in creating expert advisors, meaning that there is no human involved in this. Traders who have invested with HotForex can access MT4 via a mobile app, a desktop app, or a browser. This company also provides traders with MT4 multi-terminal, thus providing a practical and convenient way of managing several accounts simultaneously from a single interface. Since the company has the technology that allows traders to manage several accounts, it is a suitable guarantee since they will not log in and out when managing different accounts.
HotForex MT4 Terminal provides several excellent logical resources. 9-time frames are available for each economical device that provides specific research of price characteristics.
Here you can download the MT4 platform:
Hot forex platform download
Client Area for Hotforex clients :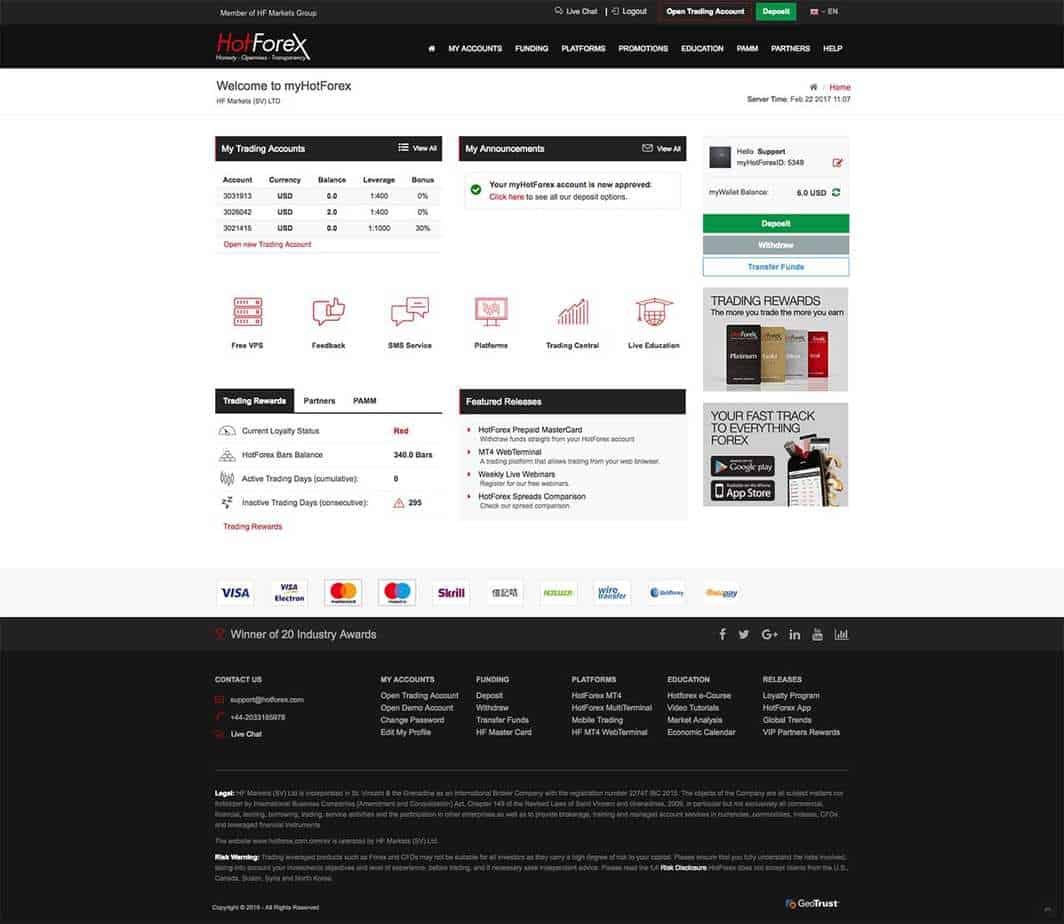 Trading tools of HotForex
In this Hotforex Review, we will present some exciting trading tools:
HotForex account types
Since this broker's dream and mission is to serve different needs of traders and make sure that these customers are happy, it has different types of accounts, and each account has unique characteristics.
For traders with a bit of experience, it is better to invest under the premium and VIP accounts since these accounts allow traders to open positions that are pretty large and on tighter spreads. The minimum amount of money that a trader can deposit into these accounts is quite more than the one deposited in Micro accounts.
The following are the accounts that HotForex offers to its customers.
Types of accounts offered
HotForex offers Micro, Zero, Premium, and Auto accounts.
The minimum deposit you can make is $5 with leverage 1:1000. The minimum investment for Auto and Zero accounts is $200, with the highest leverage of 1:500. Spreads vary widely.
Micro account – You can access this account on the MT5 and MT4, mobile, and WebTrader platforms.
Premium account – This account is ideal for professional traders, and the platforms where you can access it are MT5, MT4, mobile, and WebTrader. The amount of spread starts from 1 pip with a maximum leverage of 1:500.
Zero account – The zero account has spread from 0 pips. You need to deposit not less than $200 and will have the highest leverage of 1:500.
You can access your Zero account on the MT4, mobile, and WebTrader platforms.
Islamic account – If you have an Islamic account, you need to pay swap or rollover fees for holding positions in these accounts. You can get it in the form of premium, Micro, Auto, or Zero accounts.
Demo account – The demo account is provided to all traders wishing to test their strategies or experience under actual market conditions. The opening capital is $100,000. Creating a demo account is pretty simple and easy. You need to click the 'demo' button on the top right of the official website of HotForex.
Details :

For European Union clients.
• The premium account where a trader must deposit a minimum of 500 dollars. It has a 1:30 leverage, and it spreads from one pip.
• Zero accounts where a trader must deposit a minimum of 100 dollars. It has a leverage of 1:30, and it spreads from 0 pip.
• VIP account where a trader must deposit a minimum of 20,000 dollars. It has 1:30 leverage, and it spreads from 0.2 pips.
• The auto account where a trader must deposit a minimum of 500 dollars. It has 1: 30 leverage, and it spreads from one pip.
• Follower account where a trader must deposit a minimum of 300 dollars. It has 1:30 leverage, and it spreads from 1 pip.
For clients outside the European Union.
• The micro account where a trader must deposit a minimum of 50 dollars. It has 1:1000 leverage, and it spreads from one pip.
• The premium account where a trader must deposit a minimum of 500 dollars. It has a 1:400 leverage, and it spreads from one pip.
• Zero accounts where a trader must deposit a minimum of 100 dollars. It has a leverage of 1:200, and it spreads from 0 pip.
• VIP account where a trader must deposit a minimum of 20,000 dollars. It has 1:300 leverage, and it spreads from 0.2 pips.
• The auto account where a trader must deposit a minimum of 500 dollars. It has 1: 400 leverage, and it spreads from one pip.
• PAMM account where traders must deposit a minimum of 250 dollars. It has 1:300 leverage, and it spreads from I pip.
• Follower account where a trader must deposit a minimum of 100 dollars. It has 1:100 leverage, and it spreads from 1 pip.
Traders should know that clients from Europe can neither apply for PAMM accounts nor receive a bonus.
Visit HFM. Get forex bonus!
HotForex trading of Cryptocurrencies
HotForex has been one of the platforms that provide trading facilities for cryptocurrencies since the invention of these currencies. This company has several cryptocurrencies in its cryptocurrency portfolio. Cryptocurrencies that this company is currently supporting are Bitcoin, Ethereum, Litecoin, Dashcoin Bitcoin, and Ripple US dollar.
The trading of cryptocurrencies in this company involves the dealership of financial derivatives such as CFDs. A trader does not use cryptocurrencies to buy or sell goods. However, traders use CFDs that allow them to capitalize on the price movement of cryptocurrency.

The spreads and commissions of HotForex.
This company has both fixed and floating spreads. In the fixed ones, the spread is comparatively low, accounting for an average of 1.5 spreads. On floating spreads, they account for 1.2 pips, which is relatively attractive. However, the Zero account conditions are considered the most stunning, as it spreads from 0.1 pips, which is according to us.
The Withdrawal and Deposit options at HotForex.
If clients want to deposit money in their accounts, they can use different payment methods. These methods include debit and credit cards such as Visa, Visa Electron, Maestro, MasterCard, and American express. A trader can also use bank wire transfer and e-wallet methods of payment, and companies such as Skrill, Neteller, PayPal, WebMoney, TrustPay, iDeal, Sofort, and western union offer e-wallet services. This is when a client wants to deposit. They transfer funds from their bank account, credit or debit account, or e-wallet account to this company's account. They request the amount needed when they want to withdraw money from their HotForex account. According to the customer's preferences, the account manager transfers the required amount to the respective bank, credit or debit card, or e-wallet account.
Promotions and bonuses for non-EU countries
This broker has the best bonus. They include.
• 100 percent supercharged bonus applies to each deposit of 250 dollars by premium, Currenex, and Islamic holders of accounts with up to 50,000 dollars.
• 30 percent rescue bonus applies to a deposit of 7,000 dollars. Under any circumstance, the amount cannot be withdrawn.
• 100 percent credit bonus applies on new deposits or internal transfers to accounts of trade of at least 100 dollars.
Customer support.
Since this company supports more than 27 languages, any customer can get any support and information needs of their language. Besides, customers can communicate with the support any time of the day and night, and from Monday to Friday, since the support team is always available, they work in shifts. Traders can communicate with support via emails, phone calls, fax, live chats, and social media sites, including Facebook, Instagram, Twitter, etc. The best thing about the help of this company is that it has several phone lines, which means that several traders can be attended to at the same time. Lastly, phone calls are not expensive.
Customer support is offered in diverse languages, including English, Bengali, Arabic, Traditional Chinese, Simplified Chinese, German, French, Italian, Indonesian, Portuguese, Malay, Paris, Spanish, Russian, Thai, Italian, Greek, Korean, and Vietnamese.
Social media presence.
Being on social media has become a daily routine for individuals and companies. A lot of communication takes place on these sites. This company has not been left behind. It is a social media presence. It is very evident. On Facebook, this company has about one million followers, and most of them are active users. Besides, the page is always active, and it keeps notifying its clients about the performance of the dollar in the forex market. This has remained an excellent channel to communicate with the clients and give them the information they need. This is an advantage to clients.
Education.
This company has a system that it uses to educate its clients. It is known as the HotForex education center. It offers e-course programs, and this center aims to teach traders the simple terms of the forex market since clients need to be aware of the kind of business they should invest in. besides, clients are taught why the forex market exists. Clients will be notified about the incoming seminars and educational events via the resource center and website. Individuals with excellent knowledge of the forex market are the ones who will teach the students. Live questions and answer sessions will be available during seminars. Visit Hotforex webinars.
Pros and cons.
This broker company has several pros. The first one is that the company is very well-regulated. One can rarely hear complaints from customers. Second, this company has low, competitive spreads, which means that customers have high chances of getting good returns. The other is that the company has been giving its customers attractive bonuses and promotions, unlike other companies with highly competitive spreads and little bonuses. The other one is that MT4 is available in this company, giving the traders the ability to simultaneously manage more than one account. Lastly, this company has the best customer support team that is always available, and it supports more than 27 languages. The company has only one con. The disadvantage of using this company is that there is no choice of trading platforms, thus denying the traders the freedom of choice.
Pros
Fast execution and very low spreads starting at 0 pipsAvailable in MobileMT4/MT5, WebTraderPrice requotes are not offered. High-quality customer support service desks for dealingSubject rules regulators: CySEC, DFSA, FCA, and FSCA. Protection against negative balance.

Cons
If you belong to the EU, you're not entitled to bonuses. You can trade cryptocurrencies; you cannot own them. Forex is the main product.
A critical appraisal of HotForex
With its tagline Honesty, Openness, and Transparency, HotForex has earned more than 350000 clients with services offered in 22 languages.
HotForex offers quality services in various pairs of currencies, binary options, and CFDs. The broker uses STP technology and leverages strong liquidity providers. The broker can offer interbank dealing in forex for its retail customers.
Note that the broker does not offer services for US-based customers.
The forex broker offers quality customer support services. It provides round-the-clock support on trading days.
You can get a chance to deal with a wide range of trading instruments, including currency options, CFDs (on stocks), binary options, commodities, and indexes.
HotForex is an STP broker. So, the deals pressed are stringent thanks to the strong liquidity sources, and you can start at just 0.2 pips.
The amount of leverage that traders get is 1000:1. The broker also offers promotional bonuses. You can use your debit card to remove funds from your account quickly.
As a trader, you can connect with your peers on the official platform and talk to them. Making your social trading network wider is likely to open more opportunities.
On the whole, HotForex offers effective online brokerage for traders who use MT4 and MT5. Spreads earned on dealing are competitive, and the broker accommodates traders with varying minimal deposit levels, thus, giving all a chance. For Micro accounts, the broker offers high rates. The broker is committed to keeping a good rapport with their clients. And, separation of clients' funds, SSL encryption technology, and being under the radar of regulatory and supervisory bodies in various countries make HotForex a great option to start your forex trading business.
Hotforex auto trading system – PAMM system where experts trade for you (for non-EU clients) :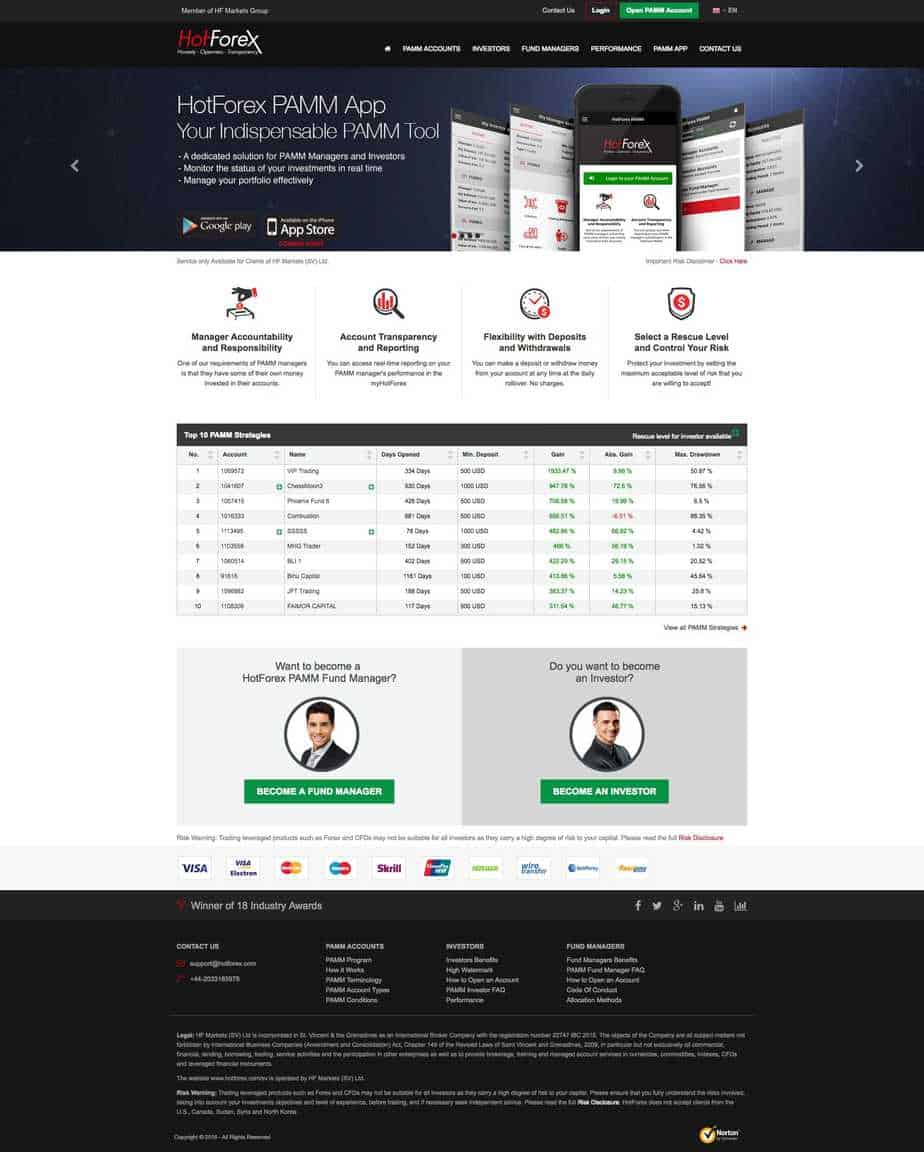 As we can see in this video, the Hotforex PAMM system is excellent for traders who want other traders to trade for them. They manage their portfolio, and if they make a profit, investors will as well. So you can try the new HotForex PAMM V2 platform, which is excellent, and you can very quickly open in a minute either an investor either PAMM manager account.
Conclusion.
Above all, this broker company is considered the best of the best, and it is determined to make sure that its clients are satisfied and more aware of forex and cryptocurrencies. It has been ensured that this is possible by offering education to the clients, who would make sure that maximum spreads are very low. Its clients have access to desktops, browsers, and smartphones, which means they are always aware of current situations. Those who would like to invest in the forex market with this company can be educated before investing. Lastly, this company allows its clients to access several financial markets, including forex and indices. Invest in this company, and you will never regret it.
Visit HFM. Get forex bonus!
IMPORTANT INFORMATION
Hotforex has two different sites for European Union customers and Customers outside the European Union.