Dukascopy History
Dukascopy bank started in 2004 in Geneva. I am making it known as the Swiss bank. But, the firm was rooted in 1990. At first, it was only a project managed by a physicist's unit to model the financial markets, but the company has developed and grown after some time. It has formed an online trading platform. It was in 2006 when the organization started its SWFX marketplace that runs as an ECN. It has grown through time, and it has expanded too in an international manner. The bank now owns the Dukascopy EU IBs AS.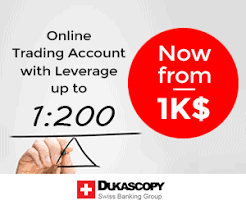 An accredited brokerage firm offers different services using the same terms mandated by the Dukascopy bank. In 2015, the firm bought Alpari in Japan, which runs as the Dukascopy Japan Co. It has offices in various parts of the world, including Hong Kong, Moscow, and others. It also offers online services for those who wish to spot FX, precious metals, binary options, CFDs, etc. They also provide online banking services since KPMG SA is auditing them.
Dukascopy EU is an associate of the Swiss Forex Group and has an HQ in Latvia. It has been filled with features for traders. First, it has a fast execution through the in-house built technology.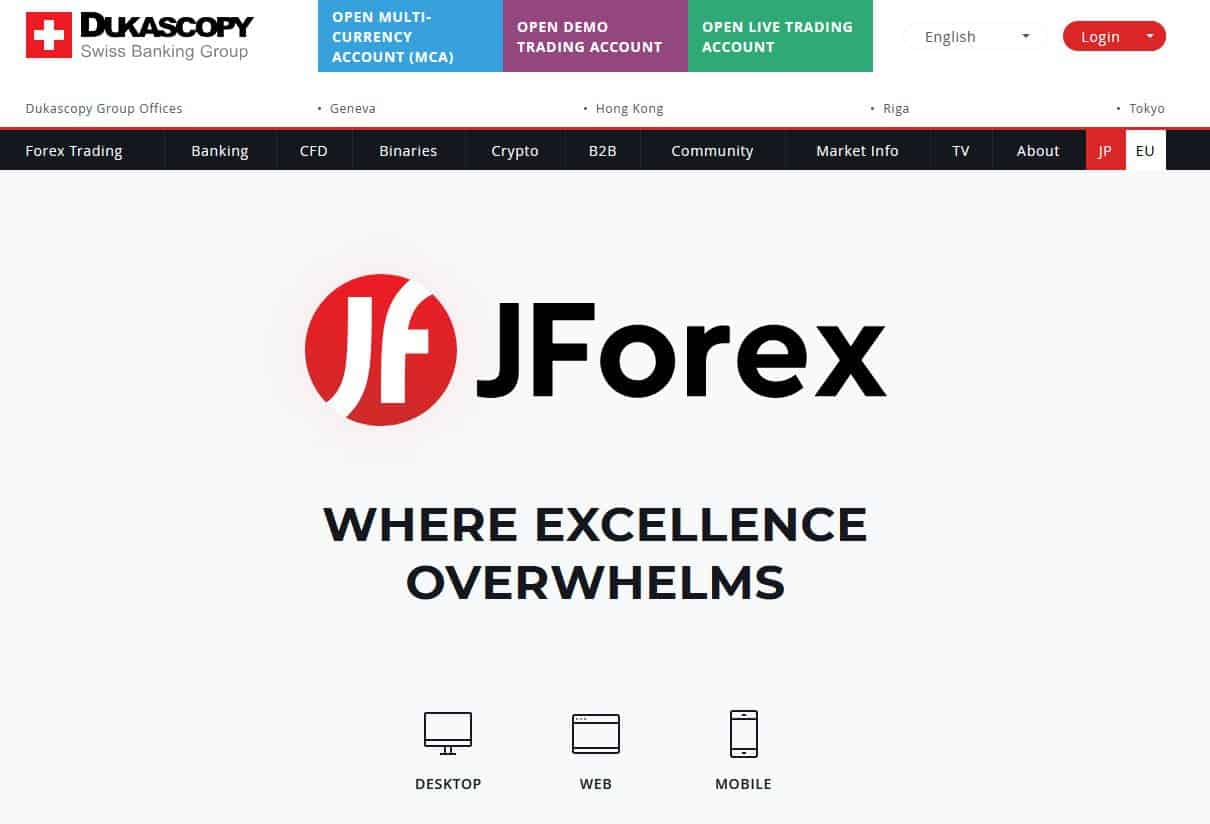 Second, they offer direct access to those that provide liquidity and get the execution in just ms. They also offer tight spreads through the use of ECN liquidity. The Dukascopy offers spread for as low as .2 pips on Euro and USD. They also provide in-depth marketing in which the traders can keep an eye on the market depth. Every trader will enjoy equal trading rights. They will be given equal treatment when it comes to spreads and liquidity.
Dukascopy spreads (average spreads) are EURUSD around 0.24 pips and GBPUSD around 0.6 pips. In some moments, EURUSD can be as low as 0.1 pip (max spread was three pips during colossal volatility).
Visit Dukascopy Broker. Get Swiss Account.
Is Dukascopy legit?
Dukascopy is a legit broker regulated by FINMA (Swiss Financial Market Supervisory Authority). It is regulated as a bank and, simultaneously, a broker. Additionally, Dukascopy Bank owns Dukascopy Europe IBS AS, a European licensed brokerage company based in Riga, and Dukascopy Japan, a Type-1 Tokyo-regulated licensed broker.
Dukascopy is a global institution providing secure online trading services to its clients in the Forex and CFD markets. Since its inception in 1998, Dukascopy has grown exponentially due to its commitment to reliability, quality, and innovation. It's no wonder that this Swiss broker has become one of the most trusted names in Forex trading.
The answer to the question is "Yes" – Dukascopy is a legit broker regulated by FINMA (the Swiss Financial Market Supervisory Authority). In addition to being regulated as a bank, Dukascopy Bank owns two other entities: Dukascopy Europe IBS AS, a European licensed brokerage firm headquartered in Riga, and Dukascopy Japan, which is a Type-1 Tokyo regulated licensed broker. All three organizations are subject to rigorous financial standards and are under constant scrutiny by FINMA. As such, clients can rest assured that their funds are safe when dealing with any of these organizations.
In addition to being highly regulated, Dukascopy provides some of the best trading conditions in the industry today, including competitive spreads and leverage levels; fast execution speeds; and access to more than 50 currency pairs, precious metals, commodities, and stock indices for trading.
Through its cutting-edge JForex platform technology, Dukascopy also offers automated trading capabilities through Expert Advisors (EA) or algorithmic trading strategies (API). Furthermore, clients can benefit from their excellent customer service team, which can be contacted via phone, email, or live chat 24/5 during market hours.
Overall, given the fact that it is an established international brokerage firm regulated by FINMA with solid financials and excellent customer service, there should be no doubt that Dukascopy is indeed one of the most reliable brokers available on the market today.
How large is Dukascopy compared to other forex brokers?
Dukascopy is a moderately large forex broker with more than 40.1 million CHF operating income, where traders annually deposit around 115 million dollars (approximately 105.3 million CHF). Additionally, the Dukascopy growth rate is high, and the broker's income is higher each year.
Is Dukascopy safe?
Yes, Dukascopy is a safe broker that uses the most advanced technology available for fast execution, same for transaction control and cybersecurity strategy that prevents unauthorized access to organizational assets, including trading computers, networks, and data. Dukascopy has an excellent reputation and support, so all traders feel safe.
Dukascopy liquidity providers
Dukascopy liquidity providers are Commerzbank, Nomura, Currenex, Deutsche Bank, JP Morgan, UBS, Goldman Sachs, Hotspot, Morgan Stanley, and others liquidity providers. All trades are usually executed in milliseconds.
Visit Dukascopy Broker. Get Swiss Account.
Dukascopy platform
Dukascopy gives three primary trading platforms along with three mobile traders. The broker has made its very own platform, which is now called the JForex. There is a web-based kind of platform along with a Java kind that the traders can use. Mobile traders use mobile or handheld devices such as Apple and Android.
Dukascopy is a Swiss broker providing access to global financial markets, including forex, CFDs, stocks, and commodities. The company has developed two robust trading platforms – JForex and MT4.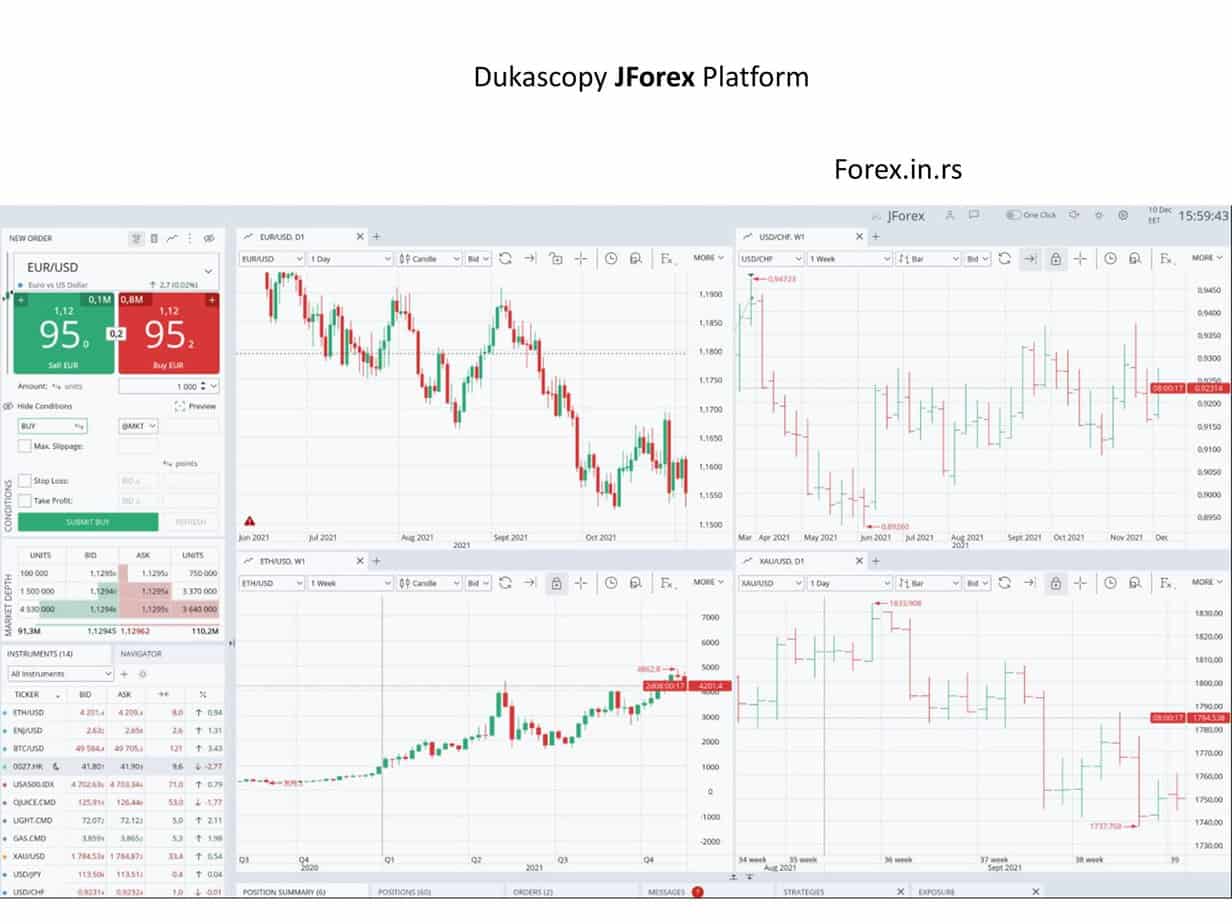 JForex is the flagship platform of Dukascopy, and it provides traders with an extensive range of tools for swift and efficient trading execution. It offers advanced charting and technical analysis tools such as customizable indicators, multiple time-frames, backtesting capabilities, and integrated pattern recognition systems. JForex also allows the integration of automated trading strategies developed in Java language. This platform is available for desktop, web, or mobile applications on Windows, Mac OS X, or Linux operating systems.
The Dukascopy Bank platform, which institutional investors primarily use, includes valuable features like a market depth view for currencies and low latency data, feed for foreign exchange quotes with over one hundred currency pairs available.
The platform also offers a variety of order types, including market orders, limit orders and stop orders, and their derivatives like iceberg orders (market + limit), conditional orders like OCO (one cancels other), etc. Plus, there are features to track your positions using the single account statement functionality.
The two platforms are linked via an intra-account transfer system that allows funds to move between them quickly and securely without any additional fees being charged; this makes it easy to use both platforms simultaneously if need be. All customer funds are held in segregated accounts at major financial institutions such as Credit Suisse or UBS in Switzerland, so clients can rest assured their money is secure at all times.
Additionally, Dukascopy provides a comprehensive range of educational resources with plenty of tutorials on how to use the platforms effectively, as well as informative videos about market analysis techniques plus demo accounts so you can test out strategies before investing real money into them safely. They have also recently launched an online community where traders can connect, helping foster further collaboration within the community.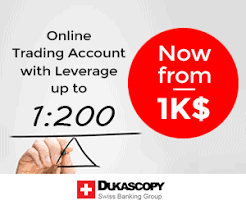 Dukascopy Spreads
Regarding the spreads, Dukascopy offers some of the most exciting spreads in terms of retail Forex business, particularly for some of the primary currency pairs. Dukascopy uses a lucid pricing model with a low spread and a commission added on top of it. As a result, the distances will usually float based on market conditions and widen up during news events or trading sessions.
The tight variable spreads, along with a reasonable commission, will also be provided. The Micro lots are acquirable for the trade, and all of the proceedings will be executed in an automated manner on the ECN for whatever size.
What does Dukascopy EU offer?
It is typical for the Dukascopy EU to develop several freebies from the mother firm. The ECN trading via the Swiss Forex Marketplace handles the transparency, seamless and secured operation, and defrayment to and from the trading account. They conduct webinars, seminars, and even trading and FX-related contests. There are some dissimilarities between the two firms.
Moreover, the Dukascopy Bank, mandated by the Swiss FINMA for both banks and securities dealers, practices consolidated supervision over the Group entities to ensure enough liquidity that includes the risk and the capital involvement in a group level appropriate. The Group also has a Japan-based unit. That came from Alpari, Japan, in 2015.
Regarding trading conditions, the deposit for a live account opening with Dukacopy Bank for Swiss and Chinese residents is 1000 USD or equivalent. Min. deposit to open an account with Dukascopy Europe is 100 USD or equivalent (Dukascopy minimum deposit is $100). That is a minimum margin for the FX market. To compare, the clients of the Dukascopy Bank need $5,000 to get started.
When you compare the maximum allowed leverage, the Swissquote EU and Dukascopy Europe will both have an opportunity to have leverage higher than 1:100.
When it comes to trading platforms, the company offers you a lucrative trading platform, which is the JForex. That will give you enough access to the Swiss FX marketplace. That is available for mobile and PCs too. The platform is specially made for traders who are very much fascinated by automated trading or are developing and testing trading techniques based on the programming language of JAVA. There are some tools and features that the platform offers. That includes the following.
1. There are more than 250 indicators and chart studies.
2. There is also a calendar of news and economic events.
3. They have automated trading on the user's machine or the strategy server.
4. They have an automated trading historical tester.
5. They have the figure and the line breaker charts and range bars and points that the users can use.
6. They have an Mql4 expert advisor that will convert to JAVA
Recently, Dukascopy offered the Metatrader platform. Please go and download Dukascopy MetaTrader 4.
Visit Dukascopy Broker. Get Swiss Account.
Dukascopy data downloader
Dukascopy offers a page where traders can download accessible historical data for various assets. Please download data using the link below:
Download Dukascopy history data for free
Dukascopy API documentation can be downloaded from the Dukascopy API page.
Does Dukascopy accept US clients?
No, Dukascopy broker does not accept US clients. Dukascopy accepts all worldwide clients except Iran, Cuba, North Korea, Japan, Myanmar, Sudan, South Sudan, Syria, and the USA.
Dukascopy payments
Dukascopy Payments (deposit and withdrawal) are credit cards, bank transfers, Skrill, Neteller, Bitcoin, and Ethereum. Bitcoin or Ethereum do not generate a deposit fee, while payment cards such as credit cards and debit cards generate a 1.2% fee for EUR, GBP, and CHF, 1.5% for transactions in NOK, CZK, PLN, or SEK, 2% for USD transactions, and 2.3% for transactions in RUB, JPY, and CAD.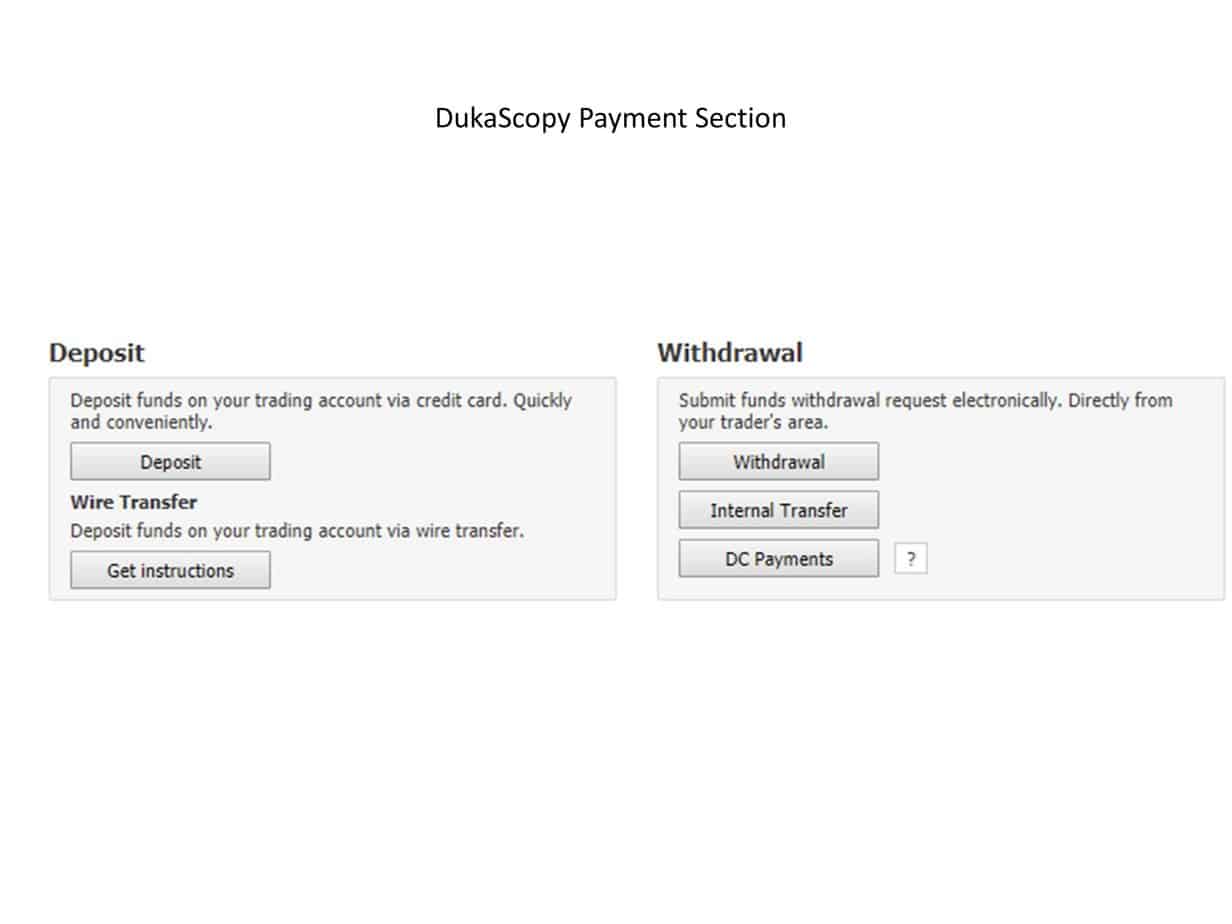 How to withdraw money from Dukascopy?
To withdraw money from Dukascopy, you need to do the following steps:
Login into the Dukascopy website and access to live trading platform.
Open the My Account report.
Go to Account > My Account (Desktop platform) or go to More > Account > Account settings (Mobile Platforms)
Choose the Deposit and Withdrawal sections.
Choose withdrawal options such as bank wire, credit card, Skrill, or any other third-party method.
Set the amount and make a withdrawal.

Conclusion
Regarding the Dukascopy EU trading accounts, customer support through phone, Skype, and email is provided. Moreover, it gives live trading support through telephone 24/5. They offer a minimum account, which is $100. The funds that may be used are a bank wire transfer and others. The account currencies they offer come in different varieties, like the Japanese yen, AUD, Canadian dollar, NZD, RUB, and others. However, no withdrawal commissions are being offered. Furthermore, the personal account manager is multilingual, so there will be no language barrier if you need help.
To sum it all up, Dukscopy EU is a part of the Swiss FX Group. They give access to the Swiss ECN FX Market through the modern Dukascopy SWFX. They offer a unique trading framework for persons and professional traders too. However, investment companies may also benefit from them. One of the advantages of trading is liquidity availability, which will be turned into small spreads.
The traders may also trade around 25M USD in just a particular click of your fingers. They also give personal trading conditions to ordinary retail FX traders. That means the minimum account size is not more than $100; the account's fun is available in the simplest forms, and opening an account is fast and straightforward.
The Dukascopy EU will not assist the famous MT4 platform compared to the other brokers. But, the customers are allowed to use the 3rd party providers to bridge the MT4. The broker also offers the API combination probability for trading professionals. These people are those who will be rendering around $100,000.
The company's API is based on the FIX 4.4 protocol. It will be used to get a real-time data feed and be able to submit the orders and set, improve, and cancel the orders and get some automated notifications too meant for trading activities. Regarding payment, the users can deposit and withdraw from their accounts through the bank; debit cards, credit cards, and bank transfers are honored. Moreover, Dukascopy Europe offers an e-wallet – Dukascopy Payments.
In conclusion, Dukascopy provides a robust offering of trading platforms tailor-made for both retail and institutional clients alike, allowing them to access deep liquidity pools across major currencies while still having the security of having their customer funds held in segregated accounts at major financial institutions in Switzerland meaning they can be sure their money will be safe at all times no matter what happens in the markets ensuring peace of mind when entering into any trades.
You can read the latest Dukascopy news using the Dukascopy RSS feed.
Dukascopy Europe IBS
Dukascopy has an excellent affiliate program. Dukascopy's partnership program name is Dukascopy Business Introducer Program. There are more than 93 banners, widgets, and promo materials. Tracking is excellent, and the affiliate can quickly withdraw money each month using several payment methods.

Visit Dukascopy Broker. Get Swiss Account.