This forex affiliate program list represents a list of all brokers that offer affiliate and sub-affiliate (forex affiliate second-tier) programs. If you want to see all brokers that offer affiliate programs, you visit all these brokers and see our ranking list of best forex brokers.
Forex affiliate programs  list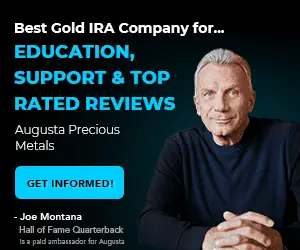 Which forex broker pays the highest affiliate commission?
The best forex affiliate program is the HF Markets Partnership program. The table above is the forex affiliate programs list. HFM offers up to 60% revenue share commission plus 25% from the sub-affiliate commission.
VISIT HFM PARTNERS
HFM Forex Affiliate Program
HFM affiliate program offers excellent commissions.HF Markets offers net revenue up to $15 per lot, sub-affiliated commission, multi-tier tracking, and exceptional support for HFM promoters.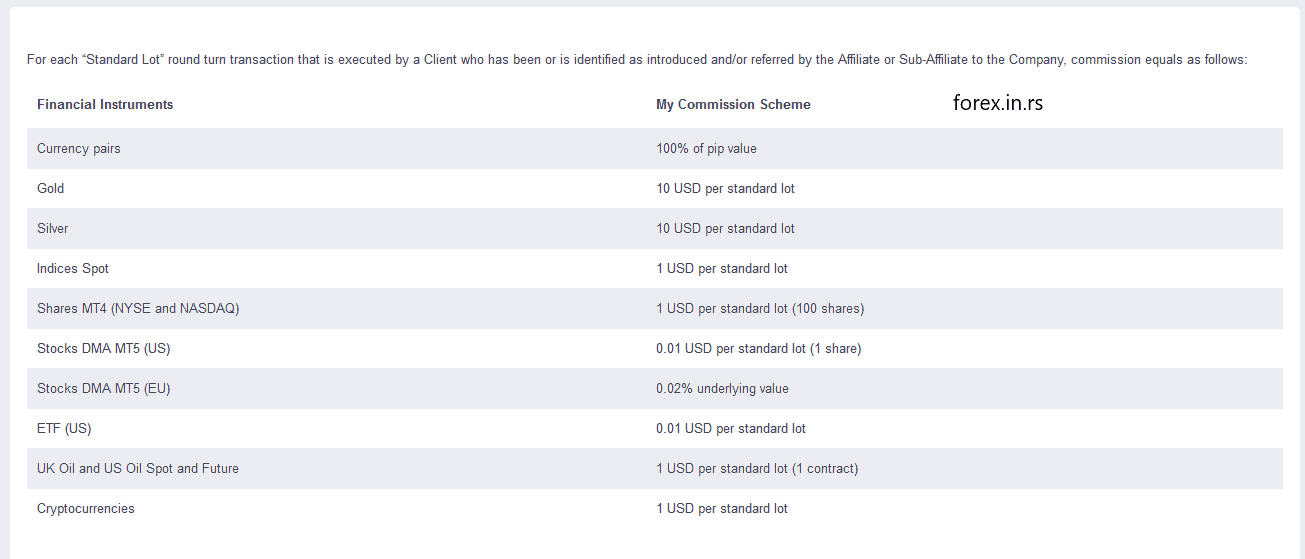 This broker offers an excellent dashboard and a lot of tools and prizes that you can use in promotion (see my affiliate dashboard):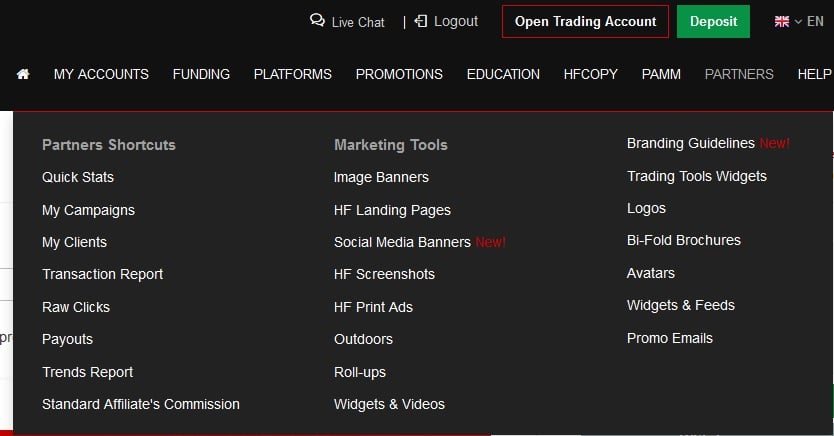 Additionally, the HFM broker offers excellent charts and an analysis section (see the below screenshot from my HFM dashboard):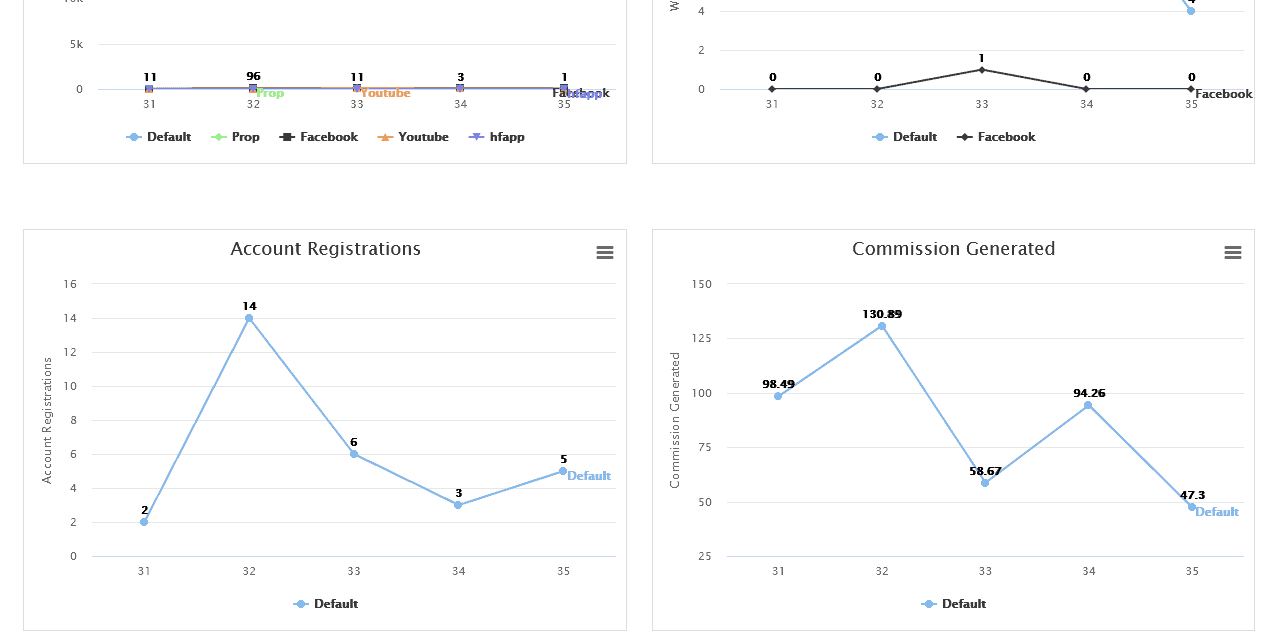 Finally, traders and affiliates have a lot of payment options that can use: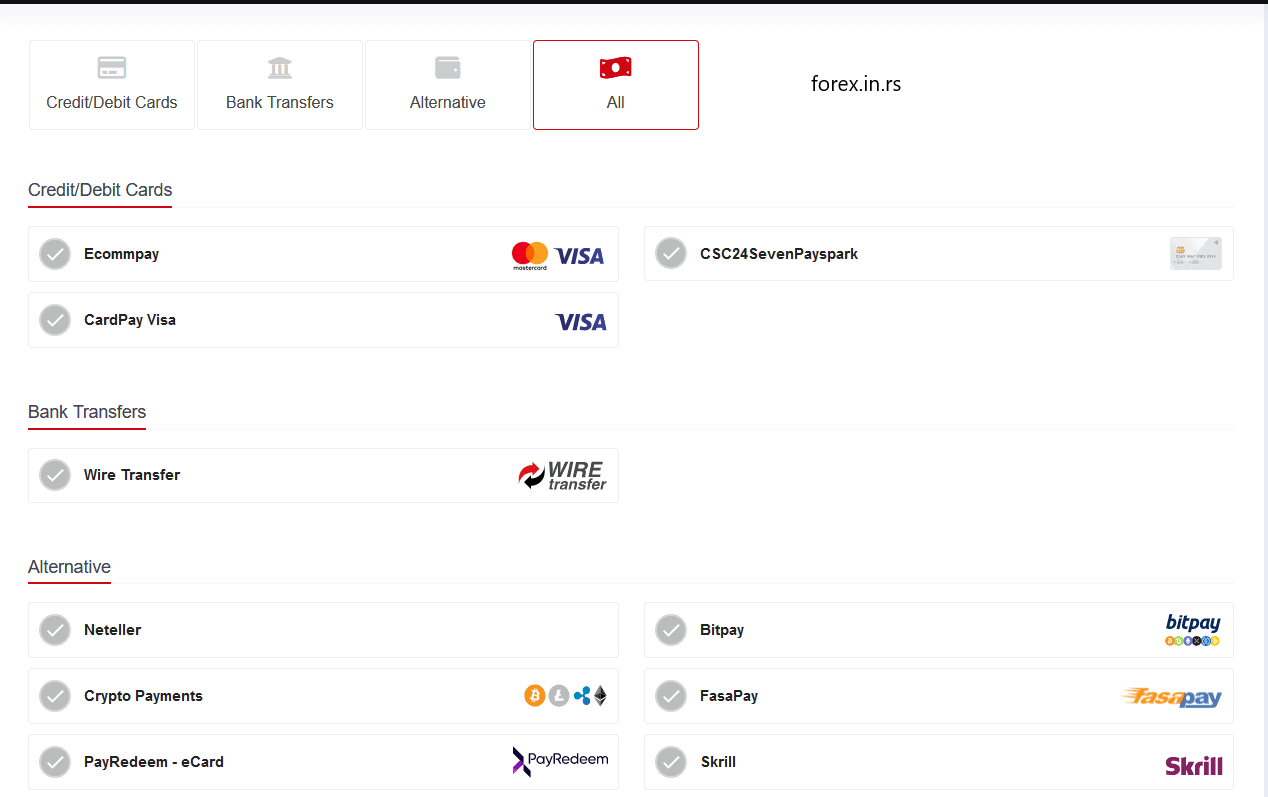 Please, you can register for the HFM Partners program below:
VISIT HFM PARTNERS
About Forex Affiliate Programs
There are plenty of ways you can charge your services (and that means having banners or links on your website). Some forex affiliate programs offer several types of commissions.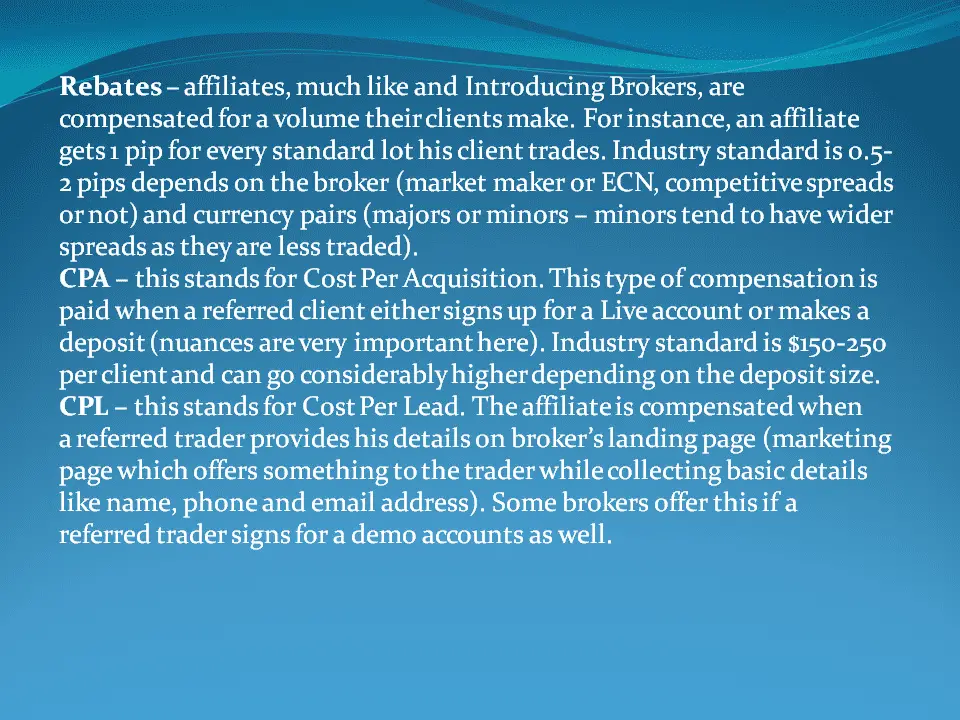 Rebate in the forex industry is the percent of the broker's profit per trade, and this is one of the best forex affiliate offers. The rebate system is based on Volume. For example, if a trader creates the order of 4 lots buying EURUSD. The spread is one pip.Profit is 4×1*$10 = $40. The affiliate will earn $10 and the broker $30 if the rebate system is 25% for the affiliate.
Revenue share is the same as the rebate system, based only on the trader's losses. This system is more for gambling sites or binary options. In the forex, industry volume is more important.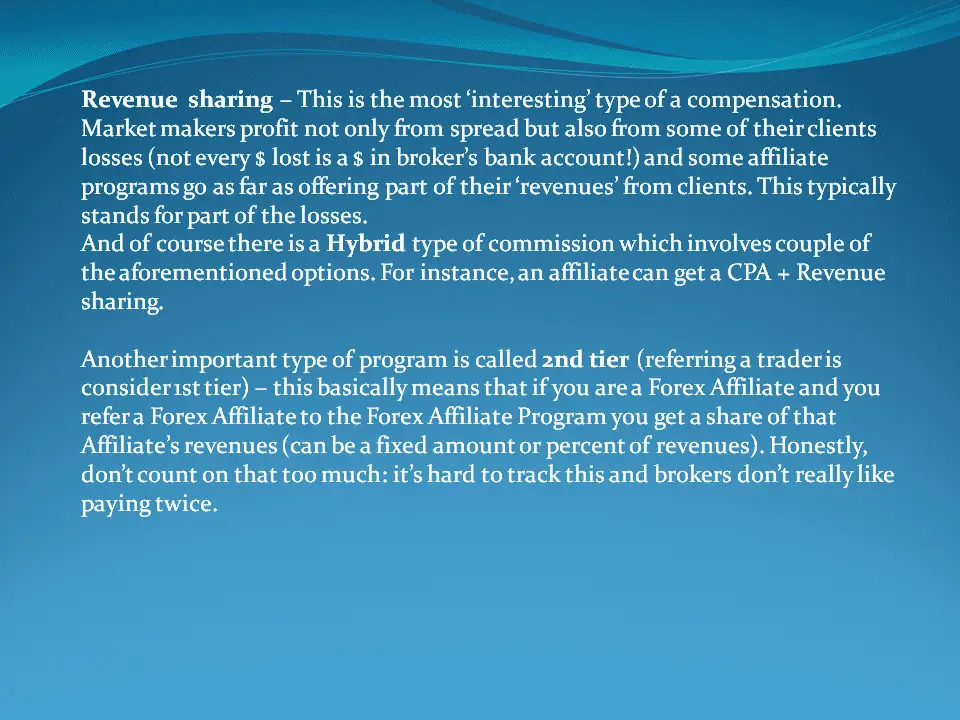 Cost per Acquisition works in a way that you get your money when the person you referred opens an account, deposits money, or executes a trade, depending on the broker's offer. You can probably negotiate with the broker for your commission, but please comprehend when your commission will be paid and how much you will get exactly.
Another form of getting your commission is the so-called Cost Per Lead (CPL). With CPL, your referred person enters details on the broker's landing page through signing, name, email, and phone number…) The broker gets those valuable details, and you earn money.
One of the more exciting types of commission is considered to be revenue sharing. If you want to sign for this, believe that the money you get is the money your referred person lost. Brokers usually profit from the spread, but they make profits when clients lose.
The hybrid commission is a combination of the CPA and the rebate system. In this commission type affiliate will get and revenue share commission and some addition per new deposit trader.
How to become a forex affiliate?

To become a forex affiliate, in the first step, you need to create a forex-related website or provide a social network account (for example, a youtube channel). You need to publish interesting articles and engaging content every day and get traffic from the google search engine. In the next step, you need to register for any forex affiliate program, get clicks on affiliate links, and refer new clients using online traffic.

This guide will show you all you need to be familiar with to start working as a forex affiliate.
Find out here why you should promote forex, how the affiliate marketing goes, get to know different ways to earn money, and most importantly, read some things to consider when choosing an affiliate program for forex.
How much do forex affiliates make?

Forex affiliates make around $2000 per month if they have 100 000 pageviews. Of course, some affiliates can make several times more with the same number of visits if they bring high deposit and high volume traders. Usually, websites with 20 000 monthly page views can get 12 registrations on average and one deposit client per month.
When you want to calculate how much you will earn as a forex affiliate, it depends on traffic quality because organic google traffic brings the most clients. Additionally, you need to know that before you get a client, you must obtain a lot of registration. For example, for every 15 registrations, you should get one new deposit client (this is my piece of statistics). Of course, different brokers and different types of clients imply different statistics. I have been a forex affiliate last 15 years, and I can tell you one thing – it is tough to bring one client.
Besides metals, oil, gas, and stocks, forex is an OK–recognized trading product regardless of being something relatively new. The rapid growth of its popularity is still ongoing, so join in; you don't have to push; go along with the flow.
Affiliate marketing for the forex is similar to affiliate marketing: you get paid when someone referred to a forex broker begins trading with the broker. In essence, there is no radical difference between affiliate marketing for forex and "regular" affiliate marketing, as in both cases, you perform online with referrals being referred to forex brokers through links or banners on your website.
However, the significant difference is that an affiliate is known as Introducing Broker with sales staff or an office. In contrast, as a forex affiliate, you can be an individual with substantial web traffic on your website. You don't have to be a company to be a forex affiliate.
To be an affiliate for forex, some brokers have a system that takes you less than several minutes to become its affiliate.
HFM broker offers a sub-affiliate program. That means your referred person can refer to another person, and you get money from their share too. The broker doesn't split one share but pays twice; thus, "very few brokers offer…."
Keep in mind that these are the good aspects of being a forex affiliate, and like every job, there comes responsibility, focus, obstacles, and things to be careful about.
In online marketing, you'll have to see what works and what doesn't. You must be present to adjust it at present.
In being a forex affiliate, the first thing to consider is ensuring your broker equips you with software enabling you to keep an eye on your performance. You may have a sure success, but your broker doesn't report it. You usually won't have this problem with checked and known brokers because such companies wouldn't risk their reputation that way. By the way, they won't risk their reputation in any way. ?
When you get paid by your broker for your referral's success, you need to know its details to ensure you are getting paid the fair and exact amount.
As said, choose a broker that is known and that you can trust. Of course, you would do that on your own, but here are tips on avoiding being scammed. Since you are reading this, it might be very likely that you are unfamiliar with who is a trusted forex broker and who claims to be such.
When you see an offer to become some broker's forex affiliate, consider double-checking it, google it, and research. Spend your time asking around about it.
Again, these are the tips to get you well shaped to know what to consider:
The first step is ensuring the broker regularly operates in its own country. Information like this should be easy to access, mostly found on the forex broker's website. And see who regulates that country and does it match.

Secondly, the forex broker can be regular in terms of the law, but you should check its history; maybe it's a spin-off of another unsuccessful broker, a broken-down broker, or a suspicious history.

Get into the position of your future clients by considering you would trade with that particular broker. If you find the broker under your consideration appealing to traders and think you'll have an easier job attracting clients to that broker, well, there you go.
Consider whether your broker is available to the whole world or just certain areas and what profile of clients you want to refer to. If you see that the broker has support in several languages and various platforms and accounts, your clients can be of different characters, which means more potential clients.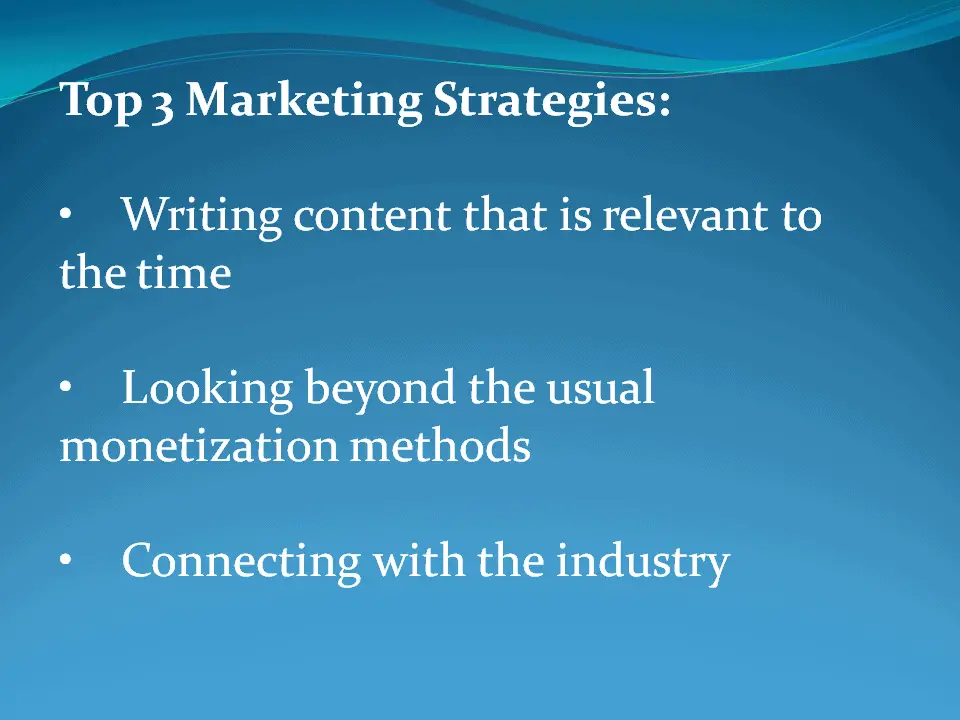 Make sure, anyway, to talk and negotiate with the affiliate manager of the broker in question. You'll thus know who you are dealing with, how serious it is, and how high its expectations are, and you'll get a general feeling about it.
When you feel it's right, try to find out what internet marketing tools the broker offers. Check if you know how to make the best out of it. Because, regardless of the broker providing the world's latest top-performing tool, but you don't find your way with it, what use is it to you? Don't fall for "this is the best tool," but choose the best tool for you.
Something neat your broker might offer is email templates that you might want to send to your potential clients.
Of course, you'll want widgets available from your broker that can pull a client in, for example, a converter for currencies or live rate tables for currencies.
Information about forex, the broker, and the trading will have to be the most important besides banners. You will want to ensure you can offer your potential client answers to all possible questions. Therefore e-books, blog articles, text links for provoking clicks, or outlooks for the market on a daily or weekly basis, videos, and information can offer your clients.