The European Union (EU) is one of the world's largest economic powerhouses and a hub for global financial activities, particularly in the forex (foreign exchange) market. The forex market is the largest financial market worldwide with vast daily trading volumes. Within this intricate web of currency trades, the role of brokers is paramount, as they act as intermediaries between retail traders and the interbank forex market. However, not all brokers are created equal. In the EU, regulated forex brokers stand out as some of the most trustworthy and reliable in the industry.
ActivTrades Review
ActivTrades offers a robust and versatile trading environment backed by a range of platforms ( TradingView, MetaTrader 4 (MT4), MetaTrader 5 (MT5), and ActivTrades) and competitive spreads from 0.5 pips. With robust regulatory oversight and a client-centric approach, they are a reliable choice for novice and experienced forex traders.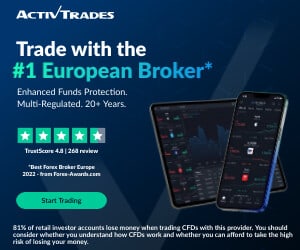 ActivTrades, over the years, has etched its name as a significant player in the forex and financial trading space. Its journey, spanning over a decade and a half, is marked by growth, innovation, and strategic shifts. Here's a breakdown of ActivTrades' pivotal developmental milestones:
2001 – Swiss Beginnings: ActivTrades was established in Switzerland, marking its foray into financial trading. Given Switzerland's rich history in banking and finance, it was a strategic location to set the groundwork for what would become a leading brokerage firm.
2005 – London Calling: Four years after its inception, ActivTrades moved critically by relocating its headquarters to London. This move was significant given London's status as a global financial hub. Being in London gave ActivTrades access to a broader network of financial entities and placed it at the heart of forex trading, given the city's influence in the global currency market.
2009 – A Year of Growth: By 2009, ActivTrades began to experience a period of exponential growth. This surge could be attributed to various factors: strategic positioning in London, increased global interest in forex trading, and perhaps the company's own internal strategies and service offerings, which resonated with traders.
2012 – Recognition at the Top: ActivTrades' growth didn't go unnoticed. In 2012, it was ranked the 6th fastest-growing company in the UK. Such recognition is a testament to the firm's successful strategies, customer service, and product offerings. Being recognized on such a platform bolstered its reputation in the trading community.
2016 – Technological Leap: Keeping up with technological trends and the needs of modern traders, ActivTrades took a significant step in 2016 by launching its proprietary trading platform. A unique platform offers brokers tailored features and services, ensuring traders get an optimized and efficient trading experience. This move showcased ActivTrades' commitment to innovation and its focus on constantly enhancing the user experience.
ActivTrades Review:
Visit ActivTrades
ActivTrades and its Regulation in the EU
ActivTrades is a prominent broker in the financial markets, particularly in forex trading. Like many global brokers, ActivTrades has various entities to cater to different regions. Given its significant presence in the European Union, it is subjected to rigorous regulatory frameworks established by EU regulatory bodies. Here's an overview of how ActivTrades is regulated within the EU and by other noted entities:
FCA (Financial Conduct Authority) – UK: Before Brexit, the UK was part of the EU, and the FCA was among the most respected regulatory authorities in the region. ActivTrades PLC, the UK entity of ActivTrades, is regulated and authorized by the FCA. The broker must adhere to strict regulatory guidelines, including client fund protection through the Financial Services Compensation Scheme (FSCS), maintaining segregated client accounts, and ensuring transparent trading practices.
CSSF (Commission de Surveillance du Secteur Financier) – Luxembourg: ActivTrades' entity in Luxembourg is overseen by the CSSF, the regulatory authority for the financial sector in Luxembourg. The CSSF ensures that financial entities under its jurisdiction operate with integrity and transparency and by the laws designed to protect investors.
CMVM (Comissão do Mercado de Valores Mobiliários) – Portugal: As a regulatory body for securities and other financial instruments in Portugal, the CMVM supervises and regulates ActivTrades' operations. This includes ensuring that the broker adheres to local financial laws, maintains transparency, and offers protection to its clients.
While not directly within the EU's jurisdiction, it's worth noting the other regulatory entities for a comprehensive view:
SCB (Securities Commission of The Bahamas): ActivTrades Corp, the entity serving clients outside the European Economic Area (EEA), is regulated by the SCB, ensuring compliance with financial regulations in the Bahamas.
BACEN (Central Bank of Brazil) and CVM (Comissão de Valores Mobiliários) – Brazil: ActivTrades CCTVM, serving the Brazilian market, is regulated by both BACEN and CVM. These institutions oversee financial operations in Brazil, ensuring entities like ActivTrades operate within the legal framework and provide adequate protections for traders.
Visit ActivTrades
Review of Forex Spreads at ActivTrades
Forex Spreads:
EUR/USD: With a spread starting from just 0.5 pips, ActivTrades offers a competitive rate on one of the most traded currency pairs in the forex market. A spread this tight allows traders to maximize their returns, especially in high-frequency trading scenarios potentially.
USD/JPY: The spread on the USD/JPY pair, another central currency pair, mirrors that of the EUR/USD at 0.5 pips. This narrow spread emphasizes ActivTrades' commitment to offering its clients attractive trading conditions.
GBP/USD: At 0.8 pips, the spread for GBP/USD is slightly higher but remains competitive, especially compared to the industry standard. Given the volatility the GBP can sometimes exhibit, this is a notable offering.
Commissions: A standout feature at ActivTrades is the absence of commissions when trading forex. This zero-commission structure can be particularly beneficial for traders, as it reduces trading costs and allows for better profit potentials.
Commodities Spreads:
NGAS: Natural gas (NGAS) sees an incredibly tight spread of 0.005 pips. Given the energy sector's significance and trading volumes, this is an enticing proposition for commodity traders.
LCrude: Light Crude oil (LCrude) is another crucial commodity, and ActivTrades offers a spread starting from 0.05 pips on this. Such a competitive rate will likely appeal to those trading in the energy markets.
Coffee: A spread of 0.5 pips on coffee reflects ActivTrades' broad commodity coverage. With many brokers often sidelining soft commodities, it's noteworthy to see ActivTrades provide a compelling spread on coffee.
Trading Sizes and Fees: ActivTrades displays flexibility in its trading size offerings. The availability of mini and micro-lots ensures that traders of all scales – from novices to professionals – can participate and adjust their risk accordingly. Furthermore, the absence of overnight fees, also known as swap or rollover fees, is a significant advantage for those holding positions open beyond the trading day.
Visit ActivTrades
ActivTrades Platforms Review
ActivTrades, a prominent figure in the brokerage industry, offers a diverse range of platforms to cater to its clientele's varied needs and preferences. These platforms range from widely recognized third-party solutions to their in-house developed platform. Let's delve into a comprehensive review of these platforms.
1. TradingView:
Overview: TradingView is a web-based platform known for its intuitive charting tools, social networking capabilities, and extensive market analysis features.
Strengths:

Intuitive User Interface: TradingView is lauded for its user-friendly interface, making it accessible even for beginners.
Advanced Charting Tools: The platform offers a plethora of indicators, drawing tools, and customization options.
Social Networking: Traders can share their insights, strategies, and analyses with a vast community of users. They can also follow other traders, offering a collaborative trading experience.
Alerts and Notifications: Users can set up price alerts and notifications to keep tabs on market movements.
2. MetaTrader 4 (MT4):
Overview: MT4, developed by MetaQuotes, is arguably the most popular forex trading platform globally, known for its flexibility, ease of use, and automation capabilities.
Strengths:

Automated Trading: Through Expert Advisors (EAs), traders can automate their trading strategies.
Customizable Interface: Traders can adjust the layout, charts, and tools to suit their preferences.
Technical Analysis: MT4 offers numerous technical indicators, chart types, and analytical tools.
Mobile Trading: MT4 has a robust mobile app available for both Android and iOS, allowing trading on the go.
3. MetaTrader 5 (MT5):
Overview: MT5 is the successor to MT4 and brings additional features, timeframes, and assets to the table.
Strengths:

Broader Asset Range: Unlike MT4, which focuses primarily on forex, MT5 offers a broader range of assets, including stocks and commodities.
More Timeframes: MT5 has more timeframes than MT4, giving traders finer granularity in their analysis.
Economic Calendar: Integrated directly into the platform, it offers insights into major economic events.
Depth of Market: This feature gives a real-time view of market orders, providing insight into potential price direction.
4. ActivTrader Platform:
Overview: ActivTrader is ActivTrades' proprietary platform, developed to provide a unique and tailored trading experience.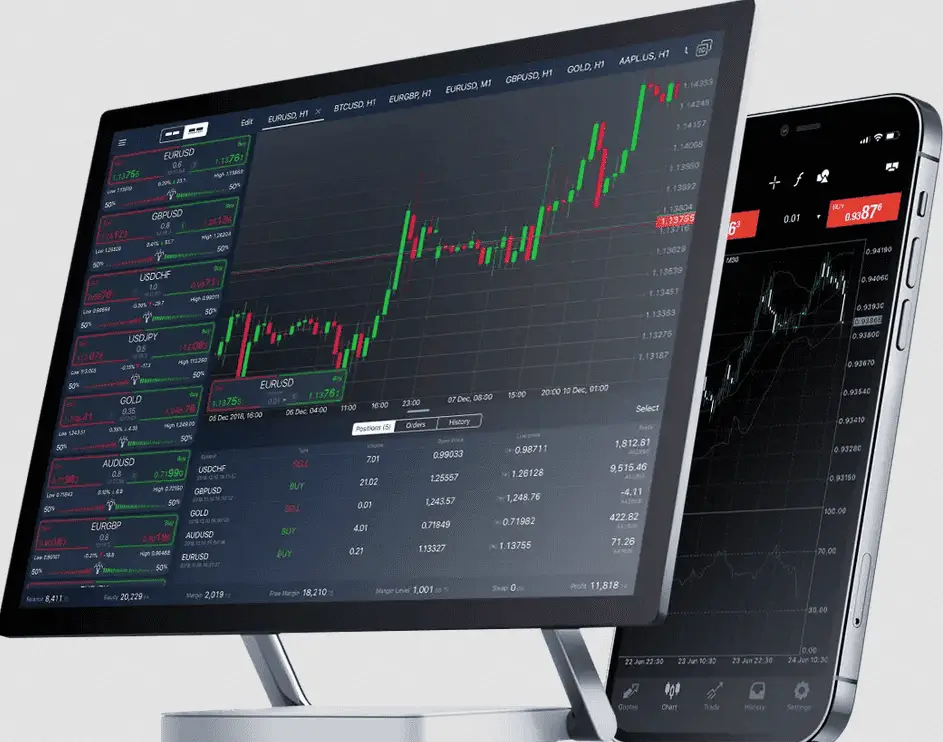 Strengths:

Modern Interface: With a sleek and modern design, the platform is aesthetically pleasing and functional.
Intuitive Charting: Traders get access to advanced charting tools and can trade directly from the chart.
Price Alerts: Users can set alerts for significant price changes.
Mobile Compatibility: ActivTrader is available on mobile devices, ensuring traders can monitor and trade wherever.
ActivTrades Payment Methods Overview
ActivTrades provides a range of payment methods to facilitate deposits and withdrawals for its clients. Here's a comprehensive breakdown of these methods based on the provided details:
Deposits & Withdrawals:
Bank Transfer:

Charges: Free.
Timeframe: Same working day. This means if you initiate a deposit or withdrawal using a bank transfer, ActivTrades typically processes it on the same business day.

Credit/Debit Card (UK & EEA):

Charges: 1.5% fee on the transaction amount.
Timeframe: 30 minutes. This quick processing time ensures clients in the UK and European Economic Area can access their funds or start trading relatively quickly after initiating the transaction.

Credit/Debit Card (non-EEA):

Charges: 1.5% fee, similar to the UK & EEA rate.
Timeframe: 30 minutes. Even for clients outside the EEA, ActivTrades maintains the same efficient processing time.

Neteller:

Charges: Free.
Timeframe: 30 minutes. E-wallets like Neteller typically offer faster transaction times, and it's evident in the swift processing offered by ActivTrades.

Skrill:

Charges: Free.
Timeframe: 30 minutes. As with Neteller, Skrill transactions are processed swiftly, allowing traders to access their funds promptly.

AstroPay:

Charges: The information on charges for AstroPay is not provided, so it might be best to check directly with ActivTrades or refer to their official documentation.
Timeframe: Details about the timeframe for AstroPay are also not provided, but considering the other methods, it's likely that ActivTrades aims for efficient processing here.
Conclusion
ActivTrades is a reputable forex broker with a rich history and a commitment to providing a diverse trading environment. The firm offers an array of platforms, from popular choices like MT4 and MT5 to its own proprietary ActivTrader platform, catering to varied trader needs. Their competitive spreads and transparent fee structure make trading cost-effective. Additionally, with a focus on security and regulation across multiple jurisdictions, ActivTrades ensures a trustworthy trading experience. Overall, whether for novice or experienced traders, ActivTrades presents a comprehensive and reliable forex trading solution.
Visit ActivTrades