More than 10 years ago, I suddenly applied to one new forex affiliate program. A small brokerage company with an excellent team was interesting to me. And I didn't make a mistake. In just several years, a small brokerage company has become a forex trading giant and one of the best forex brokers in the world.
One of the unique secret sauces was the forex affiliate program. I will reveal in this article the main strength of HF Markets – affiliate program.
What is HFM Affiliate Program?
HFM affiliate program or former Hotforex affiliate program represents a partnership program where the company HF Markets offers net revenue up to $15 per lot, sub-affiliates commission, multi-tier tracking, and exceptional support for HFM promoters.
You can see our list of best forex affiliate programs.
Each affiliate has a different commission scheme based on performance. I will share how the HF MArket program is excellent based on commissions: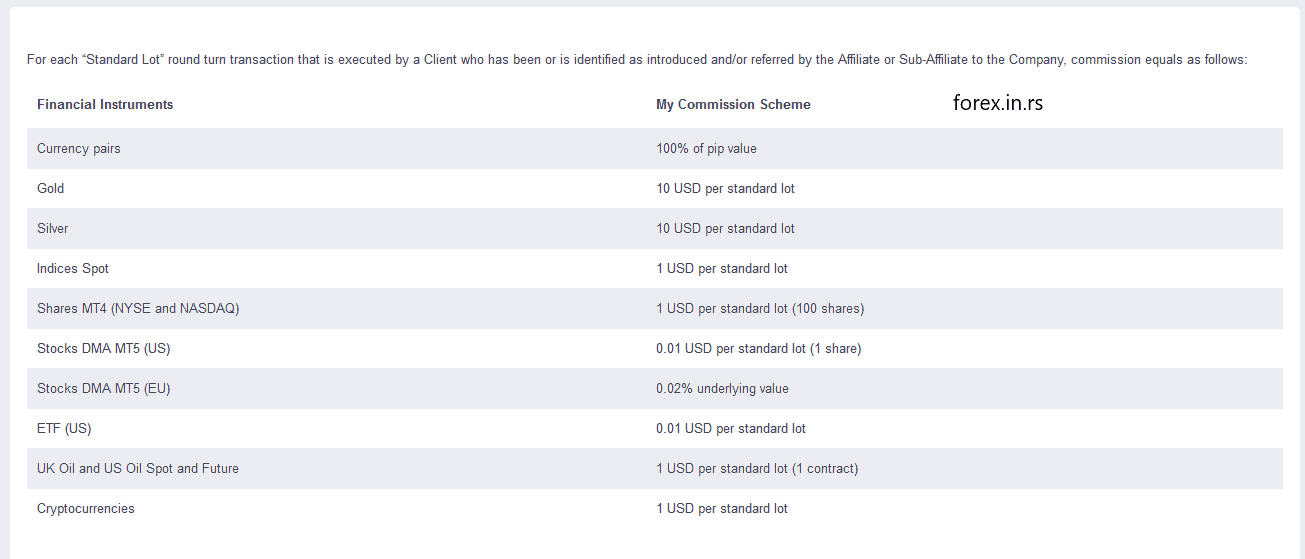 As you can see from my affiliate dashboard, HF MArkets offers 100% of pip value commissions, old, 10 dollars per standard for the gold lot. It is one of the best rewards in the forex industry.
Do HF Markets have a referral bonus?
Yes, HF Markets offers a referral bonus in its affiliate program. All verified traders can be part of the HF Markets affiliate program—just login into the HFM members area and fund banners and promotion links.
Is HFM the best affiliate program? HFM is a reputed broker dealing in forex, commodities, and contracts for differences (CFDs), which has won several finance awards. In September 2019, the company received a new prize for forex-related services. In addition, the International Finance awards (IFA) announced that HFM had the best affiliate program among forex brokers worldwide. The HFM affiliate program is an easy way for enterprising individuals to start their businesses without any experience or investing money in fees for a startup.
The brand HFM is owned by the HF Markets Group, a forex and commodities broker worldwide. The global organization has many regulated businesses affiliated with it and are brokers dealing with various assets. The company strives to offer the best possible customer service to remain the leading broker in the commodities and forex markets. A spokesman for HFM commented that the IFA award further confirmed that HFM was a leader in Forex trading, offering global coverage and its affiliate program ensured that all its marketing partners were well rewarded for their effort.
The HF Markets group started offering commodities and forex trading under the brand name HFM in 2010. The company provides a wide range of products and services for trading commodities, currency pairs, and services. Both institutional investors and retail clients have used the services of HFM for many years. Individuals who do not have money to invest in forex trading or take risks can still make money by joining the HFM affiliate program. The affiliate program is a multiple-tie program, so in addition to the affiliate's referrals, the affiliate can also make money from sub-affiliates.
One of the main advantages of the HFM programs is that there is no limit to the number of earned commissions. The affiliate can make a commission of up to $15 per lot. Since the affiliate program is multi-tier up to five levels, the affiliate will be paid a commission on the earnings of all the sub-affiliates recruited. They will make 25% of the commission of the sub-affiliates. Detailed statistics are provided to the affiliate so that he can tweak his marketing effort accordingly. Payments to affiliates are made regularly every week not to have to wait to receive compensation. The minimum payout amount is only $50.
HFM affiliate program Review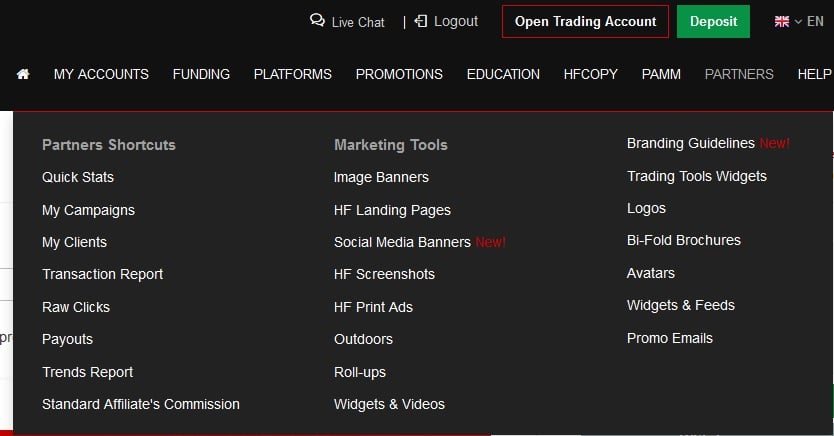 It is easy for an HFM affiliate to attract customers because of the customizable rebate program, which can also be automated. The HFM affiliate can offer its clients a rebate for all forex trading activity to make more profit. HFM offers complete marketing support to its affiliates and sponsors many sporting and other events like motor car racing to increase brand awareness and convince customers. The marketing tools and promotional materials from HFM are creatively designed to attract customers and free the affiliates. Each affiliate has a personal account manager to resolve their queries. Customer support is available in 25 languages for affiliates and traders.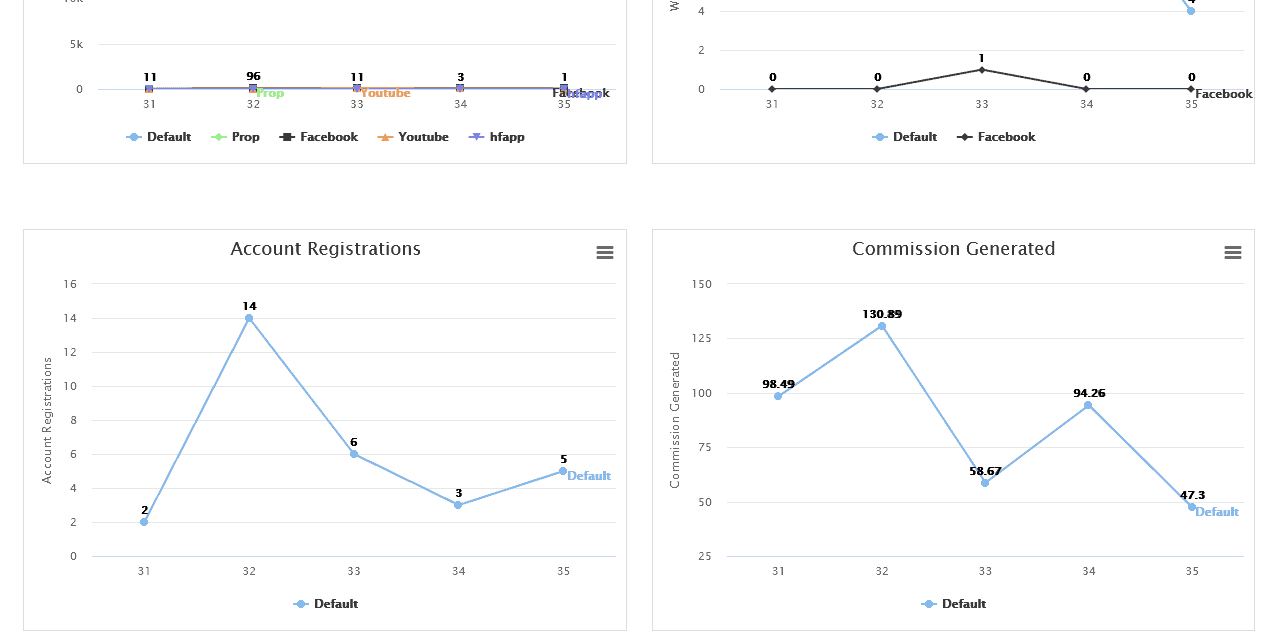 Screenshot from my affiliate HFM dashboard
HFM program has emerged as one of the most famous award-winning affiliate programs for institutional and retail forex brokers by solely providing reliable trading services and facilities worldwide.
Hot forex has emerged as the most reliable trading affiliate providing transparency at its highest level of integrity by offering its clients better, honest, and favorable trading conditions.
• Trust Worthy Broker.
Cyprus investment security commission is a licensing authority that regulates all forex brokers with legal requirements geared to protect the traders, ensure reliability, and govern broker integrity. HFM is a fully registered company operating under a set of regulations by the authority. So, by opening an account with HFM, you rest assured that you have entrusted your money to a trustworthy organization.
• HFM Services.
Hot frex is a flexible affiliate organization that allows traders to choose the accounting type suiting the desired trading styles. Using an accounting software named MT4, HFM organization offers several accounts, such as development offered by FX blue labs organization through the introduction of current technological systems among the 12 tool package that a trader may choose from depending on their wish.
Client area :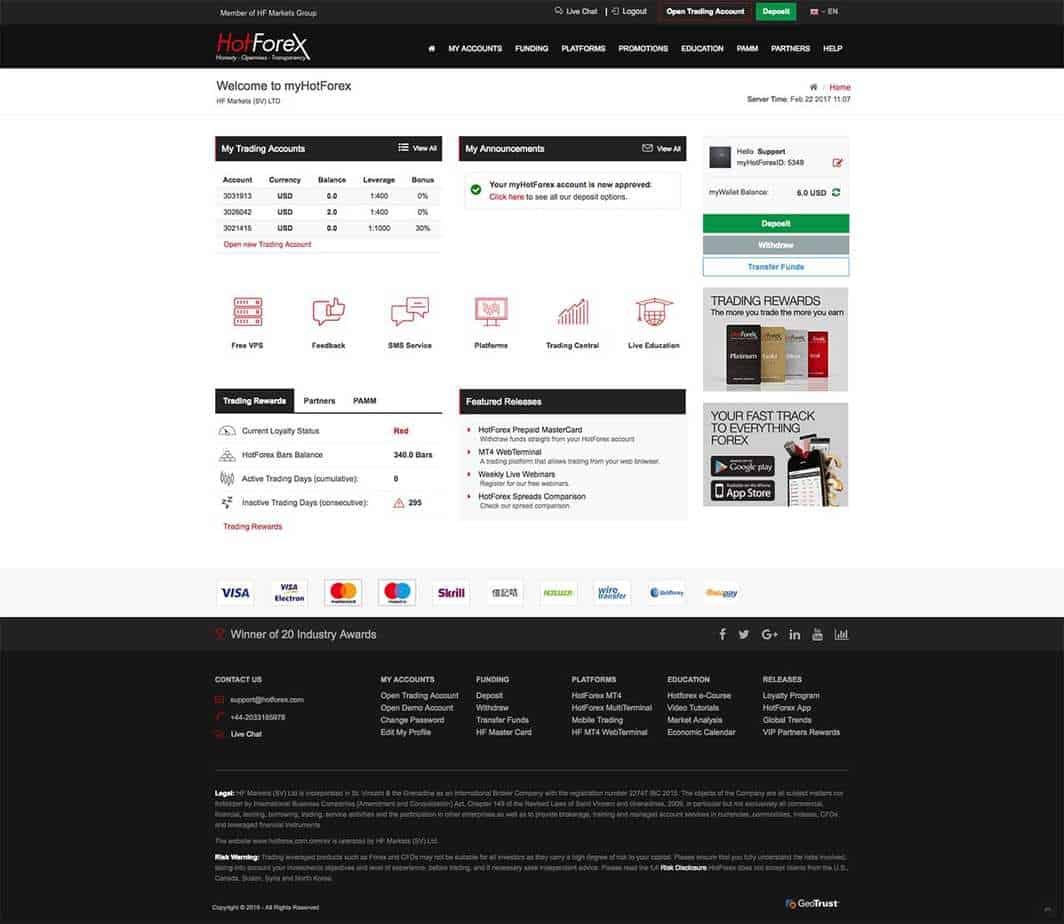 HFM Dashboard
MT5 is among the best metal trade suits deployed by this organization to better and ease trade by providing an additional platform that allows compatibility to run on both web and desktop. In addition, this desktop version supports the automated system by the name ' expert'', using the MQL5 signal community.
HFM is multi-offering multiple micros to premium accounts, micro to premium. The six accounts are categorized into two. One is dedicated to a copy trade account, and the others account for fixed accounts. According to the HFM affiliate program, the most popular accounts are fixed, and zero accounts are the most popular.
This account and its trading procedures are incorporated into HFM trading platforms to help the clients trade quickly and faster as they gain more experience in trading.
•HFM Research.
HFM offers trade market research through its educational center. The company's educational center's primary goal is to teach the trader simple terms about the forex market. The educational center is set for the company's growth with time. Its goal is to create a library resource for its clients to deeply understand the critical professional topics essential to successful trading and provide direct and reliable knowledge to help traders gain confidence. The resource center offers upcoming seminars and updates webinars where traders meet high-profile traders with their testimonies, ask questions, and receive relevant answers to help them work out successfully.
• Earnings Models.
The HFM affiliate programs offer various choices ranging between 60% of its shared revenue or $200 – $600 CPA. for beginners, $250 CPA is an ideal plan to test the market.  Remember that the expected profit margin will not be that high but promises an apparent positive profit deviation. The HFM affiliate program clients also earn through a promotional plan. This is by referring other affiliates to join the forex affiliate program. The affiliate to affiliate referral is awarded a decent earning reward amounting to 25% of the total earnings. This is a special and unique honor by the HFM affiliate program to its clients, and it is a distinction from other affiliate programs.
• Marketing Tools.
Apart from the majorly known web online platform, the HFM affiliate program has promotional methods involving handbooks, SEO, Email marketing, a few banners, and tracking links. Banners are the best form of promotion in affiliate advertisements, primarily through web banners and ads. Adds are generally linked to the related websites, and its optimization is intended to reach most links if possible. Even though most people dislike frequent popping website ads, the HFM affiliate can grab the web users' attention by following its most successful traders. The latter tell their success testimonials about the HFM affiliate program on most frequent sites and social media.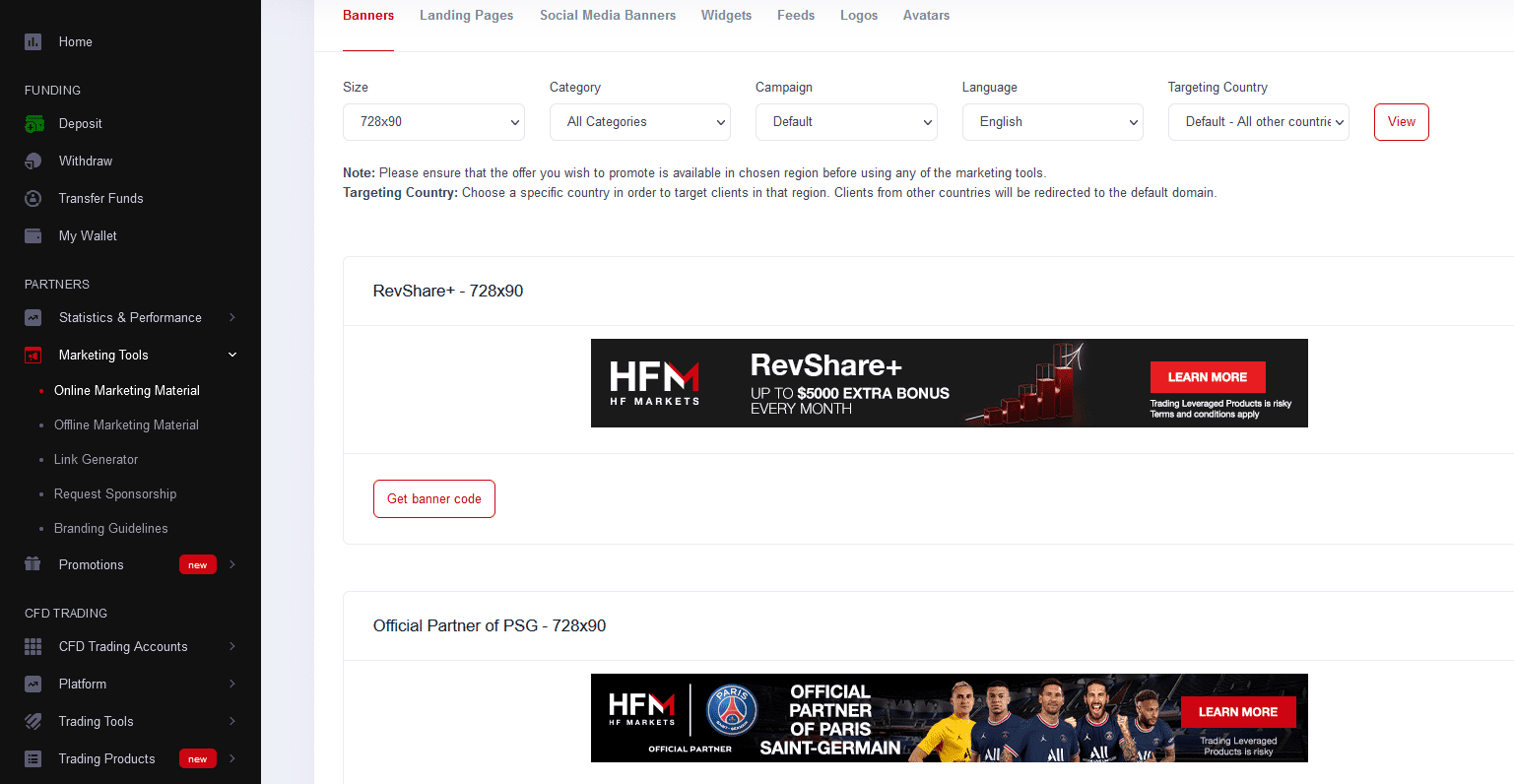 HFM also uses SEO in marketing since brokers love affiliates who can generate and drive traffic, primarily through organic traffic. In return, the broker is accredited and rated positively by third-party traders. In addition, the brokers typically place no restrictions on SEO, and they will automatically crack down on you upon registration with the domain that mimics their trademark.
• Company Motivation.
HFM affiliate program aims to be the most known trusted broker in the forex trade industry through unique and honorable customer affiliate service. It consistently offers quality and the best performance through its performance track, leading to cutting-edge technology.

• Customer Support.
HFM works under principles that are geared towards customer satisfaction. HFM clients are always the number one priority before other factors.  The company is formed and maintained by proper and well-maintained systems that provide full-time support worldwide during official working hours. The HFM team involves trade industry professionals working passionately to ensure customer support by guiding their trading needs.
HFM has a designed affiliate program adjusted for all sorts of partnerships, including fund managers, brokers' introduction, white labeling, online affiliation, regional representation, and all the best support. Its customer service has won awards for doing its job closely, looking at every affiliate's needs individual affiliate. With detailed analysis, it develops a plan that suits its customers best. That way, affiliates can count on having precisely the support they need.
For those brokers who search for a program to enable the Forex market for their clients, there is a white label that allows brokers to use MetaTrader platforms and all necessary branding options.
The managers' platform enables affiliates to run multiple accounts simultaneously with all the support provided for funds. A minimum deposit of 500 USD is required to access the fund manager platform. Introducing brokers is made for affiliates who can refer new brokers into HFM brokerage, for which HFM awards every newly referred client and from freshly referred clients. You can have them trade with binary options as well.
Commissions are 3-15% discount for every lot traded and up to 500 USD for trading options.
To start getting money, you have to meet the minimum requirements. After your free application, you will be contacted 24 hours to become an affiliate. After that, you can have all the information that HFM can offer, which means access to more support, marketing tools, and other necessary stuff to work well.
As HFM aims to get more clients, they organize to help you with as much help as you need to be a successful affiliate. Therefore, you will be able to use all the promotional material that the HFM marketing team has prepared (banners, landing pages, videos…) in several world languages.
After you become an affiliate, your earnings will automatically be transferred to your account. You can share it with your account via PayPal, Wire transfer, Money bookers, Neteller, or web money. You can also automatically adjust your transfers to activate your account once a month.
Rewards from Global Banking and Finance review received in 2013 wouldn't mean a lot if HFM didn't continue to be the leader in affiliate programming. And if you see it for yourself, you will know why HFM got the name, fame, and massive clientele worldwide.
In conclusion, HFM is a desirable trading mode that provides basics to an aspiring to grow and attain a satisfactory level in trading. The existing traders having various skills from the previous trading with other affiliates can easily interact with the system and discover the change in profit generation rising to its reasonable level. HFM keeps on taking its services to another level daily, thus transforming its image towards fame simply by providing minimal improvements on its service delivery, thus proving its uniqueness in service delivery.
Read more about brokers from our HF Markets review page.
Hf markets affiliate program sign-up: