OctaFX, established in 2011, is a reputable online Forex and CFD trading platform that has grown significantly over the past decade. Catering to global clients, OctaFX provides various financial instruments, including Forex, indices, commodities, and cryptocurrencies. This review will investigate the features, trading conditions, security, customer support, and other aspects of OctaFX to assess the platform comprehensively.
OctaFX Accounts
OctaFX MT5 Account
Recommended for: Smart Traders
Minimum Deposit: USD 100
Spreads start from: 0.6 Pips
No Commission charged
Maximum Leverage: 1:500
Minimum Trading Volume: 0.01 Lot
Maximum Trading Volume: 500 Lots
Hedging is allowed
Scalping is allowed
OctaFX MT4 Account
Recommended for: Habitual Trader
Minimum Deposit: USD 100
Spreads start from: 0.6 Pips
No Commission charged
Maximum Leverage: 1:500
Minimum Trading Volume: 0.01 Lot
Maximum Trading Volume: 200 Lots
Hedging is allowed
Scalping is allowed
The primary difference between the two accounts is the maximum trading volume, which is higher in the MT5 account (500 lots) compared to the MT4 account (200 lots). Also, the MT5 account is more suited for intelligent traders, while the MT4 account is suggested for habitual traders. Other features are essentially the same in both types of accounts.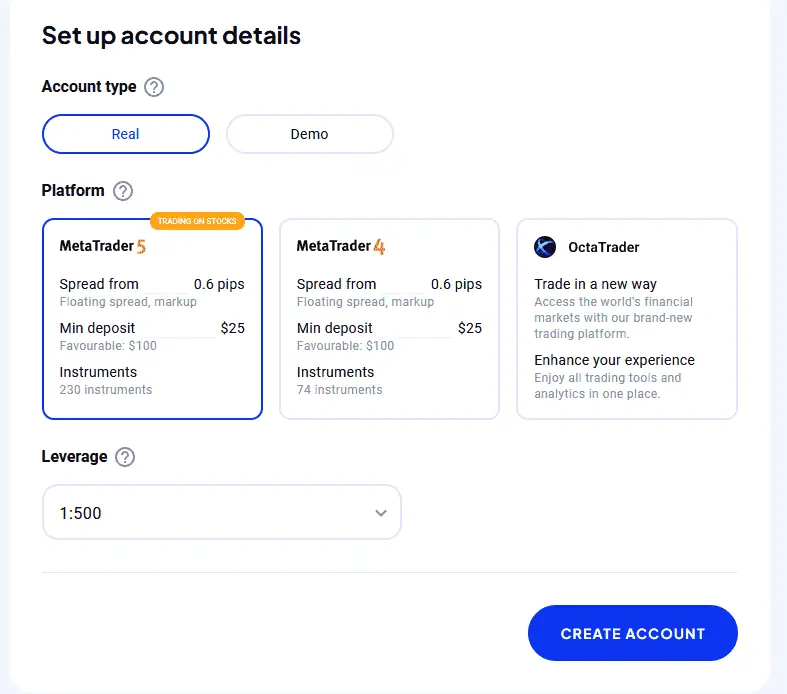 OctaFX Trading Platform and Tools
OctaFX offers its users three platforms: the popular MetaTrader 4 (MT4), its successor MetaTrader 5 (MT5), and cTrader. Each platform has its strengths.
MT4 is ideal for novice traders due to its user-friendly interface and many available trading tools. It also supports automated trading strategies (Expert Advisors) and has a customizable interface.
On the other hand, MT5, designed for more experienced traders, offers different timeframes, more indicators, an integrated economic calendar, and better backtesting capabilities than MT4. It also supports the trading of more asset types.
cTrader is renowned for its interface, superior order execution speed, and depth of market data. Advanced and professional traders often prefer it.
OctaFX Trading Conditions
OctaFX provides competitive spreads and leverages. It operates on a commission-free model for MT4 and MT5, relying on spreads for profits. For cTrader, a commission is charged, but the spreads are generally lower.
Leverage, which allows traders to open positions more significant than their account balance, varies depending on the asset class and the trader's country due to regulatory requirements. OctaFX also provides swap-free accounts (Islamic accounts), adhering to the principles of Islamic finance.
OctaFX  Security and Regulation
Security is a crucial aspect of any trading platform. OctaFX is regulated by the Cyprus Securities and Exchange Commission (CySEC), a reputable financial regulator within the European Union. It follows strict regulations to protect its clients' funds, including segregating client funds from corporate funds and participating in the Investor Compensation Fund, which can compensate eligible investors if the company fails.
OctaFX also employs advanced encryption technologies to ensure the security of personal and financial data.
OctaFX Education and Resources
OctaFX is committed to enhancing traders' knowledge and skills. It offers a variety of educational resources, including webinars, video tutorials, and articles on various trading topics. Its demo account allows newcomers to practice trading without risking real money.
OctaFX Customer Support
OctaFX offers responsive customer support available 24/5. You can contact them via live chat, email, or phone. The customer service representatives are generally knowledgeable and courteous.
I tested them even in late night hours, and support was there.
OctaFX Advantages
Established Platform: Founded in 2011, OctaFX has a solid decade of operation, providing stability and reliability to its users.
Wide Range of Tradable Instruments: OctaFX offers many tradable assets, including Forex, Stocks, Indices, and Commodities.
Multiple Trading Platforms: OctaFX supports MetaTrader 4, MetaTrader 5, and OctaTrader platforms, catering to beginner and experienced traders.
Accessible Entry Point: A minimum deposit of only $100 opens the possibility of Forex and CFD trading to a broad audience.
Variety of Account Types: OctaFX provides different account types like OctaFX MT4, OctaFX MT5, a Demo Account for beginners, and an Islamic Account for traders following Islamic finance principles.
Competitive Spreads: OctaFX offers variable spreads starting from 0.2 pips for major currency pairs, which is quite competitive in the industry.
High Leverage: OctaFX provides leverage up to 1:500 for Forex and up to 1:50 for cryptocurrencies, which can significantly magnify potential profits.
Flexible Funding and Withdrawal Methods: OctaFX supports various funding and withdrawal methods, including bank transfer, credit/debit cards, and electronic wallets like Neteller, Skrill, and Fasapay.
Rich Educational Resources: OctaFX offers comprehensive educational materials such as video tutorials, market analysis, trading guides, economic calendars, and webinars. They also run contests to make learning engaging and fun.
24/5 Customer Support: OctaFX provides round-the-clock customer support from Monday to Friday via email, live chat, and phone, ensuring assistance is always available.
Bonus Programs: OctaFX offers bonus programs which can be a great way to increase trading potential.
What I like here :
1) Mt4 platform
2) Great support and chat
3) This broker offers multiple deposit withdrawal options such as Skrill, Neteller, Bank Wire, Fast Pay, Credit cards, etc. You can deposit even $5 in micro-accounts. There are no high limits for deposit and withdrawal.
4) Excellent user area – Personal area section. Here you can easily make requests and track your whole accounts, rebates, etc.
See personal area Octafx for payment – excellent design: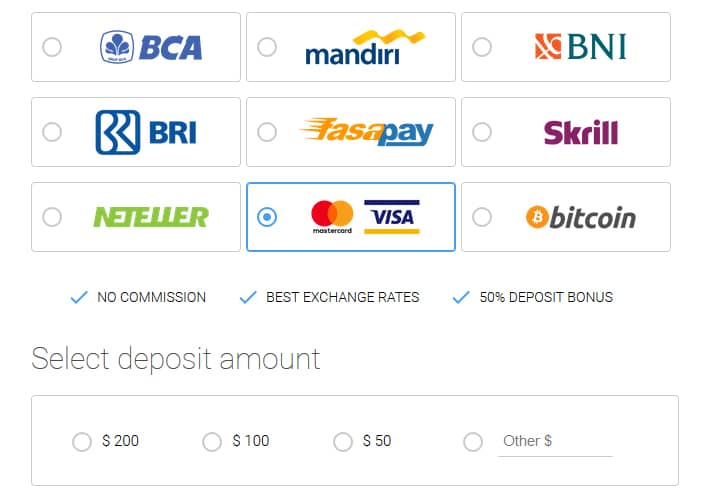 My Discussion
The official OctaFX website offers lots of optimism. Should you skip thorough reading and analyzing, you could miss seeing some "bugs" that are to be found there. OctaFX tries to focus on novice Forex traders, and they offer exciting options to that group.
Well, especially newcomers are to be careful, always, with everything.
The first thing that points out as "suspicious" is that the minimum deposit they offer is of 5USD, which is unrealistic. Whether it is a micro or mini-micro account, it is too low to be dealt with. The minimum deposit should wary around 1000 USD to develop a strategy with regular risk-conducting procedures when it's the standard account. The micro accountshould be compared to 10 USD of a deposit.
Because of that, OctaFX gives a bonus account of 8 USD for novice users to get started. You can withdraw your profits upon closing two lots.
Whoever only works with newcomers, one the reasons might be that the novice traders might not be informed about the business enough and possibly could be falsely guided to waste money and to "invest" wrongly. Therefore, whoever is not transparent about their services should not be trusted. And please, if you are new to online trading, research well before you invest. Even if it's 5 USD, with which you cannot gain anything anyway, even if you trade well with it.
Conclusion
OctaFX is a reliable and competitive Forex and CFD trading platform. It caters to both beginner and experienced traders with its comprehensive educational resources, various platforms, and a wide range of tradable assets. With robust security measures and a reputable regulator, clients can feel assured about the safety of their funds.
However, potential traders should note that, as with any investment, trading Forex and CFDs carries risk, and it's crucial to have a sound understanding of the markets before starting to trade. Using the educational resources and demo account provided by OctaFX is also recommended to learn and practice trading strategies.
In conclusion, OctaFX is a platform worth considering for individuals interested in diving into online trading, given its extensive feature set and commitment to client security and education.
VISIT OCTAFX
Please visit more best forex brokers: