Autochartist is a platform that generates trading signals and delivers 1000+ actionable trade opportunities per month in financial markets in real time. This tool is a market scanner and can provide statistically significant market movements and identify basic price levels. So, we created one case study using the MT4 Autochartist plugin.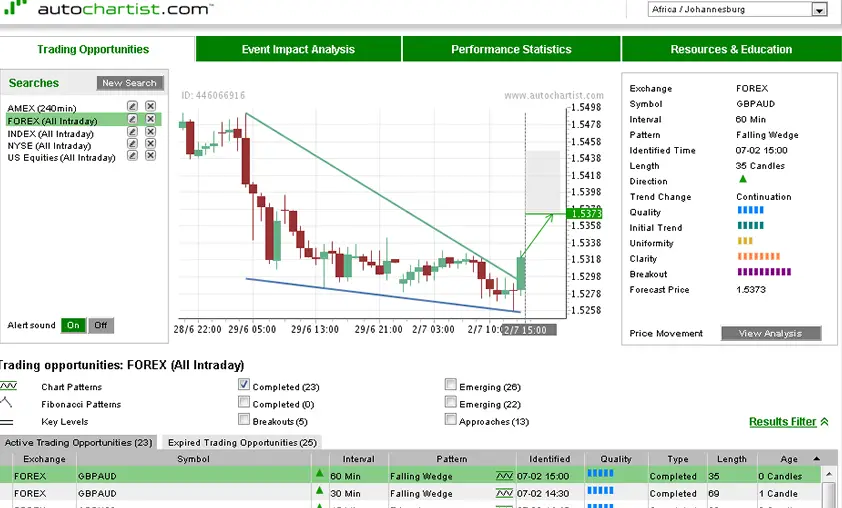 Autochartist is a trading signal platform that provides traders with comprehensive market analysis. Using the Autochartist MT4 plugin, traders can quickly identify entry and exit points and assess market volatility. Moreover, Autochartist enables investors to receive real-time updates on upcoming market movements and detect potential trading opportunities. By utilizing the Autochartist service, traders can increase their chances of success in the financial markets.
Autochartist accuracy is between 63% and 82%, but generally, trades have a low-profit factor. Based on a case study, in the last 18 months (1.1.2019 till 1. January 2023), accuracy was 64% for significant forex pairs, and the profit factor was 1.01. Using the Autochartist MT4 plugin after 18 months of trading, the trading balance almost didn't change.
When it comes to accuracy, Autochartist's performance is consistent. The platform provides signals with an accuracy rate between 63% and 82%. This means that out of every 100 trades based on these signals, at least 63 will be profitable. However, users should note that the profit factor for trades generated by the system is relatively low compared to other automated trading systems. A case study of 18 months (from 1 January 2019 to 1 January 2021) showed that significant forex pairs had an accuracy rate of 64%, while the profit factor was recorded at 1.01—almost flatlining the trading balance over this period.
Besides providing accurate forecasts and signals, Autochartist also offers its clients additional tools, such as chart pattern recognition software, which helps traders identify emerging trends or technical indicators that may help them spot potentially profitable trades before they happen. It also has a feature called Volatility Analysis which allows investors to make informed decisions about their investments by displaying current volatility levels for certain assets across different timeframes (1m – 1y). In addition, Autochartist's Risk-Level Indicator gives traders an idea of how much risk they take with each trade based on their stop loss level.
To further ensure client satisfaction and reliability, Autochartist constantly updates its software to provide its clients with the most up-to-date information on the market. It also offers customer support services through phone or email 24 hours a day throughout the week so customers can get assistance whenever needed. Furthermore, Autochartist provides educational materials such as webinars and tutorials to help users better understand how to use their service effectively for maximum profits.
Overall, Autochartist is a reliable trading signal platform that offers its clients high accuracy rates along with additional features like chart pattern recognition software or Volatility Analysis which can significantly boost chances of success in financial markets if appropriately used by traders who have sufficient knowledge about trading strategies and risk management techniques.
Accuracy is not so important in trading.
For example:
If I buy one mini lot of EURUSD at 1.3, stop loss 1.295, and target 1.3025, I risk $50, and my target is $25.
I can trade 999 times, risking $50 and trying to achieve $25, accuracy can be 66%, but I will have a $0 profit in the end.
333 times I will lose $50 = -$16.650
Six hundred sixty-six times, I will win $25 = +$16.650
Autochartist accuracy case study description
This study used significant forex pairs: EURUSD, GBPUSD, AUDUSD, NZDUSD, USDJPY, USDCAD, EURCHF, EURJPY, and GBPJPY.
We made trades using one micro lot.
Tool: Autochartist MT4 plugin (our broker offers a free agency).
We traded 1 hour and above (higher time frames) to avoid overtrading.
We traded only signals with at least a 75% probability of success.
Results were:
Accuracy: 65%
Profit: 1.01
Autochartist performance statistics
To check Autochartist performance statistics in the Autochartist platform, go to the performance statistics tab, and select the asset you want to analyze based on pattern, critical level, and key-level approaches. See details in the video below:


Autochartist review grade
The Autochartist application ranks 3.5 out of 5 ratings based on several trading forums and Google Play. Autochartist reviews show that this tool uses thousands of regular clients around the globe. This indicates that Autochartist is a well-known and regularly used price forecasting tool. Autochartist technology enables users to monitor thousands of Forex financial instruments and their patterns.
In the following chapters, we will see the essential platform review.
Autochartist chart patterns list is:
Channels (up and down)
Triangles (ascending, descending, and symmetrical)
Rectangles
Double top and Double bottom
Triple top and Triple bottom
Head and Shoulders (plus inverse Head and Shoulders)
Wedges (rising and falling – continuation and reversal)
ABCD pattern
Fibonacci retracements and extensions patterns
Gartley (harmonic pattern)
Butterfly (harmonic pattern)
Let us learn more about this tool:
Autochartist platform cost
The Autochartist Monthly Subscription plan is $29.
Three Month Autochartist Access Once-Off payment plan is $87.
Autochartist Six Month Subscription Plan is $145.
Autochartist Binary Options Three Monthly Subscription is $30.
Traders can get free Autochartist MT4 plugins from their brokers. For example, clients can use Autochartist HFM or Autochartist IC Markets for free.
Clients of IC Markets had access to Autochartist's automated technical analysis and content through the MT4, MT5, and cTrader platforms.
How to use Autochartist on MT4?
Autochartist is an innovative trading platform that can provide traders with high-quality signals for successful forex and stock trading. The system combines sophisticated software algorithms with real-time market data to identify profitable opportunities in the financial markets. Autochartist can provide traders with timely alerts of potential trades, helping them to make informed decisions on when and what to trade.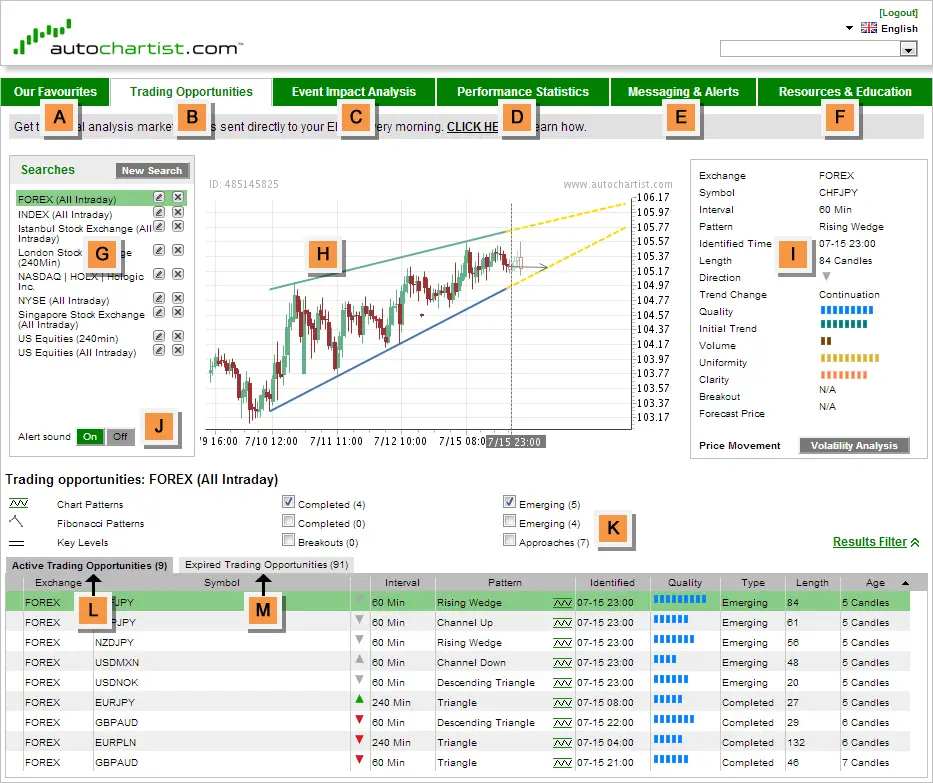 The Autochartist platform is designed to be easy-to-use, highly customizable, and flexible enough to meet novice and experienced traders' needs. It features an intuitive graphical user interface (GUI) that allows users to quickly understand the market dynamics and make informed decisions based on their unique trading strategies. For example, users can scan multiple timeframes or select predetermined technical analysis indicators such as Fibonacci retracements, Elliott Wave theory, support & resistance levels, or candlestick patterns to quickly identify potential price points of entry or exit from a trade. Furthermore, Autochartist also provides recommendations for optimal risk management practices, such as stopping losses and taking profits.
For those new to trading with Autochartist, it can be helpful to start by reviewing the available tutorials in their online Learning Center. Here users will find educational resources covering everything from basic concepts such as price action analysis and money management techniques to advanced topics like algorithmic trading systems and neural networks. There is also a library of pre-recorded webinars available for free that cover various aspects of Autochartist's features and capabilities in depth.
Several options depend on your broker's capabilities when it comes time to place a trade using Autochartist's signals. Many brokers offer direct integration, which allows for the automated execution of trades based on alerts provided by Autochartist's analysis engine. Alternatively, mobile apps available from both iOS and Android stores allow users to access the platform away from their computer or laptop – great for those who may want flexibility when executing trades while out and about! In addition, plug-ins are available for popular charting packages such as MetaTrader 4/5 so that traders can easily overlay the signal data directly onto their chart sets up for straightforward visual interpretation by the user before making their trade decision.
Finally, once you have chosen a broker integration option for Autochartist Signals, it's essential not to forget proper risk management when executing your trades based on these signals! Just because a signal has been generated does not necessarily mean it will result in profits – just like any other form of trading, you must consider overall market conditions and your particular strategy goals before entering any positions based on these signals! Therefore, you must familiarize yourself with how leverage works to properly manage your risk exposure and set appropriate stop losses accordingly should your trade move against you unexpectedly due to unforeseen events in the market.
To use Autochartist on MT4, please download the MT4 plugin, run the .exe file, and install it. All steps can see below: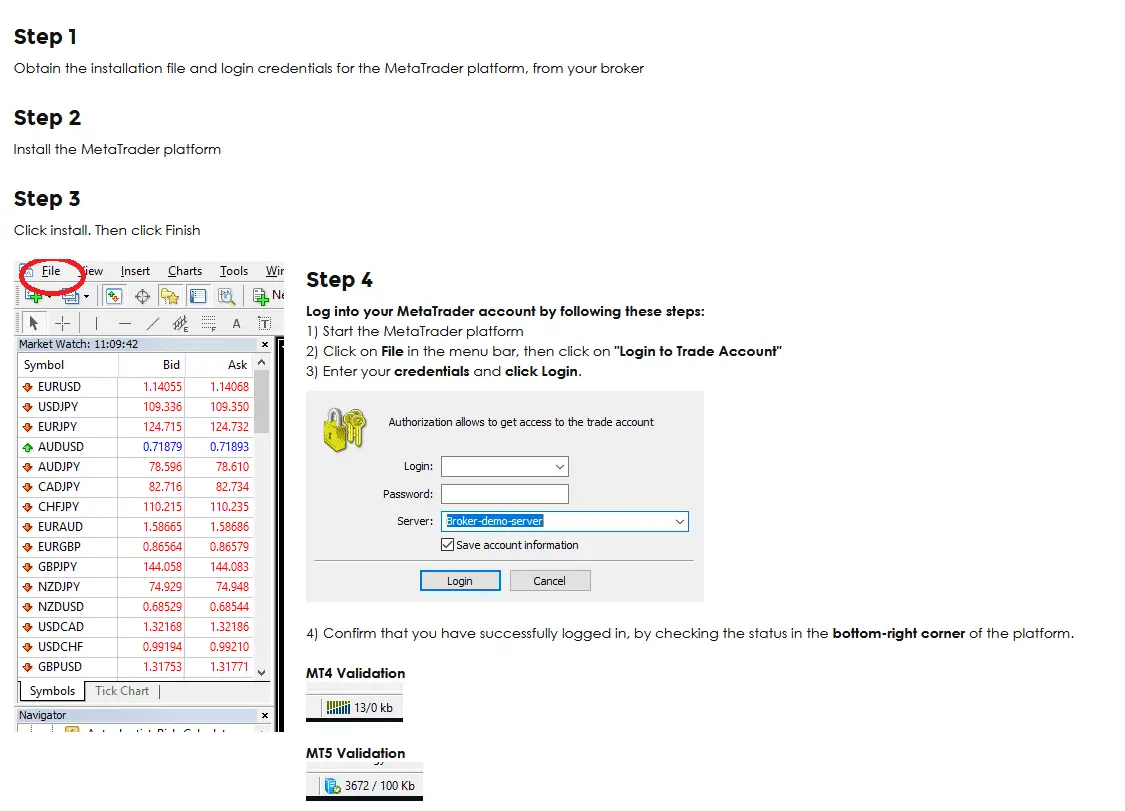 Please see the video explains how to use the Autochartist mt plugin:


There is one more excellent tool.
Autochart volatility analysis
Autochartist volatility analysis represents an optimization process for trading stop-loss and take-profit levels with the Autochartist volatility analysis tool. This analysis will draw a price range for each trading instrument in each time frame. For example, on the same chart, you can compare volatility for EURUSD on H4, weekly, or 15 minutes. 
In the video below is the Autochartist volatility analysis explanation:

Autochartist binary options
Autochartist binary options tool can scan binary options assets and provide possible direction based on pattern and time. It is presented in the video below:

Autochartist binary options tool can be used for analysis. See the video below:

However, this tool is no "Holy Grail" in trading, and traders can not achieve high expectation profits. But this tool is suitable for analysis and to "catch" exciting setups.