In the first step, we will see Forex and binary trading in this article and then know the difference between Forex and binary trading. My opinion on the question "Which is better, forex or binary options" is that Forex is better for trading than binary options because of the better winning rate, profitability, risk, and reward ratio. So the answer is: Forex is better than binary options, and I will represent this opinion in my case study.
Binary options vs. Forex
The main differences between Forex and binary options are: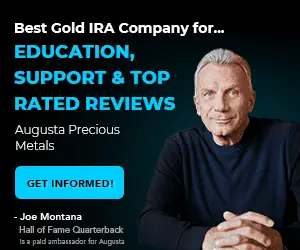 First, Forex is a natural trading asset; binary options are fictive assets.
 Second, Forex can be traded with no profit or loss limit; binary options trading is limited by time.
Third, Forex offers leverage; binary options do not.
Finally, Forex trade duration can be unlimited; binary options have an expiring time.
Nevertheless, if you cannot predict correctly, you'll lose the entire amount of investment made by you initially. Furthermore, this type of trading will not come with any variability, given that you will only be able to decide whether the value of an asset will increase or decrease and not precisely by how much.
Profits and losses will be established upfront
The time for expiry of any trade can be selected upfront
It is possible to trade Binary options only during the regular hours of trading
There is no possibility of any leverage
One will gain access to various types of Binary options for trading across several industries
To sum up:
Binary options trading:
It involves making predictions about the price movements of underlying assets
Trades are executed quickly and have a fixed payout structure
It can be easier to understand and trade than Forex
Often requires lower capital investment than Forex
Binary options trading offers fixed risks and fixed rewards.
High potential returns, but more than 95% of traders lose money.
Limited trading options, as binary options typically only offer call/put or up/down options
Often associated with high levels of risk and fraud, particularly in the unregulated market
Forex trading:
Involves buying and selling currencies on the foreign exchange market
Trades can be executed quickly but with potentially unlimited profit or loss
It can be more complex and require a higher level of skill and experience than binary options trading
Often requires more increased capital investment than binary options
Higher potential for profit, but also a higher potential for loss
Wide range of trading options, including spot trades, futures, options, and derivatives
High liquidity, with the forex market being the largest financial market in the world
Associated with risks such as currency volatility, leverage, and geopolitical events.
Which is better, Forex or binary options?
Based on cary study, forex trading is better than binary options because it provides average higher returns and smaller drawdowns. Thus, forex trading is more profitable than binary options.
Forex trading involves buying and selling currencies on the foreign exchange market to profit from changes in currency exchange rates. Forex traders use a variety of strategies, such as technical analysis, fundamental analysis, and risk management techniques, to try to identify profitable trades. The potential profitability of forex trading depends on a range of factors, including market conditions, trading strategies, and the trader's skill level and experience.
On the other hand, binary options trading involves making predictions about the price movements of underlying assets, such as currencies, stocks, or commodities. Binary options traders can choose from a range of trading strategies, such as the popular call/put or up/down options, with payouts determined by the broker at the time of trade execution. The potential profitability of binary options trading depends on the trader's predictions' accuracy and the broker's payout structure.
In general, forex trading is considered to be a more complex and sophisticated form of investment than binary options trading. As a result,  Forex traders may have more control over their trades and can use various tools and strategies to improve their profitability. However, forex trading also involves higher levels of risk, as currency exchange rates can be highly volatile and subject to sudden shifts based on global events.
Binary options trading, by contrast, is often viewed as a more straightforward and accessible form of investment, with lower capital requirements and less complicated trading strategies. However, binary options trading also carries higher levels of risk, as the fixed payout structure means that traders can lose their entire investment if their predictions are incorrect.
Overall, the profitability of forex trading and binary options trading will depend on various factors, including the individual trader's skills, experience, risk tolerance, market conditions, and other external factors. Therefore, it's essential for investors to carefully consider their investment goals and risk appetite before deciding which investment vehicle is right for them.
Everything You Wanted To Know About Binary Options vs. Forex Trading
Binary options trading has witnessed significant growth during the past several years; however, it does not imply that it will be an excellent investment for everybody. While both Forex and binary options trading will provide significant revenues, they are not the same by any means and might not even serve the same purpose. This article will determine which of these two suits your requirements. Therefore, let us not waste time and delve deeper into this article regarding Binary Options vs. Forex Trading.
Binary Options:
By the term Binary options, we refer to option contracts with fixed rewards and fixed risks. In binary options trading, the trader must decide whether any underlying asset, such as an item, a currency, or a stock, can go up or down during a fixed period. If the traders can predict correctly, they will be shown the valuation of their earnings upfront.
While trading binary options, you will invest in an asset like a stock, a commodity, or a currency that will increase or decrease its value over a specific period. The trader will be depicted as the value they generate upfront. Thus, you'll understand precisely how much profit you can make on the investment if your prediction is correct while making the trade.
Are binary options the same as Forex?
Binary options are not the same as Forex because binary options are not tangible financial assets such as Forex, bonds, stocks, commodities, futures, etc. Instead, it is used in theoretical asset pricing. In addition, binary options are prone to application fraud and hence are banned by regulators in many jurisdictions as a form of gambling.
Case Study – Which is Better, Forex or Binary Options?
In this case study, we picked three trend trading strategies Expert Advisors based on H1, H4, and daily chart, and three swing strategies based on H1, H4, and Daily chart. In addition, we tested EURUSD, GBPUSD, USDJPY, and USDCAD. In this way, we had the same bullish and bearish trades (EURUSd and GBPUSD are against USD, and USDJPY and USDCAD are on the USD side, so it is suitable for testing).
After that, we set Expert Advisors to close trades based on time duration (1,2,6,12,24 hours ) based on strategy and using spreads; we set fixed risk contracts for binary options—average trade time for Forex for binary options similar.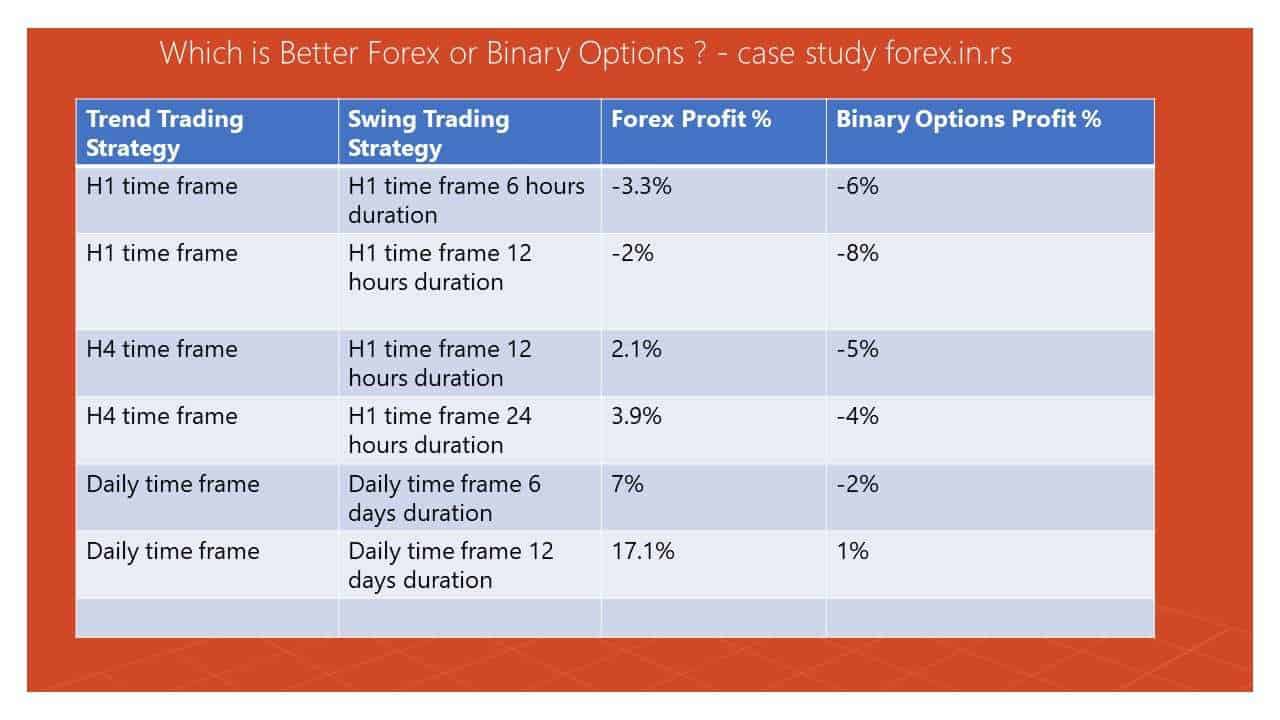 This methodology is not perfect,t it can give you insight into how an excellent risk-reward ratio can make profits grow better than binary options betting. Volatility is the forex trading friend, and volatility doesn't impact binary options.
Difference between Forex and binary trading
Accessibility To The Market
The forex trading marketplace will be open around the clock, five days a week. Forex trading allows traders to react quickly to international news and events compared to other markets. Even though most traders do not prefer weekend trading, it stays open with restricted functionality.
Binary options will be traded when the marketplace of any underlying asset is open. This implies that it will operate only during regular trading hours. Nevertheless, it is possible to make trades on currency pairs. Making trades 24 hours a day, five days a week will be possible on such occasions.
One can gain access to both these opportunities on trading platforms online.
The expiry time for the binary options trade can vary from 1 minute to 60 minutes. You'll come across some brokers who enable the traders to leave the trade at a lower return before an agreement has been made. One can likewise extend binary options trade to attain better returns. However, it will be crucial to note that all brokers will not offer these options.
You will control your trade-in in the forex trading marketplace while you can exit at your preferred time. That being said, going any open trade on the weekends will not be possible since the market will remain closed at that time.

Diversity
Binary options trading will offer a vast range of marketplaces, including commodities, stocks, and currencies. On the contrary, the forex market will provide a much smaller selection of trades. Even though forex trading will happen in only the major currency pairs, more pairs will also be available.
It is quite lucrative to trade in binary options, given that you already comprehend how much profit or loss you will make before entering the trade. However, the possible gains will typically be lower than any successful forex trade. While competent forex traders can expect profits of as much as 200% or even higher, the earnings of binary options will vary from somewhere between 50% and 80% of the initial investment.
The forex trading markets are offering much more variability and risks at present. Apart from figuring out the direction in which a particular currency will move, it will also be possible for the traders to ascertain the extent to which it will go. Traders can endorse a stop-loss order, which will help prevent them from losing more than a specified percentage of the initial investment.
More Variability, More Risk
FX markets presently offer higher variability and enhanced risks for the traders out there. This is because the traders must decide not just the direction in which an asset will move in the forex markets (also referred to as currency markets or FX markets) but, likewise, guess how low or high the asset moves. In this way, we are yet to be aware of the ultimate risk and profit.
There is no limit to the amount of money generated or lost by the trader in Forex unless they use specific tools to control trading out there. A stop-loss is one such tool that will prevent traders from losing more than a particular amount. Put, the trade will close automatically if the trader out there has lost a specific amount. Similarly, fixing the potential reward in advance might also be possible. The trader can decide that he would like to close the trade as soon as he has reached a particular profit value.
The optimum loss for FX can be the total cash on your trading account. Therefore, managing both profits and losses with FX limit/stop orders is feasible.
Binary trades at present use different timelines. Once a trade commences, the trader won't control when that trade starts or ends. Before a binary options trade begins, the users must choose when the order expires. There is a starting time as well as an end time for each option.
The trade ends automatically at the time of expiry. Although you will be allowed by a few brokers to quit early, you will lose your option at a certain percentage of the predicted return. Unfortunately, this option is not offered by all the brokers out there.
Similarly, several brokers enable the traders to extend the expiration period to the subsequent expiration period. It's known as "rollover," It is feasible only if traders increase their investment by a certain proportion.
In FX trading, users might take trades that can last from only 1 second to several months, given that they feel like they can open and shut the business. There are both benefits and drawbacks when it comes to this flexibility.
Forex has a tool known as margins, too. Each broker calculates the highest margin. The margins will permit the traders to enhance the capital they have invested such that it will be feasible for them to make a more significant profit if the trade happens to be a winning one. Margin is not a binary options tool whatsoever.
You can trade five types of binary options right now. These happen to be 60 seconds options, high/low, boundary options, touch/no-touch options, and option builders. In Forex, you will come across different types of orders. The essential type happens to be the buy/sell type. Nevertheless, you will find better types, including OCTO (one cancels the other), limit, stop, trailing stop, and hedge orders, apart from others.
Forex trading is entirely dissimilar to binary trading, and one should have adequate knowledge of Forex vs. binary options to become a successful trader.
Binary options won't be affected by volatility by any means. The option will reach the expiry time provided you have made the correct prediction and your investment won't be affected by surprise volatility.
On the contrary, surprise volatility can significantly affect forex trading, usually brought on by news events. As a result, it will be vital to set up adequate procedures for managing risks while doing forex trading.
Final Verdict
Whether you want to go for binary options or forex trading depends entirely on your investment objectives and how much risk you can afford to take. Binary options will be better if a trader does not like to take much trouble. On the other hand, although forex trading can offer higher returns, it is more complicated and risky than binary options. However, forex trading can be profitable with plenty of practice and a bit of luck.