Forex trading has grown exponentially, becoming a preferred investment strategy for many individuals worldwide. While this growth offers tremendous opportunities, the challenge for most beginners is finding a broker that provides an easy-to-use platform and supports their learning and growth within the forex market. This article dives into why HF Markets (also known as HotForex) stands out as the best forex broker for beginners. Please read our HF Markets review for more details.
What is The Best Forex Trading Broker for Beginners?
The best trading forex broker for beginners is HF Markets because you can use a cent account where when you deposit $100, you have $10 000 cents for trading. Therefore, you can practice on a live cent account before trading more prominent positions. Additionally, you can deposit and withdraw very fast using various payment methods.
VISIT HFM
See the screenshot from the website where you can choose a cent account for beginners: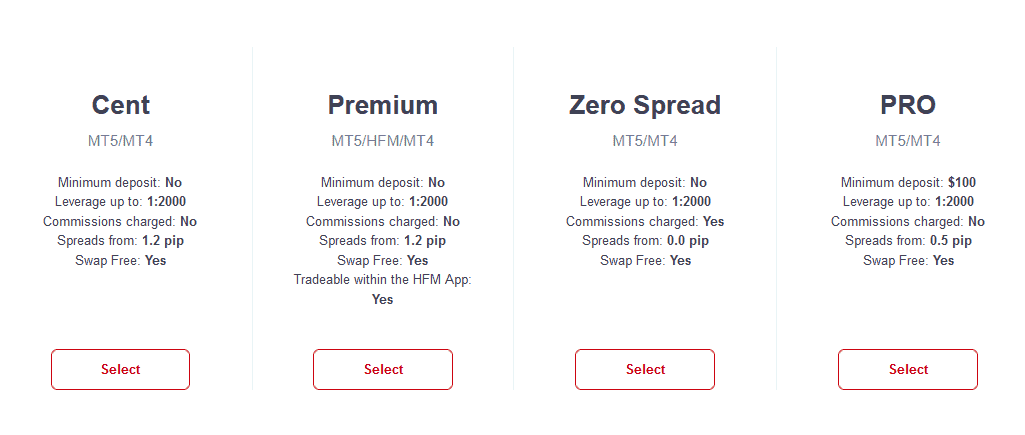 There are five reasons why the HF market is excellent for beginners:
1. Cent Account: Practicing with Live Trading
One of the standout offerings from HF Markets is the Cent Account. This account type is unique because it can transform a small deposit into a more prominent trading position. For instance, a deposit of $100 translates to 10,000 cents available for trading. This feature allows beginners to dip their toes into the waters of forex trading without the risk of drowning financially. The big 'play money' pool provides ample opportunity for beginners to learn, practice and make mistakes without worrying about exhausting their trading capital.
2. Diverse Payment Options
The speed and ease of depositing and withdrawing funds are crucial for any trader, especially beginners. HF Markets offers a variety of payment methods, allowing its clients to use the one they are most comfortable with. The processing times are typically less than 24 hours for e-payment methods, adding another convenience layer. This removes a significant operational hassle and allows beginners to focus on the core trading activities.
3. Leverage: Maximizing Trading Capital
Leverage in forex trading refers to using borrowed capital to open trading positions more significant than your deposit. HF Markets offers an attractive leverage ratio of up to 1:2000. While it's important to understand that higher leverage can also increase potential losses, leverage allows beginners to make significant profits from small initial investments if used responsibly.
4. Competitive Spreads across Various Account Types
Spreads, the difference between the bid and asking prices, are a vital consideration when choosing a forex broker. HF Markets offers competitive spreads across different account types, including HF Mirco Account, HF Zero Account, HF Premium Account, HF Premium Pro Account, and HF Islamic Account. Whether trading popular currency pairs like USDEUR, USDJPY, GBPUSD, EURUSD, commodities like Gold, US Oil, and UK Oil, or even indices such as US 500, NASDAQ, and FTSE 100, HF Markets offers affordable spreads. Specifically, the HF Zero Account provides exceptionally low spreads and a commission per round turn, making it an excellent choice for cost-conscious beginners.
5. Comprehensive Offerings
HF Markets offers a broad spectrum of assets to trade, including forex, commodities, and indices. This diversity allows beginners to explore different markets and find a niche that suits their trading style and risk tolerance. HF Markets also offers an Islamic Account, adhering to Islamic law (Sharia) principles regarding financial transactions. This inclusive offering allows clients who follow Islamic finance principles to engage in forex trading without violating their beliefs.
In conclusion, HF Markets provides a comprehensive, beginner-friendly environment for aspiring forex traders. With their unique Cent Account, diverse payment options, high leverage, competitive spreads, and a wide range of tradable assets, beginners can confidently start their trading journey. As with any financial decision, prospective traders should research, understand the risks involved, and consider their financial goals and risk tolerance before diving into forex trading.
VISIT HFM
You can check an additionally beautiful user dashboard where everything is simple and elegant: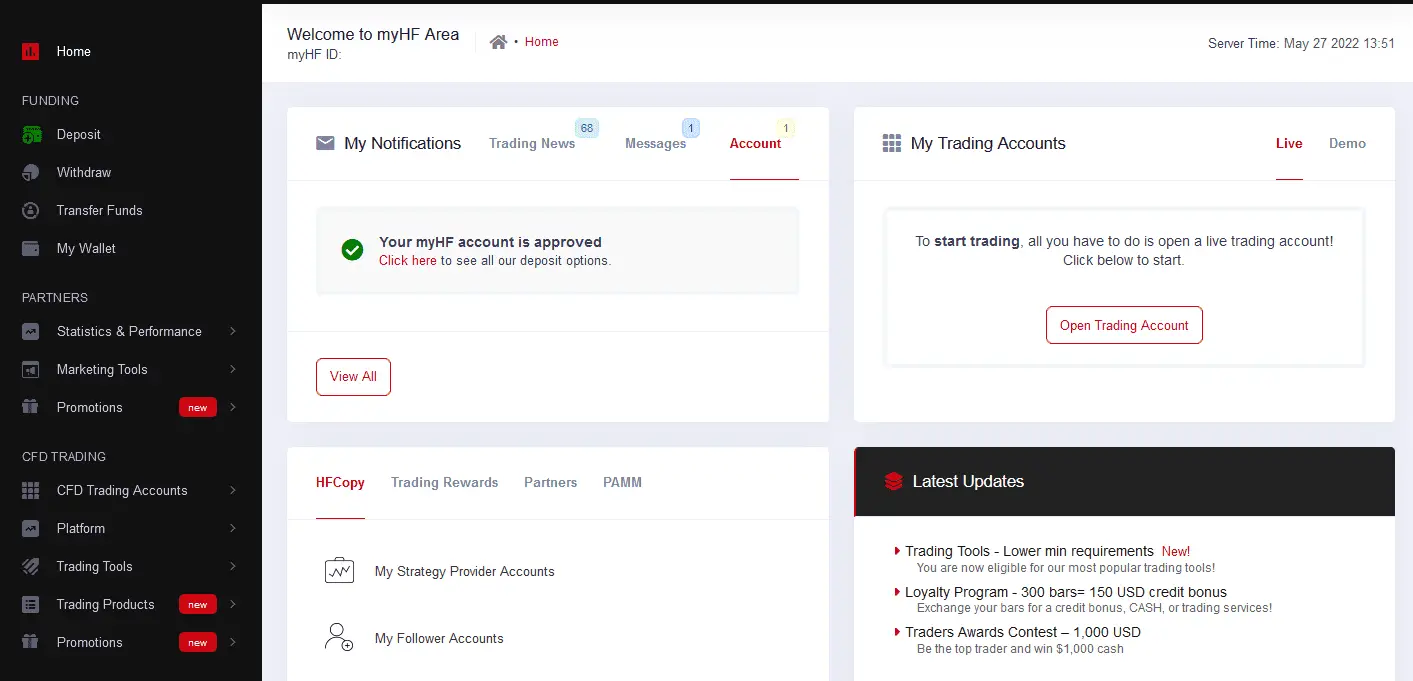 In conclusion, HF Markets is an exceptional platform for beginners venturing into forex trading. Here's why:
Cent Account: The unique feature of the Cent Account allows beginners to experience the intricacies of live trading with a significant 'play money' pool, permitting them to learn and make mistakes without severe financial implications.
Flexible Payment Options: The variety and efficiency of deposit and withdrawal methods offered by HF Markets make financial operations hassle-free, helping beginners to focus primarily on their trading strategies.
High Leverage: The leverage of up to 1:2000 offered by HF Markets provides an opportunity to maximize potential profits, even with a small initial deposit, a feature handy for novices with limited capital.
Competitive Spreads: HF Markets provides competitive spreads across various account types, whether trading currency pairs, commodities, or indices. This cost-effective trading environment is ideal for beginners.
Wide Asset Selection: The broad range of tradable assets on HF Markets enables beginners to diversify their portfolios and explore different markets. The inclusivity of the Islamic Account also makes the platform accessible for clients observing Islamic finance principles. You can trade 1200+ trading instruments s across different categories, including Forex, Commodities, Indices, Metals, Bonds, ETFs, CFD Stocks, and Cryptocurrencies.
Please, if you need to choose some other forex broker that is good for beginner traders, try some of these from the list: