Trading copiers are technologically designed to replicate trades from one account (often called the 'Master' account) to one or more other accounts (referred to as 'Slave' accounts).
The Master account acts as the source of the trading signals. Every time a trade is initiated, modified, or closed on the master account, the same action is mirrored in the slave accounts. This copying process is usually performed in real time to maintain the accuracy and effectiveness of the trades.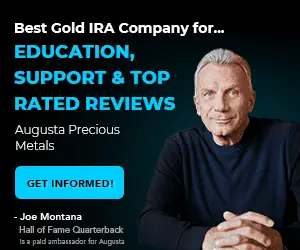 Trading copiers typically support a variety of trading platforms but are particularly prevalent and well-integrated with MetaTrader 4 (MT4) and MetaTrader 5 (MT5). These platforms are among the most popular in the forex trading world due to their flexibility, reliability, and wide range of tools and features.
To ensure optimal effectiveness, trading copiers usually have various features and options that allow users to customize how the trades are copied. For instance, users can adjust the lot size for each trade, set stop loss and take profit levels, and select which types of trades to copy. This flexibility makes trading copiers popular among experienced and novice forex traders.
In our article How to Copy and Paste Forex Signals we learned that there are Script-Based Forex Copiers and Cloud-Based Copiers.
Let us present the 12 Best forex trade copiers.
Auto Trade Copier Script
The Auto Trade Copier is an MT4 Script created explicitly for the widely-used forex trading platforms MetaTrader 4 (MT4) and MetaTrader 5 (MT5).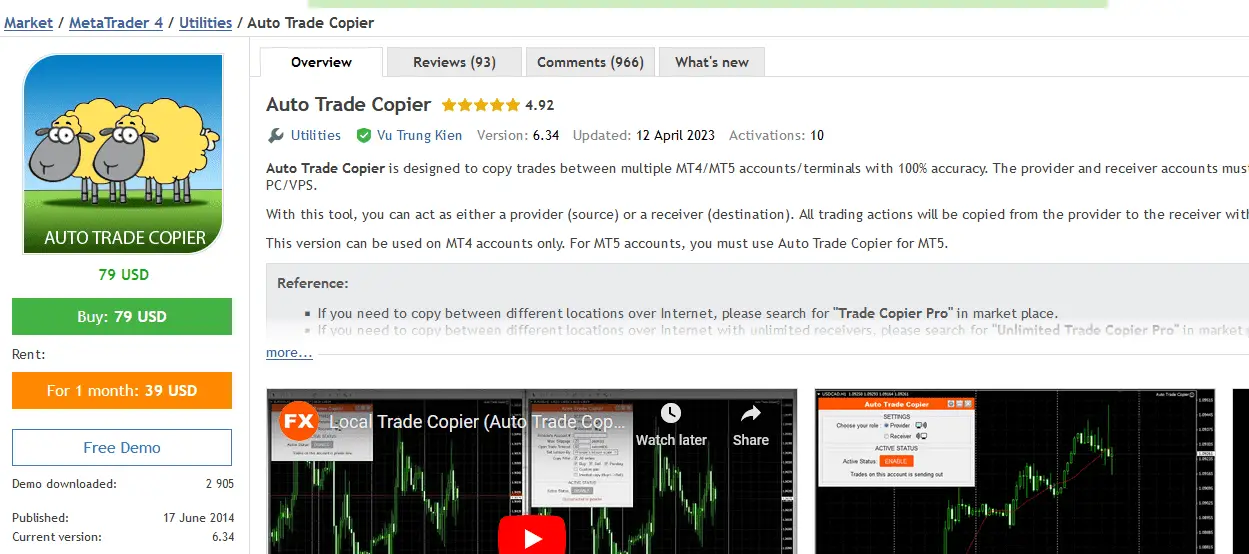 Its primary purpose is to copy trades from one account, often called the master or provider account, to another, known as the slave or receiver account. Priced at $79, this software guarantees instant trade replication, ensuring the two accounts remain synchronized in real time.
See video:
Trade Copier Script for MT5
A Trade Copier is a utility tool engineered to sync and copy trades from one trading account (the provider) to another (the recipient). Both provider and recipient trading accounts must be installed on the same computer or VPS server.
To purchase and activate Trade Copier, there are versions for both MetaTrader 4 and MetaTrader 5 available. It's also possible to download a demo version for either platform. After purchase, an activation process will be available with the respective vendor.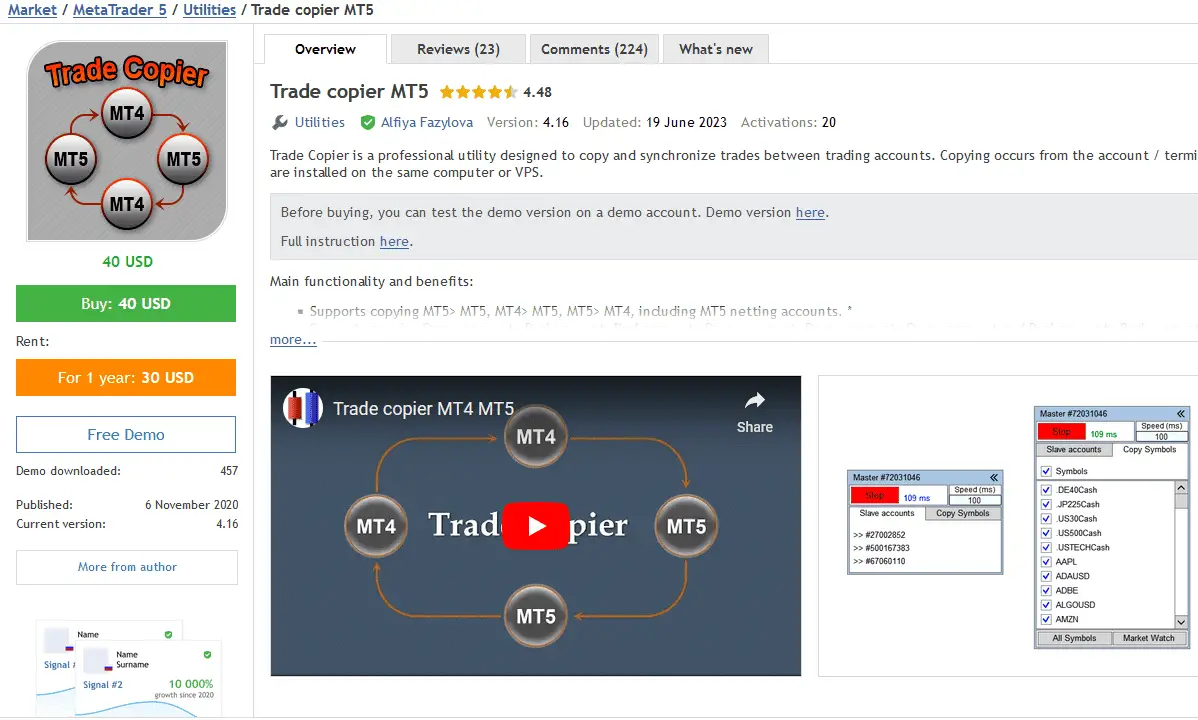 Regarding functionality, the Trade Copier operates within the same computer or VPS server. It requires at least two installed terminals:
The provider's terminal – Here, the Trade Copier gathers information about trade transactions and transmits this data to the recipient's terminal. The utility in this terminal operates in 'Main' mode.
The recipient's terminal – Here, the Trade Copier receives data from the provider's terminal and executes the trades. The utility in this terminal operates in 'Slave' mode.
The utility mode is chosen on the Input settings window, which appears when the utility is initiated on the chart:
Master mode transmits data to the recipient's terminals. It's used on the terminal from which trades are copied. In this mode, the utility gathers information about trades and sends this information to recipient terminals.
Slave mode receives data from the provider's terminal. It's used on the terminal where copied trades need to be executed. In this mode, the utility receives data from the provider's terminal and performs trades based on that data. In this mode, two additional parameters are used: 'Market,' which dictates market execution mode, and 'Magic number,' which acts as an ID for the Slave copier.
On the Master Mode screen, the user can turn on or off data transmission to recipient terminals, see a list of connected Slave accounts, view the current data transmission frequency, and input the desired frequency.
On the Slave Mode screen, the user can turn the copying of trades on or off, see the current frequency of data reception from the provider terminal, configure the list of copied symbols, set up copying and notification settings, and see a list of orders for both master and slave accounts.
Please note that the actual frequency of data transmission can vary and depends on various factors, such as computer resources and internet speed.
Duplikium Cloud-Based Forex Trade Copier
Duplikium is a comprehensive, cloud-based Trade Copier and Mirror Trading Platform that stands out for its focus on High-Frequency Trading and compatibility with multiple brokers. It's designed to support various forex and CFD brokers globally, including but not limited to platforms such as cTrader, LMax, and FXCM. The monthly price is around $3.9-$4.2 per account.
Duplikium doesn't require continuous Virtual Private Server (VPS) running or installing software, unlike many other trading platforms. This feature significantly simplifies the trading process and reduces the technical requirements for its users.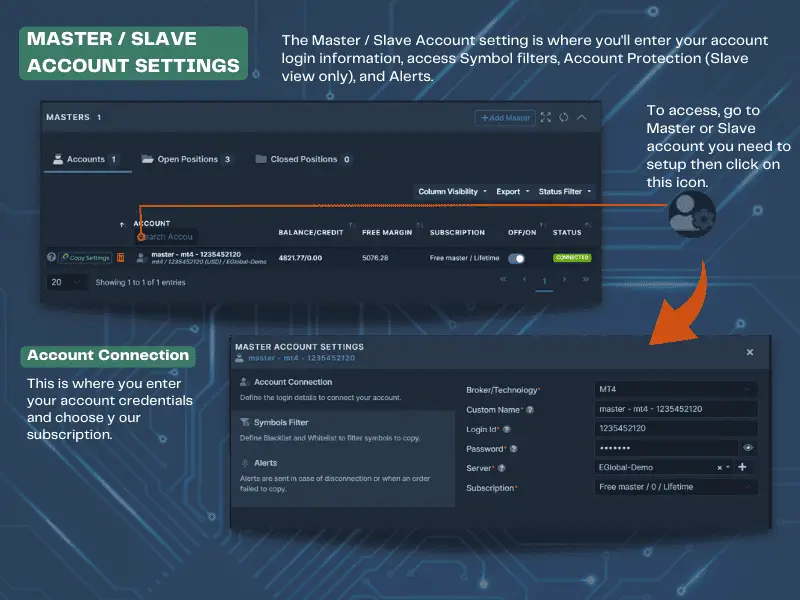 The platform's primary purpose is to streamline and simplify copying trades from Master accounts to Slave accounts. This duplication process allows Signal Providers, Forex, CFD, Crypto Asset Managers, Mirror Traders, and even individual traders to replicate trades quickly, efficiently, and seamlessly.
Here are some of the critical features of Duplikium:
High-Frequency Trading: High-frequency trading involves executing a high volume of trades within extremely short time frames. Duplikium is designed to handle this kind of trading activity, providing reliable and efficient trade duplication in high-frequency trading environments.
Multi-Broker Compatibility: Duplikium is designed to work with a wide range of brokers across the globe. This compatibility enables users to connect multiple accounts from different brokers to a single master account, simplifying trade management.
Support for Multiple Assets: Duplikium doesn't limit users to forex trading. It also supports CFDs and cryptocurrency trades, offering a versatile platform for different types of asset managers.
Simplified Process: As Duplikium is cloud-based and doesn't require continuous VPS running or software installation, it simplifies the trading process. Users can focus on their trading strategies and decisions, while Duplikium takes care of the technical aspects of trade duplication.
Accessible for Different Types of Traders: Whether you're a signal provider, asset manager, mirror trader, or individual trader, Duplikium caters to your needs. Its functionalities are not limited to a specific group of traders, making it an accessible and valuable tool for many users.
In summary, Duplikium provides a robust, user-friendly, and versatile platform for all traders. Its focus on high-frequency trading, compatibility with multiple brokers, and support for various assets make it a standout choice in the crowded field of trade copying and mirror trading platforms.
Local Trade Copier
The Local Trade Copier™ for MT4 & MT5 is a game-changing tool revolutionizing how trades are managed across multiple MetaTrader accounts. It bridges all your MetaTrader accounts, enabling you to copy and paste trades from a single master account to numerous other accounts in real time.
The price is high because it costs 59 EUR monthly for five active accounts.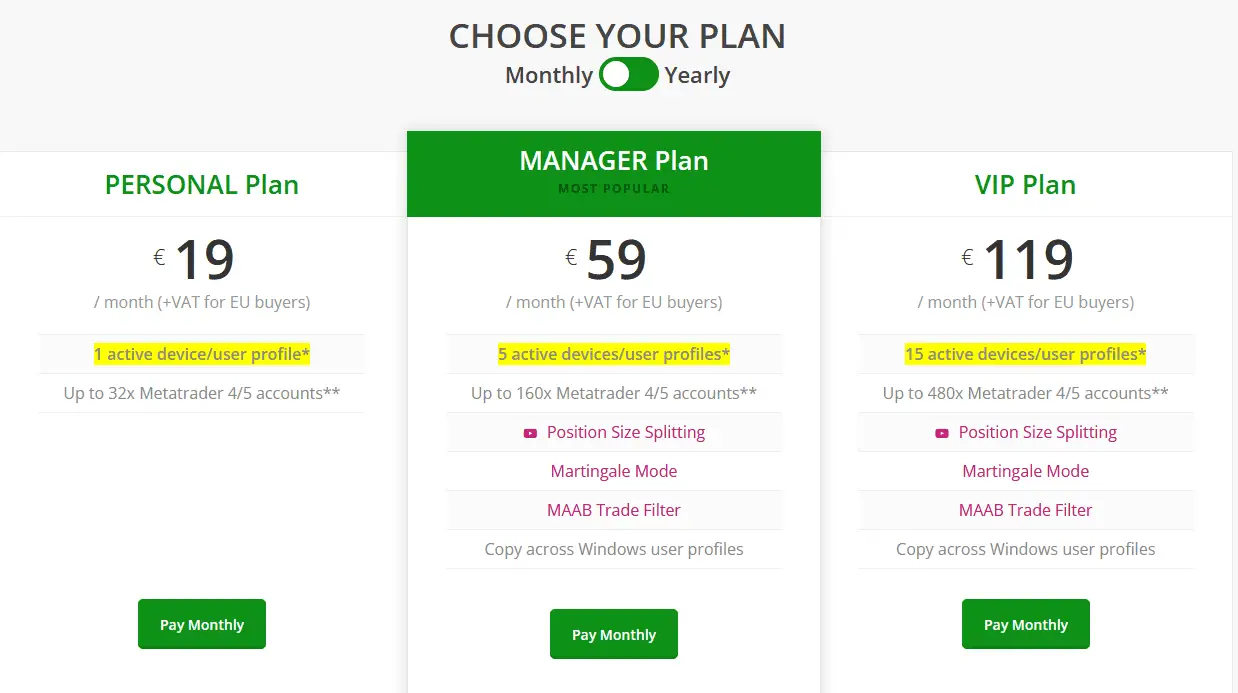 Local Trade Copier™ can help:
Automate Trade Replication: By automatically replicating trades across your different accounts, Local Trade Copier™ helps to save time and minimize errors that could occur during manual trade entry. When a trade is placed in the master account, it's instantly replicated in all connected accounts.
Manage Multiple Accounts with Ease: Multiple trading accounts can be complex and time-consuming. But with Local Trade Copier™, you can synchronize all trades across multiple accounts seamlessly and effortlessly, whether they're on MT4 or MT5.
Maintain Consistency in Trade Execution: With trades automatically mirrored across all accounts, you can ensure that your trading strategy is consistently executed across all accounts. This uniformity reduces discrepancies in performance that might occur due to differences in trade execution.
Effectively Manage Trade Parameters: Local Trade Copier™ is not just about duplicating trades; it also effectively manages crucial trade parameters such as stop loss, take profit, and others. You can set these parameters once on your master account, and they'll be automatically applied to all your connected accounts.
Unlock Scalability: Whether you're an account manager, a signal provider, or a trader looking to expand your operations, the Local Trade Copier™ provides the scalability you need. Automating trade replication across multiple accounts allows you to grow your trading business without being limited by manual trade management.
In summary, the Local Trade Copier™ for MT4 & MT5 provides a valuable solution for managing multiple trading accounts. It enables you to streamline operations, reduce errors, and unlock growth potential.
Forex Copier 3
Forex Trade Copier 3 is a tool designed to copy trades locally, meaning all trading platforms need to be run on the same PC or Virtual Private Server (VPS). It's built for speed and efficiency, with the capacity to copy any trade in as little as 0.1 seconds, ensuring instant replication of all trades.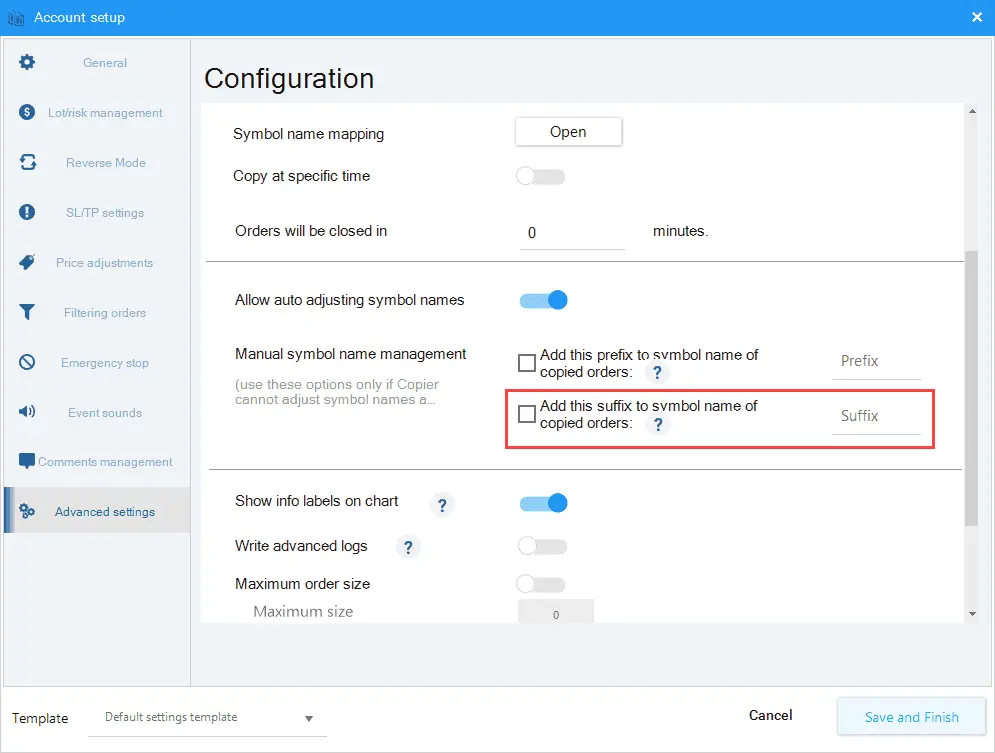 Setting up the trade copying process with Forex Trade Copier 3 is straightforward and fast, taking no more than 2 minutes. This rapid setup time ensures minimal downtime and quick commencement of trade copying.
Key features of the Forex Trade Copier 3 include:
Broker Compatibility: Forex Trade Copier 3 supports any Forex broker, allowing users to choose their preferred brokerage.
Custom Lot/Risk Management: Users can customize their lot sizes and manage risks for local trades, offering more control over their trading strategy.
Consideration of Different Leverages: The software accommodates different leverage settings, allowing you to copy trades accurately even when source and receiver accounts use different leverage.
Price Adjustments and Stop Loss/Take Profit Settings: It allows users to adjust prices and set Stop Loss and Take Profit levels, further personalizing the copying process.
Reverse Mode for Copy Trading: This unique feature enables users to reverse trades. In this mode, a buy order becomes a sell order, and vice versa. It's useful when taking the opposite position of the copied trade.
Adjust Symbol Name Feature: This feature allows users to adjust symbol names per their requirements, providing flexibility for different trading scenarios.
Lifetime License: Forex Trade Copier 3 has a lifetime license, eliminating the need for ongoing subscription payments.
Unlimited Source and Receiver Accounts: The software allows unlimited source and receiver accounts on the local copier, providing scalability for growing trading operations.
The Forex Trade Copier 3 costs $199, which offers a cost-effective solution for traders looking for a reliable, efficient, and versatile trade copier tool.
Social Traders Tools
Social Trader Tools is a comprehensive, web-based platform explicitly designed for users of MetaTrader 4 (MT4). Its primary purpose is to streamline and automate copying trades across multiple trading accounts. Given its cloud-based nature, it runs 24/7 without needing a Virtual Private Server (VPS), reducing its users' technical complexity and cost.

Here are some of the critical features of Social Trader Tools:
Cloud-Based Hosting: Unlike many other platforms, Social Trader Tools is cloud-hosted, ensuring a 24/7 operation without requiring a VPS. This feature eliminates the hassle of managing a server and ensures the uninterrupted operation of your trade copying process.
Multiple Account Management: With Social Trader Tools, you can copy trades to any number of trading accounts. This ability benefits account managers, signal providers, or individual traders who operate several trading accounts and wish to ensure consistency across all of them.
Compatibility with MT4: The platform is fully compatible with MetaTrader 4, one of the most popular and widely used forex trading platforms. This compatibility means you can seamlessly integrate your MT4 accounts with Social Trader Tools.
Automated Trade Copying: The platform automates copying trades from your master account to your slave accounts, reducing manual input and the potential for error. It ensures that all accounts follow the same trading strategy, maintaining consistency in your trading activity.
Affordable Pricing Structure: Social Trader Tools offers a tiered pricing structure based on the number of accounts you need to manage. For two accounts, the price is $20 per month, and for managing five accounts, it's $60 per month. This pricing structure makes it cost-effective for traders with multiple accounts, as they only pay for the required capacity.
In essence, Social Trader Tools is an efficient and user-friendly platform that simplifies trade copying and account management for MT4 users. Its cloud-based hosting, multi-account compatibility, and affordability make it an attractive choice for individual traders and trading businesses.
Telegram Trade copier
TelegramFXCopier is a forex trade copier designed to take trading signals from Telegram channels and execute those signals on your MT4 or MT5 trading platforms. It supports immediate execution, with signal execution in less than 5 seconds directly from Telegram channels, regardless of the signal's format – an image or a message in a different language.
Here are the key features and capabilities of TelegramFXCopier:
Trade All Kinds Of Assets: The Expert Advisor (EA) can trade not just forex but also indexes and commodities. It is also capable of interpreting and replying to messages from Telegram channels to execute actions such as closing orders, moving stop losses, and set to break even directly on your trading platform.
Entry Price At Market Or Provider: TelegramFXCopier allows you to follow the entry price of your signal provider and have the EA execute pending orders. Alternatively, it can execute Telegram signals directly at the market price as soon as the provider sends them.
Money Management: The Telegram Copier enables you to customize your money management strategy by choosing between a fixed lot or a risk percentage per trade. It can handle signals with multiple take profit levels allowing you to split the lot size between each order with a different take profit level.
Risk Management: You can duplicate the take profit and stop loss levels from the signal provider or set your own. The software supports trailing stop loss and custom break even. Setting your custom TP and SL levels can help manage risk, especially if the signal provider sends signals without these levels. You can also set a trailing SL to close a percentage of your profit at each step.
Automatically Move SL: The software contains several advanced options, including automatic trailing when using multiple take-profit levels. If a signal includes multiple take profit levels, the software moves the stop loss to break even when the first take profit is hit and continues to move the stop loss to the first take profit level when the second take profit is hit.
Symbol Exceptions: If there is a specific currency pair you don't wish to trade, you can enter the pair's symbol in the "Symbol Exception" option located in the EA settings. You can also set a custom lot size for a specific pair.
Percentage Of TPs Lot Size: You can specify the percentage of the total lot size for each take profit level to control your risk and maximize profit. If a signal includes multiple take profit levels, the EA will split the total lot size depending on the parameters in the EA settings.
TelegramFXCopier is a powerful and flexible forex trading tool that automates copying signals from Telegram channels and executing them on your MT4 or MT5 platform, complete with advanced money and risk management options.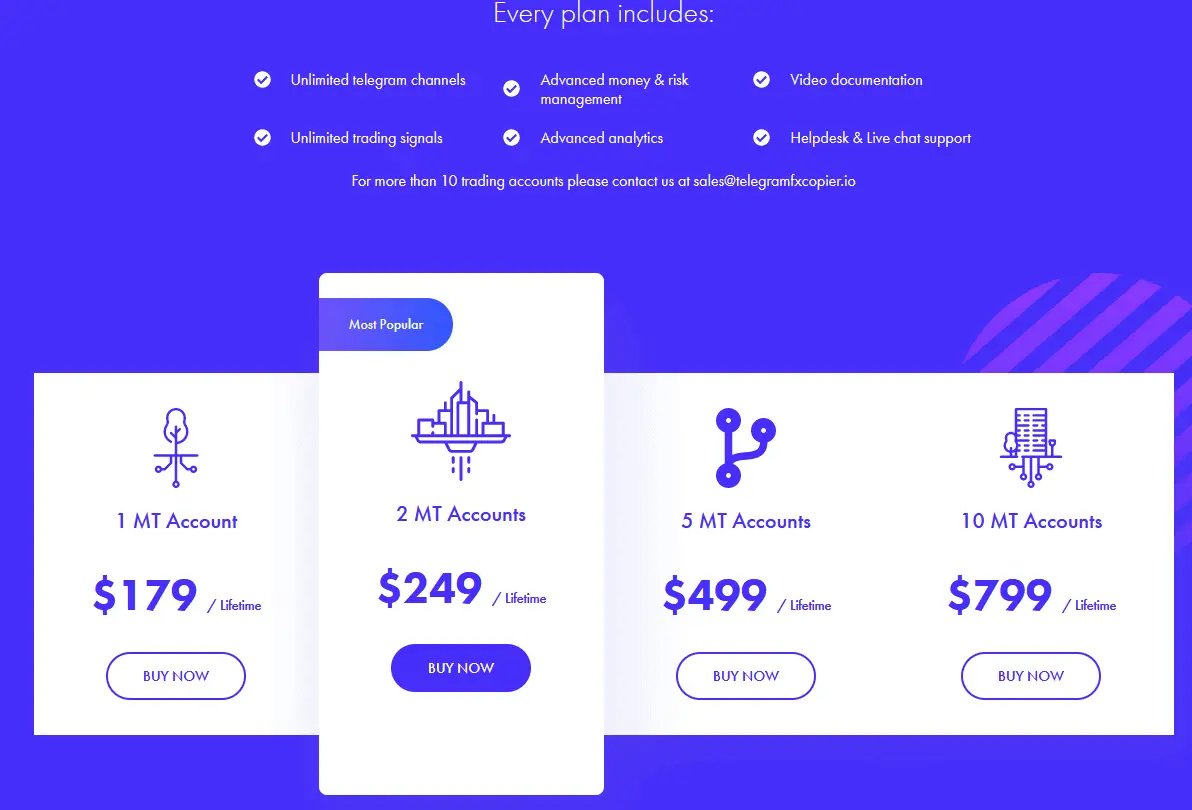 The pricing for the Telegram Copier depends on the number of MetaTrader (MT) accounts you wish to link to. Here's the breakdown of the costs:
1 MT Account: The lifetime price is $179 for one MetaTrader account. If you only need to use the Telegram Copier for one trading account, you pay a one-time fee of $179 and can use it for that account for life.
2 MT Accounts: The most popular option is for two MetaTrader accounts, which costs $249 for a lifetime subscription. This is ideal for traders who manage two accounts and want to apply the same trading signals to both.
5 MT Accounts: You can purchase a lifetime subscription for $499 if you manage up to five MetaTrader accounts. This allows you to copy trading signals to all five accounts from the Telegram channels you follow.
10 MT Accounts: For traders managing a more significant number of accounts, there's an option to link up to ten MetaTrader accounts. This option costs $799 for a lifetime subscription.
Free FX Blue Personal Trade Copier for MT4
The FX Blue, Personal Trade Copier, is a software application designed to duplicate trading orders between two instances of MT4 or MT5, or a combination of both, running on the same computer. It is a robust and trusted tool widely utilized by many traders worldwide and even by brokers to manage risk and liquidity across servers. You can use only five brokers.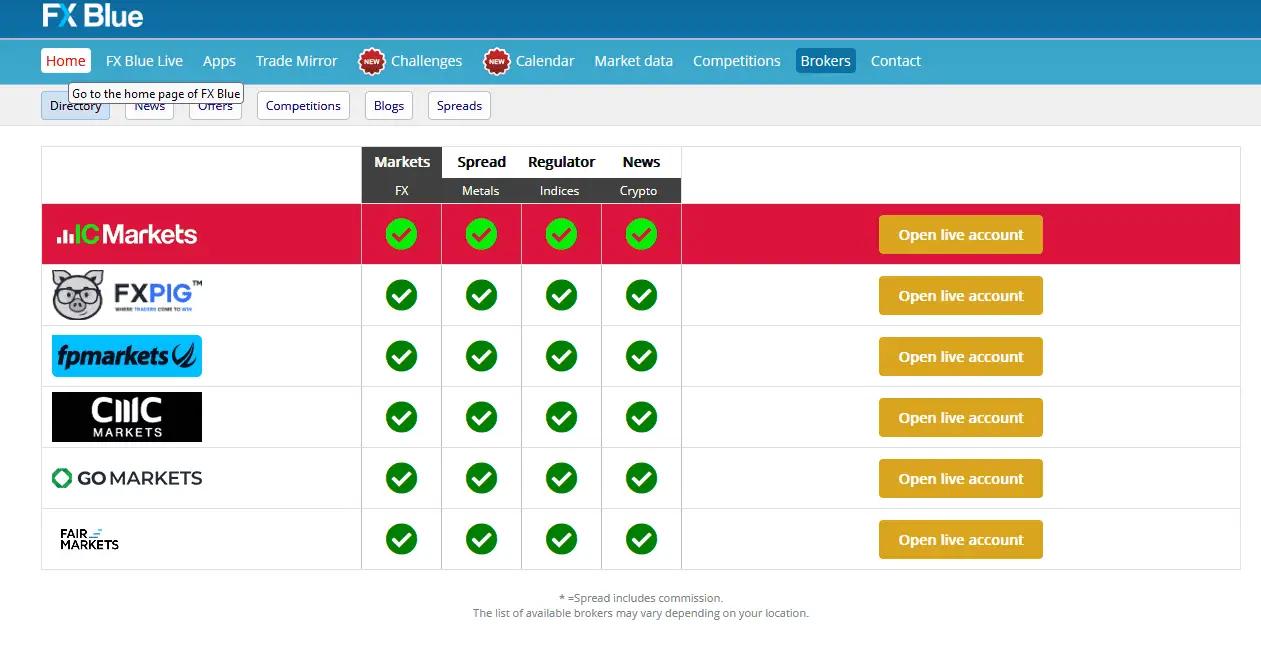 Here's a detailed overview of the application:
Instant Communication: The trade copier ensures almost instantaneous communication between two MT4 or MT5 instances, allowing for quick and efficient copying of trades.
Lot Sizing Adjustment: This feature allows users to adjust the lot sizes between the two accounts, facilitating personalized risk management.
Symbol & Magic Number Specific Copying: Users can limit the trade copying to specific symbols or magic numbers, allowing for more focused and selective trading strategies.
Bidirectional Copying Between MT4 and MT5: This tool is not just limited to MT4. You can also copy trades between MT4 and MT5 in either direction, providing flexibility in your trading operations.
New Version Improvements: The new release, v10, features several upgrades, including improved copying speed, automatic detection of different symbol names on various broker accounts, and the ability to override the copier's actions with custom MQL code. An optional worker EA can also run trading actions in parallel on MT4, copying multiple new signals simultaneously.
Advanced Features: The trade copier has several advanced features, including risk-based adjustment of lot sizes based on the relative equity of the accounts, adjustments to stop-loss and take-profit levels, the ability to copy both manual and automated trading activity, and more. It can also handle partial closes, provides email alerts on trading activity, and restricts trading to specified daily trading hours.
Automatic Adjustments: The software automatically adjusts for different broker symbol names and brokers using decimal-place pricing. It also allows for the inversion of the original trade direction if needed.
FX Blue Personal Trade Copier for MT4 is available as a free download, though registration is required. Additionally, it works with the desktop client terminal from any broker. However, FX Blue provides a list of recommended brokers that offer tightened spreads, a broader range of available markets, or special offers that can improve your trading results.
This trade copier provides a comprehensive solution for traders seeking to duplicate trades between two MT4 or MT5 accounts. It offers flexibility and customization, making it a reliable tool for traders operating on the MT4 or MT5 platforms.
4X Solutions Trade Copier
4X Solutions Trade Copier is an innovative tool brokers, and traders use to replicate trades, manage risk, and maximize profits. This system is recognized as a leading technology provider in the industry, designed for ease of use and accessibility.
One of the key advantages of the 4X Solutions Trade Copier is its cloud-based hosting. This eliminates the need for users to install any software or maintain a Virtual Private Server (VPS). Service management is done through an intuitive, web-based control panel that can be accessed anywhere. Moreover, the system is monitored by support engineers around the clock, ensuring consistent and interruption-free service.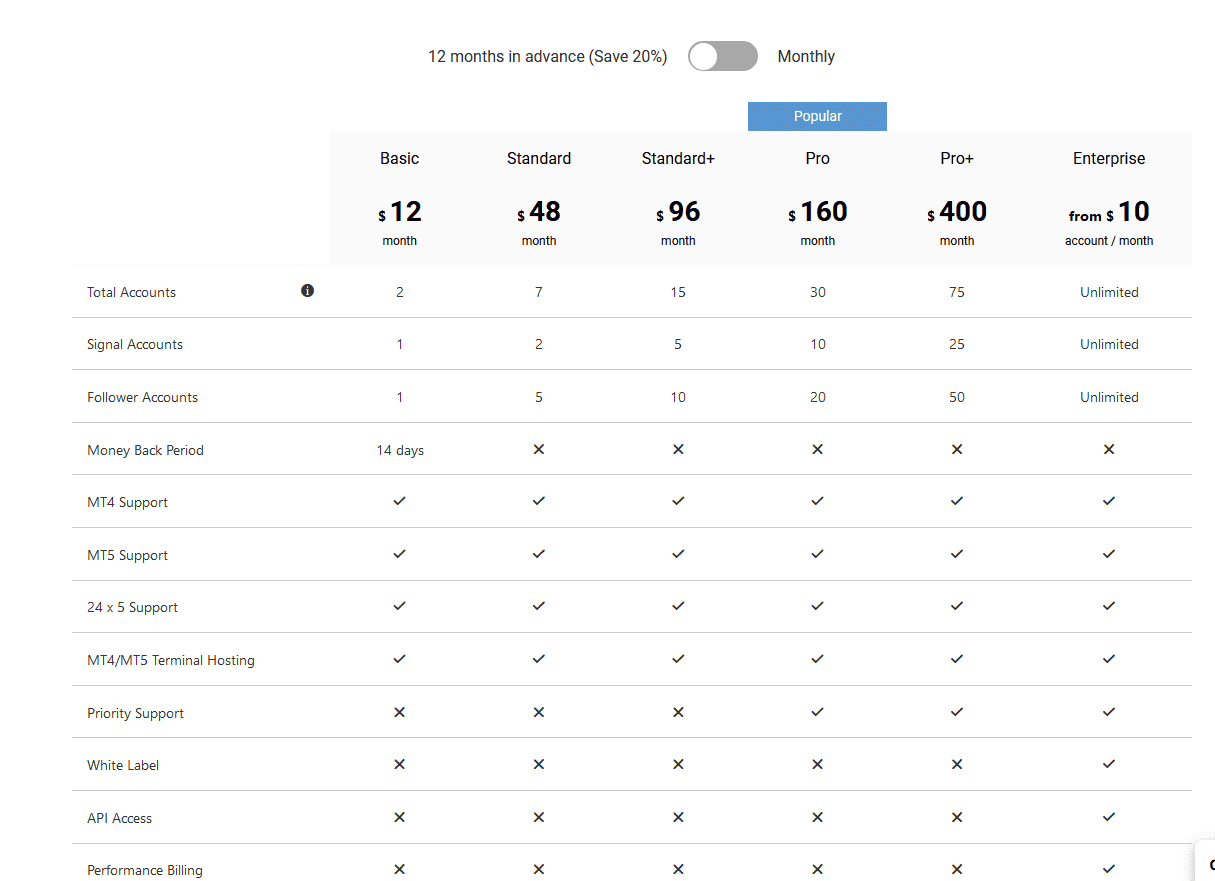 In terms of performance, the 4X Solutions Trade Copier shines with its in-memory core processing, facilitating rapid trades with an internal latency of less than one millisecond. The service monitors end-to-end execution performance and uses fiber optic cross-connects with popular brokers to further reduce latency.
Thanks to its advanced technology, the system boasts compatibility with any broker worldwide. It currently utilizes over 1,200 servers and supports copying between brokers and accounts within the US, catering specifically to FIFO and hedging restrictions. New brokers can be integrated swiftly, typically within minutes.
Scalability is another strong point of the 4X Solutions Trade Copier. Its systems are designed from the ground up to accommodate growth, demonstrated by live testing with over 10,000 subscribers to a single trading strategy. Its innovative design allows horizontal scaling to handle increasing clients as needed, providing a smooth, seamless experience.
Trade Tools Fx
The FX Trade Copier is tool forex traders use to copy trades from one trading account to another automatically. It is beneficial for those who manage multiple accounts or those who wish to follow the trades of a successful trader.
The pricing for the FX Trade Copier service is transparent, with no hidden fees. You can test the service with a 7-day free trial. After the trial period, the membership cost is $150 per month.
One of the advantages of the service is its flexibility. If you decide that the FX Trade Copier is not for you, you can cancel your membership at any time without any obligations or penalties.
After payment is made, your order will be processed within 1 hour. During this period, you will receive an email with a complete set of setup instructions, a download link for the software, and license information. This will guide you through the installation process and get you started with using the trade copier.
If you do not receive this setup email within 24 hours after your order, it's advised to contact the FX Trade Copier's customer service for assistance. This ensures that potential issues are addressed promptly, and you can use the service immediately.
Auto-Fx-Pro Remote Trade Copier
Auto-Fx-Pro Remote Trade Copier is a comprehensive tool that provides a total solution for trade copying in the forex industry. A full license costs $149 for ten providers & 10 remote receivers & unlimited local receivers at the same time. It is unique in its ability to copy trades remotely between multiple accounts at various locations over the internet and locally within the same computer.
This tool provides a perfect solution for signal providers who want to share their trades with others worldwide under their own rules and conditions.
Here's how it works:
Multi-directional Trade Copying: A single provider can copy trades to several receivers, and a single receiver can get trades from multiple providers. This flexible structure allows for a vast network of trading information to be shared and utilized.
Subscription Expiry: The provider can set a subscription expiry for each receiver. This means that the receiver will not be able to receive the signal after the set expiry time. This feature allows providers to manage their subscribers efficiently and ensures that their services are only accessed by active, paying subscribers.
Extensive Network Support: Each provider account can copy to unlimited local receivers and up to 10 remote receivers simultaneously. If a provider needs to cater to more remote receivers, they can upgrade to the Remote Trade Copier Unlimited version, which supports unlimited remote receivers.
The Auto-Fx-Pro Remote Trade Copier is a tool for successful trading and a means to establish and grow a trading business. Signal providers can share their success and expand their influence worldwide by copying trades to clients.