Forex trading became more popular with the investigation of the internet. More small and individual traders were able to step into this market now. The internet makes this market accessible and offers several helpful Forex trading apps that make trading easier.
Best Forex Trading App 2023.
The best forex trading app is the Metatrader app and various applications based on the MT4 platform, such as AvatradeGO,  HF App, Think Trader, Fxpro App, etc. All these apps support forex trading apps for Android and iPhone.  Except for Metatrader-based applications, apps like TD Ameritrade and Stock Trainer are different and have some prediction analytics tools in their options.
Forex trading is one of the most popular methods for making money in the financial markets. With its strong potential for earning profits, many traders are now turning to forex apps to make their trading more accessible and efficient. ThereSeveralerent forex trading apps are available on the market, from those designed specifically for experienced traders to those suitable for beginners. In this article, we will discuss the best forex trading apps currently available and which ones may be right for you.
One of the most widely used and trusted forex trading apps is the Metatrader app and various applications based on the MT4 platform, such as AvatradeGO, HF App, Think Trader, Fxpro App, etc. All these apps provide users with professional-level tools that can help them make better decisions while they trade. The user-friendly interface makes it easy to navigate and use all the features offered in these applications. Additionally, these applications integrate easily with other platforms and services such as Telegram, ZuluTrade, and Myfxbook so that users can access their account data anywhere in the world.
Other popular options include TD Ameritrade's mobile app and Stock Trainer. The TD Ameritrade app allows users to monitor their accounts on the go, while Stock Trainer offers simulated stock market scenarios so that users can practice without risking real money. It's important to note that both apps don't provide actual trades but instead feature analysis tools, so users should not rely solely on them when deciding how to invest their funds.
When choosing a forex trading app, it's essential to consider what type of trader you are: whether you're a beginner or experienced trader; if you prefer long-term or short-term investments; if you like manual or automated strategies; if you need detailed analytics tools or want something simpler; etc. Once you've determined your preferences, it's much easier to narrow down your choices since there are apps designed specifically for each kind of trader.
For those who like automated strategies or don't have enough time to keep close track of their trades, Forex robots can be helpful too. They analyze data quickly and accurately, allowing traders to take advantage even when away from their computer screens. Even though robots cannot guarantee profit every time they're used, at least they reduce risk by providing a more consistent aid in decision-making than humans could alone achieve due to fatigue or emotions clouding judgment during times of high stress in a trade situation.
Regardless of which type of forex trading app suits you best, taking some time before committing is always advisable since different applications may have varying degrees of success depending on personal preferences and other factors like leverage size or even market conditions at any given moment throughout your investing journey. Be sure to read reviews online before deciding on an appropriate choice that fits both your skillset and budget needs so that you get exactly what you want out of your experience in this exciting investment opportunity form!
It is a competitive market for brokers and dealers as well. Everyone wants to offer the best to their clients and retain them. As a result, many of them are investing heavily in making Forex apps. Many individual builders are also doing the same. 
Apps make trading more manageable and more accessible. You don't have to sit in front of a desktop all the time to monitor price movements. With these apps' help, you can keep an eye on your account on the go via tablets and smartphones. 
We live in a world that is forever moving. This makes it imperative that we stay interconnected, especially when discussing the foreign exchange market, because every news can impact it. Traders must check daily business updates to ensure their trading strategies are relevant. The Forex market has a global and decentralized environment. It allows businesses and financial institutions to trade currencies 24/7.
Approximately Forex worth $5.5 trillion is traded every single day. It is the largest financial market with the maximum number of daily transactions. Large corporations and international banks mostly dominate this market as they trade around the clock and profit by converting currencies. 
Forex trading supports international investments and trades as well. How? Let's understand it from this example. Let's assume that a store wants to buy cheese from Europe and sell it in their store. They will have to pay the seller in euros to purchase the cheese. With the help of Forex, they can easily exchange currencies with no hassle. 
Talking about enabling international trade, Forex trading offers abundant investment opportunities. You can easily make money through Forex trading if you have the required skills and knowledge. Many experienced companies and individuals make profits of billions every day.
To completely take advantage of this trading market, traders and investors need a platform to facilitate their actions without hiccups. These platforms run their bots through the entire market and alert users about the best possible opportunities. We would also like to highlight the many foreign exchange apps. We have shortlisted the best platforms available to traders to make the selection process easier for you.
Foreign Exchange Apps – trade forex on your phone

MetaTrader app
MetaTrader is the most famous desktop and mobile application in the forex industry. This free app offers excellent real-time live quotes, free indicators, and easy navigation.

Whether you are a new trader or an experienced one, it is not possible that you haven't come across this trading platform. It is one of the most popular Forex trading platforms and a holy grail for many retail investors and traders. You can trade stocks, futures, Forex, options, and other financial instruments on your Android devices.
The app uses several real-time charts to supply its users with general analyses related to the financial markets. The data used for this analysis include price monitoring, quotes, and historical information.
This app lets you switch between TP and SL values on charts and among financial instruments. In addition, you will find interactive charts on this platform that you can zoom in and out with a pinch.
Some of the analytical instruments included on MetaTrader are Gann, Elliott tools, Fibonacci, and other updated financial news.
HF App is an excellent automated platform for Forex trading based on the Mt4 mobile platform. Over 180 countries use this broker and mobile platform, and more than 2 million clients.


One of the best things about this platform is that it is suitable for beginners and professional Forex traders. This is possible because of flexible leverage, which allows you to maximize profits even with limited investment. However, how much leverage you get depends on your experience and knowledge. This must seem restrictive to some, but this is a positive aspect of this platform as it saves beginners from making unnecessary losses. You can go through the educational resources available at HF to become an expert.
You can begin trading with variable and fixed spreads, but the best part is once you are done with a trade, your withdrawal requests will be processed within a few minutes. The software, too, is relatively user-friendly. Just sign up on this platform to create an account, get your documents verified virtually, and you can begin trading as soon as your funds are transferred.
Wait, there's more! This software allows you to conduct trade within milliseconds. So you have no more missed opportunities. You can also get daily commentaries from the firm's market research team. Finally, there are a couple of free trading tools that you can use to make better trading decisions. 
The software is available on both Windows and iOS. You can download it on an Android form as well.
2. Avatrade Go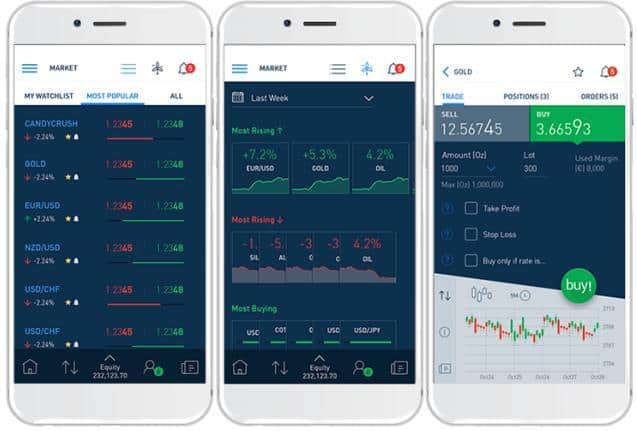 Another excellent mobile platform is Avatrade Go. This app offers more than 1000 instruments for trading!
Fxpro APP  where traders can trade 260+ CFD instruments in Forex, Metals, Indices, Shares, Energies & Futures directly from their mobile. It is an excellent app for those who want to conduct advanced Forex trading and look for analysis tools to support it. This platform lets you quickly search and track some of the best stocks and currencies worth investing in. There are 160 intelligence indicators, over 14 types of advanced charts, and many drawing tools.
Its earlier version was only accessible on desktops, but it is now available on mobile phones. There are a lot of functionalities like touch-enabled trade management, split-screen, and quad-screen. These functionalities allow you to keep an eye on multiple markets at the exact moment.
This app uses cloud technology as well. This enables users to access analysis tools, price alerts, and trade data from any device. This app can get streaming quotes for cryptocurrencies, major Forex trading, indices, commodities, and precious metals. You can also use the news curated professionally, covering the American, Asian, and European markets.
You will find various in-built trading tools like data release alerts, intelligence reports, risk scanners, trading simulators, and an economic calendar. All these tools are controlled and authorized by the FCA (UK). This makes the app more trustworthy. You can download this app for free on iOS and Android, and it is free.
Stock Trainer is a software by A-life Software that is perfect for those who wish to invest in financial instruments like stocks and Forex but are still unsure or lack the expertise. It is a good Forex trading platform for beginners and experts alike. 
The app uses actual market data to offer virtual stock trading encounters. This allows you to gain knowledge, insights, and experience of how trading works in real time. The best part about this app is that it is highly comprehensive when talking about features. For example, it covers over 20 stock markets and supports limit and stop-loss orders.
You can quickly build your portfolio with this app. There are several graphical interface themes that you can use to personalize your experience. There is extensive data as old as ten years detailing the highest and lowest-performing stocks. You can also find news related to investment, some business magazines, and other related information. This information can help you in preparing a sound strategy. This app can help you in building an experience.
This app is available on Android Google Play. You can start with the free version and purchase an ad-free version later. The biggest downside of this app is that it is not available for iOS users.
Last but not least on our list is TD Ameritrade. It is, without a doubt, amongst the most popular Forex trading platforms in America. It is a well-known platform for trading shares, stocks, and Forex. 
One of the most effective uses of this platform will be as a source of information for Forex trading. It is brimming with educational resources that help traders, especially the budding ones, understand the factors that can make them lose money. It is done via its Thinkorswim platform. All the material available is sourced from the NFA (National Futures Association). So it helps traders understand the underlying risks involved in trading. 
It is essential to educate yourself if you are beginning; this platform will make you feel at ease and better prepared. In addition, you can learn risk management here, which is an essential part of any trading. You will not be rushing into anything and making mistakes if you are well-versed with the resources available here.
While TD Ameritrade offers you a plethora of helpful information, some might find it lacking in Forex trading. This could be because several instruments are traded on this platform which does not focus entirely on Forex. The resources and information are helpful, but the platform does not offer a comprehensive price comparison imperative for Forex trading. 
Nonetheless, you can always use this platform to update yourself with the latest Forex updates.