EUR USD best trading hours
The best time to trade EUR/USD  for momentum strategy (and trend strategy)  is the period from EUR USD opening hours till GMT noon (London open till noon) and the period when US trading session overlap London session (12.00 GMT – 16.00 GMT).
Below is typical EURUSD daily volatility: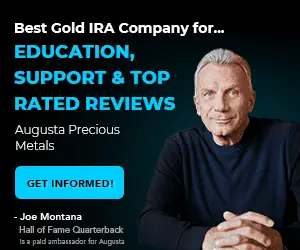 Forex trading session times are presented in the table below:

| Session | Major Market | Hours (GMT) |
| --- | --- | --- |
| Asian Session (GMT) | Tokyo | 11 p.m. to 8 a.m. (23:00 - 8:00) |
| European Session (London session forex time GMT) | London | 7 a.m. to 4 p.m. (7:00 - 16:00) |
| North American Session (US session) | New York | noon to 8 p.m. (12:00 - 20:00) |
Assia session: This is a low volatility period. Good for scalping forex strategy.
London session (forex time GMT):  EU or London session starts at 7.00 a.m. GMT and closes at 4.00 p.m. GMT (London and Germany stocks exchange starts then). Volatility dramatically increases in that period. One hour after the EUR USD opening hours trend is formed, and volatility increased. Till noon volatility and trend should be in the same direction (this is the most common scenario but not the rule).
EU session consolidation: this is the period from noon till the USA market opens in GMT. In this period are the most common breakouts or range periods.
USA markets open – 14.30 GMT USA markets open. In this period, the trend is formed again, and the next several hours continue. This is USD trading time.
USA session consolidation – this is a period that starts from 18.00, and the next several hours' volatility decreases until the USA market closes and the Asia session opens.
See the image below: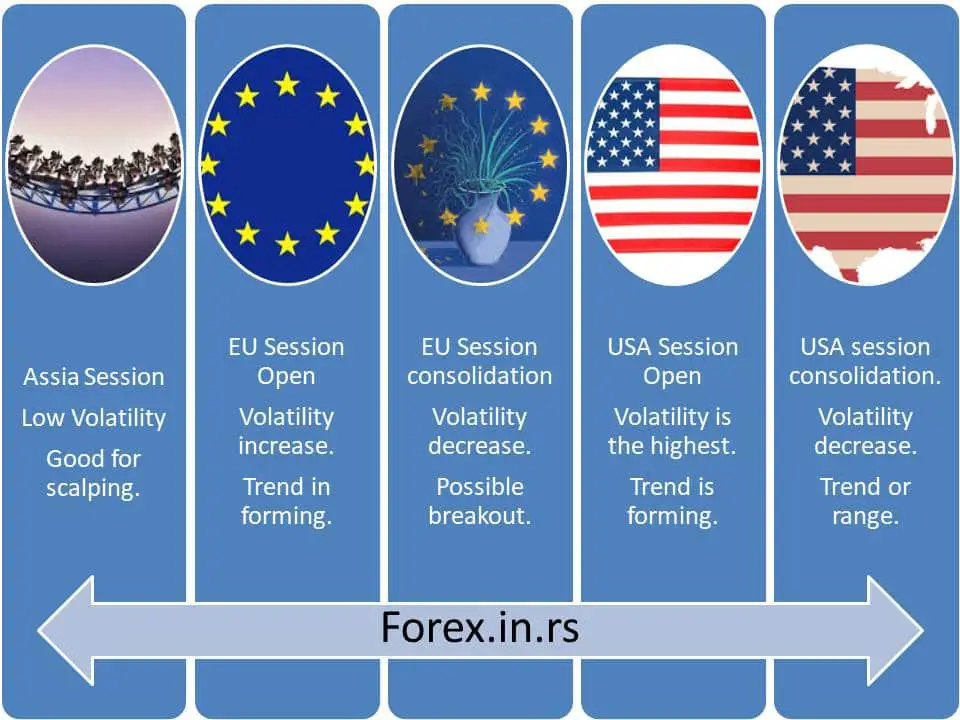 One of the main advantages of day trading in foreign exchange (forex) is that the trader can trade 24 hours a day. However, a trader is likely to make money only when there are many transactions in the forex pair he is trading. Many traders want to find the best time to trade forex GMT, especially for the popular EUR/USD forex pair.
During these hours, the forex pair should be volatile enough so that the profit generated is more than the commission or spread, which has to be paid to the broker. Since working long hours can reduce efficiency, the traders will usually determine the period when the forex pair will fluctuate most and then trade only during these three to four-hour periods.
London session forex pairs
Most liquid London session forex pairs are presented below and their average daily pip movement:
| Major forex pairs | Forex average daily range in pips |
| --- | --- |
| EUR/CHF | 35 |
| NZD/USD | 39 |
| USD/JPY | 41 |
| EUR/USD | 44 |
| USD/CHF | 44 |
| EUR/GBP | 50 |
| EUR/JPY | 55 |
| USD/CAD | 56 |
| GBP/USD | 82 |
| GBP/JPY | 94 |
| Average pip movement | 54 |
Market timings, EUR/USD price Volatility, and EUR USD intraday strategy
During the week, the forex market is open 24 hours a day since time zone differences ensure that a global market is always open. However, traders should be aware that the forex pairs traded in each forex market will be different. Hence the peak time for the activity for each forex pair will be different. When the European forex markets are open, forex pairs with the British Pound (GBP) or euro (EUR) are traded extensively. Similar to when the United States, Canada forex markets open, forex pairs, including the Canadian dollar(CAD) and US dollar(USD), are actively traded. For day traders dealing in the EUR/USD pair should know that they will be most active when both the New York and London markets are open. These market timings in Greenwich Mean Time (GMT) are between 08:00 and 22:00 hours on weekdays. Tools for showing the timings for forex markets are available.
Acceptable timing for day trading in EUR/USD
There are volatility charts available that show the EUR/USD pair's pip movement for different hours of the day in GMT. It is observed that the pip movement will increase significantly starting from 0700 hours daily and continue to remain higher to 20.00 hours. The pip movement for each hour then reduces greatly, so there is less volatility, which the traders can profit from. Hence day traders should place their orders between 0700 and 2000 hours GMT. If they trade outside these hours, the pip movement is usually not enough to compensate for the broker commissions. Though the forex market volatility varies daily, the timings when the markets are most volatile do not change. In some areas, daylight saving time may affect the trading hours for forex traders.
The best time frame to trade EURUSD

The best time frame to trade EURUSD is 4 hours time frame and Daily chart time frame. Because of small volatility, EURUSD is not good to overtrade and trade using small time frames such as a 5-minute chart. Though a forex trader can start trading in the 13 hours starting from 0700 hours GMT, most people have a busy schedule and cannot spend all their time in forex trading. Hence the forex traders would like to find out when the market is most active. Typically, the market is most volatile when both the London and New York forex markets are open for three hours between 1300 to 1600 hours GMT according to statistical data. Since the number of forex trades in both the markets is high, the spreads are the lowest, making it is easier for a forex trader to make a profit since he has to pay lower commissions. Also, the forex market's volatility is highest during this period, so it is easier for a day trader to profit.
The best time interval for day trading
Trend traders need to trade during the EU session open and when the EU and USA session overlap. Breakouts traders need to wait for important news or period when the trend is consolidating. Scalpers can use Asia session small volatility to make better profits. Of course, all these tips are not rules, and different strategies and trading habits can give various outcomes.