Forex weekly strategy
Forex weekly strategy represents long-term strategy where the trader keeps trading position several weeks or months. Usually, weekly forex strategy implies fundamental and technical analysis and catches significant trends.
Daily and weekly time frame forex trading strategy imply economic indicators analysis before technical analysis. For example, suppose interest rate, GDP, industrial production, etc. refer to buy EURUSD. At the same time on the chart, we can see a bullish trend above solid support or a solid bullish pattern such as engulfing bullish pattern. In that case, we can enter into trade.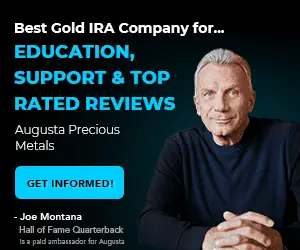 If you have a misconception that traders need to be glued to the trading screen all the time, then you are wrong. It would help if you did not start with the giant trading pattern. You need to focus on weekly patterns, and it can offer you reliable highs. Forex market traders prefer to intraday trading formula because of steadily growing market volatility. So, they can achieve greater yields within a limited and small timeframe. A weekly forex trading system can offer you better results. A weekly chart can help you decrease the loss rate and find a long-term position.
Forex weekly breakout strategy
Forex's weekly breakout strategy usually follows essential support or resistance level breakout. For example, 200 MA price line breakout, 20 days low or high breakout, etc.
The best results trader can get if besides significant price level breakout we can see critical economic indicators that follow current price action. For example, the NFP report, interest rate report, GDP report, etc., can create strong price movement if unexpected data appear.
Best momentum trading strategy
You will have to implement the best momentum trading strategy to manage your trading account. The momentum trading indicator can reduce the chance of risk. It can also enhance the possibility of returns. Therefore, the effects of the momentum strategy are prevalent.
What is momentum trading? This term momentum is taken from Newton's first motion law. The law clearly states that an object in motion stays in motion until an external force is applied. In the same way, the market in motion tends to stay in motion rather than the reverse. This is the main reason for which momentum strategy is very much powerful.
A currency with a rising value will have so many ups and downs. But it all happens in the more significant and consistent rising trend.
Less timeframe:
Weekly charts can add an advantage to your overall market trend. It is less time-consuming and labor-oriented than daily or intraday charts. Traders who follow the weekly trading system can easily spend more time without sitting in front of monitors. It is a time-saving and easy method to look upon the overall market and get a solid understanding of the trading market.
Forex weekly chart strategy example
We will use a technical approach using a weekly chart strategy in this example. The primary assumption is that fundamental analysis follows technical analysis before any trading rules.
Indicators in weekly strategy
There are three different kinds of indicators. If you want to follow the weekly timeframe forex strategy, then you should use these three indicators are as follows:
SMA or EMA – moving average indicators
Oscillators such as Stochastic, RSI, MACD
Trading patterns based on candle formations and shapes
Various trading conditions in strategy:
Long trade entry and exit on a weekly chart:
It would help if you waited for a 50 week MA to cross above 200 weeks MA OR Bullish pattern (bearish engulfing pattern or any other).
You need to draw the trend line from the last bottom price (last oversold price) to today's price on the Daily RSI Indicator.
Stop-loss will be reached when the price close is below the RSI trend line.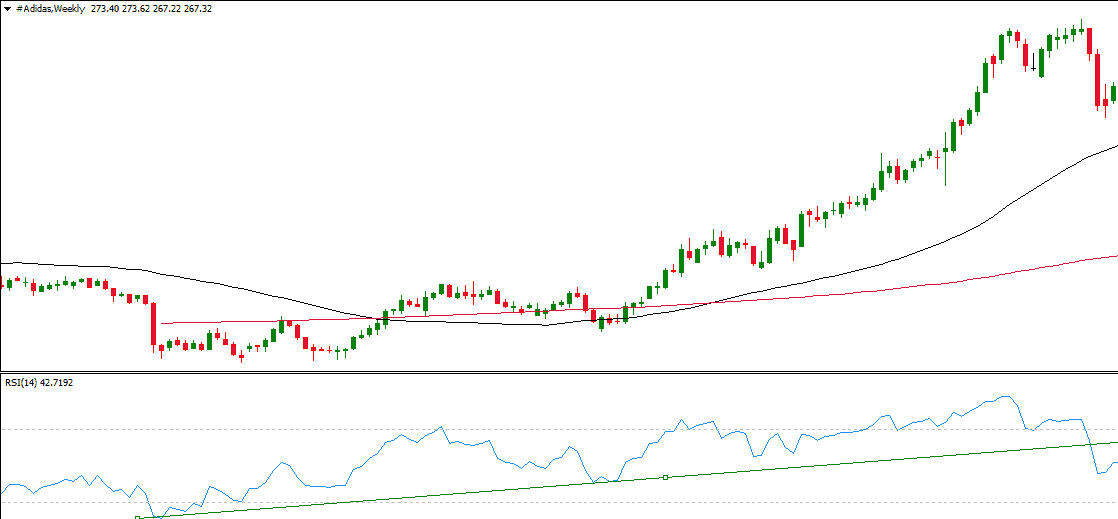 Short trade entry and exit on the weekly chart:
It would help if you waited for a 50 week MA to cross above 200 weeks MA OR Bearish pattern (bearish engulfing pattern or any other)
You need to draw the trend line from the last upper price (last overbought price) to today's price on the Daily RSI Indicator.
Stop-loss will be reached when the price close is above the RSI trend line.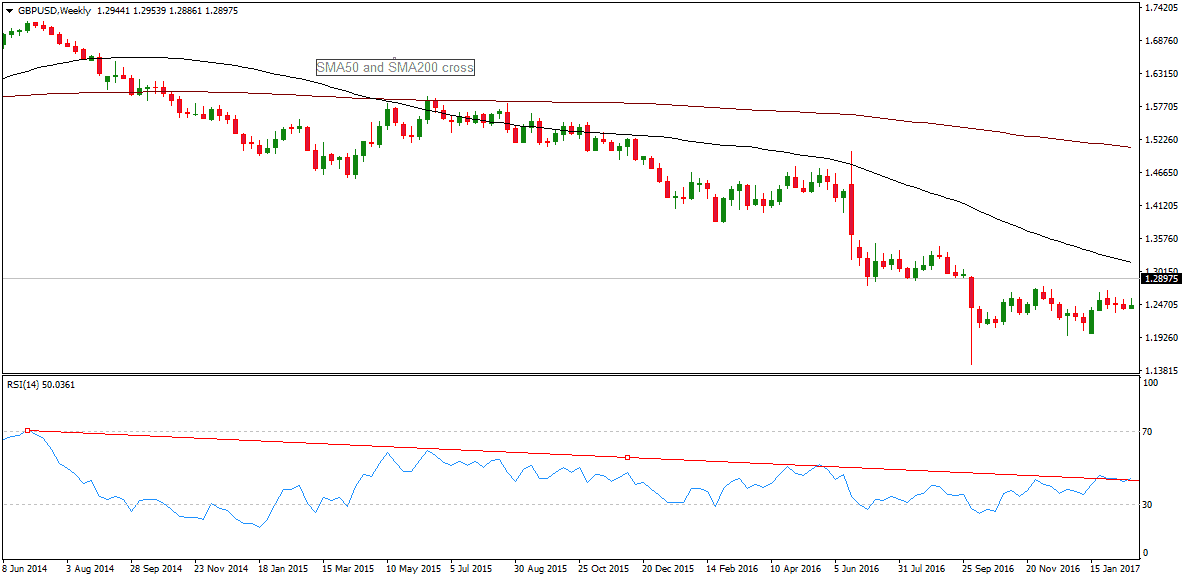 General guidelines
The weekly trading strategy is based on the analysis of the exponential moving average. If you want to use this moving trading system effectively, last week's candlestick must be closed at a level above the EMA value.
While you are in the direction of a larger market, you need to take only stochastic signals. You will have to ignore the bearish signals at this point. The reverse signals from stochastic or RSI are generally used for taking profits. It is needed when the moving average surpasses the price. The candlestick pattern or other methods can confirm the stochastic or RSI signals.
The weekly forex trading system is very appropriate for those traders who do not have much time to monitor the whole trading scenario, and they find the time to check the market scenario once a day. It will also give benefits to the traders from the long-term trading. This also allows for monitoring the market trends. The traders can still work in the volatile market situation. Candlestick analysis is the best tool for using any strategy in any typical condition. The weekly forex charts can assume the availability of sufficient funds deposited. This weekly chart can provide traders with a profitable way to achieve and gain profit. It gives traders significant yields as well.
This weekly momentum strategy is excellent for trading stocks and long-term rising equities.