The MetaTrader 4 (MT4) platform has revolutionized the world of online trading. It is a popular and widely used platform by traders worldwide. MT4 was first launched in 2005 by MetaQuotes Software and, since then, has gained immense popularity among traders.
One of the benefits of MT4 is its simplicity and user-friendly interface. The platform is easy to navigate, allowing new traders to start trading quickly. The platform also features various technical indicators, analytical tools, and charting facilities that help traders make informed decisions.
For example, you can see why the MT4 platform is excellent for traders in my video:
The platform also offers a high degree of customization. Traders can modify the venue to suit their preferences, adjust settings and control the interface. They can also add custom indicators, create automated trading systems (Expert Advisors) and use third-party add-ons to enhance their trading experience.
Another benefit of MT4 is its compatibility with multiple devices. Traders can access the platform on their desktop computers, smartphones, and tablets, making it convenient to trade anywhere and anytime. The platform also has a mobile application that allows traders to place orders, monitor their accounts, and access their trading history.
Moreover, MT4 has a multi-language interface making it accessible to traders worldwide. The platform is available in over 30 languages, including English, Spanish, French, German, Chinese, Arabic, and Russian.
MT4's wide range of functionality makes it a popular platform for forex, CFDs, and futures trading. Its popularity is driven by its advanced charting capabilities, lightning-fast execution, and plenty of analytical tools.
What is the Best Forex Broker For MT4?
The best forex broker for MT4 is HF Markets because traders have five different MetaTrader accounts to choose from Micro ($5 minimum deposit), up to Premium account till Zero Spread account. Additionally, you can get up to a $30 000 free deposit bonus. You can transfer money from the wallet into your MT4 account in seconds.
Please see HF Markets MT4 accounts types:
See HF markets features:
HF Markets is a well-established forex and CFD broker that offers a wide range of trading instruments, including currency pairs, commodities, indices, stocks, and cryptocurrencies.
HF Markets is regulated by several authorities, including the Financial Conduct Authority (FCA) in the UK, the Cyprus Securities and Exchange Commission (CySEC) in Cyprus, and the Financial Services Commission (FSC) in Mauritius, which ensures a high level of security and transparency for clients.
HF Markets offers various account types, including Micro, Premium, Zero Spread, and Auto, with different minimum deposit requirements, spreads, commissions, and leverage options.
HF Markets provides access to several trading platforms, including the popular MetaTrader 4 (MT4) and MetaTrader 5 (MT5), and the HF App for mobile devices, which offer advanced charting tools, technical indicators, expert advisors, and customizable interfaces.
HF Markets offers educational resources, such as webinars, tutorials, ebooks, and market analysis, to help traders improve their skills and knowledge.
HF Markets provides 24/5 customer support in multiple languages via live chat, email, phone, and social media channels.
HF Markets offers deposit and withdrawal methods, including credit/debit cards, bank transfers, and e-wallets, with fast processing times and no fees.
HF Markets has won several awards for its services, including the Best Forex Broker Award by World Finance Magazine, the Best Trading Platform Award by Forex Awards, and the Best Forex Education Provider Award by International Business Magazine.
See HF Markets user dashboard: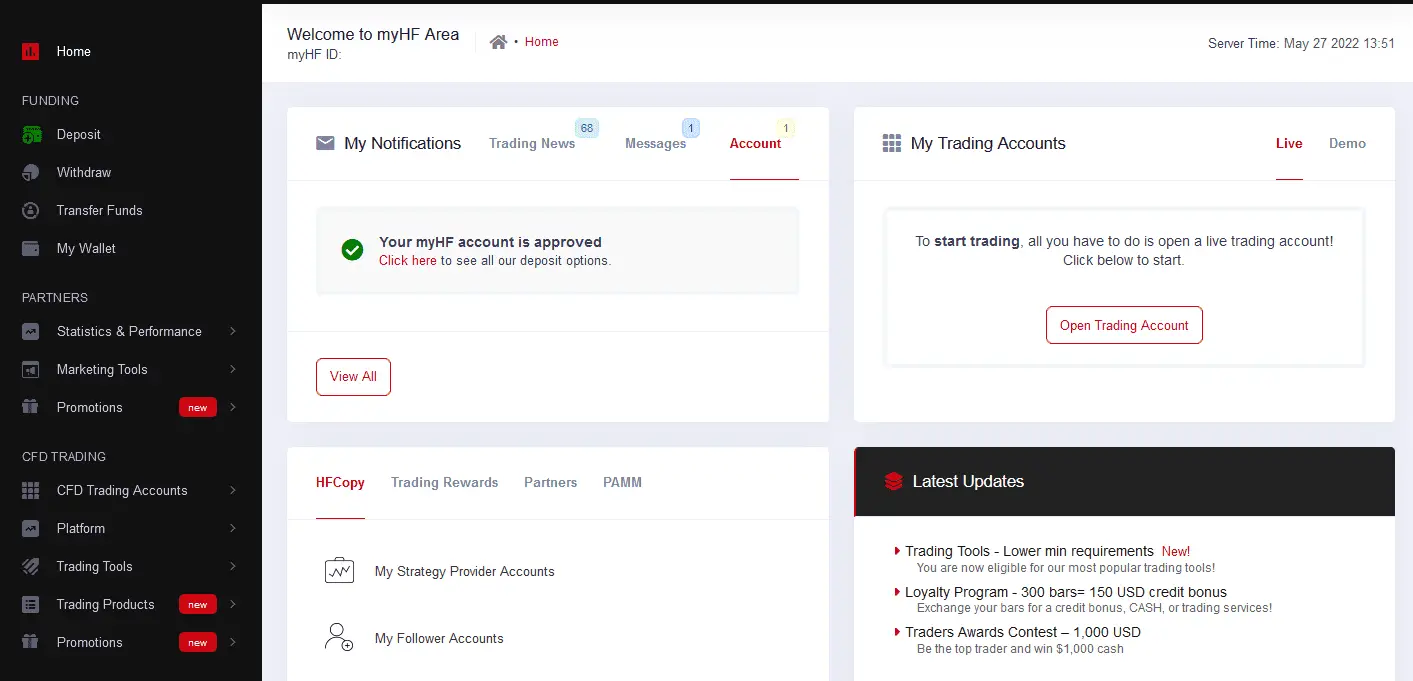 HF Markets payment methods
Credit/Debit Cards: HF Markets accepts Visa, Mastercard, and Maestro debit/credit cards. Deposits are processed instantly, and withdrawals can take up to 24 hours.
Bank Wire Transfer: Traders can fund their accounts through bank wire transfer, which usually takes 2-5 business days to process. Withdrawals can take up to 10 business days.
Online Payment Systems: HF Markets supports several online payment systems, including Neteller, Skrill, WebMoney, and FasaPay, among others. Deposits are processed instantly, and withdrawals can take up to 24 hours.
Cryptocurrencies: Traders can deposit and withdraw funds using cryptocurrencies such as Bitcoin, Ethereum, and Litecoin. Deposits are processed instantly, and withdrawals can take up to 24 hours.
Local Payment Methods: HF Markets also supports several local payment methods, such as iDeal, Sofort, and Rapid Transfer, depending on the trader's country of residence. The processing time and fees may vary depending on the method chosen.
See how my account looks HF markets payment page where you can fund the MT4 account: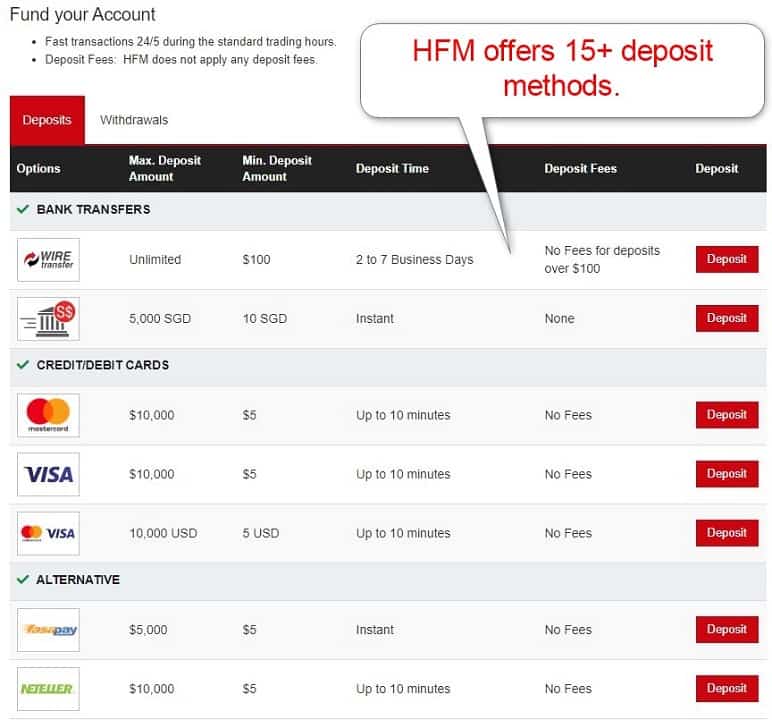 Best Forex Brokers with MT4 platform
MT4 is one of the best trading platforms out there, and there are many reasons why it has become the preferred choice of CFD brokers. One of the reasons is the platform's user-friendly interface. MT4 is extremely easy to use and can be customized to suit individual trading preferences. In addition, the platform is available in multiple languages, making it easy for traders from different countries to use it.
Another factor that contributes to MT4's popularity is its versatility. The platform supports different trading instruments, including forex, stocks, commodities, and cryptocurrencies. This versatility has made it a popular choice among CFD brokers who offer their clients a wide range of trading options.
MT4 also offers advanced technical analysis tools that help traders to conduct in-depth market analysis. The platform has a wide range of built-in indicators and charting tools that allow traders to analyze the markets in detail. In addition, MT4 has a wide range of trading strategies that traders can use to make informed trading decisions.
Furthermore, MT4 is known for its high level of security. The platform offers traders a secure trading environment with advanced encryption algorithms that protect their personal and trading information. The system also features two-factor authentication, ensuring that only authorized individuals can access the platform.
One of the significant advantages of MT4 is that it is highly customizable. The platform features a programming language, MetaQuotes Language 4 (MQL4), allowing traders to create custom indicators, scripts, and expert advisors (EAs). This feature will enable traders to automate their trading strategies and execute trades automatically.
Another reason why MT4 is so popular among CFD brokers is its mobile trading capabilities. MT4 offers mobile trading applications that are compatible with Android and iOS devices. This means traders can access the platform from their smartphones or tablets and trade on the go. This makes trading on MT4 even more convenient and accessible for traders.
Conclusion
After a thorough analysis, it can be concluded that HF Markets is undoubtedly the best forex broker for MT4. Various reasons validate this claim.
Firstly, HF Markets offers a wide range of trading instruments that can be easily accessed through the MT4 platform. These instruments include forex pairs, commodities, indices, and stocks. Moreover, the MT4 platform is designed to provide the best trading experience, offering advanced trading tools and charts for traders to analyze their trades quickly.
Secondly, HF Markets ensures its clients a safe and secure trading environment. The forex broker is regulated by various financial authorities, including the Financial Conduct Authority (FCA) and the Cyprus Securities and Exchange Commission (CySEC). The safety measures they employ include segregating client funds to safeguard their financial assets.
Furthermore, HF Markets provides excellent customer support to its clients. The Forex broker has a multilingual customer support team available 24/5, offering assistance in various languages. Clients can access support through email, chat, or phone.
In conclusion, HF Markets stands out as the best forex broker for MT4 due to the broad range of trading instruments, the safe and secure trading environment, and the outstanding customer support. The firm's commitment to providing exceptional services has earned it an excellent reputation in the forex trading industry, making it a top choice for traders worldwide.