Is forex trading a scam?

Forex trading is a legitimate and profitable business regulated by global supervisory bodies.Forex business is not rigged itself and it is not pyramid scheme. However, forex scandals, Forex Rigging and fx manipulation exist.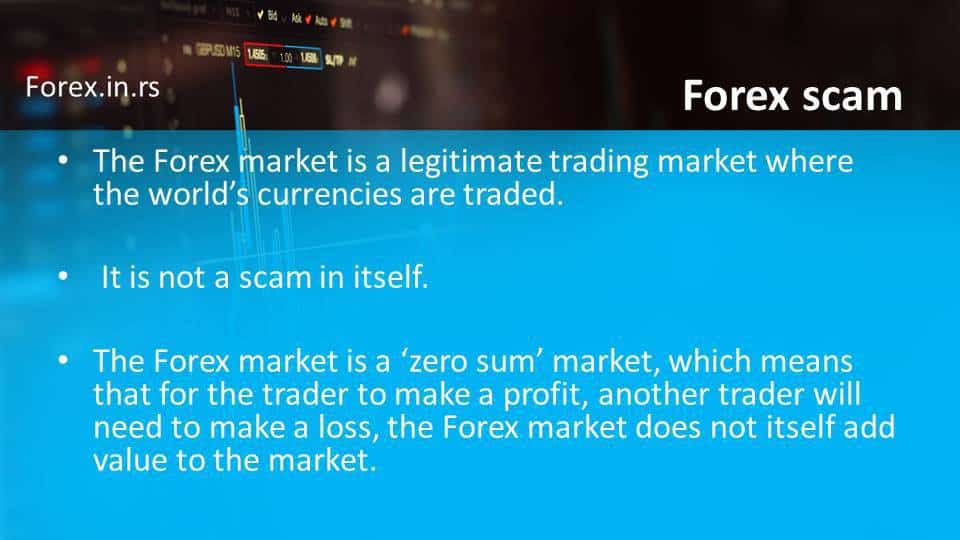 Trading in forex exchange (forex) is advertised extensively online as a quick way to make a huge amount of money online. However, due to the increasing number of forex scams, many people are wary of anything which offers huge profits, since it is often hype. Also, research indicates that a majority of retail traders dealing in forex are making a loss. So while many people who read the advertisements are interesting in trading in forex to make some additional money, they would also like to find out Is forex a scam. Though some traders make profits trading in forex, there are many scams that the trader should be aware of, before investing his money.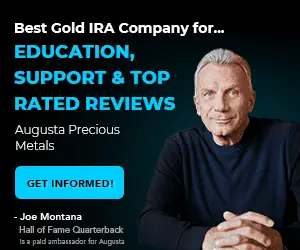 Before investing any money in forex, all traders should be aware that forex is a zero-sum game. Though one trader will make a profit, if the exchange rate of a currency increases, the trader dealing in the declining currency will make a loss at the same time. Additionally, the trader will also have to pay the forex dealer or broker a commission for each trade which will reduce the profit which the trader will make. The broker's commission for each trade is fairly high, hence making a large amount of profit from forex trading is not very easy.
Information
The forex market has many experienced professional traders like banks and hedge funds that have access to the latest market information and are handling huge amounts of money. These traders have a significant advantage over the smaller retail traders who have limited information and also less money for forex trading. The retail traders also have to pay higher trading expenses in terms of spread and brokers commission. Hence it is observed that usually, retail traders are less likely to make a profit from forex trading, compared to professional forex traders
Forex trading Risk
Investing in forex is risky since the trader can make a loss and lose the money invested, especially if has no experience and no information. Forex brokers are getting a commission on every trade which is routed through them. Hence they are encouraging investors to trade in forex, luring them with false promises that they will make huge profits quickly, without much effort. However, in many cases, the inexperienced trader makes mistakes while trading and loses part of his entire capital. Hence not warning the forex trader of the risk, is a major scam of some forex brokers.
95% of traders lose their money because of bad risk management, greedy, overtrading, lack of knowledge. When some traders realize that a quick-rich scheme is not possible in the forex industry they start to talk that trading is a scam.
Churning
The forex broker is getting a commission on each forex trade. Hence the broker encourages the trader to sell and purchase forex more often, sometimes more frequently than what the trader can afford. Though in some cases, the trader may make a profit from the trade, the commission paid will reduce the profit made significantly. If there are a large number of trades in the forex account called churning, the investment value may be reduced significantly. Churning is considered one of the most common forex scams, so traders and investors should be careful while choosing their broker.
Non regulated broker
While in some countries like United States, United Kingdom, forex brokers are highly regulated, in many countries, there is no regulation of the forex brokers. Anyone can pay a few thousand dollars and start a forex brokerage in these countries. All forex traders are routing their trades through the broker and depositing money with the forex broker when they open an account for trading. There have been cases when the forex brokers have disappeared with the money of the traders who opened their account. Hence it is important to ensure that the broker has a phone number and address where he can be contacted.
Other scams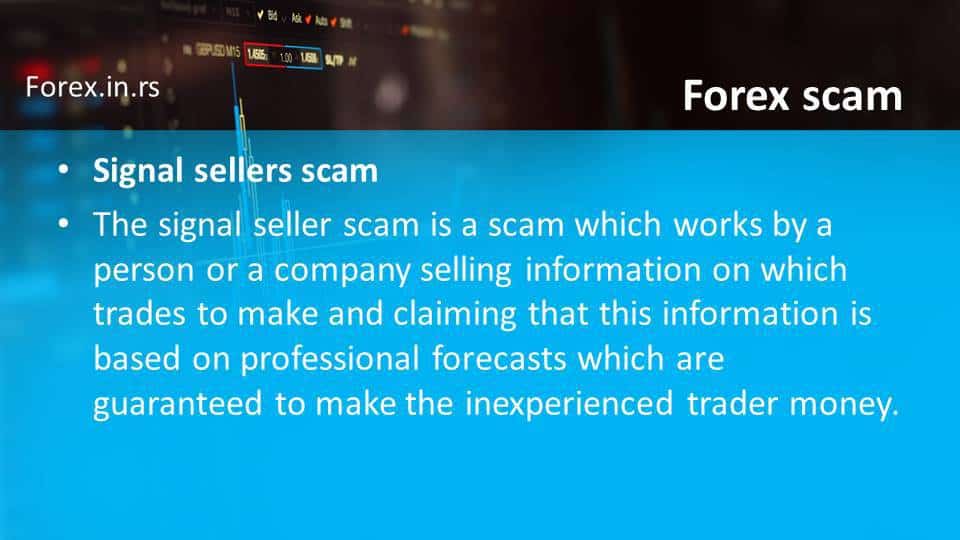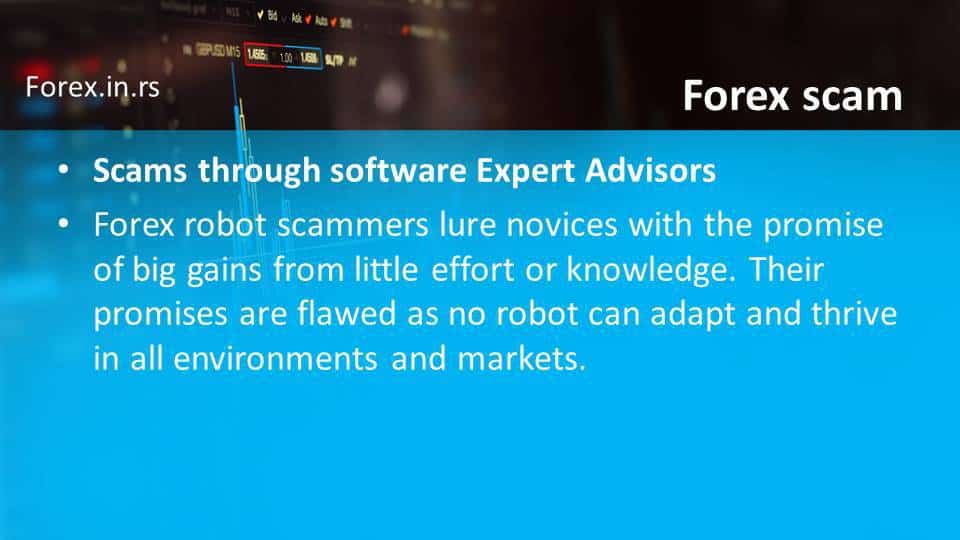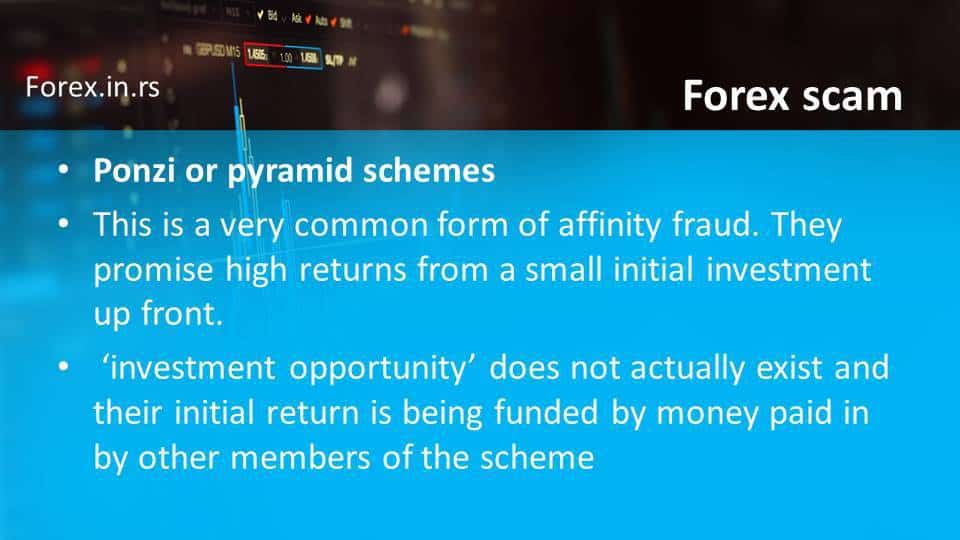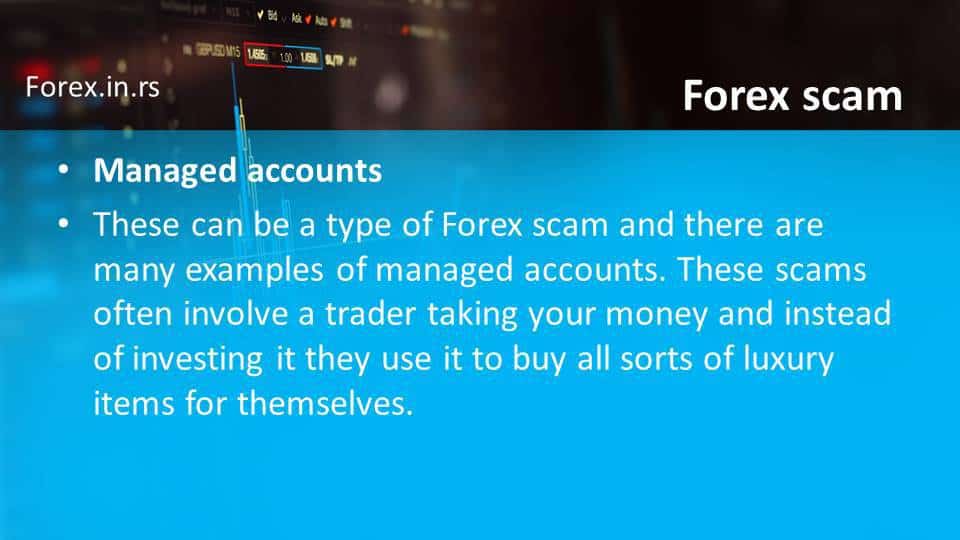 There are other forex related scams like selling software which the seller falsely claims will automate the forex trading completely. Some brokers claim that they will manage the account of the forex traders to make a profit, yet in reality, these traders are making a loss. To reduce the loss which a trader will make, in some countries, the leverage for retail traders is reduced. So though large professional traders from banks can make a profit, it is more difficult for retail traders to do so. While trading in forex, the trader should also consider the time they invest while trading when they calculate the profit they are making.
How to report forex scams? Just contact the forex broker regulatory body (A-Grade, B-Grade, C-Grade brokers regulation list with links ) and they will help you.