This article will cover how you can look out for free premium forex signals, which are the best free forex signals, a free, reliable forex signal, free signals for MT4, and much more.

What are forex signals?
Forex signals represent trading ideas as suggestions for entering a trade on currency pairs. Usually, forex signals are written in specific price, time, and additional explanation. For example, BUY EURUSD at 1.302 at 10:30 AM. Forex signals generate various websites, expert advisors,  professional traders, analysts, or specialized forex signal companies.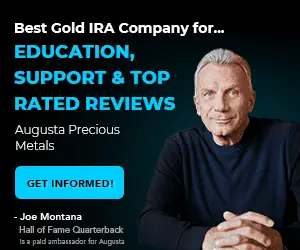 It's widespread to want low-effort and inexpensive trades to succeed. The average person prefers to focus on somebody else's perceptions and observations rather than his errors. Moreover, many traders want to earn profits as soon as possible while remaining loss-free in the financial markets. 
Most investors check Google for best or free forex trading signals because they get their information. More than half of such traders would want to obtain money without investing. But, of course, there aren't many ways to get free forex signals while searching for them worldwide. For the most part, reliable forex trading signals could be challenging to discover on the open forex markets. But they are most important as they make the trading process more accessible and better.
There seem to be free forex trade alerts, but they may not be reliable. They are hardly ever dependable. It's still important to remember that although a Foreign exchange signal seems cost-free, it might become more expensive when you lose your cash.
Best free forex signals platforms

The best forex signals generator services are:
MQL4 and MQL5: These popular trading platforms provide automated trading signals. They offer various free and paid trading signals generated by expert advisors (EAs) or custom indicators.
Trading Central: Trading Central is a renowned financial market research firm that provides free broker signals. These signals are available through partnering brokers and offer detailed analysis and trading recommendations. Brokers provide this service for free.
Autochartist: Autochartist is a technical analysis tool that offers free signals based on pattern recognition. It scans the market and generates alerts for various financial instruments, including forex. These signals can be accessed through partnering brokers or the Autochartist platform. Brokers offer this service for free.
ZuluTrade: ZuluTrade is a social trading platform that allows users to copy trades of successful traders. While it offers free and paid signal providers, some free providers are available. Users can select from various trading strategies and automatically execute trades based on the signals received. Brokers offer this service for free.
Trading Ideas: Trading Ideas is a platform that provides free trading signals generated by both algorithmic systems and human traders. These signals cover a wide range of financial instruments, including forex. Users can access the alerts through the Trading Ideas platform or receive them via email or SMS.
MQL Trading signals service

In the MT4 platform in Tools/Options, you can connect the MT4 platform with free signals that generate various traders in the MetaTrader community. See the image below: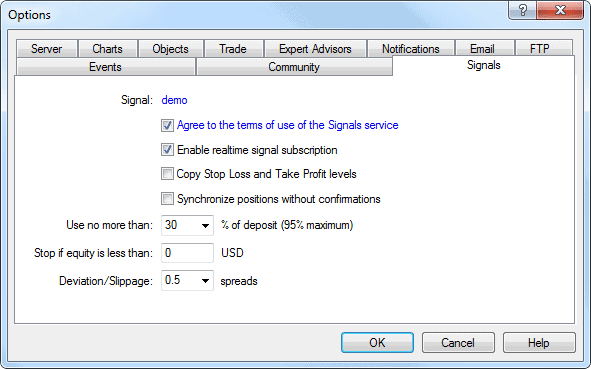 The measures to subscribe to a forex trading signal platform on MT are as follows:
Sign up for a free MT4 or MT5 trading account.
Sign up for the free MQL5 account (https://www.mql5.com/en/signals)
At the bottom of the page, move to the "Signals" section of the MT5 system's "Toolbox."
Pick a good signal supplier for MT4 / MT5.
When required, choose a payment method.
Set the trading account's copy settings.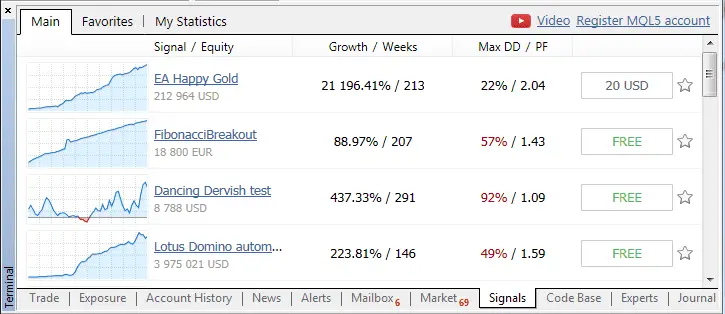 Viewing different subscribers' feedback over a signal supplier's profile is essential, which will help you determine if it's among the best free FX signals distributors. Finally, before actually losing your money, it's also advised that you switch to a signal service using a trial brokerage account to verify the quality of the platform.
Users would be able to determine the following on this screen:
The signal's supplier's name
Acceptance of the Signals provider's terms and conditions
The access to that same signal is verified in actual time
An opportunity to clone stages of Stop Loss or Take Profit
The chance to coordinate trades before confirming them
An amount of the fund that can be used for copy trade in your portfolio
The Euro sum at which you choose to avoid pursuing Forex signals mainly in the event of a failure
The maximum possible pips slippage
The Forex signal will now be directly taken from its provider to the MT5 trading account! Once you choose which service to use, it is essential to understand how to display Forex trading signals on your MT5 website.
Getting the correct framework when evaluating your forex signal software choices is critical. MT4 is a dynamic trading platform offering attractive characteristics, including electronic trading, sophisticated monitoring capabilities, multiple languages, premium updates and commentary for free, and many more.
You should have a forex market signal account once you have entered the forex market, as that will aid you in trading currencies. This software is precious because it helps make rapid trading decisions for everyone. Even so, there seem to be various factors that you'll have to research beforehand to always pick the path among the most accurate signals.
For everyone who uses the MT4 platform, MQL signals become accessible. These seem convenient and easy to use; eventually, they can save you valuable time.
If you're hunting for free Forex software, you're destined to have the right Forex market signal tools. Unfortunately, numerous free signal software will lack transparency, and its data will not be as efficient as paying platforms, if ever. The principal point to consider is the signal suppliers' success record. Please ensure they are defined, and professional support is continuously offered.
Trading Central's Forex Signal Service
Trading Central is a forex signal service that you can use for free to register a real trading account. The technical strategies include fixed income, commodities, forex, index, and equity markets. There are well over 200 financial institutions in 45 different countries and an unmeasurable number of traders who utilize Trading Central to help manage risks and find various original investment opportunities.
To get free signals from Trading Central, register at Exness Broker.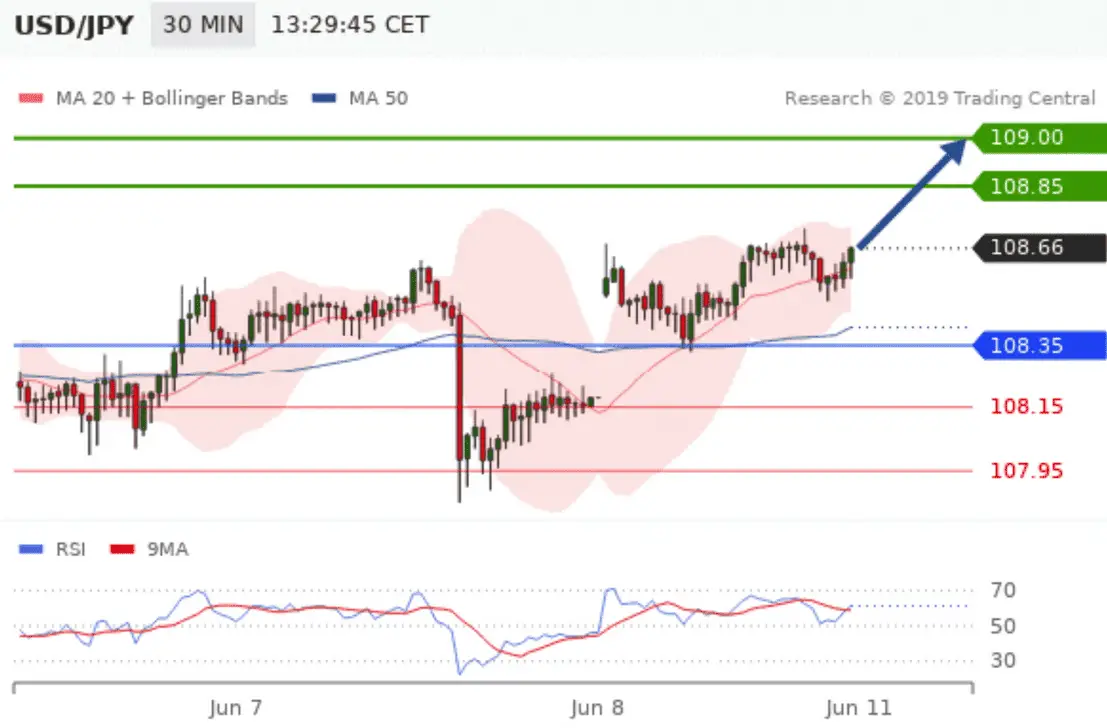 Trading Central offers broker signals that can be received through partnering brokers. Here's how it typically works:
Broker Partnership: Trading Central establishes partnerships with various forex brokers. These brokers integrate the Trading Central platform into their trading infrastructure, allowing clients to access Trading Central's research and signals.
Account Eligibility: To receive Trading Central signals, you typically need to have an account with a broker that offers this service. The availability of Trading Central signals may vary depending on the broker and your account type.
Accessing Signals: Once you have an eligible account, you can access the Trading Central signals through your broker's trading platform. The signals are usually presented in the broker's research or analysis section.
Signal Format: Trading Central signals are usually presented clearly and concisely. They include essential information such as the currency pair, entry level, stop loss level, take profit level, and relevant comments or analysis.
Signal Delivery: The signals can be delivered in real-time or slightly delayed depending on the brosetupset up and service level. Some brokers may also provide the option to receive alerts through email or mobile notifications.
Signal Execution: Once you receive a signal, you can manually execute the trade based on the provided information. Alternatively, some brokers may offer the ability to automatically execute trades based on the signals through features like copy trading or mirror trading.
Traders will use the Trading Central Featured Ideas™ to track price fluctuations across various currencies. Many traders experiment with new signal sources, such as telegram networks. This is not a telegram service to get free regular forex trading signals. This is a conventional signal in a traditional system that provides free actual forex trading signals.
Specific preferences for keeping time frames, bar lengths, technical graph styles, and desired currencies may be customized throughout the indicator's parameters.
After pressing the 'Custom Settings' button in the upper right corner of the chart, you can do so!
Customers can customize their settings in a myriad of ways from the browser, including:
| | |
| --- | --- |
| Fx Pairs | Choose the preferred foreign currencies to look for trading opportunities in |
| Bar Sizes | Choose the chart timeline on which you'd like to find trade insights. |
| Holding timeline | Choose a preferred period for your trades |
| Charts/Technical | Choose from various technical research filters to trade from, including MACD, Candlestick Charts, Bollinger Bands, etc. |
After you've chosen it, the Featured Ideas™ tab will display a list of FX currencies that satisfy one or more of the standards you established in the customized options menu.
It's worth noting that all these free trade signals are built on EA robots of Trading Central and provide options without automatically taking trade positions. A trader retains complete discretion over entering or shutting a trading account in response to a Foreign exchange signal.
Technical Insight™ from Trading Central
Trading Central's Strategic Insight™ metric produces practical technical analysis for diverse asset groups, including forex, indices, Exchange Traded Funds (ETFs), commodities, and stocks. Thus, as a response, that's an invaluable method for a multi-asset type trader looking for comprehensive and constructive analytics.
Consumers should enter the product's name into the search box to find a marketplBut, firstFirst, let us take a peek at an instance of currency hunting.
Upon first glance, there seems to be a wealth of data for traders to examine. It provides a short, intermediate, and long-term pattern forecast represented by green up and red down arrows.
The intermediate-term forecast for six weeks to nine months becomes positive. A chart beneath this symbol may show proof of such a bullish position.
The bullish activities are shown as green dots, allowing participants to see what happens to the value during that incident. The incidents are often reported on the right-hand side, whereby traders can display them systematically by clicking the grid view button.
Trading Central provides Forex updates and Forex market signals. Traders have complete discretion in what they transact since they are needed to position the transactions personally.
As discussed in the following section, one outstanding free currency trading signals application would help those involved in pursuing signal providers, whereby trades can be replicated across your brokerage account.
Autochartlist forex signal service
Suppose you are looking for an analytical tool that can provide a way to scan the market automatically and can cover the whole spectrum of assets that are traded within the financial market, such as futures, indices, commodities, currency pairs, stocks, etc. In that case, Autochartist is what you need. His software will allow you to become successful, and it can cater to all the needs of someone in the financial market.
Get free autochartlist signals if you register at HFM broker.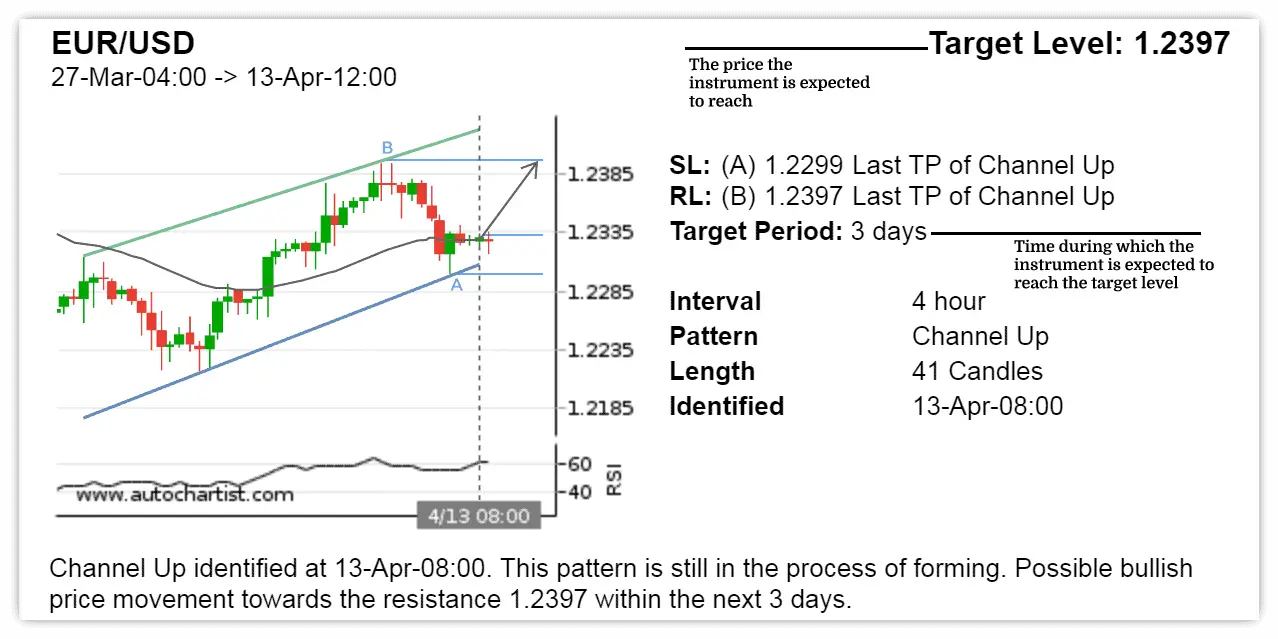 Autochartist is a technical analysis tool.
It scans the financial markets for various instruments, including forex.
The tool uses advanced pattern recognition algorithms to identify chart patterns, such as triangles, wedges, and head and shoulders patterns.
When a chart pattern is identified, Autochartist generates trading signals based on the way.
The signals include essential information like entry levels, stop loss levels, and take profit levels.
Traders can access Autochartist signals through partnering brokers or the Autochartist platform.
The signals can be received in real-time or with a slight delay, depending on the broker's set up and service level.
Traders can incorporate Autochartist signals into their trading strategies and make decisions based on the provided information.
Autochartist provides additional tools and features like volatility analysis and performance statistics for various chart patterns.
Traders can customize their preferences and set filters to receive signals that match their specific criteria.
It's important to note that while Autochartist can provide valuable insights, it should be used as a tool alongside other forms of analysis and risk management techniques.
Traders should consider their trading goals, risk tolerance, and market conditions before executing trades based on Autochartist signals.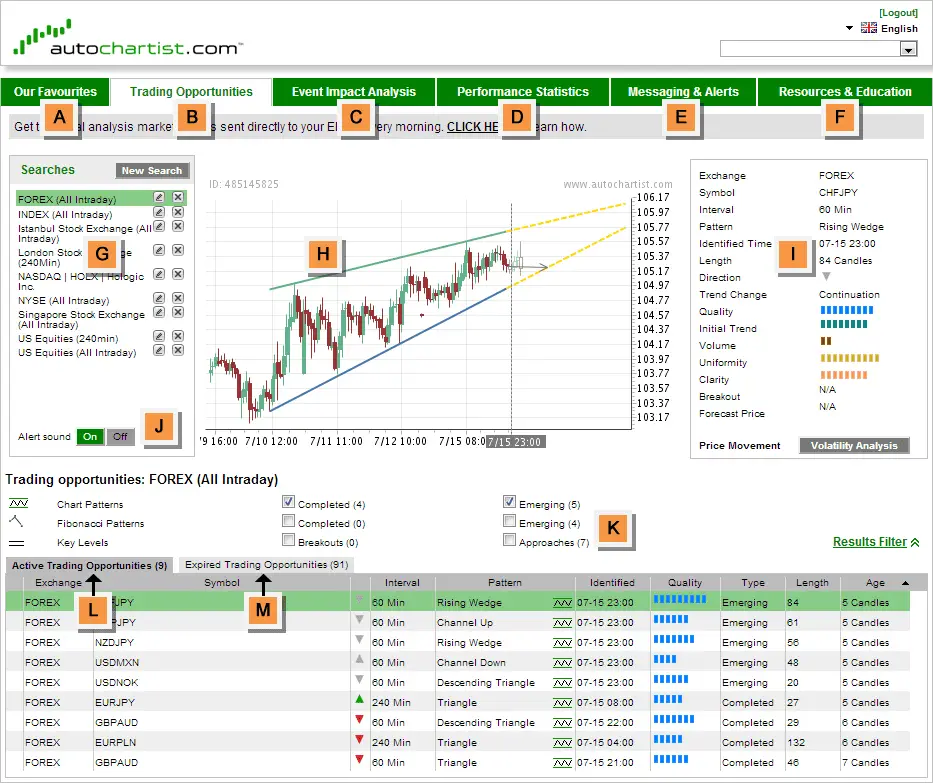 A. Our Favourites: This segment allows users to mark specific trading opportunities as favorites for easy reference and tracking.
B. Trading Opportunities: This segment lists potential trading opportunities identified by Autochartist's pattern recognition algorithms. It includes various chart patterns and their corresponding analysis and signals.
C. Event Impact Analysis: This segment provides insights into how upcoming economic events or news releases may impact the financial markets. It helps traders understand the potential market volatility and plan their trades accordingly.
D. Performance Statistics: This segment displays performance statistics related to the identified chart patterns. It provides information on the historical success rate of specific ways, which can help evaluate their reliability.
E. Messaging & Alerts: This segment allows users to receive real-time or delayed notifications and alerts about important market events, trading opportunities, or changes in their favorite patterns.
F. Trading Community: This segment provides a platform for traders to connect and interact with each other. It may include features like forums, chat rooms, or social trading functionality to share ideas, strategies, and insights.
G. Search Pane: This segment enables users to search for specific patterns, instruments, or other criteria within the Autochartist platform.
H. Pattern Display: This segment visually displays the identified chart patterns, such as triangles, wedges, or head and shoulders patterns. It helps traders visualize the patterns and their potential implications.
I. Price Movement Pane (Volatility Analysis): This segment provides information and analysis on price volatility. It helps traders understand the level of market activity and potential price movements, which can help manage risk and set appropriate stop-loss levels.
J. Sound Switch: This segment allows users to control the sound notifications and alerts within the Autochartist platform.
K. Results Filter: This segment enables users to filter the displayed results based on their preferences and criteria, such as specific instruments, timeframes, or pattern types.
L. Active Trading Opportunities: This segment focuses on currently active trading opportunities. It provides real-time information and updates on open and ongoing patterns.
M. Expired Trading Opportunities: This segment displays trading opportunities that have already expired or closed. It helps users review past patterns and analyze their outcomes.