A lot of people use MetaTrader applications on phones. One of the common questions is how to add a custom indicator to the mt4 iPhone.
How to Add Custom Indicators to MT4 iPhone?
You can not add custom indicators to the MT4 iPhone app besides the default list of indicators. MT4 Apps do not allow custom indicators. However, using the app, you can install  Windows MT4 on VPS, add custom indicators, and access it with an iOS iPhone.

See my video for details:
If traders want to use a custom indicator in MT4 and simultaneously use a phone Mt4 application, the only solution is a remote connection to their PC. For example, on VPS or PC, traders can set the Mt4 desktop application, select custom indicators, and then use the remote connection application on iPhone access to desktop PC.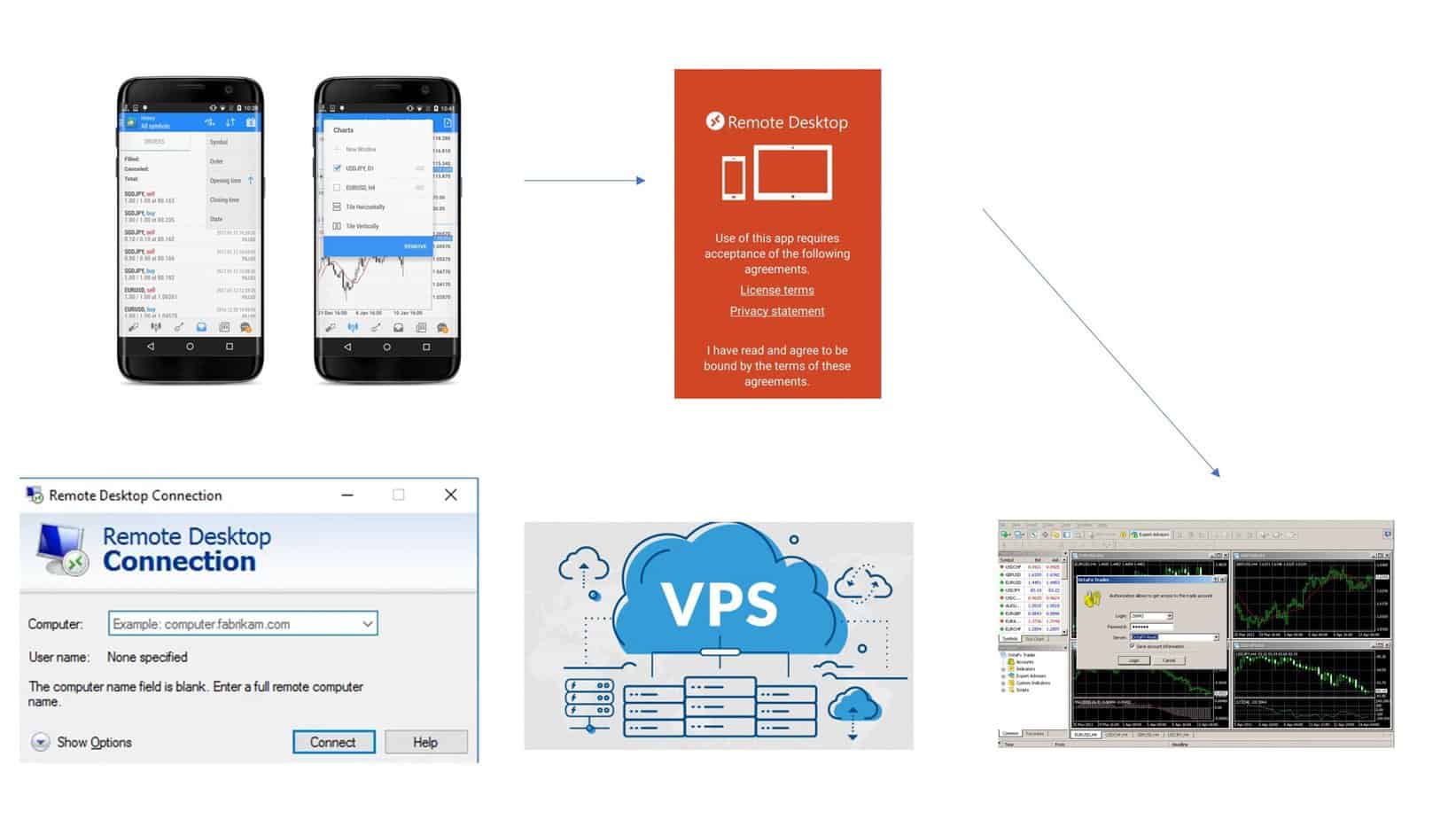 There are many free remote access applications for iPhone such as remote desktop, mt4remote, Teamviewer, Vnc viewer, etc. Using this idea, traders can use all capabilities of the Desktop MT4 platform using an iPhone.
Custom indicators in iPhone or Android are not allowed because hackers can easily manipulate that opportunity to attack your iPhone system, add malicious code, or similar.
1. Obtaining a Free VPS from Your Broker:
Many Forex brokers offer free VPS hosting for their active clients. This might be conditional upon maintaining a certain account balance, trading volume, or other criteria.
Check with your broker's customer support or on their website for specific details about acquiring a free VPS.
Once you qualify, your broker will typically provide you with the necessary details to access the VPS, such as its IP address, username, and password.
2. Installing MT4 on the VPS:
Use a Remote Desktop Client from a computer to connect to the VPS using the details provided by your broker. This is typically the "Remote Desktop Connection" application for Windows users.
Once connected to the VPS, use its browser to navigate to your broker's website (or the official MetaTrader website) and download the MT4 platform.
Install MT4 on the VPS just as you would on a personal computer.
3. Adding Custom Indicators to MT4 on the VPS:
If the custom indicator files (.mq4 or .ex4) are on your local computer, transfer them to the VPS. You can copy and paste them via the remote desktop connection or use a file-sharing service.
Once the files are on the VPS, open MT4.
Navigate to "File" > "Open Data Folder" > "MQL4" > "Indicators" and place your custom indicator files in this directory.
Restart MT4 to ensure the platform recognizes and loads the new custom indicators.
4. Accessing VPS MT4 from iPhone:
On your iPhone, head to the App Store and search for a remote desktop application. Microsoft's official "Remote Desktop" app is one such option, but there are many other third-party apps like "AnyDesk" or "TeamViewer" that can serve the same purpose.
Download and install your chosen remote desktop app.
Open the app and set up a new connection using the VPS's IP address, the provided username, and the password.
Once the connection is established, you'll see your iPhone's VPS desktop interface. You can access the MT4 platform with all its custom indicators from here.
5. Using MT4 on Your iPhone:
With the remote desktop app, you can interact with the MT4 platform as if using a desktop computer. You'll be able to open charts, apply custom indicators, and execute trades.
Due to the smaller screen size of the iPhone, navigating the desktop version of MT4 might feel a bit more cumbersome. It's useful for monitoring and perhaps some light interactions, but a larger screen is preferable for more in-depth analysis.
Note: Using a VPS and remote desktop connection can consume a significant amount of mobile data, so it's a good idea to connect to Wi-Fi when accessing MT4. Also, ensure your VPS password is strong and regularly updated to maximize security.
Now let us see how to add indicators to MT4 Desktop:
How to add indicators to MT4?
If you want to add a new  custom indicator to the Metatrader desktop platform, you need to do the following steps:
First, open your MetaTrader 4 platform.

Next, choose the File/Open data folder.

Next, open the MQL4 / Indicators directory.

In this directory, paste your custom .ex4 or .mql4 indicator file.
Finally, refresh Indicators in Navigator, and the new indicator will appear.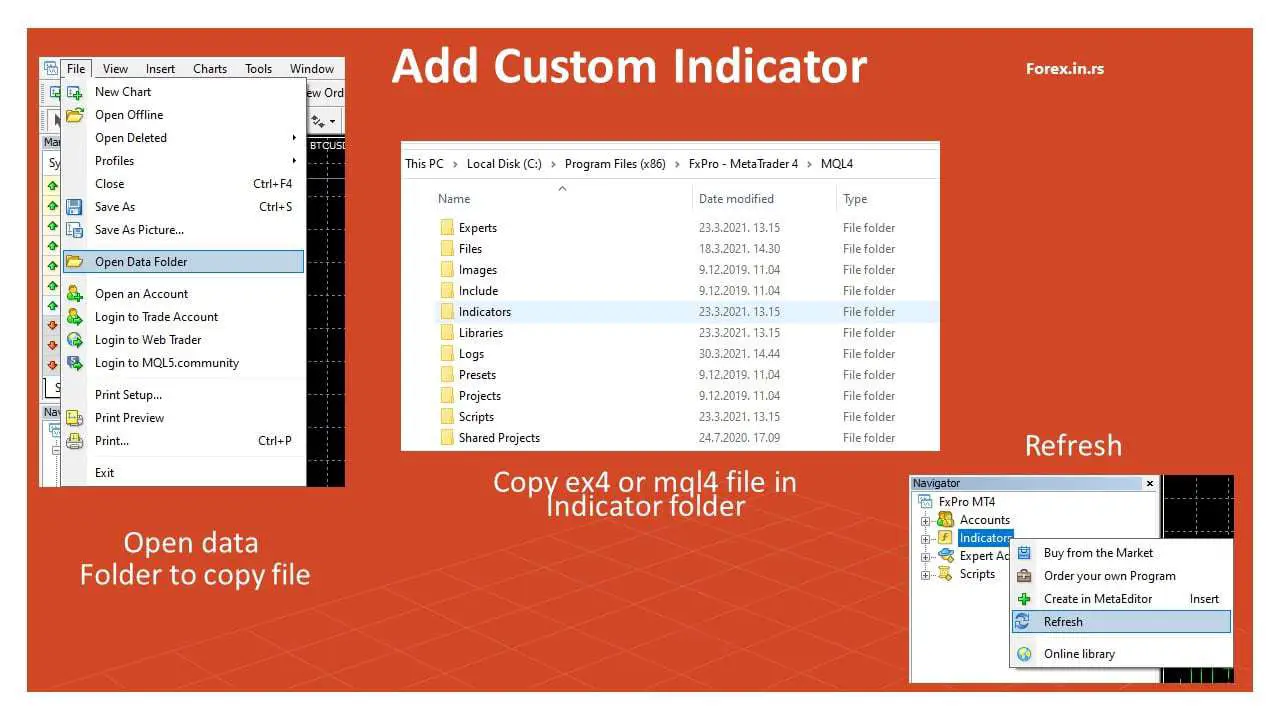 So, to sum up:
How can I add indicators to the MT4 Android app?
You can not add indicators to the MT4 Android app because the MetaTrader Android app does not allow you to add indicators except default ones. To add new indicators, you need to use the Desktop Metatrader version.
Answer from a comment on our youtube channel:
How to add Heiken Ashi to MT4 Android?
You can not add Heiken Ashi to MT4 Android because it is a custom indicator, and MT4 Phone Android apps do not allow custom indicators to be added.