Indicators in MT4 and MT5 platforms are beneficial for the majority of traders. Indicators can remove noise from the data, point to essential breakouts, and show divergence.
We have default indicators in MT4 and MT5 Android apps, which is enough for most traders. However, one of the main questions is whether we can add custom indicators to the MT4 app.
How to Install Custom Indicator on MT4 Android App?
You can not install custom indicators on the MT4 Android platform because Android and iOs platforms do not allow changing the app's code, and any preprogramming of the installed app is not allowed. However, you can install  Windows MT4 on VPS, add custom indicators, and access it with an Android phone.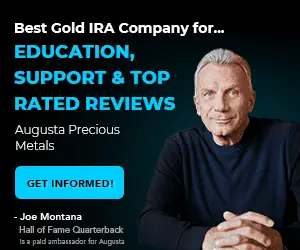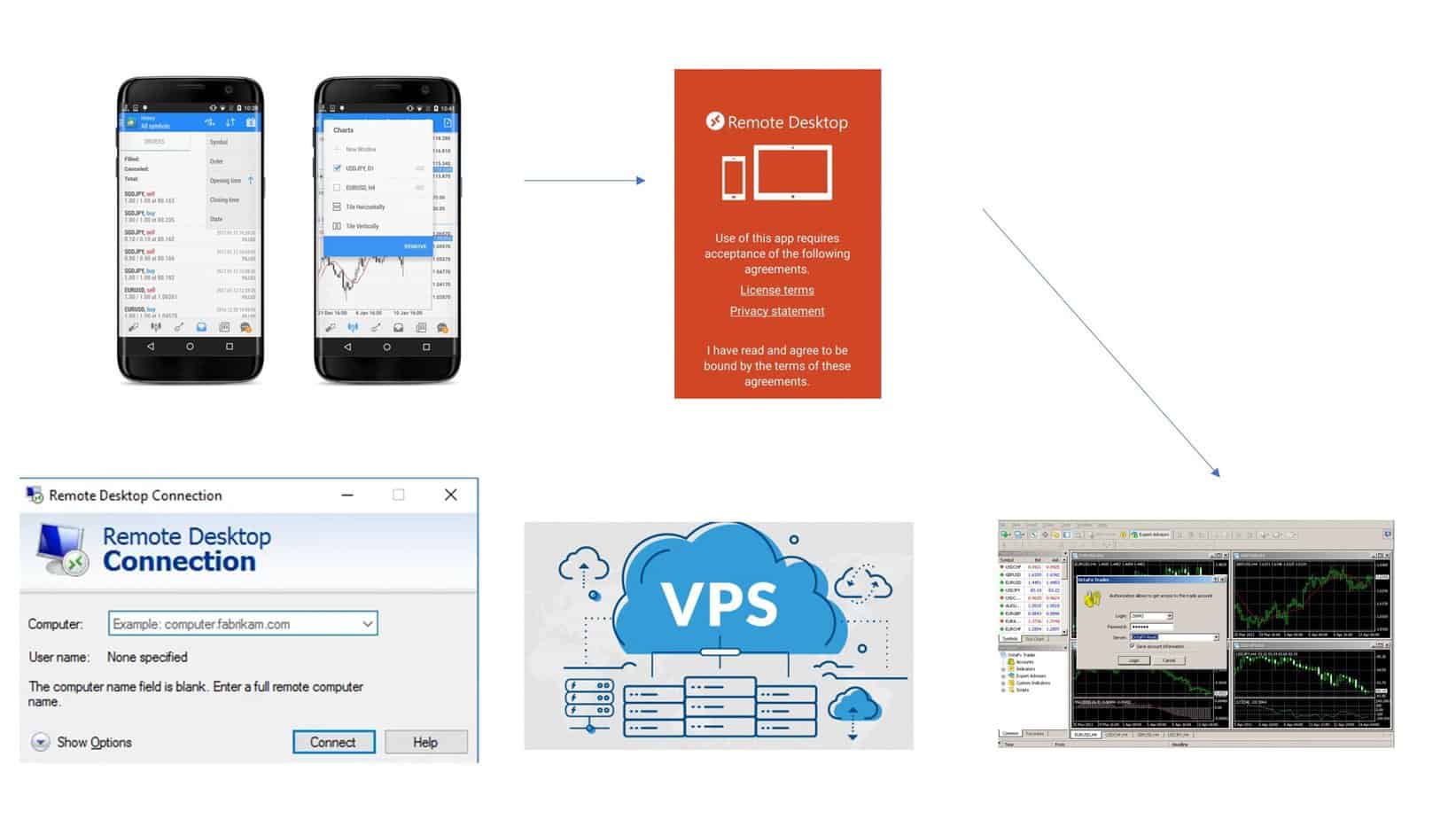 Expert advisors, scripts, and indicators can not be added to the app, only to the MT4 or MT5 desktop platform.
See below my video that I made on youtube related to this topic:
How to install the MT4 App on VPS and add custom indicators?
Obtain a Free VPS from Your Broker:

Many brokers offer their clients free VPS hosting, especially those who maintain a certain account balance or trading volume.
To get a free VPS, contact your broker's support or check their website for information on the criteria.
Once you are eligible, the broker will usually provide details on accessing the VPS.

VPS Access Details:

After you've obtained the VPS, the broker (or the VPS provider) should provide you with the following information:

IP Address of the VPS.
Username (often "Administrator" for Windows servers).
Password.

Install MT4 on the VPS:

Connect to your VPS using a Remote Desktop Client on your computer. You can use the built-in "Remote Desktop Connection" tool for Windows.
Once connected, open a browser on the VPS, go to your broker's website or the official MT4 website, and download the MT4 platform.
Install MT4 as you would on a regular computer.

Add Custom Indicators to MT4 on VPS:

If you have the custom indicator files (.mq4 or .ex4) on your local computer, you can transfer them to the VPS by copying and pasting them over the remote desktop connection or using a file transfer tool.
Once transferred, open MT4 on the VPS.
Navigate to "File" > "Open Data Folder" > "MQL4" > "Indicators."
Paste the custom indicator files in this folder.
Restart MT4 to ensure the custom indicators are loaded.

Connect from Android Phone using Remote Desktop:

On your Android phone, go to the Google Play Store and download an app called "Microsoft Remote Desktop" or any other remote desktop app you prefer.
Once installed, open the app and add a new connection. Enter the IP address, username, and password provided by your broker for the VPS.
Connect to the VPS. Once connected, you will see the VPS's desktop and can open MT4 from there.

Access and Use MT4 with Custom Indicators on Android:

You can access the MT4 platform installed on the VPS with the remote desktop app. It's like accessing a computer remotely.
You can open charts, apply custom indicators, and trade as you would on a desktop version of MT4.
Note: Using MT4 over a remote connection on the phone might be a bit clunky due to the small screen size. It's often used for monitoring and quick tasks, but for in-depth analysis, using a tablet or a computer is recommended.
Also, always ensure your VPS has a reliable connection and keep all software, including MT4, updated for security reasons.
You can add custom indicators on the MT4 desktop easily, like in this image below: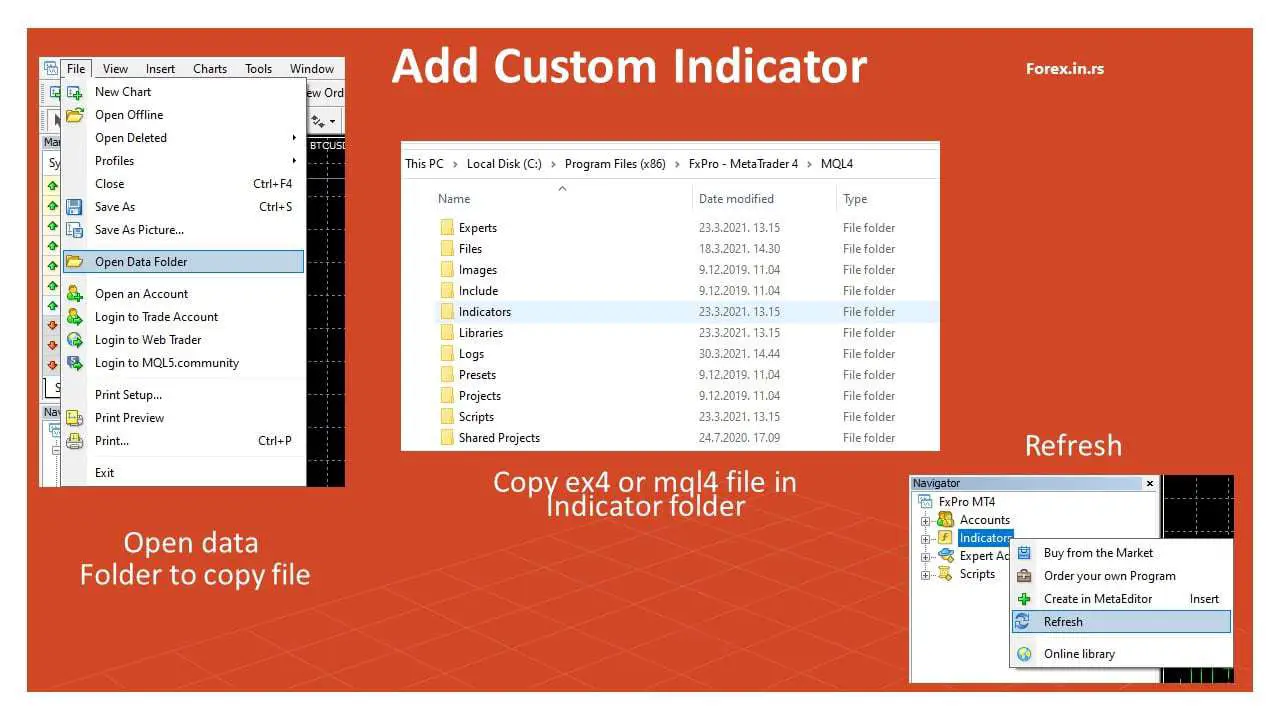 Will we be able to install custom indicators in MT4 Android in the future?
No. Developers in the MetaTrader space realize that professional traders only use expert advisors, custom indicators, and scripts on Desktop Metatrader platforms. The mobile device is for monitoring and sometimes for closing or opening new positions. Current indicators are entirely enough for trading.
However, some brokers plan to add new indicators in the trading app, so in the future, we will see more and more indicators, so there will be no need to add custom indicators from our side.