Forex is one of the most popular securities among traders and has the world's largest trading market. There are many strategies that traders use, and one of them is the forex grid strategy based on several position sizing methods.

Forex grid trading represents a trading strategy where traders place BUY and SELL orders at set intervals around a set price, making profits from trend and range markets. Usually, traders generate several pending orders in the forex grid strategy. When traders trade in the bullish trend market, they set orders above-set prices and below set prices when they trade in bearish markets. To profit from range markets, traders buy orders below the set price and sell orders above-set prices.
One of these strategies that forex traders use is the Forex Grid trading strategy.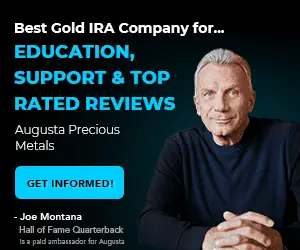 Unfortunately, many grid forex trading strategies do not define stop loss and can produce huge losses.  Poor trading expert advisors offer grid forex trading strategy as a strategy where the stop loss is almost unlimited, where EA waits for mean reversion. This practice is wrong because risk management plans need to be clear, defined, and well analyzed. 
The Forex Grid trading strategy is one of the most self-sufficient trading methods. This automated system takes away the burden of manually opening or closing a position. This system acts as a visual aid for the traders as they can clearly see every movement. However, just because it is popular among traders, it does not guarantee success. You can benefit from any strategy only when you are aware of every character. To execute this system in the right manner, you have to know how the market works, the fundamentals that affect currency strength, and the market's present dynamics. 
The Forex Grid system allows you to set it up to place trades automatically. By using it, even if the market conditions are volatile, you can come back to your investment, which is not possible with every other treading system. It saves you from making predictions about the market's direction. All you need to know is when the market will make its next move, and your automated strategy will do the rest. Another reason for the popularity of the grid system is that it works efficiently in trending markets too. All you need to be aware of while trading in a trending market is the available margin.
What Does Forex Grid Trading System Means?
The forex grid trading system is a trading strategy where expert advisors or traders generate pending buy and sell orders above and below the entry position. Forex grid strategy is averaging down method type of system which is based on successive trades with the final goal to reduce drawdown and increase position exposure when position follow the primary trend.
Forex Grid trading is a system that depends on the natural movements of the market. Traders aspire to make profits by employing stop-and-sell orders. This is done on a leg (a set market distance), a fixed take-profit size, and no stop-loss. You do not have to concentrate too much on the variables affected by the market's price movements. However, the downside of this system is that you have to deal with complex money management conditions. Since this system allows multiple trades to occur simultaneously, you also become more prone to margin errors.
Forex grid trading EA free download
Below you can download for free: forex grid trader Ea download
Forex grid trader EA download
This EA forex grid trading system is a simple system that Opens a grid of Buy Stops and Sells Stops at a specified distance from the price. It is semi-automated, and traders need to enter information as presented in Figure below: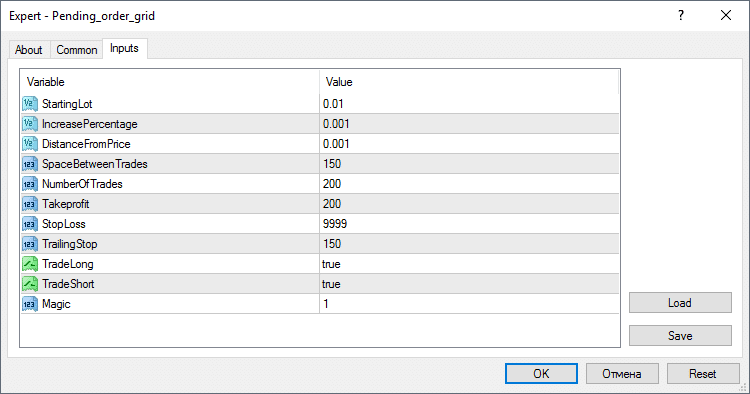 How Does the Forex Grid Trading System Work?
Just like you need some time to adapt to any new trading tool or system, you will need some time to get comfortable with the Forex Grid. The first step of this system is to choose a starting point. You can choose the current price of your chosen currency pair.
In the Figure below, we can see When traders trade in the bullish trend market, they set orders above-set prices: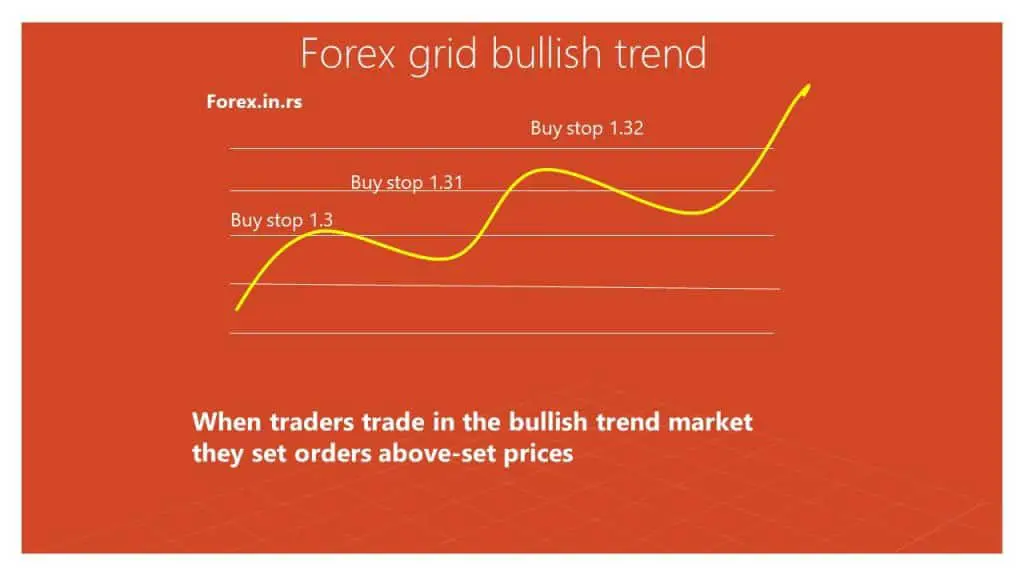 The figure below shows that they set orders below-set prices when traders trade in the bearish trend market.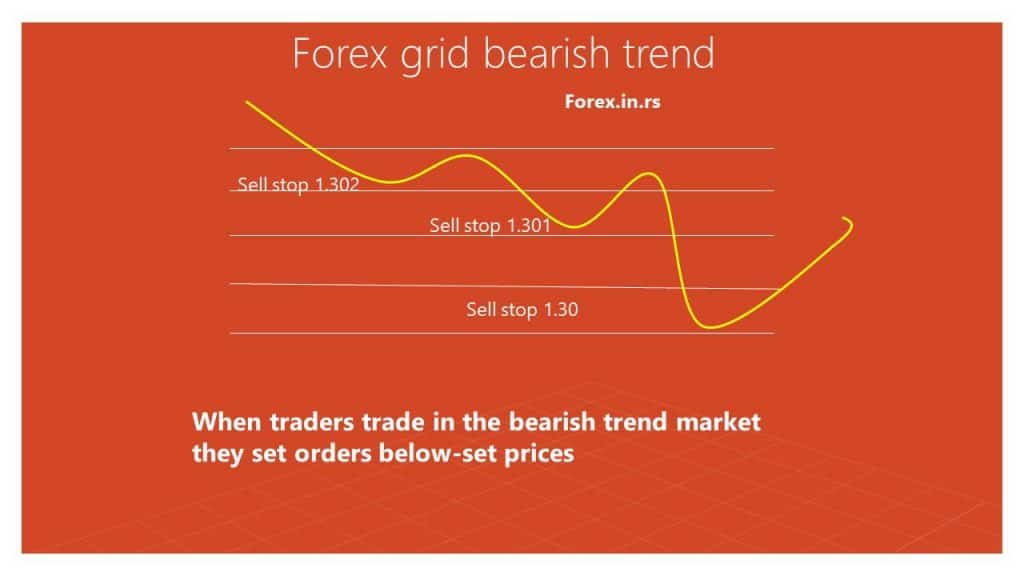 The figure below shows that traders buy orders below the set price and sell orders above-set prices to profit from range markets.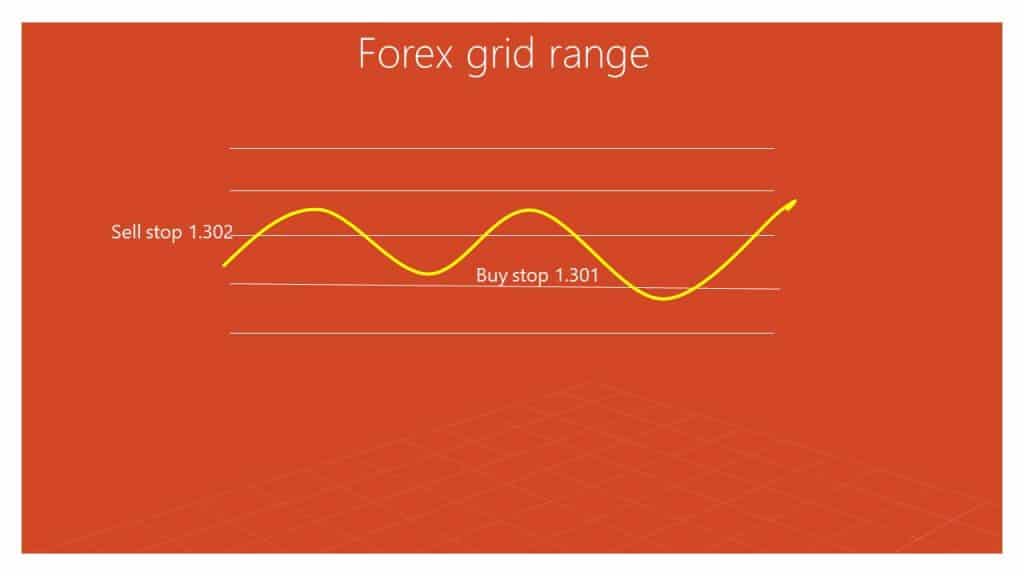 There are some numbers of Forex Grid system levels. Each level has a different order type, entry, and take-profit. You can refer to the table given below for a better understanding. Now, you need to place three buy-stop orders and sell stop orders. Note that the former has to be above the current price while the latter has to be below the current price. You can even take the help of support and resistance levels, chart formations, and pivot charts to plot these points. These levels are not restricted. The size and the number of trades depend on you. 
Once you are done placing the orders, you can witness three possible scenarios. These are:
The price may go either up or down. All the trades will get liquidated, and the price moves will hit your take-profits. You can go ahead and close your stop-orders.

The system will open all the orders, and they will hit your take-profits.

The price movement may open some positions but not hit the take-profits.
It is clear from the explanation that the last scenario is not a favorable one as you will suffer losses there. What happens in the final situation shows one of the biggest drawbacks of this system. It also highlights the fact that traders must always be prepared to face losses. 
Conclusion
Just like any other trading system, the Forex Grid system is not flawless as well. However, with some practice and patience, you can use this tool to maximize your overall profits.