Answer : Forex market close at 22:00 GMT winter and 21:00 GMT in summer time (New York forex close time) on Friday for most forex brokers. It is NY session close time. There are difference in 1 hours for some brokers.
Trader need to know trading server (for example Metatrader platform ) time. For Metatrader in left up corner we can see time :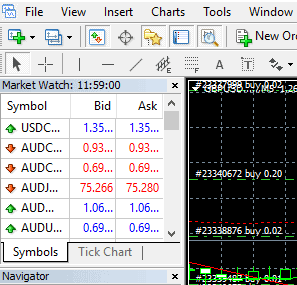 Than we need to know our country time and to know that market will close till 22 hours GMT time. The best thing is to think and work based on trader country time. On that case you will always know.
The Forex market trades currencies, which is currently in high demand. Therefore, the market opens at 5pm Sunday (EST) and closes at 4pm Friday (EST). As currency trading has a large international scope, there is a constant demand of a specific currency to meet trader requirements all over the world.
What time does forex close on friday
Region Open and Close Times
Sydney Open 10 PM GMT (summer) / 9 PM GMT (winter)
Sydney Close 7 AM GMT (summer) / 6 AM GMT (winter)
Tokyo Open 11 PM GMT (summer) / 11 PM GMT (winter)
Tokyo Close 8 AM GMT (summer) / 8 AM GMT (winter)
London Open 7 AM GMT (summer) / 8 AM GMT (winter)
London Close 4 PM GMT (summer) / 5 PM GMT (winter)
NY Open 12 PM GMT (summer) / 1 PM GMT (winter)
NY Close 9 PM GMT (summer) / 10 PM GMT (winter)
The largest worldwide financial market is the Forex, trading nearly $1.5 trillion daily. However, unlike other financial markets, the Forex trading is conducted from many global markets through a networks and phones.
Forex markets have three key regions: North America, Europe, and Australasia. Every region has multiple financial centers. For instance, the European region includes key financial centers located in Frankfurt, London, Pairs, and Zurich. Dealers, institutions, and banks conduct their own forex trading while also conducting trades for clients.
Forex trading opens with the Australasia region first, then Europe and North America in rotation. The cycle is designed for one market to open as another closes, ensuring consistent trading throughout the week. It is common for markets to overlap frequently for several hours, resulting in peak Forex market activity. For instance, an Australian trader decides to make a currency trade at 3am, the Australasia market would be closed, however the North American and European markets will be open allowing for the trader to conduct unlimited trades through foreign dealers.
As we covered the time zone structure (GMT), we can now cover Forex market session availability. There are four market sessions, depending on the time period they are referred to as the Sydney Session, Tokyo Session, New York Session and London Session. As markets are democratic, the session has been divided to a single session per continent: Australia, Asia, North America, and Europe. The Sydney Session starts at 10pm GMT from April to October (summer) and 9pm GMT (winter). The Tokyo Session starts at 11pm GMT, closing at 8am GMT (all year) The New York Session starts at 12pm GMT, closing at 9pm GMT (summer), There is a 1-hour delay during winter. The London Session starts at 7am GMT, closing at 4pm GMT (summer). There is a 1-hour delay during winter.
Additionally, traders include global corporations, centralized banks, and others who require currency for international trades. Since 1971, centralized banks have greatly depended on markets for trading foreign-currencies once the gold standard ended, this was the end of the fixed-currency market. Ever since, the majority of international currencies are considered "floating", instead of being linked to gold value.
The currency market is affected by many factors, including political and economic instabilities, among others. Therefore, in an effort to stabilize domestic currency, central banks trade in the open Forex market, maintaining relative value in compression with foreign currencies. Meanwhile, businesses that conduct business within various countries hedge their currency risks in an attempt to mitigate their risks within foreign markets.
To hedge their risks, a business may enter currency swaps, providing the right to purchase a determined amount of foreign currency at a determined future pricing of other currencies. However, the business is not obligated to do so. Therefore, this strategy limits overall exposure to potentially large variations in the valuation of a currency.
The Forex market is available for 24-hour trading in part because of international time zone differences, but also due to trades being made through a worldwide network, not a centralized location that has a set closing time (i.e. the United States Stock Market). For example, the term "USD closed at X rate" refers to the rate of the US dollar when the New York market closes. However, unlike with securities the currencies get traded globally well after the New York market closes.
The need of securities, including domestic bonds, stocks, or commodities is not as high demand internationally, therefore, trading past standard business hours is not needed domestically. The demand is too low for the domestic market to remain open 24 hours and be justified, as the chance of large numbers of shares trading at 2am are unlikely.
To have a complete understanding, most traders require several passes through the timings several times. The reason being, it can be difficult for new traders to fully understand the multiple factors right away, as four sessions and open/close times must be converted into the traders' local time zone, adjusting for daylight savings time (DST). Although, after trading for a while it will become easier to remember.
Best Time for Forex Trading
At Friday, forex market will be closed and during weekend there are no trading.
Think of the Forex market as a working clock system, with its own hours. When do you trade? Between sessions, the volatility and liquidity vary, starting as the market opens in Sydney, then Tokyo. As London markets open, Sydney is closed, but major hedge funds and banks are active, but the peak occurs after New York markets open.
For example the best time to trade USD pairs is during Euro and USA session. JPY is the best to trade during Asia and USA session etc.
Plan your trades based on location. For instance, if you're in South Africa, you would benefit from avoiding periods of lower liquidity because prices are commonly too volatile or not volatile enough, making any technical or fundamental analysis useless. Additionally, understanding weekend hours is important because starting at open on Monday, liquidity tends to be low, while it's higher as currencies are impacted by weekend news.
Traders need to know when liquidity and volatility are good, generally during London or New York session is open, preferably overlapping. This offers the most balanced combination of volatility and liquidity. Meanwhile, the worst periods to trade is after the New York session closes, and the opening of the Sydney session.

Trader since 2007. Currently work for several prop trading companies.