The USDJPY forex pair is one of the most popular trading pairs in the world due to its high liquidity and volatility. This pairing comprises the US dollar and the Japanese yen, two major global currencies often used for international trade. Because it is heavily traded, the USDJPY can be an excellent tool for speculating on short-term market moves, making it an attractive choice for traders at all levels. Whether you're new to Forex trading or a seasoned professional, trading the USDJPY could be a great way to profit from fluctuations in global markets.
If your preferred trading currency is USD/JPY (the U.S. dollar/Japanese Yen), certain times can favor your trade through enough volatility in the market – high liquidity.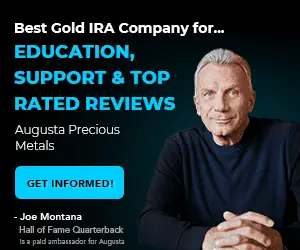 What is the Best Time to Trade USD/JPY?
The best time to trade USD/JPY is a period of high liquidity during the European market from 7 a.m. to 4 p.m. GMT and during the USA market from noon to 8 p.m. GMT. The most considerable liquidity is when European and USA market sessions overlap from noon to 4 p.m. GMT. The best time to trade USD/JPY (Eastern Daylight Time) is from 7 AM to 11 AM EST.
Of course, some trading strategies based on low volatility or trading strategies based on trading during economic news do not trade in high liquidity periods, and traders trade at different times.
In practice, there is no best time for trading because various traders use various strategies. There is no consensus about the best trading time for USD/JPY. Still, most traders suggest that a period of high liquidity is the best period for trading base currencies.
Based on the last ten years of research, the most significant volatility and liquidity for the USDJPY forex pair are at 14 hours GMT. This moment when the US and European market overlap is ideal for day traders to enter into trades.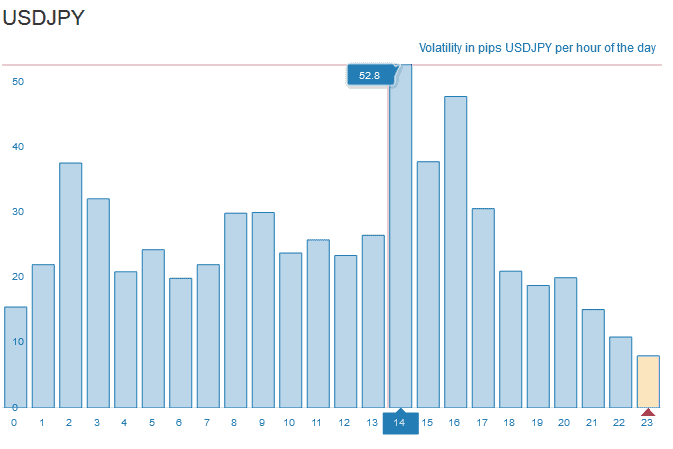 Below you can see my video about USDJPY volatility:

If you are a swing trader and keep several days' USDJPY position, the highest volatility day when the weekly trend is formed is Thursday, as shown in the image below.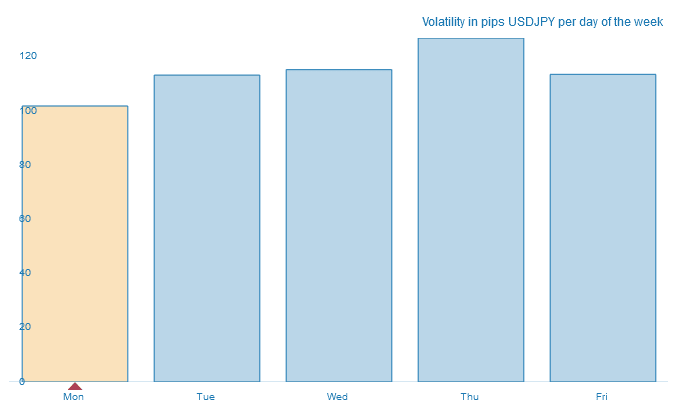 Why Should You Trade USD/JPY At the Best Time?
The forex market remains open from various global markets; thus, you will always find a market available to trade currencies. In the U.S. on Sunday night, the first markets to open are the Asian and Australian forex markets. After this, the European market gets open. It gives traders around the globe the opportunity to trade at any time.
Though the shortcomings lie in the fact that not all the markets would be the best time to trade JPY pairs, when the London market opens, it gives immense opportunities to currencies like the British pound (GBP), Euro (EUR), and Swiss franc (CHF). Similarly, when the New York market opens, it gives profitable trading potentials for currencies like the U.S. and Canadian dollar.
Regarding USD/JPY, they witness relatively stable trades throughout the days as both are highly traded currencies. The session timings are presented as the Forex Market Hours and can be noticed using forex tools. You can choose your preferred time as per your country's time zone.
Also, it is essential to note that daylight saving time affects forex trading. For New York and London markets, trading hours slide for one hour during warmer months in the Northern Hemisphere.
If you do not trade at a suitable time, you will miss out on the potential to gain profits, as the volatility would not be favorable.
The Best Time to Trade the GBP/JPY
The best time to trade the GBP/JPY pair is between 10:00 and 16:00 GMT when the London market is open and the daily EU opening range is finished. The highest liquidity for GBPJPY trading is when London and USA markets overlap (from 12:00 to 16:00 GMT). This period provides the best window for price movements.
As the volatility is high during this period, it gives preferred price ranges and high liquidity. Thus, it increases the overall efficiency of currency trading. If you enter your trading capital during this period, you have better odds of winning trades than at other times. The trading and tacking tools would give you niche time frames to get good moves in real time.
What is the best time to trade JPY pairs?
The best time to trade JPY pairs for trend traders is when the EU session and US session overlap (from 7 AM till 11 AM EST), which is the most significant market liquidity. However, for the range trading strategy, the best time to trade JPY pairs is during the Asian session because of low volatility and because of news related to the Japanese economy.
When Not to Trade the USD/JPY?
The price movement activity for the USD/JPY remains stable for most of the day, though there are times of high volatility. Though high volatility is good, you should avoid trading when the volatility is too low. The reason for this lies in getting compensated for the currency trades you buy, as low volatility would not cover you for the spread or commission you have to pay.
For the USD/JPY pair, avoid trading between 21:00 and 00:00 GMT. At 00:00 GMT, the Tokyo market opens, which is a subdued period for this currency pair. Also, when the Tokyo market closes, the London market opens. The timing between these two trading activities lies from 03:00 to 05:00, which is another period to avoid trading the USD/JPY.
As these currencies are famous, their volatility is considerably significant during the day but drops during the above-stated time. However, you can always check the most profitable trade times during online forex trading tools.
Forex pairs to trade at night
If you live in Europe or the US and want to trade during the night, you will trade during the Asian session. Because of trading news, forex pairs to trade at night during Asian sessions are USDJPY, AUDUSD, and NZDUSD. If you use a range strategy, you can trade any significant pair. If you use a trend trading strategy, the best forex pairs to trade at night are volatile pairs such as AUD/NZD, AUD/JPY, or NZD/JPY.
Conclusion
The best time to trade the USD/JPY forex pair is during periods of high liquidity, mainly when the European and American markets are open simultaneously. This period typically spans from 7 AM to 4 PM GMT, when both the European and US markets are active. During this time, a higher volume of trades is being executed on the USD/JPY, making it easier for traders to enter and exit positions at favorable prices.
Another good time to trade the USD/JPY is during the afternoons in Eastern Time (EST), between noon and 8 PM GMT. This is when liquidity tends to be at its highest, as it coincides with the overlapping hours of both European and US markets.
Overall, many factors can influence trading opportunities on this forex pair, so it is essential to stay up-to-date on news and events that may affect market movement. By keeping a close eye on economic indicators and announcements, you can better gauge when potential opportunities may arise for profitable trades on the USD/JPY forex pair.
Though these good times promise high volatility, you won't gain profit if you don't know the forex market functionality. The best way to overcome this shortcoming is to educate yourself and learn about the forex market from credible sources.
It would help if you also tried to trade in more than one currency pair. The EUR/USD and the GBP/USD are also like the USD/JPY and have high volatility. You can develop your trading capabilities for more than one currency pair and identify the best trade times. It would give you diversification, and diversification is always welcomed in trading. So, learn and practice- these two main tools will undoubtedly help you gain winning trades in the long run.
Let us repeat one more time: In practice, there is no best time for trading because various traders use various strategies, but high liquidity is a good opportunity for trading USD/JPY.