Important notice: Please use SCRIPTS instead of Expert advisors when you want to close all orders. Close all EA is not a good idea. A better idea is to use Close all scripts.
In this article, you will learn how to close all orders in MT4 just with one click.
Let us first see how to close one order (skip this if you are not a beginner trader):
How to close order in MetaTrader 4?
It would help if you manually navigated the' Trade' tab to close a position order in the MT4 Desktop platform. Then, choose the trade you want to close, press the right button on the mouse, and press " Close order " in the drop-down menu."
Most traders start with a basic strategy. In most cases, a basic strategy would entail entering one position. However, as one increases their trading knowledge, skill, and experience, it is normal for a trader to enter multiple positions for various reasons. Closing a single trade is effortless. However, if you have multiple positions, then closing them can be a time-consuming task. Time is something you don't want to waste when prices move in fractions of a second.
Metatrader 4 multiple orders
MT4 close all button or "panic button" is the button on the MT4 chart based on the MQL4 script (MT4 script), which can close all positions with the push of a button.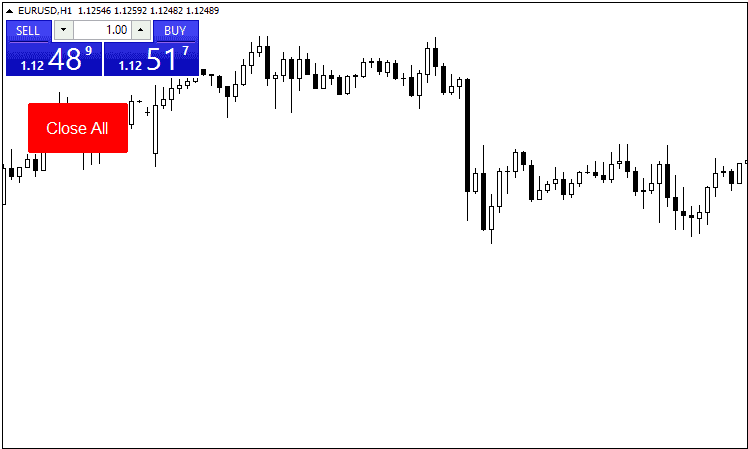 In this article, you can see 4 MQL4 scripts and a free download.
This is where a "panic button" becomes very useful. In this case, the panic button is termed MQL4 Close All Orders. In this article, you'll learn more about Close All Orders and why you must have one.
How to close all positions in MT4 using MQL4 Close All Orders Script?
You can close all positions in MT4 if you use the MQL4 Close All Orders script (download below). This simple MQL4 script will close all your positions immediately.
In my video below, you can see step-by-step how to close all trades with one click:
How to Close All Positions in MT4 With One Click?- Close All "Panic" Button Script youtube video

To close all EURUSD trades with one click, you need to have an open EURUSD chart and drag and drop the script on the chart. In less than a second, all EURUSD trades will be closed.
Download Close ALL Orders MT4

Script 1 :
If you drop on asset's window, this script will close all pending orders of that pair; else will close all.
Install this script in the SCRIPT directory: Script closes all order MT4.
Script 2 :
Close only buy trades script.
Close BUY trades
Script 3 :
Close only sell trades script.
Close SELL Trades
Script 4 :
Close all pending trades script.
Close Pending Trades
Let's take one example. You're running five positions at once. Then, the price suddenly became volatile for some reason, behaving erratically and beyond the confines of your expectation. Most professionals will tell you that it is better to get out when you have entirely no idea what the price is doing. Since you are a smart trader, you follow the advice.
You click your every position and hit close. However, in the third position you are about to close, the price suddenly spikes. Then, you are miles away from the price point you want to close your positions in a fraction of a second. It's good if the price spikes in your favor. But what if it didn't? Are you willing to take that chance that it will always go your way? Are you ready to base your strategy based on luck? If you are a smart trader, your answer should be a big "NO."
Alternatively, you can use an MQL4 Close All Orders. With one click of a button, all of your positions get closed. The chances of price running away from you become very slim. There are also other instances that you'd want to have this "panic button" at all times.
It could be that there's unexpected news coming out, and you don't want to take the risk if the price goes with or against you. So you just run the script, and you're good.
Another instance is when you are trying to execute a multiple profit-taking strategy. During normal price behavior, you plan to exit manually, depending on what triggers you may have. However, the price suddenly spiked in your favor, and you know that if you execute your usual profit-taking strategy, you will leave money on the table. Hence, hit that Close All Orders script instantly and secure all the profits of your positively.
In all these scripts, Click the "Close All" button to close all your open positions (regardless of the pair).
Conclusion
At the very least, MQL4 Close All Orders makes it convenient to close all your positions with a single click of a button or specific trigger. Of course, in nine, the worst case, it can be your "panic button." And when it comes to panic buttons, it's better to have one when you need it versus needing it and don't have one.
If you want to analyze the market and create strategies (EA and scripts) without coding, you can use the Trendspider platform.