MetaTrader 4 (MT4) and MetaTrader 5 (MT5) are two of the most popular trading platforms globally, widely used by traders to analyze market conditions and execute trades. These platforms' critical features are their ability to present historical price data in various timeframes. These timeframes allow traders to study price movements over different periods, making identifying trends, patterns, and potential trading opportunities easier.
MT4 Timeframes:

Short-term/Micro: M1 (1-minute), M5 (5 minutes), M15 (15 minutes).
Medium-term: M30 (30-minutes), H1 (1-hour).
Long-term: H4 (4 hours), D1 (daily), W1 (weekly), MN (monthly).

MT5 Timeframes:

Short-term/Micro: M1, M2, M3, M4, M5, M6, M10, M12, M15, M20, and M30.
Medium-term: H1, H2, H3, H4, H6, and H8.
Long-term: D1, W1, and MN.
Additionally, MT5 introduces timeframes like H12 and offers more customization options.
The diverse selection of timeframes in MT4 and MT5 means traders can zoom in for granular details or zoom out for a broader perspective. For instance, a day trader might focus on the M15 or M30 charts, while a swing trader might look at the D1 or W1 charts. Meanwhile, long-term investors may base decisions on the weekly or monthly charts.
However, do you know that you can trade using second timeframes in MT5?
Please see my video about seconds timeframe charts in MT5 with detailed instructions:
MT5 Seconds Chart Trading
Traders can trade in MT5 using second timeframe charts. However, in that case, traders must install a custom Ea or indicator to enable second-chart timeframes. Free MT5 Expert Advisor, "Candle by seconds," enables seconds timeframe charts trading.


MetaTrader 5 (MT5), one of the leading trading platforms, offers traders a wide range of timeframes to assist in their technical analysis. However, by default, MT5 does not provide 'second' charts, meaning charts where each candlestick or bar represents seconds rather than minutes or hours. While several methods and third-party tools are available to integrate such second charts, many traders encounter challenges. Common issues include errors with chart extrema, compatibility problems with existing indicators, etc.
To address this gap, a novel solution has been introduced. This solution comes as a script, which operates as an Expert Advisor (EA). Instead of modifying the core architecture of MT5 or introducing errors, this script innovatively creates a custom symbol. Here's how it works:
Placement of the Script: The script is designed to be placed on an M1 (1-minute) chart of the desired trading instrument. An M1 chart is the shortest default timeframe in MT5, so it is the foundation for our second-based custom chart.
Execution and Custom Symbol Creation: Once the script is activated on the M1 chart, it operates as an Expert Advisor. It processes the M1 data and then creates a custom symbol representing the desired second timeframe (e.g.,1 second,  10 seconds, 30 seconds).
Full Compatibility: The standout feature of this solution is its comprehensive functionality. Unlike many other alternatives, this EA ensures that indicators work correctly and there are no errors with chart extrema or other joint issues.
How to Use Candle by Seconds EA in MT5?
This EA has been crafted specifically for intraday traders. Instead of being confined to the conventional OHLC (Open, High, Low, and Close) data points, traders can customize their charts based on specific timeframes denoted in seconds.
Functionality: The EA forms custom candlestick patterns in any desired timeframe, with the smallest unit being seconds. The uniqueness of this tool is evident in its ability to generate charts in timeframes that are not standard in MT5. For instance, if a trader wishes to have a chart with a 27-second timeframe or a 420-second (7 minutes) timeframe, this EA makes it possible.
Key Guidelines: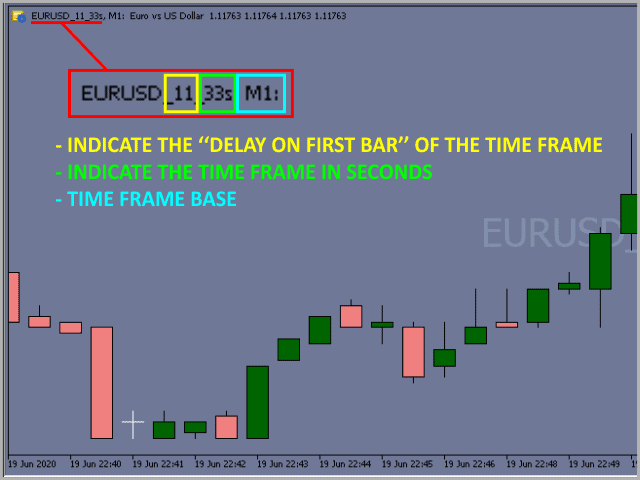 Base Timeframe: Always initialize the EA on an M1 (1-minute) timeframe. This is crucial as the EA uses this as a reference point.
Offline Chart Creation: The EA will produce an offline chart. The bars on this chart are built starting from the current bar of the M1 timeframe.
Historical Data: By default, the EA will render the history of the past five days from the date it's implemented on the chart.
Adding More Charts: To open more charts of the same custom timeframe after the EA has generated the first chart, you can:

Click "Create a new chart" in MT5.
Choose the "Custom" option followed by "TimeCharts."
The custom timeframe you've created will be displayed, and selecting it will open a new window with that chart. This process can be repeated for multiple charts.
Settings Configuration: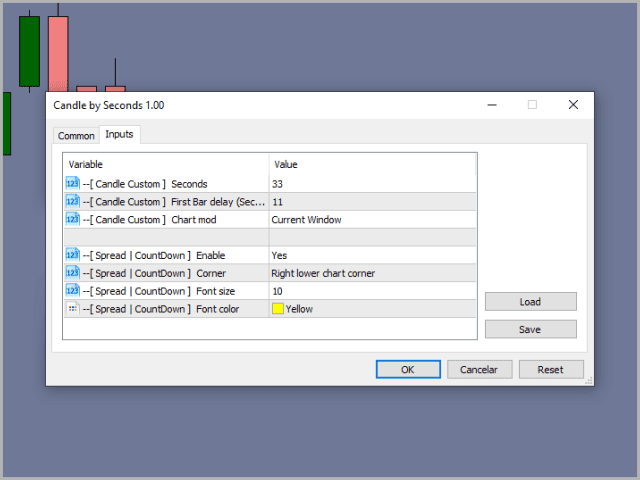 Candle Custom Settings:

Seconds: Define the desired timeframe in seconds.
First Bar delay (Seconds): Set a delay (1 to 59 seconds) before the first bar begins to form. This can help in aligning the charts or in delayed observation.
Chart mod: If "Current Window" is selected, the new chart overlays the existing M1 chart. Choosing "New Window" will pop up a fresh chart window, allowing for the application of other EAs on it.

Spread|Countdown Settings:

Enable: Toggle to decide if the spread and countdown information should be displayed on the chart.
Corner: Choose the location on the chart where this information should appear.
Font size and font color: Customize the appearance of the displayed information for better visibility.
Conclusion
In MT5, trading using second timeframe charts requires additional tools since such timeframes aren't available by default. Traders often resort to custom EAs or indicators to fill this gap. One such reliable tool is the free MT5 Expert Advisor named "Candle by Seconds."
This EA facilitates trading on second timeframe charts effectively. As a result, traders gain more granularity and flexibility in their intraday analysis and strategies.