MetaQuotes is a software company that was founded in 1996. It has since become one of the world's leading providers of online trading technology, specializing in developing platforms and applications for the retail foreign exchange market.
The company has operated in Cyprus since 2005, headquartered today. Since its inception, MetaQuotes has become one of the most trusted names in online trading technology. Its software solutions are used by more than 5 million traders worldwide, making it one of the most popular Forex trading platforms available to traders and brokers alike.
In addition to its software solutions, MetaQuotes also offers services such as educational resources for traders who want to learn more about Forex markets and get up-to-date information about the industry, customer support for any technical issues related to their platform, white label partnerships for brokerages that want to use MetaQuotes' technology; and integration with third-party specialists such as payment gateways providers for quick payments processing.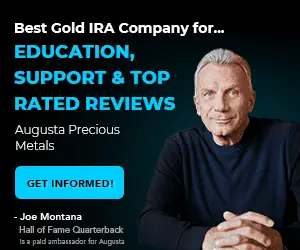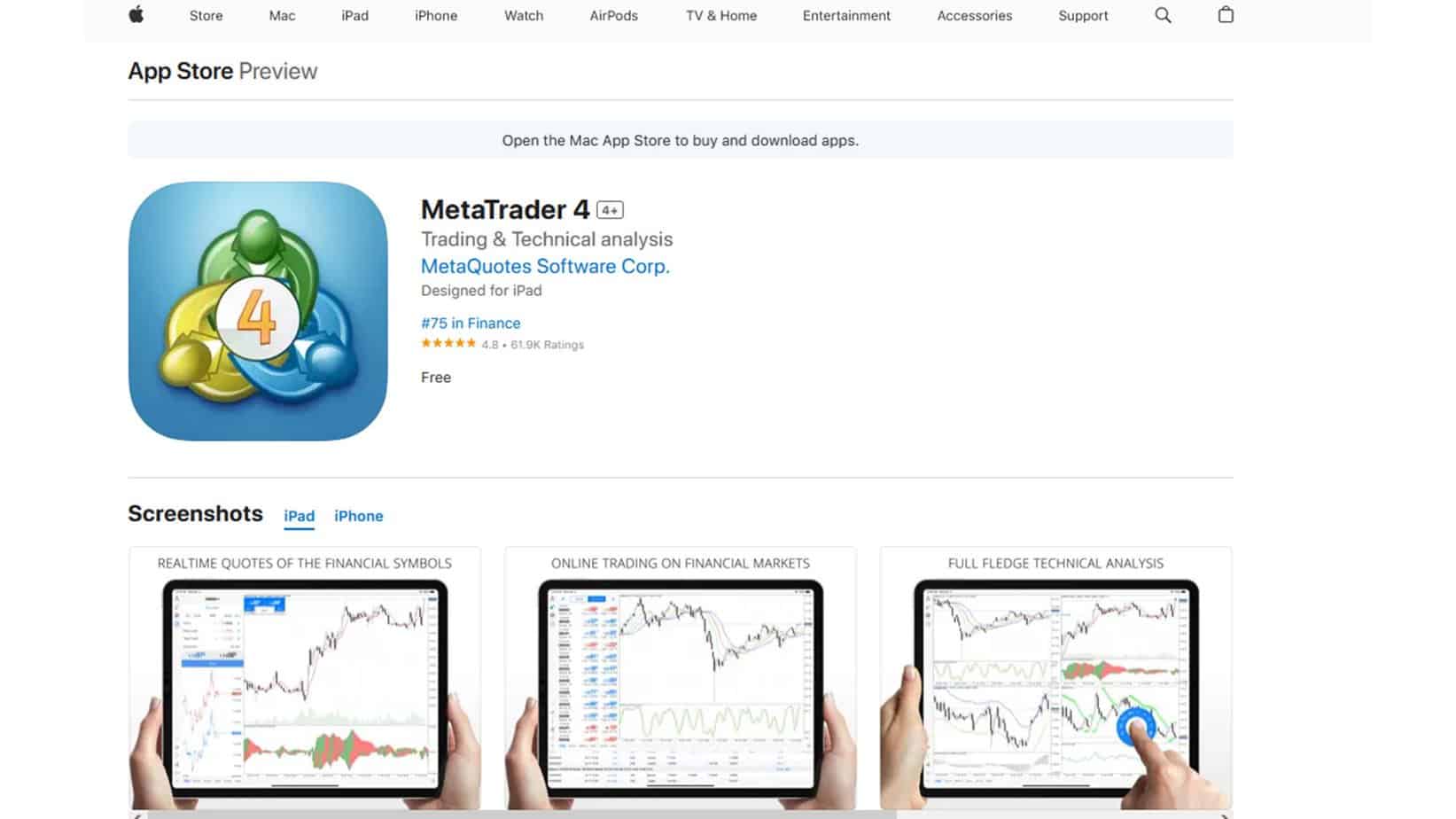 MT4 & MT5 App Are Available in Apple Store from March 2023!
March 2023 saw the return of MetaTrader 4 and MetaTrader 5 apps to Apple's App Store, much to the delight of the trading community. After an extended period in which the applications were "suspended from the store due to technical issues," users can now re-access them.
Look more in my video from fxigor youtube channel:

MetaQuotes, the creators of the MetaTrader 4 and MetaTrader 5 platforms, worked hard over many months with Apple to resolve any problems and implement necessary changes to make it possible for their apps to be reinstated in the AppStore. This process was not without its challenges, and a great deal of communication between both teams was required before reaching a successful outcome.
The MT4 and MT5 apps provide a range of features that allow traders to perform trading activities directly on their mobile devices, such as viewing real-time quotes, placing trades, setting stop losses, trailing stops, and more. Traders can also access analytical tools, including advanced charting capabilities, technical indicators, and news feeds. In addition, the intuitive interface makes trading easy for everyone, from beginners to experienced professionals.
The reinstatement of these app versions comes with additional benefits, including tighter security and improved stability. These have been designed with traders' needs in mind by both MetaQuotes and Apple engineering teams, who have worked together diligently to create an optimal experience when using either version of the app.
This is especially important given how prevalent mobile trading has become over recent years – statistics show that 83% of investors prefer using a mobile platform for their trading activities compared to just 17% who prefer desktop versions. With this shift towards mobile trading, users must have access to fully functioning platforms like those provided by MetaTrader 4 & 5 that offer all the features they need and excellent performance across multiple device sizes and operating systems.
MetaQuotes is constantly striving to improve its offerings to keep up with customer demand and remain competitive within the market – they continue working closely with Apple engineers on new features that will benefit traders further down the line while providing ongoing support for existing users so they can get maximum value out of their products.
Overall, this partnership between MetaQuotes & Apple has resulted in an excellent outcome for both parties as wanders across various fields who can downstate their access through Apple's App Store or update their existing version if required.
How the problem is solved?
MetaQuotes, the company behind popular trading platforms MetaTrader 4 and MetaTrader 5, has become increasingly concerned with the rise of fraudsters using its applications. This concern stems from the fact that the company's reputation is at stake and the negative impact it could have on legitimate users and the overall trust in the trading community.
In response to this issue, MetaQuotes made a significant policy change by halting the processing of white-label solutions for offshore brokers operating from loosely regulated jurisdictions. White-label solutions allow companies to rebrand and resell MetaQuotes' software as their own, which has been a common practice among brokers.
Loosely regulated jurisdictions often have less stringent financial regulations and oversight, which makes them attractive to fraudulent brokers looking to exploit the system. By discontinuing white-label solutions for these offshore brokers, MetaQuotes aims to reduce the number of potential fraudsters using its platforms.
This policy change has several implications:
Protecting the company's reputation: By limiting the availability of its platforms to more strictly regulated brokers, MetaQuotes reduces the risk of being associated with fraudulent activities. This helps maintain the company's reputation and fosters trust among its user base.
Ensuring user safety: MetaQuotes can provide a safer trading environment for its users by working with more strictly regulated brokers. This helps protect traders from fraudulent schemes and ensures their investments are better safeguarded.
Encouraging better industry standards: By taking a stand against fraudsters and insisting on working with brokers from more tightly regulated jurisdictions, MetaQuotes sets an example for the industry. This action may encourage other software providers and brokers to follow suit and implement stricter measures to combat fraudulent activities.
In conclusion, MetaQuotes' decision to halt the processing of white-label solutions for offshore brokers in loosely regulated jurisdictions reflects its growing concern about the rise of fraudsters using its platforms. This policy change aims to protect the company's reputation, ensure user safety, and promote better industry standards. And, of course, MT5 and MT4 apps are in Apple Store again!!!
Why were MT4 & MT5 App No Longer Available in Apple Store?
MT4 and MT5 platforms were not in Apple Store in 2022 because of the allegation of one victim from the US that had lost 1 million dollars when someone tricked him by showing him Metatrader's demo account stats. By discontinuing white-label solutions for fraud offshore brokers, MetaQuotes aims to reduce the number of potential fraudsters using its platforms.
MT4 and MT5 platforms were banned from September 2022. from the Apple store because of security issues.
Before I start to make an explanation, please watch my video where I told everything about this topic:
The MetaTrader 4 (MT4) and MetaTrader 5 (MT5) apps, which provide access to various trading tools, have been removed from the Apple App Store. The official statement is mainly due to changes in Apple's App Store guidelines designed to protect user privacy and security, especially regarding financial data.
Metatrader 4 and 5 follow all guidelines:
"Apple's policy also states that financial applications should not collect or process unnecessary user data without explicit consent. As both apps require users to provide personal information such as email addresses, phone numbers, and banking details to access services, this violates Apple's policy on secure data collection and use."
We know that MT4 and MT5 do not collect information because brokers do that. So what is the problem?
The source for this statement is the Forbes article Apple Removes A Trading App Linked To Crypto Scams From The App Store.
Below you can read part of this text from the Forbes article: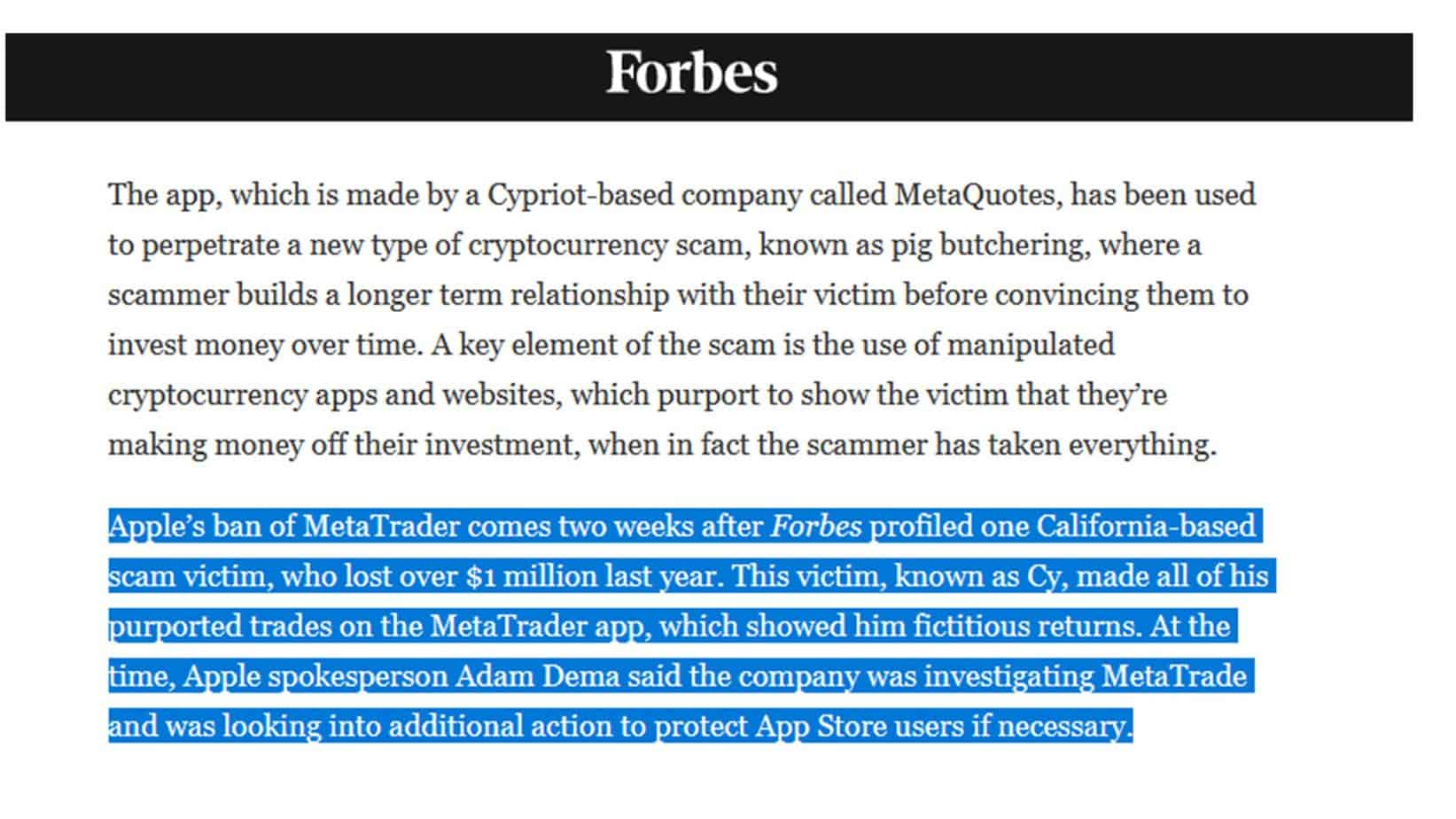 Another reason some portals provided is that MT4 and MT5 were banned because of Russian sanctions because the founder of Metaquotes has Russian origin.
However, this is untrue because the company has worked in Cyprus for over 13 years. See the registration screenshot fact from the Cyprus government body: