Storing precious metals can be a difficult task, especially when it comes to determining which storage method is best for your needs. However, precious metals such as gold, silver, platinum, and palladium are valuable commodities that must be stored securely and safely to protect their value. Here are some tips on properly storing precious metals to remain safe and secure.
A secure depository facility is one of the most common methods of storing precious metals. These facilities provide high-level security for metal storage, ensuring your metal remains safe from theft or damage. The facility will also have insurance coverage in case of any accidents or losses due to theft or natural disasters. These depositories are typically run by banks or financial institutions, which means you'll need to work with them before you can begin storing your metal there.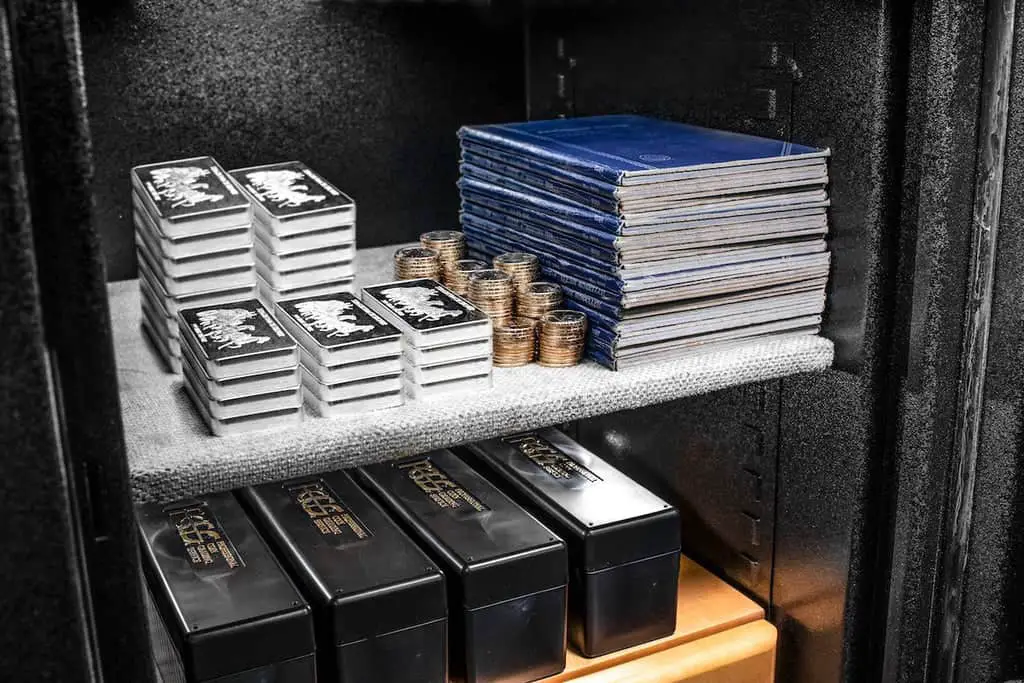 How to Store Precious Metals?
You can store precious metals in home safes or bank deposit boxes as individuals, but if you want to store large quantities, you must use Professional Storage Facilities. For example, you can use third storage providers such as Delaware Depository, International Depository Services Group, Complex Assets Alliance, etc.
You can also store your precious metals in a personal vault or safety deposit box at home or in a bank's vault system. This option gives you more control over how and where the metal is stored but doesn't provide the same level of security as a depository facility. When using this method, make sure the vault or box is made of solid materials such as steel, titanium, concrete, or other strong materials that can prevent access by intruders and protect against fire damage or different types of destruction. Additionally, ensure you have an alarm system installed and video surveillance, if possible.
Another option for storing your precious metals is through an online dealer specializing in this storage service. Online dealers allow customers to purchase bullion coins and bars directly from them and then keep them safely stored within their secure network until needed for sale or use later on. In addition, these online dealers usually offer insurance coverage on top of their existing security measures. Hence, you know your investment is adequately protected from theft and other misfortunes if improperly secured.
No matter which method you choose for storing your precious metals, always take appropriate steps to ensure their safety, such as keeping good records with information regarding their origin and current whereabouts, along with regular inspections at least once yearly. Additionally, consider adding additional layers of security, such as password protection, when dealing with cash purchases; always keep receipts handy in case something goes wrong during the transaction process or while it's being safely stored away under lock and key somewhere else. Finally, never forget that even though precious metals may hold significant value emotionally and financially, they still require proper care and attention like any other commodity – so take preventive measures now rather than regretting it later!
Places where individuals can store precious metals
Here are some places where people can keep their precious metals:
Home Safes: Many people keep their precious metals in a safe or safe deposit box. This option allows for convenient access to the metals but may not provide adequate protection against theft or natural disasters.
Bank Safety Deposit Boxes: Banks offer safety deposit boxes for customers to store valuable items, including precious metals. This option provides additional security and protection but may be less convenient than storing metals at home.
Professional Storage Facilities: Some companies provide secure storage for precious metals. These facilities offer advanced security measures like biometric access, video surveillance, and temperature control. This option is ideal for those who have a significant amount of precious metals to store or want the highest level of security for their metals.
Private Vaults: Private vaults are similar to professional storage facilities but are often operated by independent companies rather than larger institutions. These facilities may offer additional features like insurance coverage and access to other services like appraisals and authentication.
Precious Metals IRA: Investors can also store their precious metals in an IRA account specifically designed for precious metals investments. This option allows investors to take advantage of tax benefits while holding physical metals securely.
Depositories: Some government or institutional depositories, such as the Federal Reserve Bank or the Perth Mint, offer storage services for precious metals. These facilities are highly secure and provide additional protection for those who want to store their metals with a reputable entity.
Third-Party Storage Providers: Some dealers or brokers offer storage options to their customers as an additional service. These providers may provide various storage options at different price points, allowing investors to choose the level of security and convenience that best fits their needs.
Now, I will try to share with you some places that are the best for precious metals storage in the United States.
Here is a list of some third-party storage providers for precious metals in the US:
Delaware Depository: Delaware Depository provides secure storage and transportation services for precious metals and logistics and fulfillment solutions. They offer fully-insured and segregated storage options for individual investors, dealers, and institutional clients.
Brink's Global Services USA: Brink's is a global leader in security and logistics services, including storing precious metals. They offer state-of-the-art storage facilities, 24/7 surveillance, and comprehensive insurance coverage.
IDS of Delaware: IDS of Delaware specializes in storing and delivering precious metals, offering fully-insured and segregated storage options for investors and dealers. Their secure facilities feature biometric access, redundant power, cooling systems, and 24/7 monitoring.
Strategic Wealth Preservation: Strategic Wealth Preservation (SWP) provides secure storage and transportation services for precious metals, offshore company formation, and other wealth management solutions. Their facilities are located in certain jurisdictions like the Cayman Islands and Switzerland.
Complex Assets Alliance: Hard Assets Alliance is an online marketplace for buying, selling, and storing precious metals, offering fully-insured and segregated storage options for investors. They partner with secure storage facilities in the US, Canada, and other countries to provide convenient storage options for their customers.
International Depository Services Group: International Depository Services Group (IDS) provides secure storage solutions for precious metals and logistics and fulfillment services. They offer fully-insured and segregated storage options in Delaware, Texas, and Canada.
Gainesville Coins: Gainesville Coins is a precious metals dealer that also offers storage options for customers. They provide fully-insured and segregated storage in secure facilities in Florida and other locations.
How do dealers store precious metals?
Secure Storage: As a precious metals dealer, it is essential to invest in secure storage facilities to protect your inventory from theft, damage, or loss. Use vaults, safes, or safety deposit boxes to store your precious metals.
Insurance: Obtain insurance coverage for your precious metals inventory to protect against potential loss or damage due to theft, natural disasters, or other unforeseen events.
Temperature Control: Precious metals can be affected by changes in temperature and humidity. Ensure that your storage facilities are climate-controlled to prevent tarnishing or other damage to your inventory.
Organized Inventory: Keep your precious metals inventory well-organized to facilitate easy access and efficient inventory management. Use labeling and inventory tracking software to keep track of each item's location and condition.
Regular Audits: Conduct regular audits of your precious metals inventory to ensure all items are accounted for and in good condition. Consider hiring a professional auditor to conduct periodic reviews of your list.
Security Measures: Implement robust security measures to protect your inventory from theft or unauthorized access. This may include surveillance cameras, alarms, and restricted access to storage areas.
Backup Storage: Consider storing backup inventory at a secondary location to ensure that you can quickly replenish your stock if your primary storage facility is compromised.
Staff Training: Train your staff on proper storage and handling procedures for precious metals to prevent damage or loss. Provide regular training and refresher courses to ensure that everyone understands and follows the best practices for storage.
Compliance: Ensure that your storage facilities comply with all relevant regulations and guidelines for precious metals storage, such as those set by industry associations or government agencies.
Augusta Precious Metals Storage Fee
Choosing the right precious metals storage provider is critical when protecting your investments. Augusta Precious Metals is a leader in the field, and its storage fees are among the lowest in the industry.
GET GOLD IRA GUIDE
At Augusta Precious Metals, customers can access competitively priced, secure gold and silver storage services. The company offers segregated and allocated storage options depending on its client's unique needs. Augusta's segregated storage option separates customers' metals from other accounts. It also allows for multiple metal types to be stored in one report, which makes it more accessible for investors to diversify their portfolios with different types of precious metals. With allocating storage, customers can keep similar metals together without the risk of others accessing or owning them, as each customer has their identifiers with every assigned bar or coin.
In addition to providing a safe and secure location for gold and silver investment products, Augusta also offers low storage fees that are highly competitive within the industry. The company charges 0.6% annually for allocated storage, while segregated storage is only 0.7%. Compared to companies that set up to 1%, these rates can significantly change, considering how much will be spent on total fees throughout an investor's lifetime.
Additionally, customers will not incur any setup fees at Augusta Precious Metals. All monthly charges are based on weight alone, regardless of how many bars/coins an investor owns per type of metal stored or how much was invested initially with the company. This fee structure encourages customers to store more significant amounts of precious metals and potentially receive discounts when keeping more than one type of commodity.
Perhaps most important is that Augusta's state-t vault facility offers peace of mind when opting for their services. They provide 24/7 surveillance, monitoring, and enhanced security features such as biometric scanners and redundant power sources. Considering the safety measures this company took and its low annual rate, it is an ideal choice for anyone looking to invest in physical gold or silver. Still, it wants reassurance that its holdings are well protected without breaking the bank regarding associated management costs.
If you like bills and coins, you should learn more about Gold and Silver IRAs. You can protect your retirement fund if you invest in IRA precious metals. Investors with gold IRAs can hold physical metals such as bullion or coins. Get a free pdf about Gold IRA.
GET GOLD IRA GUIDE
If you do not want to own them in physical form precious metals, you can trade gold, silver, and metals as CFD with the minimum commission: