Though forex traders can open several accounts at a time to make forex trading convenient, sometimes you cannot log in to your MT4 account as it shows an MT4 INVALID ACCOUNT error.

MT4 invalid account error occurs when a trader can not log in to the Metatrader platform because of wrong login credentials (incorrect username, password, or server name), non-activated account, or closure of CFD and Forex due to holiday time (the market is closed during weekends or holidays).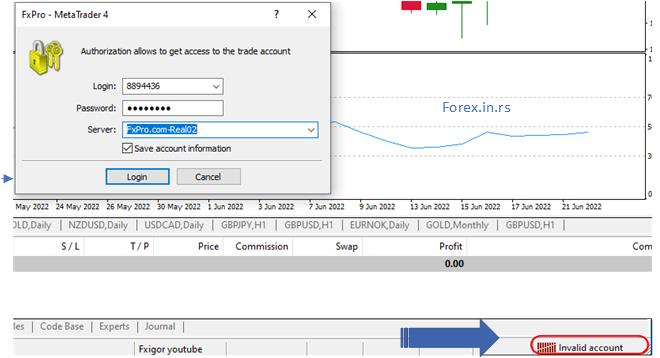 Invalid account mt4 error can be easily fixed if the trader types proper login credentials during trading sessions (when the market is not closed) and checks if his account is enabled (sometimes the account is not activated). The invalid account mt4 app problem can be fixed in the same way as on the desktop.
There can be several reasons for the invalidity of your MT4 account.
CFD and Forex's closure can be due on Saturday, Sunday, or any other standard holiday as no trading is done these days. So you may be unable to log in to your MT4 account during these days as your account cannot be connected in the off-hours of the market.
Reason 1: The server number is wrong
While opening the MT4 account, a Server Number was sent to you by email. You cannot log in to your account if your selected server number is dissimilar to the one you registered for. You can log in to your account by selecting the exact number of servers registered by you while starting the trading account.
In this case, please read our article about Common errors on MT4.
Reason 2: – Non-activated account
You must upload a few documents to your broker to identify and activate your account to trade and withdraw. If you have not uploaded these documents, then your account will not be activated. You cannot use it, and it will be shown as an MT4 invalid account.
Reason 3: Use of old app of MT4 for logging in
Brokers regularly upgrade the apps of MT4. It is invalid to use old apps for trading and withdrawals as information about upgrading the app is sent to all the subscribers through email. So if you are using an old app, even then, it will show an invalid account.
Reason 4: Use of the wrong password
You might have set a password while opening your MT4 account with your broker.
It will show the MT4 invalid account if you do not remember your password while logging in. You can temporarily call your broker to get a temporary password to operate your account.
Reason 5: Account is not used for up to 90 days
If you do not use your MT4 account for up to 90 days, your broker will automatically block it even without noticing.
You cannot log in to your MT4 account if it has zero balance at the blocking time. In such a condition, you will have to open another account to start trading again. But if there is some balance in the account, you will have to pay monthly hibernation charges of $5 to reopen the account. Such situations can be avoided by making small transactions regularly.
MT5 Invalid account
MT5 invalid account error means that you have either the wrong password, the wrong server IP address or that you are using an old MT5 app. Usually, the incorrect username or password is the most common error.
MT4 demo account not working
Your real or demo account can be invalid if you do not trade for some time. For example, most brokers will archive your live or demo account if you do not trade for more than 90 days. Some brokers will archive your demo account after 30 days.
In that case, you will see:
"Your mt4 account has been either disabled or inactive. Contact support for more details."
If you see MT4 INVALID ACCOUNT for not using it for up to 90 days, your demo account will be locked automatically. Once it is blocked, you cannot reopen a demo account. You will have to register for another demo account in such cases.