Metals trading has become an increasingly popular way to invest in a portfolio. The ability to trade physical metals such as gold, silver, platinum, and palladium on the HF Markets provides investors an attractive opportunity to earn profits while diversifying their portfolio. This article will explore the benefits of trading metals on HF Markets and provide a step-by-step guide on how to get started trading on HF Markets.
How to Trade Metals on HF Markets?
To trade metals on HFMarkets, such as gold or silver, you must register an account, deposit, and open a micro, premium, or ECN account. Next, you must open a metal chart and make the trading position. You can trade Palladium, Platinum, Silver/Euro, Silver US, Gold/EUR, and Gold/US.

In MetaTrader 5, you have more metals to trade than in the MT4 platform. However, HF markets offer tight spreads of 0.28 per unit for gold or silver trading.
First and foremost, trading metals on HF Markets allows traders to gain exposure to the global metals markets without purchasing physical assets like gold or silver bars. With access to margin trades, traders can leverage their capital using fewer funds. This can be advantageous for traders who want to take advantage of potential opportunities without risking large amounts of capital upfront. Additionally, HF Markets offers competitive spreads, meaning traders may benefit from lower costs when entering and exiting positions.
Below you can see the six most traded HF Markets metals and their typical spread: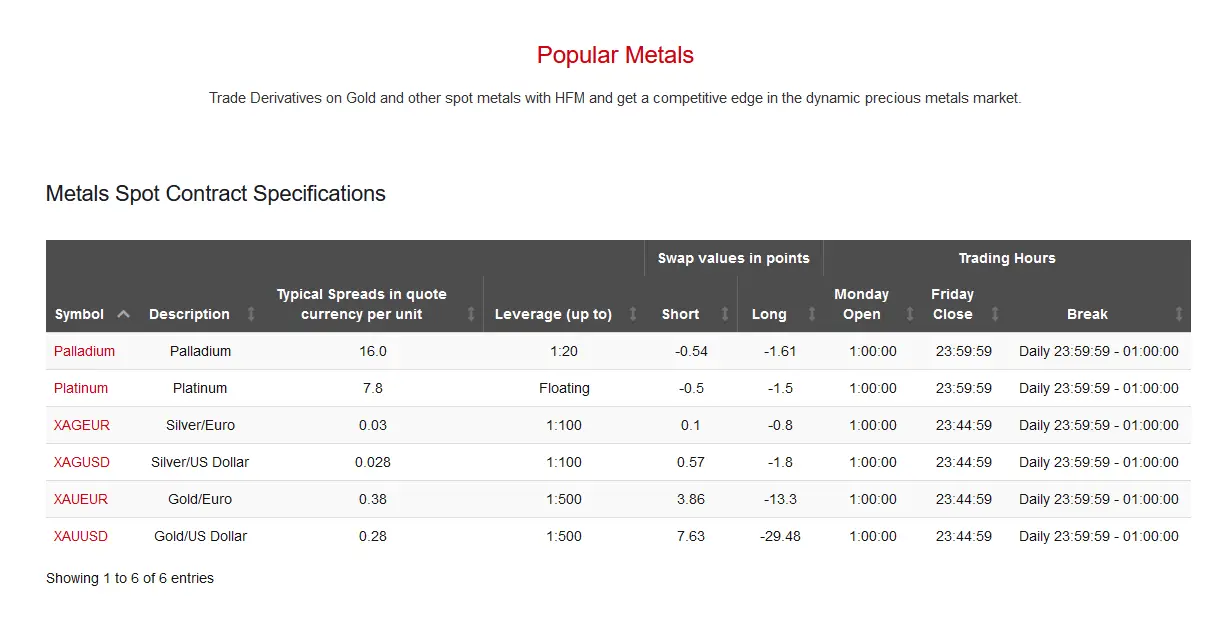 Trading metals via CFDs also offers traders greater flexibility when deciding when and how long they want to hold their positions. A trader may open and close trades within minutes or opt for longer-term strategies based on risk appetite. Moreover, the fact that metal prices remain relatively consistent compared to other commodities makes them a safe choice for those looking for less volatile investments.
Steps How To Trade Metals On HF Markets
Step 1: Open An Account
Before trading metal CFDs on HF Markets, you must open an account with us. As part of the registration process, you'll need to provide your details and verify your identity before you can start making trades. Once your account is approved, you can then make deposits into your account, so you are ready to start trading metal CFDs.
Step 2: Select Your Metals Asset
Once your account is activated and funded, you'll need to choose a metallic asset from among those offered by HF Markets – this includes gold, silver, platinum, and palladium – many of which are available as individual contracts or in combinations such as gold/silver ratios or precious metal indices (XPT/XPD). You'll also need to decide whether to go long (expecting prices to rise) or short (expecting prices to fall).
Step 3: Make Your Trades & Manage Positions
Once you've decided which asset class(es) you wish to trade in and whether you would like to go long or short – based upon careful analysis of market conditions – it's time to open your position(s) by entering orders accordingly at the current market rate(s). Following price fluctuations throughout each day will help inform decision-making around additional positions or existing ones requiring closure. At any stage, it's essential to pay attention to current activity and review past performance data to ensure ongoing success.
Step 4: Monitor Your Positions & Close Out When Necessary
Now that a position(s) has been opened, it's essential to keep track of changes day-by-day to ensure any movement remains in line with expectations; if not, action is taken immediately, close out the position, and avoid further losses. Fortunately, there are tools available to assist here, such stop loss feature, plus a variety of charting tools that offer visual aids to help identify trends and better predict future movements whenever you feel comfortable having achieved desired outcome close-out positions.
By following these simple steps, it's possible to quickly get started trading metals CFDs through HF Markets to minimize risk maximizing returns while benefiting from low spreads and competitive fees associated with this platform. Access to thousands of markets across various asset classes and unrivaled customer service guarantee a successful journey into world investing!
Please read the HF markets review to learn more about HF markets accounts.