ETFs, or exchange-traded funds, are a type of investment product that can be traded on HF Markets, a leading Forex and CFD broker.
ETFs are typically baskets of securities or commodities with similar characteristics traded as a single unit and provide investors with exposure to multiple types of assets at once. These investments have become increasingly popular in recent years due to their relatively low cost compared to other investment products, such as mutual funds and stocks.
Can I trade ETFs on HF Markets?
Yes, you can trade 34 ETFs on HF Markets, such as Technology ETFs, Energy ETFs, Health Care, Mining, Financial ETFs, etc. HF markets broker offers 1:5 leverage for ETF traders.
Below you can see the whole list of ETFs on HF Markets: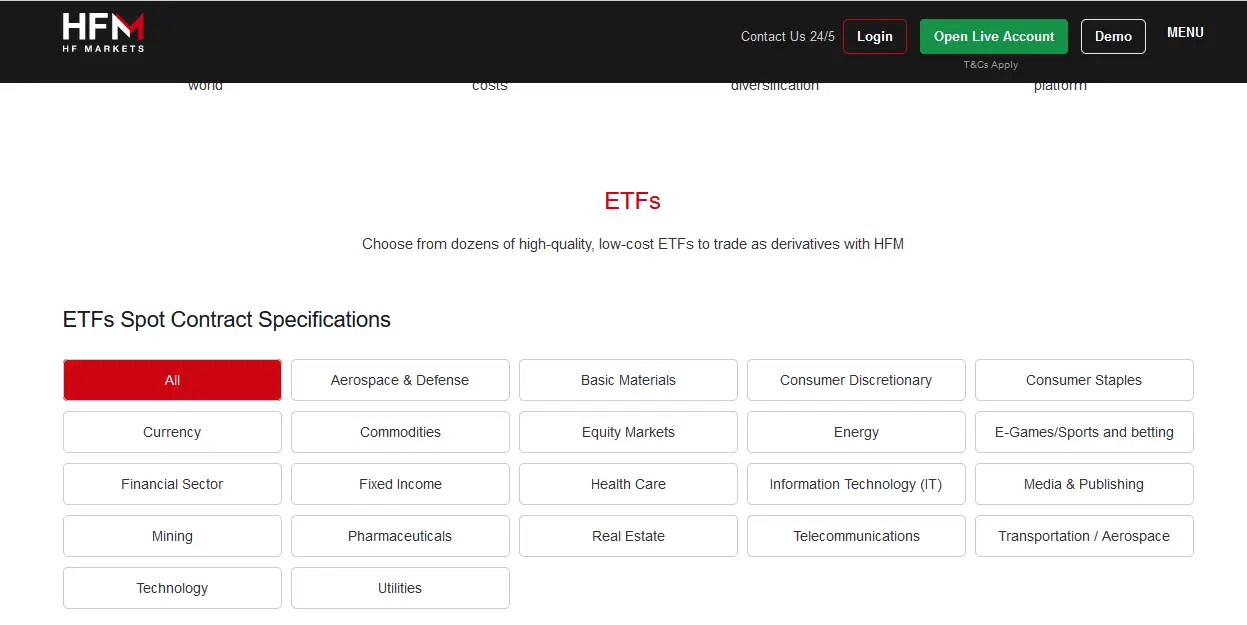 HF Markets offers its clients access to some of the most popular ETFs worldwide, including those tracking stock indices, bonds, currencies, and commodities. The broker also provides its users access to over 50 currency pairs and over thousand instruments across eight asset classes (including commodities).
Let us see one example.
Below are presented two Energy ETFs that you can trade at HFM:

The process for trading ETFs with HF Markets is simple; you only need to open an account with them and fund it with your preferred payment method. Once your account is funded, login, select the appropriate instrument from the list of available ETFs, and place an order following the usual steps, like choosing the size of your position and setting stop-loss/take-profit orders if desired. You can also opt for automated trading strategies through HF Markets' MetaTrader4 platform.
How to start ETF trading in the HF Markets platform?
To start trading, register at HFM, download MT4 or MT5 platform, and choose ETF symbols in the MetaTrader platform. You do not need any particular account for ETF trading.
Please read the HF markets review to learn more about HF markets accounts.
Overall, trading ETFs on HF Markets can be an excellent way for investors to diversify their portfolios without making multiple trades or paying massive commissions – since no commissions are charged when trading with this broker. Additionally, you can use leverage and benefit from one-click trading execution to stay ahead in fast-moving markets.