Situated in the southern part of Africa, Namibia, or the Republic of Namibia, is a country that gained independence in 1990. Its capital is Windhoek. The government is an active member of the African Union(AU), the Commonwealth of Nations, the South African Development Community, and the United Nations (UN). The economy of Namibia has been stable since its independence in 1990. The country is famous for its tourism, agriculture, and animal herding. It is one of the wealthiest countries in minerals such as gold, silver, diamond, uranium, and primary metals, making mining one of the essential activities here, bringing in more than 50% of its GDP. Namibia's political stability, remarkable tourism, rich precious stones and minerals, and economic stability make it desirable for trading.
What is the Best Forex Broker in Namibia?
The best forex broker in Namibia is HF Markets because of the tight spread, Islamic accounts, and 100% bonus for Namibian traders. Additionally, HFM has prize competitions and excellent multilingual support.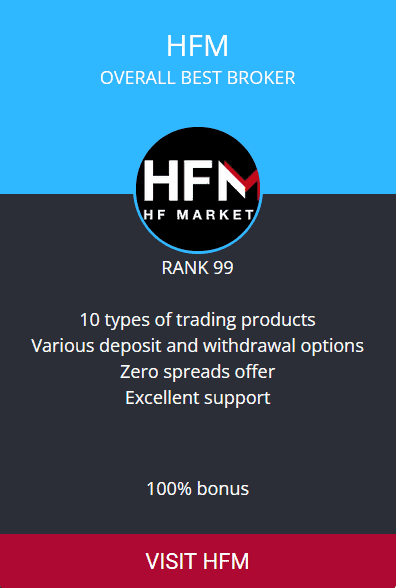 The best forex brokers in Namibia are:
Namibia's Economy and Financial Market
Namibian economy has been relatively stable since its independence from South Africa in 1990. The country has much-skilled labor, which provides an adequate workforce. Although the income is relatively unstable throughout the country, Namibia's annual GDP per capita stands at $5,828, making it a higher middle-income country. Namibia has reached here because its Foreign Investment Act of 1990 provided liberty to foreign investment. The economy primarily depends on the export of minerals extracted here, but the foreign investments and the government's trading promotion also help the country grow.
Namibia has only one stock exchange: the Namibian Stock Exchange (NSX) in Windhoek. It was first introduced in the 1900s when the country experienced a gold rush but was later shut down to reopen in 1990 to provide a trading platform and the stock market in the newly independent country. 
Stock Brokers in Namibia
Simonis Storm stockbroker in Namibia
One of the most famous stockbrokers in Namibia is Simonis Storm. Since 1996, SS has grown assets under management from N$ 600m to circa N$ 3 billion, including money market assets and equity portfolios of private clients.
IJG Securities stocks broker in Namibia
IJG Securities is the leading Namibian stockbroker and is supported in its sponsoring, equity, and fixed-income trading services with cutting-edge market research and analyses.
Namibian Financial Market and Trading
The Namibian government has taken and plans to take many more measures to promote its financial markets. The government has prepared many policies for free and liberal trading for local and international traders. It actively participates in the financial needs of other countries like South Africa. Namibia's financial market has many security options for traders, such as cryptocurrencies, CFDs, Commodities, Forex, etc. 
Since the country gained independence in 1990, its financial market has been considerably new. The government is still exploring future growth and available options to promote trading. Let's look at some of the available options for trading in Namibia.
Cryptocurrency:

 From a regulatory standpoint,

c

ryptocurrency or digital currency trading (national or international)  is illegal in Namibia. The Bank of Namibia (BoN) strictly stands on the ground that they do not support or encourage any activities related to trading in cryptocurrency. The bank has told citizens that they should not indulge in cryptocurrency-related action. If the citizens neglect the warning and participate in cryptocurrency trading, they will not be protected by the government.

Foreign Exchange or Forex Trading is legal in Namibia but unavailable to everyone. The Bank of Namibia has issued Forex Trading guidelines that only authorized dealers or commercial banks can trade in forex. The bank sets these rules to protect the economy as they have experienced capital outflow in the past, and this decision was best in the interest of the economy. But for income, investment is also required, so forex trading is not entirely illegal.
Commodity Trading:

Namibia's richness in commodities like minerals, agriculture, and cattle keeps it on the positive side of commodity trading. The country's maximum GDP is derived from silver, diamonds, gold, livestock, etc. Namibia also imports medicinal commodities from other countries. Due to such a big market for import-export, Namibia provides a good platform for commodity trading.
Namibia Financial Market Benefits and Concerns
It is evident from the growing economy that Namibia has good potential to attract more international traders. The country's exports provide good support to the economy. Also, the government and other institutions are continuously providing people with opportunities. This is why the country has a large number of skilled people.
However, restrictions on the trading market and regulations set by the financial authorities can cause strictness in foreign traders' entry. Therefore, looking for an experienced and authorized Namibia Broker is advisable to keep you updated with government regulations and help you grow with your investment in Namibia.
Brokers' Checklist
There is an ultimate checklist that you can use while selecting a broker for trading in Namibia or any other country. This checklist states all the factors that need to be considered while choosing a broker to help you know the best choice for your portfolio.
Is your

Namibia Broker

regulated? A regulated broker is a must, not only when you are investing internationally but also domestically. A regulated broker is bound by the law to keep his work legalized and cannot misuse the trader's investment. They may also help the trader out of any dispute that may arise while trading.

Is your

Namibia Broker

good with customers? Your broker's customer reviews tell much about his work ethic and experience. One can always contact the broker's customer and learn more about the broker.

How long has the

Namibia Broker

been working in the market? The broker's time spent in the market can help determine the broker's market knowledge. The more time he has paid, the more accurately he can predict the market trends and the more efficiently he can help you invest your money. This will help the trader in the long run. Generally, a broker with over two years of experience is considered good.

What is the position of the

Namibia Broker

in the international market? Where does the broker stand in the global market? Is the broker domestic or internationally recognized? These factors can help you know if the broker knows other countries' needs. Brokers may also have resources in the international market to help communicate issues and understand laws and regulations. This is important when you are trading internationally.

How efficient is your

Namibia Broker

with the transactions? Efficiency in terms of transactions is much needed while trading. Delays in withdrawals and deposits can cause delays in investment plans. Knowing if the broker can complete the transactions within 2 or 3 days is essential.
Namibia's forex traders and the regulation of the forex and stock markets in the country have distinct characteristics, which can be summarized in the following bullet points:
Characteristics of Namibian Forex Traders:
Demographics:

Typically, young, tech-savvy individuals.
Increasing participation from a diverse range of backgrounds.

Education and Skills:

Growing interest in financial literacy and trading education.
Utilization of online resources for learning trading strategies.

Trading Style:

Preference for short-term trading strategies like day trading or scalping.
Some traders also adopt longer-term strategies like swing trading.

Technology Use:

Reliance on mobile trading platforms and apps.
Active use of trading tools and analytics software for market analysis.

Risk Management:

Growing awareness of the importance of risk management.
Use of stop-loss orders and other risk management tools.

Community and Networking:

Participation in online forums and social media groups for knowledge sharing.
I am attending local and regional trading seminars and workshops.

Market Focus:

Primarily focused on major currency pairs, but also interested in local and regional currencies.
Some traders diversify into commodities and global stock indices.
Forex and Stocks Market Regulation in Namibia:
Regulatory Body:

The Namibia Financial Institutions Supervisory Authority (NAMFISA) oversees forex trading.

Licensing and Registration:

Brokers must be licensed and registered with NAMFISA.
Strict criteria for obtaining a brokerage license.

Consumer Protection:

Regulations aimed at protecting retail traders from fraud and market manipulation.
Mandatory disclosure of risks associated with forex trading by brokers.

Market Surveillance:

Monitoring of market activities to prevent illegal practices like insider trading.
Enforcement of compliance with trading and financial reporting standards.

International Compliance:

Align with international standards like the Financial Action Task Force (FATF).
Efforts to prevent money laundering and financing of terrorism.

Investor Education and Awareness:

Initiatives to educate investors about the forex market and its risks.
Provision of resources for informed decision-making in trading.

Technology and Innovation Oversight:

Regulation of the use of technology in trading, including automated trading systems.
Emphasis on data security and privacy in online trading platforms.
These points provide a comprehensive overview of the characteristics of forex traders in Namibia and the regulatory framework governing the forex and stock markets in the country.
Conclusion
Trading in Namibia is as safe as trading elsewhere. All you need to do is ensure your broker passes the checklist we have curated for you.