Last several years, traders have often used the Metatrader platform on mobile phones. Android phones have become small personal computers. But, of course, MT4 design and options on cell phones are not the same as on Desktop computers. So, how to place a trade on an MT4 Android phone?
How to Place a Trade on MT4 Android?
To place a trade on the MT4 Android platform, in the first step, traders will go to the "Quotes" tab and pick the instrument. The trader can then choose the option "New order" and type of execution (usually market execution). After that trader will set volume, stop loss, and target. In the last step, traders can choose from BUY or SELL option.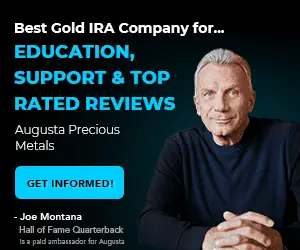 See the image below on how to place a trade on the MT4 Android platform.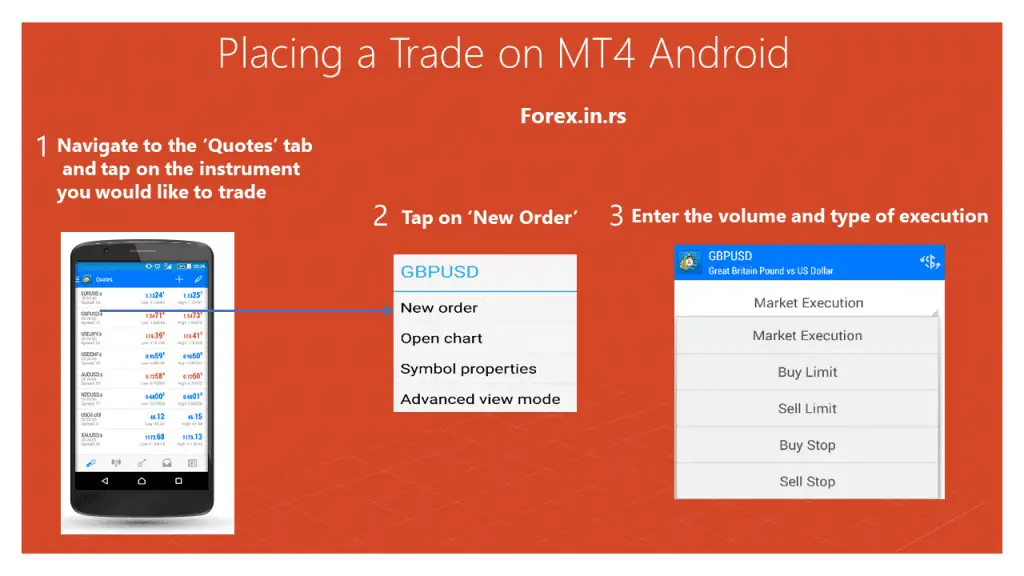 Below you can see a video on how to place an order on MetaTrader 4 mobile platform:
MetaTrader 4 (MT4), developed by MetaQuotes Software, is one of the most popular trading platforms worldwide for forex trading. While many are familiar with its desktop version, MT4 has a mobile version available on Android. The mobile platform allows traders to trade and monitor the forex market on the go. Here's an in-depth guide on how to place trades using the MT4 mobile platform for Android:
1. Setting Up the MT4 Mobile App:
a. Download and Install:
Visit the Google Play Store on your Android device.
Search for 'MetaTrader 4' by MetaQuotes Software Corp.
Click "Install" to download and install the app.
b. Log in or Create an Account:
Once installed, open the app.
If you already have an MT4 account, choose "Log in with an existing account." If you're new, select "Open a demo account" to practice without risking real money.
Search for your broker's name, then enter your login (account number) and password.
2. Navigating the Interface:
a. Quotes Tab:
You'll land on the 'Quotes' tab when you first open the app. Here, you'll see a list of available instruments or currency pairs with real-time bid and ask prices.
b. Chart Window:
Tapping on any instrument from the 'Quotes' tab will open its live chart. You can switch between different timeframes, apply technical analysis tools, and view historical data.
c. Toolbox Window:
Accessible from the bottom, it provides details like your trade history, news, and mailbox.
3. Placing a Trade:
a. Selecting an Instrument:
From the "Quotes" tab, scroll through the list of instruments or currency pairs until you find the one you're interested in.
b. Opening the Order Window:
Tap on the chosen instrument.
A new menu with options like 'New Order,' 'Chart,' and 'Details' will appear. Select "New order".
c. Setting the Trade Parameters:
Type of Execution: Usually, you will see 'Instant Execution' (or 'Market Execution' based on broker settings). This allows you to place a trade immediately at the current market price.
Volume: Here, you set the size of your trade. This refers to the lot size, and depending on your broker, you can choose from standard, mini, micro, or nano lots.
Stop Loss & Take Profit: These are risk management tools. 'Stop Loss' is the price level at which your trade will automatically close if it goes against you. 'Take Profit' is the opposite; it's the level at which your trade will close once a sure profit is realized.
Type: You'll often see options like 'Buy by Market' or 'Sell by Market,' allowing you to immediately buy or sell at current prices.
d. Executing the Trade:
Once you've set all parameters, click the 'Buy' or 'Sell' option to execute the trade. The trade will appear in your 'Trade' tab in the 'Toolbox' window.
4. Monitoring and Managing Your Trades:
Go to the 'Trade' tab in the 'Toolbox' window to view active trades. You'll see your account balance, equity, margin details, and all open trades here.
If you wish to modify or close a trade, tap on it. An option to modify or close the trade will appear.
Conclusion
Trading on the MT4 mobile platform for Android provides traders with a seamless and intuitive experience. While it may not have the comprehensive functionality of the desktop version, it is more than sufficient for traders looking to keep track of the markets and execute trades while on the move. As always, practice on a demo account before risking natural capital and familiarize yourself with all the app's features for the best trading experience.