MetaTrader is a famous trading platform traders worldwide use to manage their trades and analyze market data. One of the key features of MetaTrader is its password protection, which allows users to keep their account information secure.
The password protection offered by MetaTrader is an essential tool for traders looking to protect their sensitive trading data. With this feature, you can set a unique password for your account access have access. Additionally, you can use different passwords for differing or for varying levels of access within your
Whether you are new to our trading or are a seasoned veteran, MetaTrader's password protection can help you build a more secure and effective trading strategy. So if you are looking to step into the world of online trading, be sure to take advantage of the powerful MetaTrader offers by MetaTrader.
When you trade using a Live account, your broker will allow you to set a plan password, change a password, and change leverage from the client dashboard. But, if you trade using a demo account, it can be a problem when you need to change or reset the password.
Scenario 1: You forgot the MetaTrader 4 Demo Password. What to do?
If the trader forgot the Metatrader 4 demo password, he could try to find the password in the broker's email message or reset the password from the user dashboard (from the broker's online portal ). The forgotten Metatrader demo password can not be retrieved from the MT4 platform (the password can be reset only if you know the old password). Some brokers do not allow users to manage demo accounts in the client dashboard and open new accounts.
Sometimes the trader wants only to change the password to replace it with a new one.
Scenario 2: You have a demo account password, and you want to change it.
You can change the current password in the MT4 platform if you go to the MetaTrader menu in Tools/Options/Server, and then during this process, you change your pin password. You need to put in one password in this process.
How to reset the demo account MT4 balance?
Traders can reset or change the MT4 demo account's balance only from the account broker's page (go to the broker's website, log in, and in the demo account section, set a new balance). However, many brokers do not allow demo account balance settings, so traders need to open a new demo account and choose a new balance.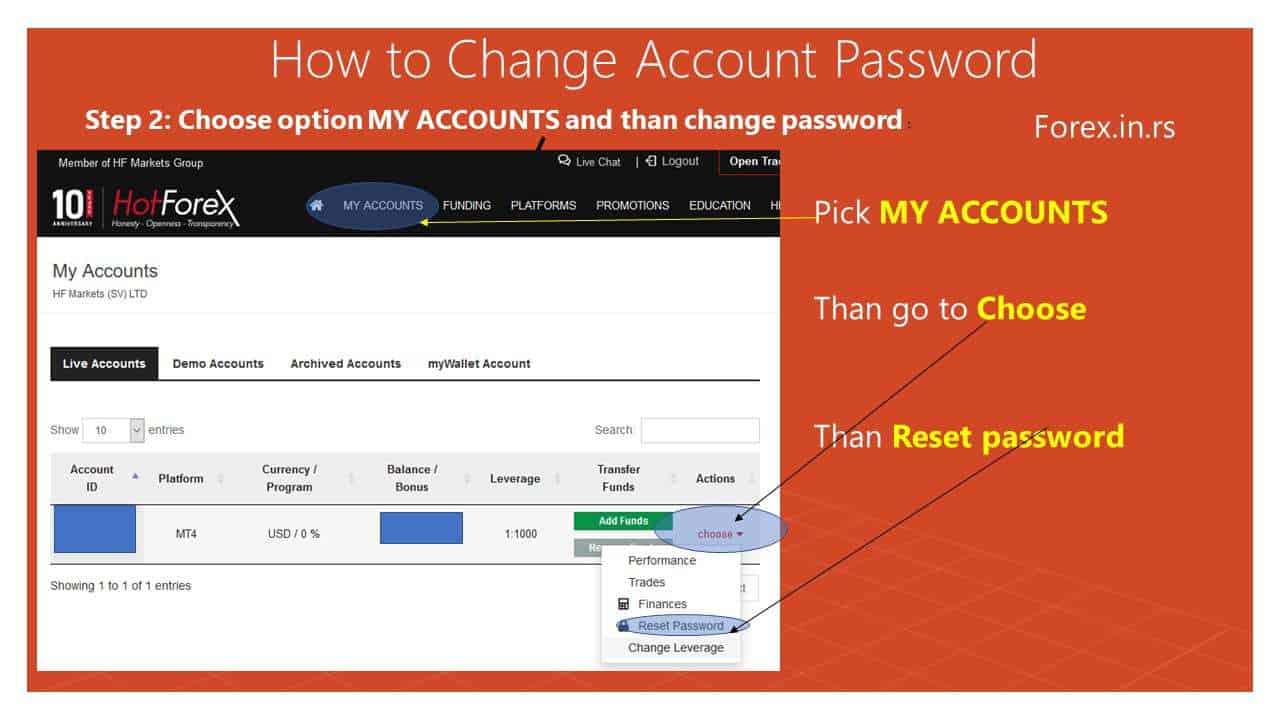 Here are a few examples of how to change passwords at different forex brokers:
How to reset the HFM, Exness or FxPro password:

As you see in the video above, if you forgot MetaTrader 4 demo password or live password, you can enter the trader's cabinet (from your broker's online website platform) and change it.
How to change the MT4 demo account password?
If you know your password and you want to change your old password and set a new one in the MT4 platform, you will need to go to "Tools," then "Options," and then press the "Change" button.
There may come a time when you need to reset the password for your Metatrader 4 demo account. This can happen if you have forgotten your password or someone else has accessed your account and changed the password without your knowledge.
Fortunately, resetting a Metatrader 4 demo account password is a relatively simple process that can be done either on your computer or in the trading platform itself. Here are the steps you will need to follow to reset your Metatrader 4 demo account password:
The first step is to log into your trading platform using the credentials for your demo account. If you cannot recall these credentials, you may need to contact customer support for help recovering them.
Once you have logged into your trading platform, go to "Tools" and then "Options.", and then choose "Change."  It would help if you were then prompted to enter a new password.
 After entering a new password, ensure it meets the minimum requirements for security, such as including both letters and numbers. Then click "Ok" to confirm that you want to change your demo account's password.
Finally, remember that keeping your passwords safe and secure is essential to prevent unauthorized access to your trading accounts and personal information. Consider using a vital password manager tool or other security measures to help protect yourself against hackers and other threats online.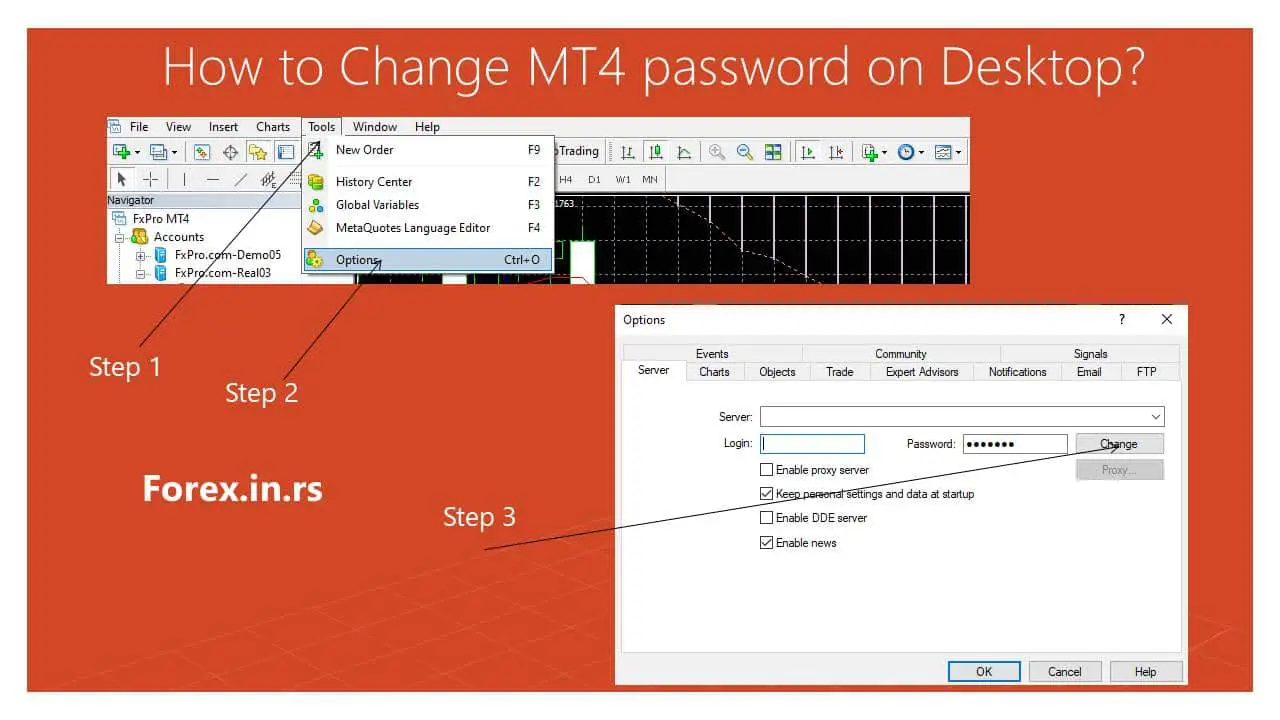 How to change the HFM password:

Conclusion
To reset the Metatrader 4 demo account password, log into your trading platform and navigate to the "Tools" section. Then select the "Options" option and choose the "Change" option to be prompted to enter a new password of your choice. Finally, write a brief conclusion on successfully resetting your demo account password and returning to trading as usual. Overall, this process should only take a few minutes and can help you regain access to your trading account in no time. It is essential to stay vigilant and be aware of potential security threats or unauthorized activity on your account, as this can help keep your information safe and secure at all times.