Price Action has been a popular tool used by many traders to find out the critical exit and entry signals. Candlestick patterns allow traders to analyze the possible market behavior; that is why many traders prefer them. On the MetaTrader platform, you will find the candlestick pattern indicator. This indicator detects patterns, such as the Price Action, and shows them on your screen or sends alerts in other ways.
You can equate the candlestick pattern indicator with the pattern recognition master, even though the two detect candle patterns that are slightly different. In retrospect, the candlestick pattern is considered to be more modern.
Candlestick Pattern Indicator
Candlestick Pattern Indicator represents a plugin indicator for the MetaTrader platform (MQL4 language) for pattern recognition on the chart. Below you can download an indicator and detect patterns such as engulfing patterns, doji, harami, morning stars, dark cloud patterns, etc.
Download Candle Pattern MT4
Please download the indicator below:
Candlestick Pattern Indicator Download
Getting the indicator is very straightforward. You can download it for free on the MT4 platform. Once you have done that, the next step is its installation.
After installing the indicator, you need to run it. The app's initial setup will allow you to customize the indicator's parameters. You can choose from the various patterns and select how you want to be notified.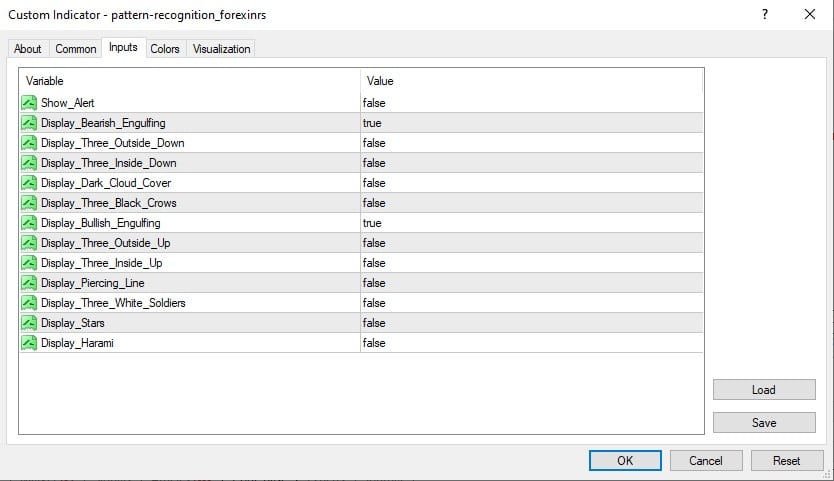 Below you can see how the indicator looks on the MT4 chart:
Specific candle formations together create candlestick patterns. Traders use these patterns to assess market sentiments. These candles can include more than one type of candle, with the most common patterns consisting of up to six types of candles. 
With time, traders learn how to gather information using common candlestick patterns and formations. With time, they achieve expertise and can easily predict market sentiments or possible reactions. 
These candlestick patterns can be divided into three major categories. These are as follows:
Candlestick patterns are primarily used to exit and enter trades; however, like with any other indicator, one must be careful while using candlestick patterns. 
If you want to maximize the data you can get from candlestick patterns, you should combine the patterns with other robust chart analyses and indicators.
Candlestick Pattern on MetaTrader 
You can easily detect a candlestick pattern. The MT4 and the MT5 can detect candlestick patterns with one, two, or three candles at large. 
As soon as the pattern has been detected, an arrow is placed by the indicator on it, and a label is also attached to make it more visible. 
Whenever a new pattern forms on the live chat, the indicator will send you an alert for that as well. These notifications can come as emails, pop messages on your screen, or maybe alerts on your app.
Using the Candlestick Pattern Indicator
MetaTrader's candlestick pattern indicator is one of the most straightforward. On the chart, start by mounting the indicator and selecting the number of bars you want to analyze. It would help if you liked the pattern you will use to detect entry and exit points and the notification options. Your work ends here, as the indicator takes care of the rest.
When different candlesticks come together in a meaningful way, they are said to form a candlestick pattern. Generally, you will see these candlesticks in a pair of two, or a group of three, four, five, or even six candles. These indicate that price action is taking place in the market. 
These patterns often help traders to decide their next course of action.
The candlestick pattern indicator is an MT4 plugin that lets you see some of the most popular patterns on the chart. The chart is scanned by the indicator for popular patterns that the trader can use.
What Can You get from a Candlestick Pattern?
The candlestick pattern is a clear and helpful indicator as it helps you with the three most important aspects of trading, i.e., exit and entry signals and trailing stops. Understanding that these three forms the holy trinity when it comes to successful trading is essential.
Another essential thing to remember is that these patterns form only when there is some momentum in the market.
When used alongside other indicators, the candlestick patterns can help you curate powerful trading strategies. You can use the candlestick pattern detector on MT4 to make things easier for you. This will also notify you whenever a new pattern is forming.
Conclusion 
One of the most valuable indicators offered by the MT4 and the MT5 platforms is the candlestick pattern. You can use various patterns to make trading more convenient and profitable for you. Combine this indicator with other indicators to ensure that the data you get is more stable.