"Off quotes" are one of the most common errors on MetaTrader 4 and MetaTrader 5 platforms.
What does "off quotes" mean on MT4?
"Off quotes" is the MT4/MT5 error message and means no price is available on the Metatrader platform. This error can appear in Metatrader in two scenarios: if there is a break in connectivity with the platform or the best price for the pair you're trading is not within your "maximum deviation" range.
Suppose there have been no new prices in the MetaTrader platform on the selected instrument for some time because connectivity was lost. In that case, these last prices can no longer be treated as market prices, and the platform shows an "off quotes" error to tell users that prices are not valid anymore.
In the video below, see how to fix the "Off quotes" in the MT4 error:

Error description:
Error name: ERR_OFF_QUOTES
Error value: 136
Description: Off quotes.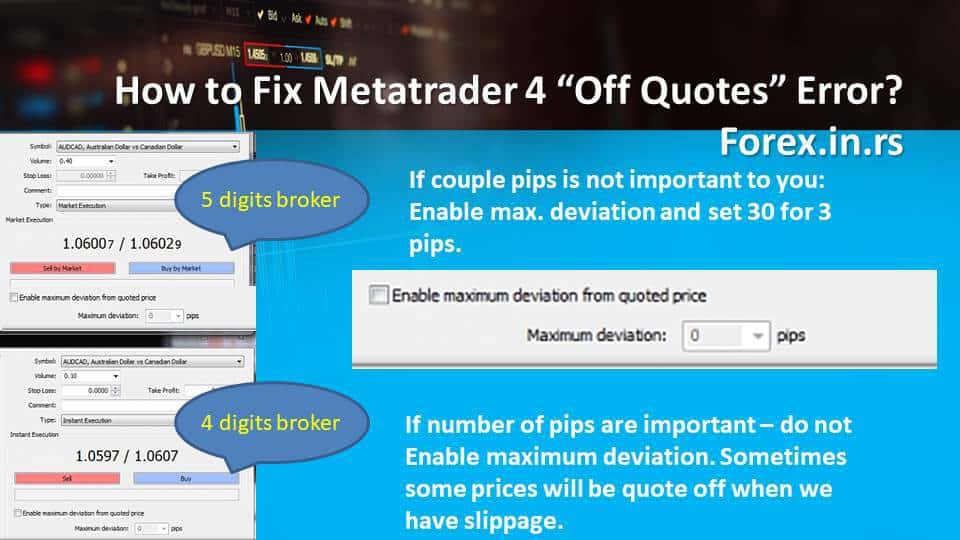 Scenario 1: Connectivity problem.
"Off quotes" in the MT4 platform usually indicate a break in internet connectivity and result in no current prices being available. In this case, your internet connection is slow, or your Firewall blocks Metatrader. In that case, the platform has a problem with the connection, and we can see "off quotes" in the MT4 error description. In this case, read the article How to Fix MT4 Common Error?
Scenario 2: Off quotes MT4 volatility problem
This is the most common problem. There is some volatility in the market. Price every second goes up or down and changes very fast. The best price is outside the Maximum Deviation range you have set for the order. The Maximum Deviation setting allows you to control slippage by setting a maximum deviation of pips from the order price submitted that you are willing to be filled. Still, a tight maximum deviation could cause your order to be rejected based on fast market movement if you are trading during volatile market conditions.
Scenario 3: Broker technical issues
In very rare moments, the broker can have technical problems in connectivity, and your broker can be offline from a few seconds up to a few hours. In that case, you still can see the "off quotes" error. This error is not up to you, so you must wait until the problem is fixed.
Off quotes, the MT4 volatility problem can be solved in two ways. During volatile markets, a trader can avoid trading, or the trader can use the "Enable maximum deviation from quoted price" option in MT4. Additionally, you need to be patient if you have a problem with the internet or if your broker has technical issues.

When you have four digits broker, usually there is no error. But we need to solve this problem when we have a five-digit broker.
If you have a five-digit broker, set the "Enable maximum deviation from quoted price" value 30. A max deviation set to 30 is only three pips.
Off Quotes MT4 in 2022
In 2022., we didn't see major MT4 platform updates. However, in 2021, we had several updates in July and October. At that moment, after software updates and new installation, many traders can see the "off quotes" errors as a very short broker connection interruption. Sometimes, if installation is fresh, your account is not connected with a broker, and you can see an "off quotes error." You need to enter your username and password again, log into the platform, and the error will disappear.
Conclusion
Off quotes, MT4 error can be solved very quickly. Either you will fix the internet connection or define a more significant maximum deviation from the quoted price.