Vanguard Precious Metals and Mining Fund was launched in August 2005 and is managed by Vanguard's Global Equity Group. It has an expense ratio of 0.45%, lower than the industry average for ETFs investing in precious metals and mining stocks.
The fund comprises mainly non-U.S.-based companies such as Anglo American plc, Barrick Gold Corporation, BHP Group plc, Glencore plc, and Rio Tinto plc, which account for nearly 39% of its total holdings. Other significant holdings include Wheaton Precious Metals Corp., First Majestic Silver Corp., Franco Nevada Corp., Newmont Corporation, and Polymetal International plc, which account for 14% of its total assets under management (AUM).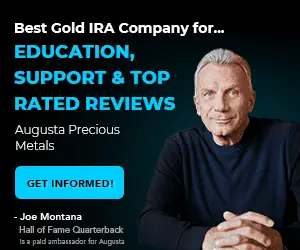 Does Vanguard Have a Precious Metals ETF?
Yes, Vanguard does have a partly precious metals exchange-traded fund (ETF).  Today Vanguard Global Capital Cycles Fund (VGPMX) invests in a broader range of natural resource-related companies, including those producing precious metals.

VGPMX is an ETF (Exchange-Traded Fund) offered by Vanguard that focuses on the precious metals and mining industry. The fund invests primarily in companies' stocks in mining, processing, and distributing gold, silver, platinum, and other precious metals. VGPMX is designed to expose investors to the performance of the precious metals industry while offering the diversification benefits of an ETF.
The Vanguard Precious Metals and Mining Fund (VGPMX) was an actively managed ETF that invests in companies that mine gold, silver, platinum, or palladium, as well as companies that are involved in the exploration and production of other minerals. However, it's worth noting that Vanguard Precious Metals and Mining Fund has been closed to new investors since 2016 and is no longer available for purchase.
Vanguard now offers an updated version of the fund, the Vanguard Global Capital Cycles Fund (VGPMX), which invests in a broader range of natural resource-related companies, including those producing precious metals.
The fund also holds shares of companies that explore, process, or market these metals.
Please see the Table of the ETF portfolio:
| Company | Symbol | Total Net Assets |
| --- | --- | --- |
| Barrick Gold Corp. | GOLD | 9.62% |
| American Electric Power Co. Inc. | AEP | 7.30% |
| Glencore PLC | GLCNF | 5.98% |
| BWX Technologies Inc. | BWXT | 4.99% |
| Schlumberger Ltd. | SLB | 4.01% |
| Anglo American PLC | AAUKF | 3.65% |
| Unilever PLC | UNLYF | 2.93% |
| Enstar Group Ltd. | ESGR | 2.90% |
| Rio Tinto PLC ADR | RIO | 2.89% |
| Intact Financial Corp. | IFCZF | 2.78% |
The Vanguard Global Capital Cycles Fund offers investors exposure to the global precious metals industry through a diversified portfolio of companies engaged in the exploration, production, marketing, or processing of precious metals such as gold, silver, platinum, or palladium as well as other minerals like coal or iron ore used in steel production among others. This ETF allows investors to access this sector without purchasing individual stocks or futures contracts or dealing with complicated tax reporting issues related to physical metal investments.
Investors should consider any potential risks associated with investing in this sector before investing; these include geopolitical risk due to varying government regulations on resource extraction around the world depending on local political climate; changes in demand due to market forces; supply/demand imbalances; currency fluctuations; inflationary pressures; company-specific risks such as labor strikes etc.
Additionally, one should also be aware that actively managed funds like VGPMX are subject to higher costs compared to passive funds tracking index portfolios due to their higher trading costs associated with frequent buying and selling activities by their managers, leading to potentially lesser returns when compared passively managed index tracking portfolios over more extended periods despite their potential outperformance during select market cycles within shorter timeframes between one or two years at max where they can generate much better returns than their passive counterparts due to stock selection skills employed by active managers if correctly timed during those market cycles.
VGPMX can be a good option for investors seeking exposure to the global precious metals sector. It provides access through a low cost actively managed portfolio, allowing them to take advantage of gains earned from price appreciation combined with dividends paid out by underlying components making up this fund. However, investors should still research before committing any capital to this particular asset class, noting all associated potential risks outlined above and any other relevant factors about their financial circumstances.
If you like bills and coins, you should learn more about Gold and Silver IRAs. You can protect your retirement fund if you invest in IRA precious metals. Investors with gold IRAs can hold physical metals such as bullion or coins. Get a free pdf about Gold IRA.
GET GOLD IRA GUIDE
If you do not want to own them in physical form precious metals, you can trade gold, silver, and metals as CFD with the minimum commission: