Precious metals funds offer investors the opportunity to diversify their portfolios and gain exposure to various commodities such as gold, silver, platinum, and palladium. These funds come in many forms, ranging from actively managed mutual funds to exchange-traded funds (ETFs). In addition, one of the largest investment firms in the world, Fidelity Investments, offers several precious metals funds.
Does Fidelity Have a Precious Metals Fund?
Yes, Fidelity has a precious metals fund, The Fidelity Select Gold Portfolio or FSAGX. This actively managed fund seeks capital appreciation by investing in companies engaged in gold-related activities. It invests mainly in domestic and foreign stocks of small- to mid-cap-size companies related to gold mining or production.
The fund has achieved strong returns since its inception in 1985 and has consistently outperformed the S&P 500 index over the last five years.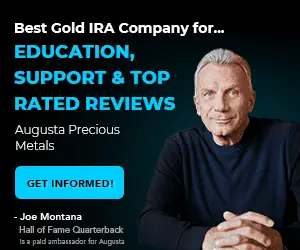 The Fidelity Select Natural Resources ETF is another option for investors interested in gaining exposure to precious metals. The ETF tracks a portfolio of companies involved with natural resources, including mining companies and related service providers. This fund heavily focuses on gold and silver companies but also includes investments in sectors such as oil and gas exploration, coal mining, commercial fishing, and timber operations. This ETF has generated strong returns since its launch in 2012, with an average annual return of more than 8%.
Currently, this Precious Metals fund you can use to invest in Gold because 88% of the portfolio weight is allocated in gold!!!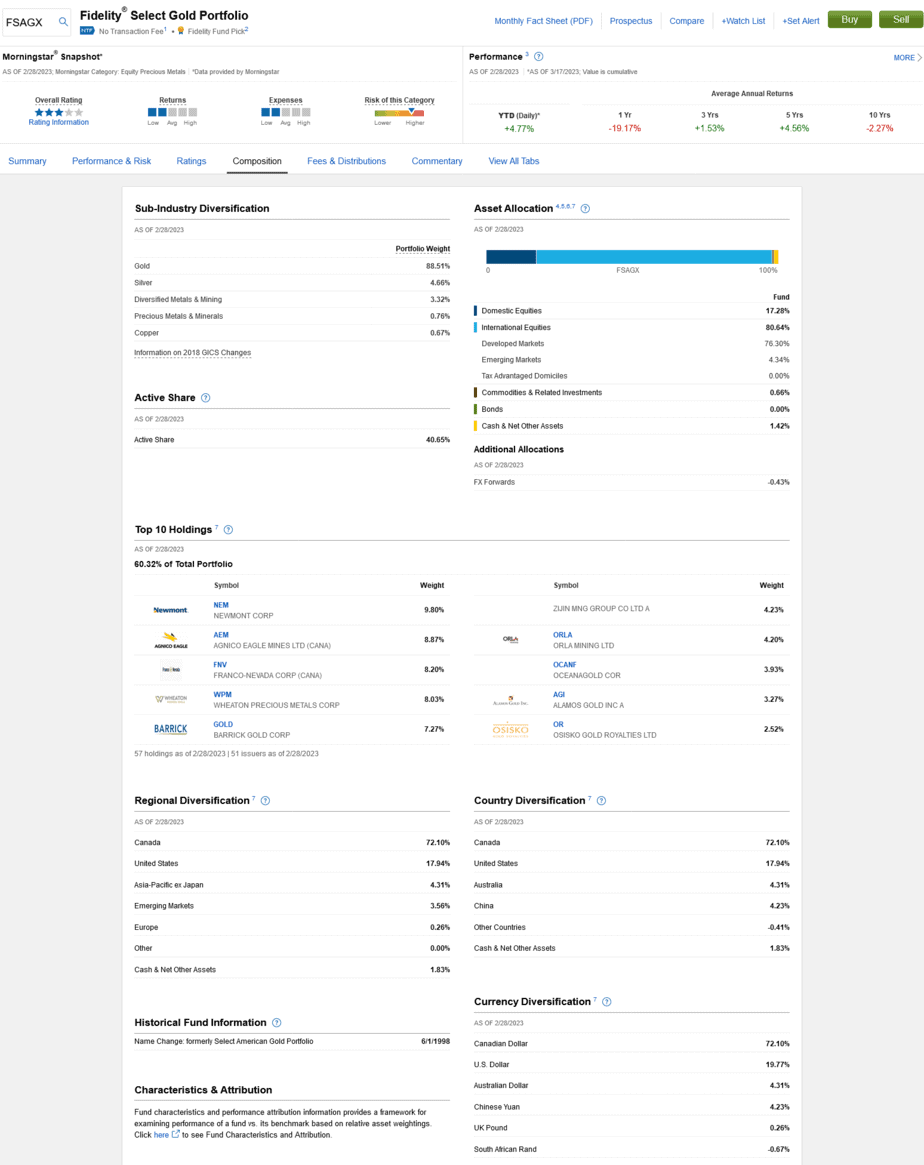 For investors looking for direct access to precious physical metals without owning them directly, Fidelity offers one of the most popular options: the iShares Physical Precious Metals Basket Trust (IPM). This Exchange Traded Commodity (ETC) holds physical metal bullion allocated across gold, silver, and platinum stored at secure storage facilities worldwide. It provides cost-efficient access to these assets without requiring investors to store or insure them personally.
Advantages of Fidelity Precious Metals fund:
Exposure to gold: The fund invests primarily in companies engaged in the exploration, mining, or processing of gold, which can expose investors to the potential upside of gold prices.
Diversification: Investing in a portfolio of gold-related companies can provide diversification benefits, as the performance of individual companies may not be perfectly correlated with one another or with other asset classes.
Professional management: The fund is managed by experienced professionals with expertise in analyzing gold-related companies and selecting investments aligning with the fund's investment objective.
Accessibility: Investors can access the fund through their Fidelity brokerage account, which may offer a convenient and low-cost way to invest in gold-related companies.
Potential inflation hedge: Gold has historically been viewed as a hedge against inflation, as its value may rise in response to increases in the general price level.
Potential currency hedge: Gold is often denominated in U.S. dollars, which means it can hedge against fluctuations in the dollar's value relative to other currencies.
Potential safe-haven asset: During market volatility or economic uncertainty, gold may be viewed as a safe-haven asset that investors can turn to for stability and possible capital preservation.
It's worth noting that investing in any mutual fund involves risk and potential downside and that the past performance of the Fidelity® Select Gold Portfolio is not a guarantee of future results. Therefore, investors should consider their investment objectives, risk tolerance, and financial situation before investing in any mutual fund.
So does Fidelity have a precious metals fund? In short – yes! They offer multiple options for investors looking to add metal exposure into their portfolios, including exchange-traded funds (ETFs) and other vehicles like Exchange Traded Commodities (ETCs). All these products have generated vital performance records over time, so they may be worth considering if you want to diversify your portfolio further.
If you like bills and coins, you should learn more about Gold and Silver IRAs. You can protect your retirement fund if you invest in IRA precious metals. Investors with gold IRAs can hold physical metals such as bullion or coins. Get a free pdf about Gold IRA.
GET GOLD IRA GUIDE
If you do not want to own them in physical form precious metals, you can trade gold, silver, and metals as CFD with the minimum commission: