Popular Forex Trading Statistics
We are glad to present one excellent marketing agency, Contentworks, and significant data analysis to help people in the trading industry.
Every marketer in this Forex sector at present is aware of the fact that acquisition is more complex than ever before. The competition is fierce, and the traders try to survive in this market by staying above competitors.
Effective marketing is essential to survive this year. However, different evolving strategies can minimize your success in marketing campaigns because those are using outdated information.
In the following paragraphs, we have provided the most recent Forex trading statistics you should know. So let us not waste time and look at the statistics below.
The Foreign Exchange Market in 2023
Forex Trading Statistics: A Look at the Multi-Trillion Dollar Market
The Forex market is the largest financial market in the world, with a daily turnover that has increased from $6.6 trillion in 2019 to $7.6 trillion in April 2023. The Forex market is estimated to be worth a staggering $1.93 quadrillion, surpassing the US stock and bond market's combined value by more than thirty times.
One of the essential features of the Forex market is that it operates continuously, 24 hours a day, offering a constant stream of trading opportunities. As a result, traders can take advantage of global economic events and participate in the market during any time zone. Moreover, traders have a vast pool of assets with over 170 currencies available for trading, including major global currencies like the US dollar (USD) and emerging market currencies (EME).
The USD is the most traded currency, accounting for 88% of all Forex trades. This is due to its status as a global reserve currency and widespread acceptance in international trade. Other major currency pairs that account for 85% of trading volume in the Forex market include EUR/USD, USD/JPY, and GBP/USD.
While there is still much work to be done to promote gender balance in the trading industry, there has been a slight increase in the number of women trading Forex, from 10% in 2019 to 12% in 2023. This reflects a growing move towards diversity and inclusivity in the otherwise male-dominated trading field.
Regarding trading platforms, MetaTrader 4 (MT4) and MetaTrader 5 (MT5) remain the most popular choices among Forex traders, with approximately 10 million users worldwide. These platforms offer powerful trading tools enabling traders to analyze multiple currency pairs and make informed investment decisions.
In addition to traditional trading options, introducing over 6,600 cryptocurrencies since 2010 has added a new dimension to Forex trading, providing alternative investment opportunities for traders worldwide. With a market capitalization of over $2 trillion, cryptocurrencies like Bitcoin and Ethereum are gaining popularity as trading assets, with some traders using them as a hedge against inflation and other economic risks.
In conclusion, the Forex market remains a popular choice for traders worldwide, thanks to its size, appeal, and potential for profits and portfolio diversification. As the market evolves, we can expect more innovative trading opportunities and investment options to emerge. Whether you're an experienced trader or just starting, keeping track of Forex trading statistics can help you make informed decisions and stay ahead in this dynamic market.
• More than 80% of the international foreign exchange market transactions take place on only seven significant pairs, namely GBPUSD, USDCHF, NZDUSD, USDJPY, EURUSD, AUDUSD, USDCAD,
• The international Forex market is now worth $1,930,000,000,000
• The foreign exchange market happens to be 12 times bigger as compared to the futures market and also 27 times bigger as compared to the equities market
• The daily volume of Forex trading happens to be 53 times more as compared to the NYSE
Forex Trading User Numbers
1. 43% of the Forex trades – millennials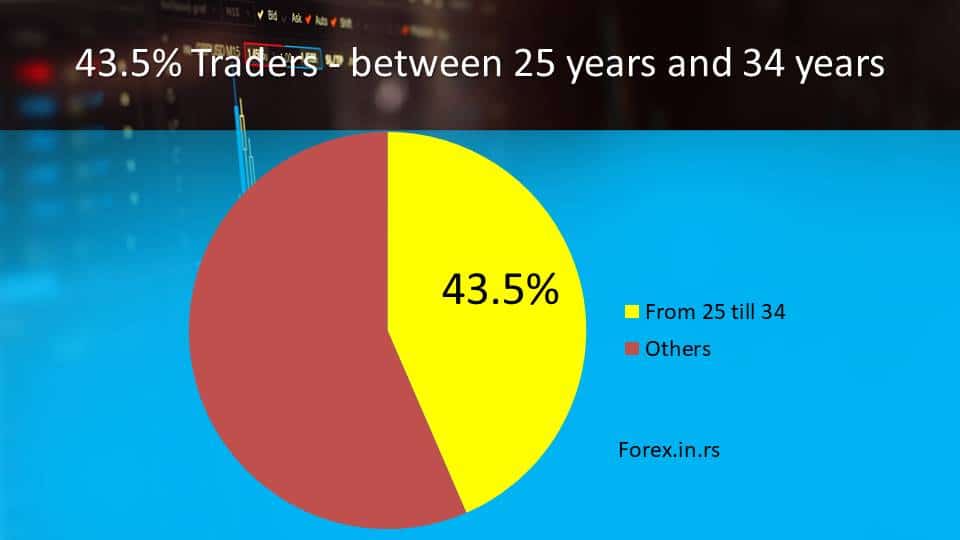 The age of 43.5% of the traders happens to be between 25 years and 34 years. These millennials are pretty comfy with innovative technology and are often called Digital Natives. Therefore, one can expect these persons' user experiences to be customized, stress-free, and smooth sailing.
It is imperative to capture this particular demographic, which can boast sophisticated marketing strategies since they will jump ship if not gratified.
It will be essential to offer a mobile application, slick onboarding, and simple withdrawal and deposit procedures. Millennials can likewise expect customer service utilizing social media as well.
2. 15% of traders are more than 45 years old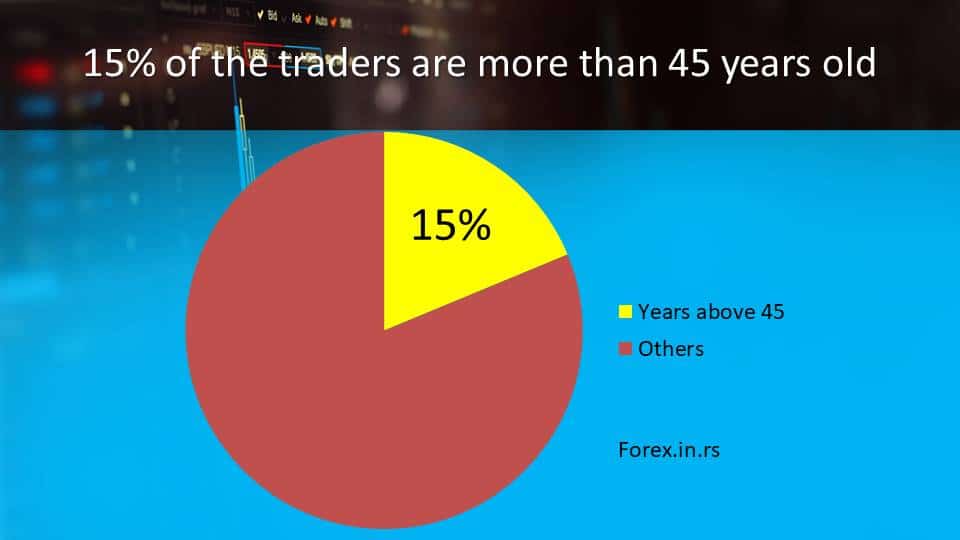 Although the traders" numbers can alter continually, only 15% of traders are more than 45 years old. Apart from this, there is a reduction in the number of senior traders. Therefore, if most of your audience falls in the millennial category, placing the marketing material in the most significant spots where this demographic will be hanging out will be imperative.
Stay away from any missing opportunities by not being aware of the individual you speak to! A significant point to remember here is to use networks usually used by those under 45.
Mobile Forex trading stats
3. Mobile searches are being conducted by over 35% of traders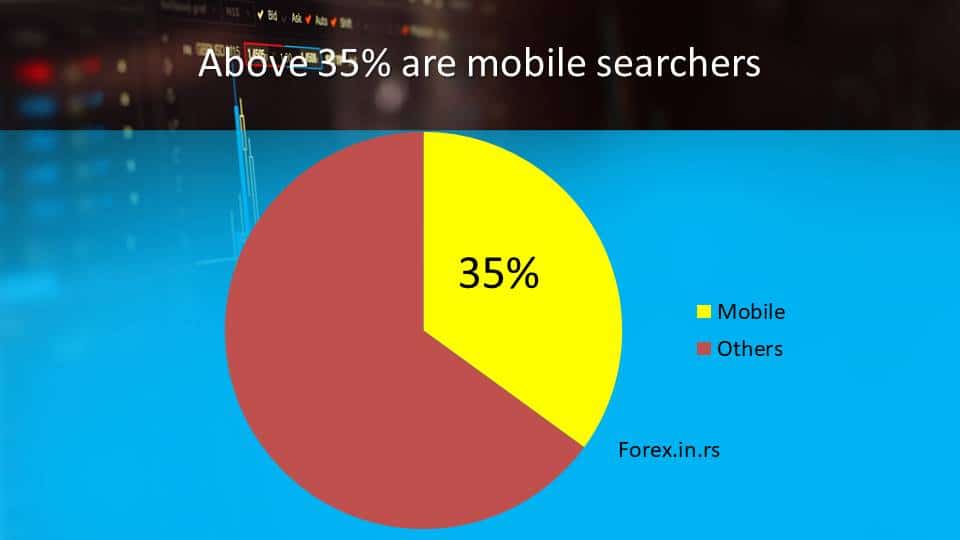 Apart from retaining the old traders, the concept behind marketing will be to get a hold of the fresh ones. More than 35% of the traders are using smartphones looking for a broker. Therefore, customizing Avon to make it responsive to mobile gadgets significantly ances your possibilities of procuring new traders' site searches is also an important consideration. In addition, many mobile users are using Alexa and Siri, which demand the optimization of your content comprehensively.
4. Mobile trading can double once again
According to a survey conducted last year, mobile trading has a high potential to increase from 18% to 37%. One can expect this trend to continue in the future.
It is also imperative to note that the sizeable millennial target market can boast of significantly using mobile devices. At least 43% of this demographic is checked by phone every 20 seconds. This year, there is a massive prospect for mobile marketing. Brokers need to provide education centers as well as mobile-friendly trading.
5. 3% more traders prefer using Android instead of iOS phones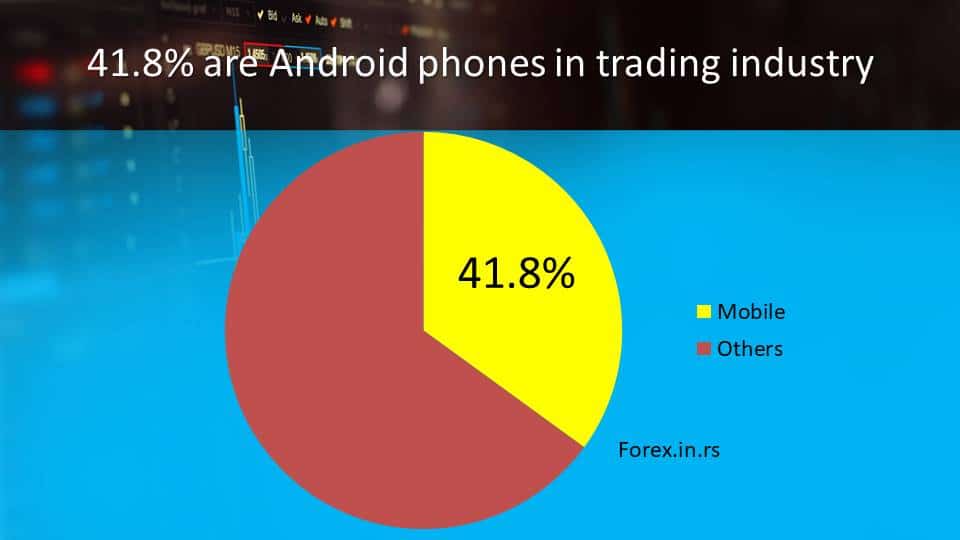 Android is quite popular amongst traders at present. 41.8% of them use iOS devices compared to 56.1% who have access to Android gadgets. In this competitive industry, knowing how to optimize exposure is essential, and this only comes from proper knowledge regarding statistics.
If you have an app, promote it to the proper demographic. Unfortunately, trading apps intended for iOS devices are being encouraged to the device holders only, which results in frustration in the long run.
Approximately 2 billion individuals will be using fintech applications by next year.
Social Media stats
6. Social media is popular among 34% of the millennial target market
Social media is used by 34% of millennials, which allows them to make solid purchase decisions. Moreover, unlike conventional advertising, 84% of these people believe in social proof.
The educational tweets are receiving 7. 3% more engagement
There is no doubt that Twitter holds a significant place in Forex trading. The how-to tweets receive three times more exposure as compared to the others. It will also be an excellent idea to blend the content formats of these tweets to enhance exposure.
While images receive 128% more retweets than videos, videos receive 49% more likes. Moreover, tweets featuring links will be getting 86% more retweets. Therefore, using the proper hashtags in the finance segment will be imperative to procure the required acquisition.
#DOW, #SP500 plus #Trump, #NYSE, NASDAQ, #Brexit, #OPEC as well as #Fed must be on your list.
8. Instagram can boast of having 1 billion users
Currently, Twitter represents only 32% of the total number of active monthly users of Instagram. However, the prospect of getting an increasing number of conversions with Instagram is considerable, with as many as 1 billion users.
Since you will currently come across 25 million business profiles on Instagram, your broker must work to remain in the competition. They will receive assistance from USG, Boomerang, Takeovers, AMAs, and great photographs.
Influencer stats
9. 49% of consumers rely on recommendations made by influencers
Influencers can instill faith. They'll' help you reach a significant portion of the target audience within a short period. Influencers can win 49% of all the traders out there.
It will be essential to consider aligning your broker with pertinent or macro-influencers. In case the fit is proper, they might become reputed businessmen, celebrities, sportsmen, or even investors in the long run.
10. 59% of marketers are making plans to enhance influencer expenses
Influencer marketing happens to be a significant development channel when it comes to Forex trading. 59% of marketers are contemplating enhancing their influencer marketing expenditure this year. Nevertheless, it is imperative for marketing to use only the appropriate influencers.
Synthetic influencers are now distrusted by at least 52% of millennials who are in the habit of promoting to get paid without having any genuine interest in what they advertise.
It is essential to align your influencer with the brokerage; he should also be capable of holding his own in this competitive social media world.
Forex influencers promote forex trading, strategies, and analysis using social networks like Youtube and Twitter. My top forex influencers are on Twitter, such as @Schuldensuehner,@NorthmanTrader, @LizAnnSonders, @bySamRo, @KLCapital, @CiovaccoCapital. My favorite forex influencers specialized only for currency markets are @JoelKruger, @MBForex, and @JamieSaettele.
Popular topics stats
11. 4 possible developments happen to be at the top of the lists of the traders
Traders believe that as many as four potential developments will impact the markets the most this year. For example, 55% of them think that the US trade evolution will influence markets, 24% will rely on the development of China, 12% on Brexit, and 8% on the developing market.
Being volatile, the Forex markets are affected by current events. As a result, enhancing the valuation of your campaigns and tweets will be possible by including popular news events in your marketing strategy.
Content stats
12. 95% of traders still don't' succeed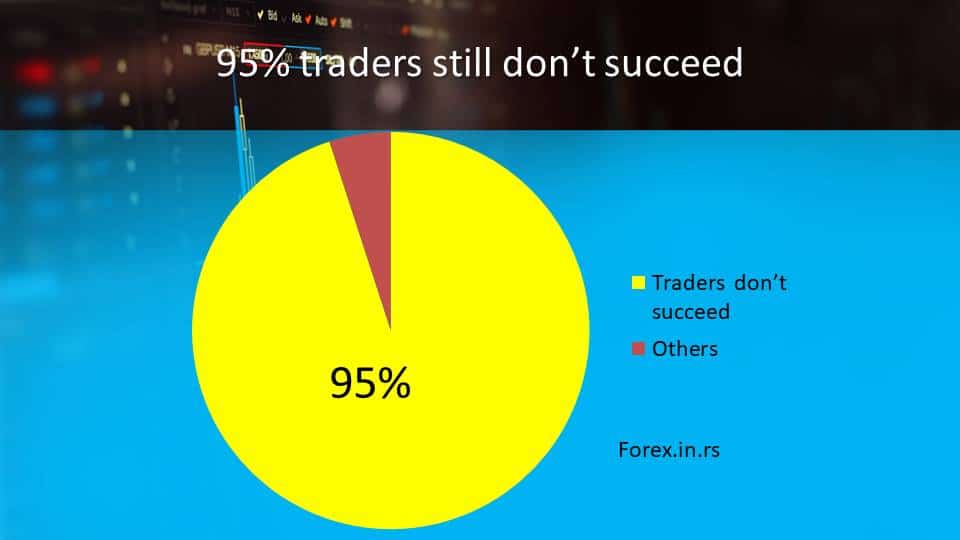 95% of traders nevertheless do not succeed, and 80% quit within the first couple of years. An absence of adequate research is the most significant cause of failure. Therefore, productive marketing this year must incorporate training the traders out there.
This will imply a comprehensive education center offering frequently asked questions, videos, a glossary, and links to the support team. Although procuring traders is essential, you must likewise encourage and retain them using simple, easy-to-understand, prompt info plus resources.
13. 87% of marketers are making use of video
There is a lot of development in video clips regarding marketing. This year, there has been an increment of 6% in the number of marketers using video, which currently stands at 87%.
There is no doubt that video content is quite powerful, especially live videos that should be an integral part of your Forex advertising technique. So make it a point to go live from your brokerage while creating a sequence of trading instruction video clips and a market update video every week.
It is essential to remember that 85% of viewers watch social feed video clips plus Facebook on silent. This implies that videos must be annotated using critical information and statistics.

Technology stats
14. 49% of traders think that AI will enhance their trading decisions
The development of AI in the Forex trading segment has become significantly more recent, mainly because of the enhanced usage of robots when it comes to trading. Therefore, it is essential for forest marketing to address AI's' growth. In addition, 49% of traders believe that their decision-making process will be enhanced significantly by AI.
Apart from this, 62% of traders believe that AI will enhance the execution of their trade, while 68% think that it will offer more significant information analytics.
Opinion
The biggest problem in this forex trading statistics and data analysis is that 95% of traders lose money in the forex industry. This is the problem that we need to solve together.