Trading the news is one of the most effective strategies in forex trading. It's a way to predict market movement based on critical economic events or data releases before they happen. These announcements will affect the currency rate and thus allow traders to make money by predicting it correctly.
Trading before big news can be hazardous, especially if you're a newbie trader. Still, even experienced brokers don't recommend this type of action unless you have a few years of experience under your belt. That's because reactions may not come immediately; they may take minutes, hours, days, or weeks, depending on the data types released and how strong their impact will be reflected in the market picture.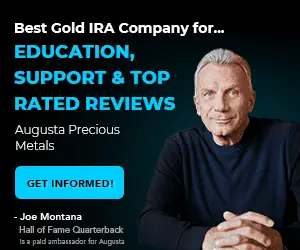 More importantly, your broker needs to assess the market liquidity before taking a position because of actual news. Unfortunately, liquidity is not guaranteed before significant events, so it may be risky for you and your broker if you trade just before essential announcements.
That's why many brokers offer access to economic calendars, which allow traders to know beforehand when primary data or events will happen, giving them time to prepare accordingly, depending on their investing strategies. Other than that, newbie traders should invest in such short-term strategies as trend following, mean reversion, or grid trading systems, which can produce more stable profits over shorter periods.
Suppose you're a seasoned trader; you should consider other types of price action analysis, like candlestick patterns formed around those special times. For instance, if there's a long candlestick formed around a positive data announcement, it means that the market was already expecting the outcome of this event, but then it turned out to be worse than expected. Naturally, that would result in an immediate downside movement for that pair, so you should take advantage of this change and invest accordingly.
If, on the other hand, there's a long wick at the top of the candle, it means that after initial downward movement, prices returned, indicating bullishness among traders who may make them believe that prices will go even higher. Thus, you can cash in on their optimism by opening a buy position instead of selling or establishing short positions near resistance levels where profit is maximized compared to entering trades at lower levels. Be careful if there's a long black candlestick after a positive data announcement. That means the market may not make any immediate changes, and other traders believe the price will go even lower.
How do you trade the news in the forex market?
To trade the forex news before any trade position, you must analyze daily and weekly trading charts, create an overall economy shape analysis, and analyze current and expected (projections made by analysts and forex websites) trading news outcomes. You need to choose either a directional or non-directional bias approach.
Do not forget to find good forex news websites to monitor accurate news-times. See the video that I created with the best Forex news website recommendations:
Directional bias means that you already have your setup and decide before the news that you will buy or sell some asset. For example, you think the European Union economy is in the wrong shape, and the US economy has rising potential. However, the current chart shows a bullish EURUSD, and you want to BUY EURUSD after the news. So, you will only BUY trade if you see good news in your favor.
Directional bias strategy example – Interest rate increase example
The Bank of England's Monetary Policy Committee (MPC) on December 15, 2021, voted by a majority of 8-1 to increase the Bank Rate by 0.15 percentage points to 0.25%. From December 15. In 2021, we can see a bullish trend in the chart below.
Strategy:
The economic shape of the GBP is good
Economic shape for USD moderate-high inflation
Overall, the GBPUSD trend on the weekly chart is bullish
Interest rate decision – increase to 0.25% for GBP
BUY GBPUSD on 15. December 2021., after 1 hour or after the daily close. Put stop loss on December low price level, target open.

Should I trade based on the news?
Yes, it would help if you traded based on the news, but the best way is to use it as an additional trigger. At the same time, the overall economic shape and current long-term technical analysis (chart analysis) need to support your trading decision. However, if you want to trade based on recent news (non-directional bias strategy), please do this strategy only if you trade highly uncertain trading events such as NFP. 
Non-directional bias means that you do not have set up before the news, and you are ready to enter into BUY trade if news generates a rising trend, and you are prepared to enter into SELL trade if news causes a downtrend. Usually, traders apply non-directional bias strategies when they know there will be substantial volatility, price change, and high uncertainty. For example, the NFP report trading strategy is an example of non-directional bias. Non-directional bias can be a strategy where traders make two trades – one BUY and one SELL- before the news, and they wait to see which one will be realized.
Traders can trade the following news:
Business sentiment surveys
Central bank intervention news
Consumer confidence surveys
Economic growth (GDP)
Employment data (unemployment, wage growth)
Housing data (sales, construction)
Industrial production
Inflation (CPI, PCE, PPI)
Manufacturing sector surveys
Interest rate decisions by central banks
Retail sales
Trade balance, etc.
The most effective trading strategy outcome is when traders trade Central bank intervention or interest rate news. This news usually pushes big investors and governments into the trading market. For example, see the video below with the trading example:
The video above showed an example of an EURDKK currency pair.
EURDKK bank intervention example
At the end of December, the new Danish government intervened in weak DaDenmark'sa. Denmark's central bank sold 47 billion kroner ($7.1 billion) in December 2021 to protect its euro peg, the most significant monthly currency intervention to weaken the krone in seven years.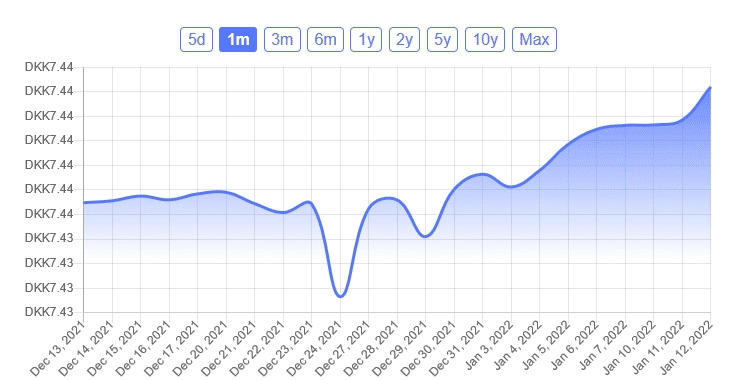 EURDKK interest rate cuts trading example

On September 30. 2021, Denmark Cuts Key Rate to Minus 0.6% to Defend Currency Peg. After the new release, EURDKK started to rise because DKK was weak after the interest rate cut.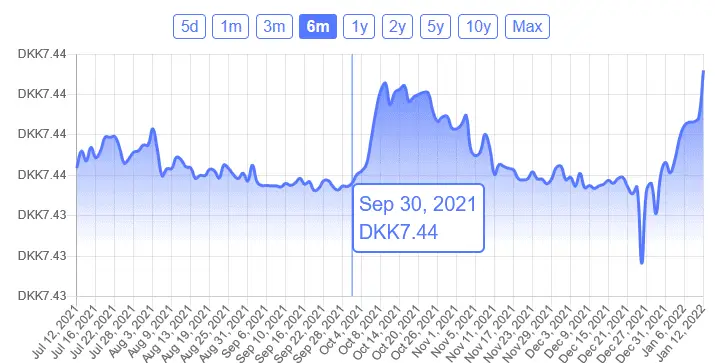 Now that you know how to prepare for news trading, it's time to talk about types of data that affect the forex market; first, let's analyze different scenarios depending on their nature:
Positive or bullish announcements are related to strengthening the economy, developing trade between countries, or resolving crises by offering global financial aid. These would be GDP growth rates above expectations, unemployment rates below forecasts, or deals signed between two nations. All this information indicates vigorous economic activities, which usually produce bullish price movements for pairs. It would help if you looked out for a particular currency because it's the most sensitive to these types of news and thus would move more than others.
Negative or bearish announcements are those related to slowing/reversing the economy, hindering trade between countries, or not finding a way out of crises. So these would be things like GDP growth rates below expectations, unemployment rates above forecasts, or deals renegotiation. All these pieces of information indicate weak economic activities, which usually produce bearish price movements in the forex market. It would help if you looked out for particular pairs in this city because it's the most sensitive to these types of news and thus would move more than others.
High-impact data significantly affect forex pair price movement because it is easier to predict using technical analysis tools. As a result, there's a big chance of gaining higher returns over shorter periods.
Low-impact data don't hand and don't move prices much, so they should be considered only if you plan to trade long-term.
Now that you know what data to look for and how to print them, it's time to discuss where and when particular announcements will be released. That way, you can develop a list of news and events coming up in the next few days that would affect prices so you can prepare accordingly:
First, most news announcements are released by national governments, central banks, and international organizations. You can find this information on forex calendars published online at different forums and specialized websites, so it shouldn't be too hard.
Why not just look at the economic calendar?
The economic calendar can not describe the future outcome or the reason for market behavior after the news event. For instance, it can be hard to predict data coming out of the European Union because it involves 27 different countries, making it harder to cover all the releases. On top of that, the European Central Bank has this habit of releasing important news after the market closes, which allows some traders to wait for the US session to end before even checking if any data is scheduled.
How do national governments and central banks significantly release data?
More than 300 political events are listed on the Economic Calendar, including positive and negative announcements that affect currency prices in the forex market. So, you only need one or two pieces of information about the country's public accounts balance, inflation rate, interest rates, or unemployment rates to understand the importance of each event.
Is the best moment to trade just after release or before release?
The best strategy is to trade after the economic event to see market behavior and avoid slippage and uncontrolled volatility in the first minutes. For short-time trades, it is wise to wait 5 minutes, while for a longer time frame, trades at least 1 hour after the news (sometimes wait for daily close before entering the trade). However, suppose the news is dramatically different than expected, and the price is in your favor. In that case, you should enter as early as possible and put enough broad stop loss to avoid slippage and uncontrolled It'stility.
It's important to know that significant announcements are usually published at 8:30 a.m., 12:30 p.m., and 3:30 p.m. GMT (7:30 a.m., 11:30 a.m., and 2:30 p.m. EST). However, it varies depending on the country. There isn't any critical data coming out.
Conclusion
Forecasting economic data can be a very profitable exercise as this way, you could gain a few pips from price movement before anyone else does. You should know that some traders try to profit from this information due to its volatility, so it's not uncommon for financial institutions to offer unique services around these events, including news wires, online FX trading platforms, etc. Many people haven't found their niche in the forex market, so maybe news trading will be the perfect solution.