Trading the stock market through news channels is a widely practiced method. However, many new channels are prey to corruption or delayed news due to several factors. Hence, you cannot unthinkingly put your trust in any channel's hands.
Fortunately, exceptions always come through with a solution and solve your problems. You can trade the stock market easily through these channels. Your goal is to choose the channels with the most credibility and help you grow your money rather than lose it. We are here to help you accomplish this goal!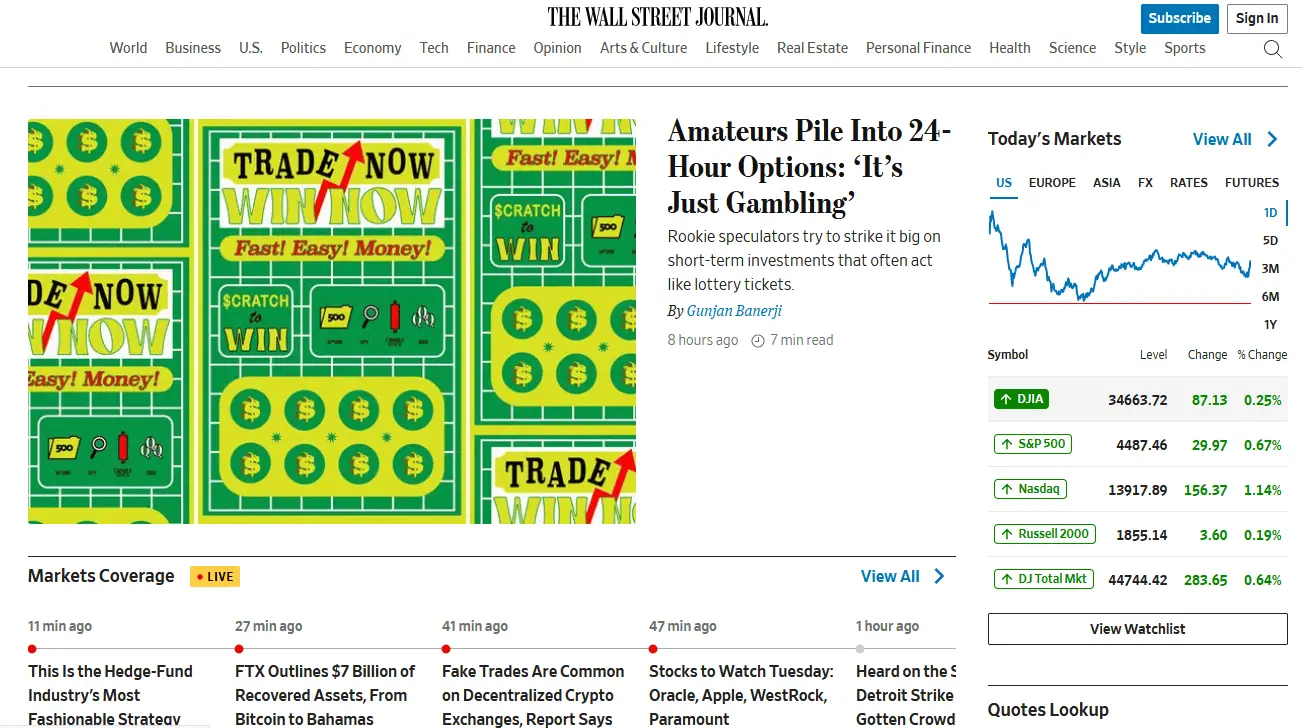 You can try Trading Ideas, an excellent stocks news and ideas website.
What is the Best TV channel for stock market news?
The best TV stock market channel is Bloomberg because it offers short market news that describes the most important facts with minimal unnecessary trading market information. In addition, Bloomberg financial news shows a longer-term focus, avoids sensationalism, and always presents a wide range of viewpoints.
If you check the Bloomberg TV schedule, you will see that you can watch market news (Asian, US, European, etc. ) the whole day, and you can get macro sentiment for all these markets each day. The next good TV channel is CNBC, but in my opinion, there is a lot of entertainment and sensationalism in its TV shows and reports.
The Best Stock Market TV Channels
The most reliable financial news channels are CNBC, CNN Money, Fox Business, The Wall Street Journal, Financial Times, The Economist, The Motley Fool, and Yahoo Finance. You can also get real-time financial news updates via their official cell phone applications and Twitter.

Let's dig deep into the topic, find the channel that best fits your needs, and ensure you grow your money exponentially via trading.
However, if you are a forex trader, please see my preferred list of best forex news websites:
Meaning of news trading
News trading is how stock traders make informed decisions by judicious news reports and stock prices. They scour the channels for news that might cause a significant uplift or downfall in the market for different shares. 
For example, If you saw the news about the merging of Company Y and Company Z, and this deal can kick off the profits of the Y company in a positive direction, it will be the time to buy the stocks of this company. 
Similarly, if you see the annual reports of Company Y report back with lower profits than the estimation, you will have to sell these shares before the price drops due to lower yields. 
News trading is done on the foundation of his timing and credible sources. For example, if a news channel delays a news broadcast, traders lose mainly because they lose the chance to sell or buy. On the other hand, online news articles provide prompt information about the world published on verified websites. 
Here is a comprehensive list of 13 news channels that are trusted most for stock trading. 
Stock market TV channel list
Below are presented news channels where traders and investors can get information:
Bloomberg
Bloomberg is commended globally for its accurate reporting of business and marketing-related news. When you go to the Bloomberg website, you can explore the news stock trading opportunities and the king news. As a result, stock traders have a lot of faith in Bloomberg's report, making it a credible source for business decisions.
Some of the leading traders worldwide advocate Bloomberg. Every news on Bloomberg is passed down from only the source, i.e., the company. Nothing is accumulated from other news channels to avoid deviation from the truth. They have many professionals for research and connections far and wide in the financial industry to deliver unsullied information to you.
CNBC
CNBC is a famous source of trading and business-related information. Both their website and channel provide real-time updates on news and stocks. In addition, they have a special panel for stock prices in real time. CNBC lets you learn about cryptocurrencies, supplies, and other business-related aspects.
However, I believe there is a lot of entertainment and sensationalism in CNBC's TV shows and reports. 
Their articles always cite the source of their information. At the same time, the news channel presents daily reports with explanations for investing in certain companies. For more accurate analysis, open the channel and website on a split-screen. Then, you can compare and contrast the information and find the best trading avenues. 
The Wall Street Journal 
The Wall Street Journal does not need to explain why it's the undisputed source for all stock-related news. The Wall Street Journal matches the description because Wall Street is the home to some of the biggest brokerages and investment banks. Hence, the stock-related information. 
Also called the WSJ, this journal displayed the increase and fall of stock indexes, advising you about buying or selling stocks. However, you might want to consider other sources for information regarding small companies whose intake is unavailable in abundance. 
Fox Business
Fox is the most reliable news source in the US. Its branch, Fox Business, is specially created for stock enthusiasts. This racks up the trust of the most critical sector of the economy. However, Fox lends towards the right of the political discussion, which can affect the financial advice. 
Market Watch
As the name suggests, Market Watch is the source of everything related to the market. If you want to watch sternly every movement, this is the website and news channel to trust. You can easily find out about inflating and tanking stocks. To help traders benefit from a situation, it mentions the sources of news articles and reasons for the prices going up or down. 
Market Watch should be your go-to source if you don't have a personality preference and care about proven information. 
 Investing.com
Investing.com has a website and application where you can watch the market in real time and invest in stocks without missing any notable changes for any company's stock. 
Forbes
The three pillars of Forbes magazine include business, economy, and money matters. Their website has separate sections for each type of news. If you visit the pages, you will find relevant information about emerging tech companies and the enticing innovative deals that are about to go down. You can decide to invest in the most promising stocks through these articles. 
 CNN Money
Millions trust CNN to acquire breaking news stories from all over the world. CNN Money is the extended branch of CNN, which focuses on the shakers and movers in the stock market. The unparalleled marketing tactics and accurate reports will present you with the perfect opportunities for investing and financial decisions. Unlike Fox News, CNN Money is leaning toward the left side of politics, which can influence their news reports.
The Financial Times
FT, or The Financial Times, is a distinguished publication for everything related to finance. You can gather information about every stock from the FT while keeping track of new developments in the industry for fruitful ventures in your stock journey. 
The Motley Fool
The Motley Fool is the opposite of its name. It is a website with a respected stance in the market because of the essential investing and business-related news it conveys to the audience. It provides the latest news that not every news channel finds out about. Hence, it also has the upper hand. Motley Fool takes information to a trustworthy source, and its news is very close to the original one. Therefore, you can make investment decisions based on their untainted reporting.
The Economist
The Economist is not as prominent as CNN, Fox, or Bloomberg. However, its credibility is still intact, and it is an excellent source for all market-related things.
Yahoo Finance
Yahoo used to be a prominent source of information. However, the emergence of countless channels suppressed its Popularity. Nevertheless, it is still an uncontested source of trade information, and you can also discover new interests via the various stories they cover. 
Yahoo Finance Live offers interesting videos where investors and traders can track live events.
Barrons
Since Barrons is an extension of the Dow Jones Network, it is famous for investing and retirement news. Hence, this is your ultimate destination if you are near retirement or seeking advice on retirement investing.
Stock Market Channels on TV Sorted by Popularity!
CNBC (Consumer News and Business Channel): CNBC is among the most well-known and widely watched financial news networks. It provides comprehensive coverage of the stock market, financial news, analysis, and interviews with industry experts. CNBC's importance lies in its ability to deliver real-time market updates, insightful commentary, and interviews that can influence market sentiment and provide valuable information for investors.
Bloomberg Television: Bloomberg TV is another significant financial news network focusing on global financial markets, including stocks, bonds, commodities, and currencies. It offers in-depth market analysis, expert opinions, and breaking news. Bloomberg TV is highly regarded for its extensive coverage of financial markets worldwide and is often seen as a reliable source of financial information.
Fox Business Network: The Fox Business Network is a cable and satellite news channel primarily focusing on business and financial news. It covers stock market updates, economic indicators, corporate news, and interviews with business leaders. The channel provides a conservative perspective on financial news and offers insights from a different viewpoint than other networks.
CNN Business: CNN Business is the financial news arm of CNN, offering comprehensive coverage of global financial markets, investing, and business news. It covers stock market trends and economic data and provides analysis from financial experts. CNN Business is a reputable source of financial information and attracts a wide range of viewers interested in the intersection of business and politics.
Fox News: Although Fox News is primarily known for its political coverage, it provides financial news and market analysis. While its focus is broader than the stock market, Fox News covers significant market events, corporate earnings, and economic trends. It is popular among viewers who prefer a conservative perspective on news and financial matters.
Bloomberg Markets: Bloomberg Markets is a segment of Bloomberg TV that provides real-time financial news, market analysis, and investment insights. It covers various financial topics, including stocks, bonds, commodities, and currencies. Bloomberg Markets is especially valuable for investors who want up-to-the-minute information and analysis to make informed investment decisions.
Cheddar: Cheddar is a live-streaming financial news network that covers the latest business and stock market news. It targets younger audiences and provides a fresh and engaging approach to financial reporting. Cheddar focuses on technology, startups, and innovation, making it a go-to channel for those interested in the intersection of finance and technology.
These stock market channels are important because they offer timely and relevant information to help investors make informed decisions. They provide real-time market data, breaking news, expert analysis, and interviews with industry insiders, which can influence investment strategies. Watching these channels lets investors stay updated on market trends, economic indicators, and corporate news that may impact their investment portfolios. The insights provided by financial experts and industry professionals can help investors assess market conditions, identify investment opportunities, and manage risk effectively.
What channel is the stock market on DirecTV?
If you live in the US, you can watch the stock market news on CNBC HD channel 355, while Bloomberg TV HD is on channel 353.