When you want to be able to have a top-class experience regarding what is considered to be one of the most optimal trading platforms within the industry of trading that will be will an opportunity that is free of risk, this can become your reality when you get the thirty dollars welcome account that Tickmill offers at no cost to you. It is free. However, it is to be noted that when you use the Tickmill trading platform as a new trader, there is no access to a Tickmill withdrawal bonus.
The trading bonus can use only non-European Union residents. Therefore, potential EU clients can not use forex or any CFD bonus. However, other broker promotions are usually available for all clients.
Tickmill Withdrawal Bonus

The Tickmill withdrawal rule says that no deposit bonus can be withdrawn if you get a $30 free trading bonus from Tickmill. A trader can withdraw only the profit he made without a bonus amount. So you can quickly transfer profit from $30 to $100. Money needs to be transferred from a welcome account to a new Live Account by email or chat support request.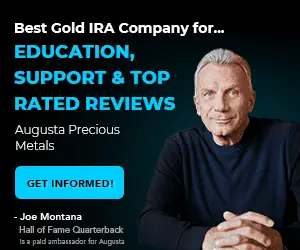 As we can read in rules:
The Welcome Account is available for trading for 60 days from the day of opening. Once 60 days have passed, trading will be disabled but the Welcome Account will still be accessible for an additional 14 days to claim the earned profit.

 
To take advantage of the free offer, it is certainly understood that you must engage in the opening of an account with the Tickmill trading platform. However, the good news is that this free welcome offer is a terrific opportunity for all traders. Therefore, this means that there are no limitations placed on who may participate in this fantastic free offer that indeed prevents an excellent level of risk for those who would like to try their hand at trading on the Tickmill platform.

Tickmill is rather generous by grating the starting point of thirty dollars for free to welcome new traders to the platform. Therefore, it is noted that the funds associated with this endeavor are provided in US dollars. This money will allow traders to conduct trades via the forex market, which is done online.
While this welcome package from the Tickmill platform is highly alluring, it is to be noted that each person who wishes to try this package for the sake of conducting trades on forex via this platform with no risk involved can only open this type of account one time. This means that they cannot access more than one such free welcome account of thirty dollars in US funds with this trading platform.
The good news is that the truth is presented right at the onset: there are no risks to those who get the thirty-dollar welcome package from this platform for free. This means there are no snares to trap you slyly and unexpectedly, which can sometimes happen with some platforms that may not demonstrate high integrity levels toward traders. Therefore, this platform has no extra costs when using this type of welcome package. It is also nice to realize that no hidden commission costs are tagged onto this type of welcome package offered via this trading platform.
When someone comes to the platform as a new investor, the person will need to commence with a welcome account on the Tickmill platform. Then the person will be granted credentials for the sake of being able to login into the designated MT4 account.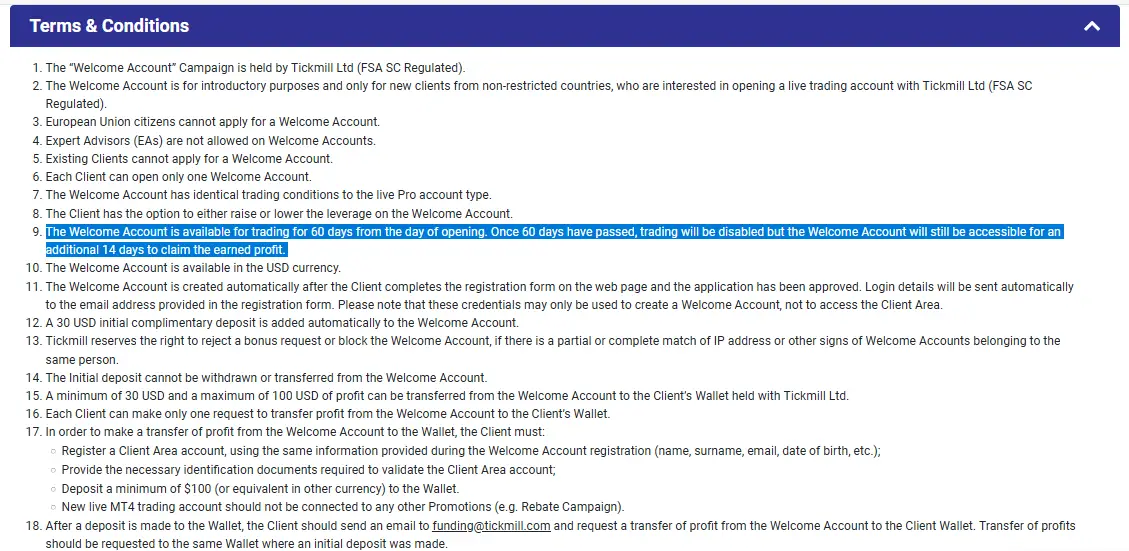 The person can then commence engaging in the conducting of trades on the forex market by using the unrestricted funds in USD without engaging in the risk of using their finances. Suppose the person successfully makes a positive profit via the conducting of trade. In that case, the person is thus permitted to withdraw the gain in the amount of thirty to one hundred US dollars in such cases that the new trader complies with meeting the essential criteria for this type of transaction on this trading platform.
Therefore, if this trading platform by Tickmill that is offering this fantastic promotion gains your interest and curiosity, you will likely want to make your way over to the promotion page hosted on the official website of Tickmill. Once you arrive at the site, you will find FSA SC, promotions, and the $30 Welcome Account.
It will then be needful to fill out the application form provided directly on the promotion page for the welcome account. When the Tickmill trading platform approves your application, your welcome account will be formulated, and t. Details enabling you to log onto the trading platform will be delivered to the email address you provide. Do note that these credentials are deemed only valid to give access to the welcome account and do not provide you with any leverage of access to the client area of this trading platform.
You will then be able to enjoy commencing the conducting of trades with this welcome account. You will need to download the MT4, which refers to the MetaTrader4. Or you may engage in accessing the platform via the web directly through the official website of Tickmill. Another plus is that you can also download applications for mobile devices, such as for iOs devices and Android devices.
When you are making efforts to conduct trades via the usage of the welcome account provided by Tickmill with thirty US dollars at no cost, it is essential to realize that there are some things to keep in mind. It is forbidden for you to engage in expert advisors' usage when using a welcome account. Also, you are not permitted to apply a strategy that entails arbitrage trading when you use this type of trading account. This means that you are not allowed to hedge trading positions at an internal level, such as using other designated accounts that may have Tickmill holding. It is also forbidden to use other accounts under the holding power of different brokers for trading purposes. It is also strictly prohibited to apply the usage of failures noted in the quote flow to obtain a guaranteed profit.