Introduction – George Soros Bio
George Soros quotes: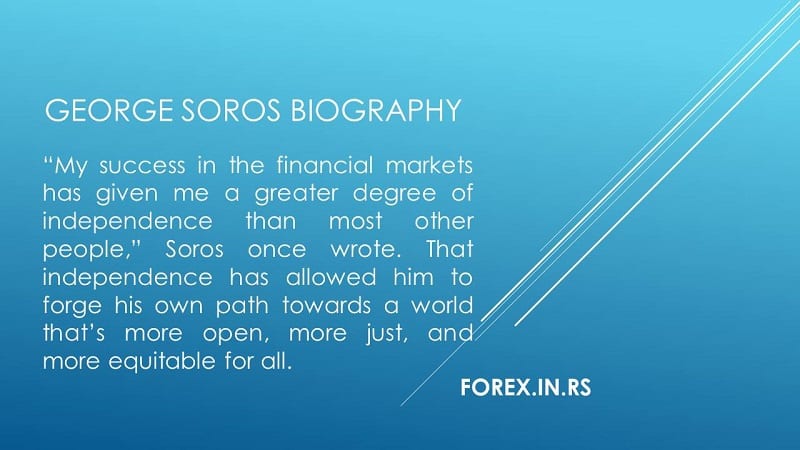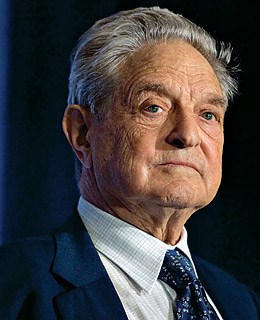 George Soros was born on 1930 August 12, in Budapest, Hungary. Who is George Soros? Soros is an American-Hungarian author, political activist, philanthropist, business magnate, and investor. He is among the most successful investors in the world.
George Soros has a $6.7 billion network as of June 2023.
George Soros became famous in 1992 when he made $10 billion from one bet against the British pound (George Soros crashing the pound). The currency speculation gave the investor profits that added up to $1 billion on the first day and more than $2 billion afterward. He even was given the "the man that broke the Bank of England" nickname.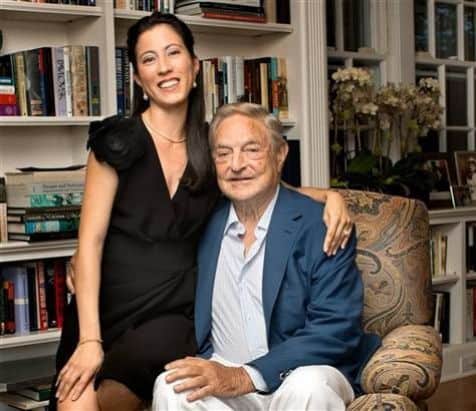 Main Facts about George Soros
Father: Tivadar Schwartz
Mother: Erzebet Szucs
Brother: Paul
Ex-spouse: Annaliese Witschak and Susan Weber
George Soros's children are: Alexander, Andrea, Gregory, Jonathan, Robert
George Soros has been married to Tamiko Bolton, 42 years younger than him, since 2018.
Where is George Soros? – He lives in New York, Katonah, USA.
George Soros was born to a non-practicing Jewish family in Budapest, Hungary, on August 12, 1930. His birth name was György Schwartz.
He survived the Nazi occupation of Hungary during World War II. His family escaped the Holocaust by obtaining false papers, disguising their Jewish heritage.
In 1947, he emigrated to England and studied at the London School of Economics, where he was deeply influenced by philosopher Karl Popper and his concept of "open society."
Soros started his career in finance at the merchant bank Singer & Friedlander in London before moving to New York City in 1956, where he worked as an arbitrage trader and then as an analyst for several firms.
He founded the Quantum Fund in 1973 with Jim Rogers. The fund, named after quantum physics, became one of the first global hedge funds.
In 1992, Soros became known as "The Man Who Broke the Bank of England" because he shorted $10 billion worth of British pounds, making a reported profit of $1 billion during the Black Wednesday U.K. currency crisis.
Soros is a well-known philanthropist, having donated billions to various causes through the Open Society Foundations, which he founded in 1984. The Foundations work in over 100 countries, supporting projects related to education, public health, democratic governance, and more.
He has been a prominent donor to U.S. and international political causes, leaning liberal and progressive, which has made him a polarizing figure.
Soros has authored many books on finance, capitalism, and open society, including "The Alchemy of Finance," "Open Society: Reforming Global Capitalism," and "The Crash of 2008 and What it Means."
He attended the School of Economics in London, earning a bachelor of science in philosophy and a Master of Science in philosophy in 1951 and 1954, respectively ("George Soros," 2018). Soros could not find any jobs after he graduated. Therefore he decided to settle for employment as a traveling salesman for wholesalers f of fancy gods sold to retailers in the resort's seaside. The individual described this moment as one of the lowest in his life.
He wrote interview letters to many banks that ignored him and humiliated him in the interview process (Soros, 2010). He worked as a clear at Singer and Friedlander, a bank in London. He was also employed as an arbitrage trader from 1956 to 1969 at F.M Mayer. Here he was specializing in European stocks popular with the United States investors because of the steel community's formation that later transformed into the common market. After that, he worked in an investment bank in the place. He left for the U.S. in 1956, where he was employed as an investment manager and an analyst for various firms.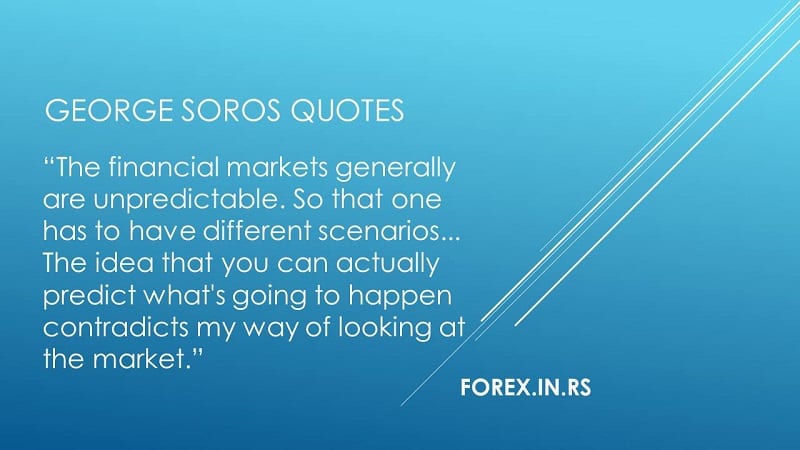 Soros's Philosophy of Investment – How did George Soros get his wealth
George Soros could synchronize world economic trends with a leveraged and highly detailed strategy in currencies and bonds. He operated as a speculator shortly and could make bets on the trends of financial markets.
He believed that the financial markets tended to depend on amateur and professional traders and those who purchased or sold assets on the market. Soros aimed to capitalize on the emotional or human capacity of the influencers' influencers to transform others' investment decisions and opinions. The man was always looking to stand out or be unique from the crowd as he followed investment trends. This was one of the greatest paydays. He trusted his reaction regarding busing and selling, making his strategy hard to emulate.

How did George Soros make his money?
He left work in 1973 to look for his hedge fund, the Soros Management Fund. The fund turned to the Quantum Fund, and eventually, Soros developed the company into a highly successful and aggressive hedge fund, which made annual returns of 30% annually. There are two occasions when the fund posted profits that exceeded 100%. In the early 1990s, Soros was declared among the wealthiest individuals on earth.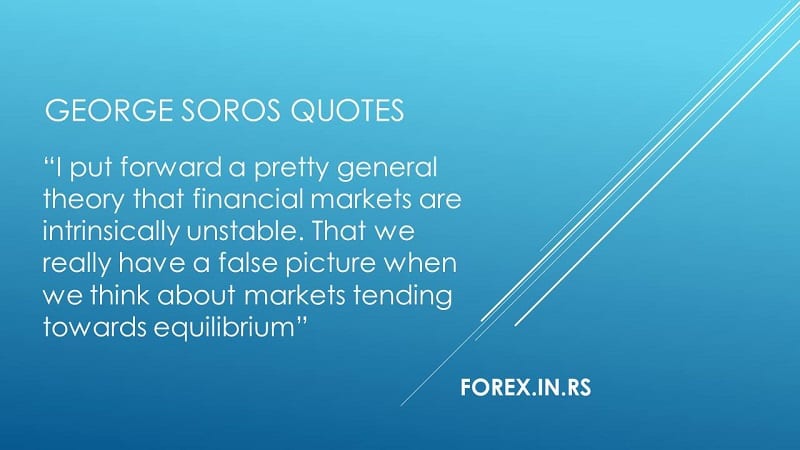 Market and Major Trades
Georges Pebereau, a financier in France, in 1988, contacted Soros. He wanted him to assemble a team of investors to buy many shares in a French bank, which was part of a privatization program. However, Soros decided not to participate in the effort and personally put shares in four companies in France, including Paribas, Suez, and Societe Generale. In 1989, a French regulatory authority of the stock exchange investigated whether Soros' transaction in Societe Generale was inside trading.
Soros got no information from the company and had no information on the business insider, but he knew that a group of investors was planning a takeover. The first investigation proved that Soros was innocent, and no charges were against him. The case was later reopened after a few years, and he was convicted in the year 2006 by the French Supreme Court. Soros, however, declined the charges and said that the takeover news was public knowledge. The document said that the individual's intent to have the company shares showed that he was aware of the takeover.
How Did George Soros Get Rich in one day?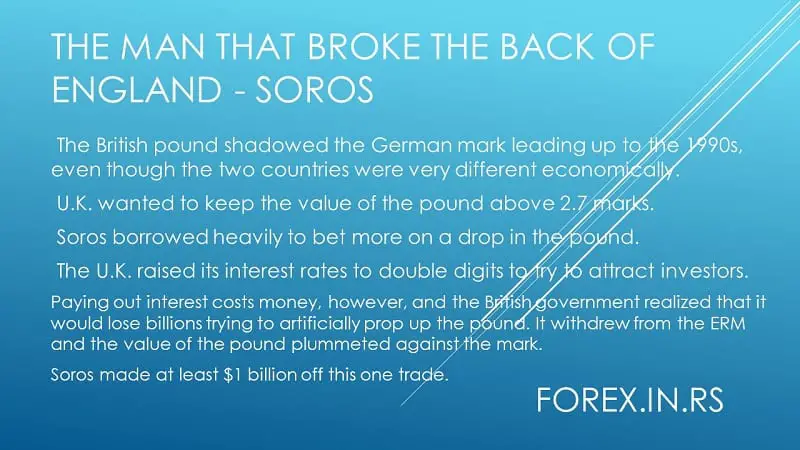 Soros is remembered by the "the man that broke the Bank of England" nickname. He is also a known speculator of currency and does not limit his efforts to a specific area geographically but considers the whole world when looking for opportunities. The man borrowed billions of dollars in 192, worth the British pound, then changed them to German Marks. When the pound crashed, George Soros had to repay his lenders based on the lower new pound value. He pocketed around $1 billion, the difference between the pound and mark values in one-day trading.
Watch our video: How Did George Soros Break the Bank of England?:
George Soros made the same move with the Asian currency during the Asian Financial Crisis of the year 1997. He took part in a frenzy, which led to the collapse of the Thailand currency. The trades became so effective since those national currencies speculators bet against mostly got pegged to other currencies. This means there were agreements to prop up those currencies to ensure they could trade in a particular ratio against the currency they got pegged.
As the speculators placed bets, the currency issuers were forced to maintain the ratio by purchasing their currency on the open market.
The government later ran out of money and was pushed to abandon the effort, plummeting the currency's value. The governments feared that George Soros would start having an interest in their currency. The other speculators could ion in the fray; this was described as a group of wolves on a group of elk ("George Soros," 2018). The large amounts of money those speculators borrowed and leveraged made it hard for the governments to handle the assault or withstand it.
Despite George Soros's success, not every Bet he placed worked in his favor. For instance 1988, he predicted that the United States markets would rise continuously. As a result, his fund lost $300 million in the crash process even though fewer double digits delivered returns that year. In 1999, Soros took a $2 billion hit in the Russian debt crisis and lost $750 million during a technology bubble where he placed a decline bet ("Investopedia, n.d.").
As a result, he was stung by this loss and bought anticipation of a considerable rise and lost about $2.9 million when the market crashed.
Soros's family office trimmed the stake in the Broadband Corp. during the first quarter, and the management fund holdings of Broadband Corp reduced by seventy-four thousand shares to around 8000 million. The filing also shows the disclosed Soros's stake of around 22 million in Vice Properties Inc., which is the second-biggest holding of the firm. George Soros also increased the stake by 330 00 in Aetna and made Baxter International holdings by around 340,000.
Recently, regulators have begun paying particular attention to cryptocurrencies, which has scared investors ("George Soros," 2018). A member of the office family got internal permission to trade on cryptocurrencies, an asset that several money managers avoid because of the sector's track record, which is limited and lacks volatility and regulation. The Soros Management Fund head of macro investing, Adam Fisher, got the approval but has not made any bets yet on cryptocurrencies. According to recent news, the billionaire is weighing moves into cryptocurrencies.
The green light of the fund for cryptocurrencies came after the Bitcoin price, which served as a signal to several other cryptocurrencies. The interest in Bitcoin is beginning to wan, with the number of searches falling slowly since this year.
You can see his portfolio if you are interested in what stocks George Soros owns.
Where does George Soros live now?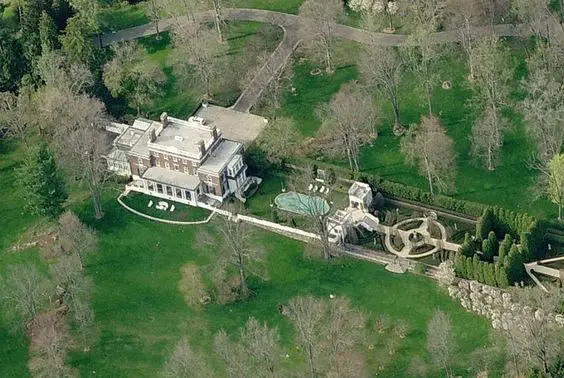 George Soros is the Founder/Co-Founder of Quantum Fund. He lives in a large estate in the Bedford Hills suburb of New York, Katonah, USA.
Interesting facts:
One of my favorite youtube videos is George Soros 60 minutes interview.
George Soros interview :
Conclusion
Trading like Soros is not for those with a light wallet or the faint-hearted. The drawbacks of winning big and betting significantly are that betting ample means losing big. If one cannot afford the loss, one definitely can't afford to resemble George Soros. While the macro hedge traders are quiet and avoid the spotlight as they earn a fortune, George Soros is taking. He has been taking public stances on several political and economic issues. His success as a speculator and public stance has put Soros in a unique personal class. He made the correct moves almost every time for more than four decades. He generated many fans among investors and traders, and detractors to lose his speculative activities.
George Soros FAQ

How old is George Soros?
He was born in 1930. George Soros is 91 years old.
Who is George Soros's spouse?
Tamiko Bolton is George Soros' third wife. She is a Japanese-American entrepreneur and a licensed pharmacist of Japanese descent.
Who is Annaliese Witschak?
Annaliese Witschak is the former wife of George Soros, and they have three children together: Robert Daniel Soros, Andrea Soros Colombel, and Jonathan Tivadar Soros. Annaliese Witschak was born 1934. And she was 23. years she was married to George Soros.
 What is the official George Soros Twitter account?
George Soros's Twitter account is https://twitter.com/georgesoros.
What religion is George Soros?
As we can see in the interview, George Soros is an atheist. He Doesn't Believe In God.
Did George Soros Say His Life's Mission Is to Destroy the United States?
No. George Soros didn't say this. Claim (from Newsweek 1979 fake news article about George Soros) "I've made my life's mission to destroy the United States. I hate this country, and I hate all of the people in it." is false news. David Emery is an excellent San Francisco-based writer who wrote several articles about fake news related to Soros.
Is George Soros' Grooming' a Pro-Muslim Brotherhood Gubernatorial Candidate in Michigan?
Another fake news about Abdul el-Sayed George Soros's relationship.
Is Chelsea Clinton Married to George Soros' Nephew Marc Mezvinsky?
Another fake news. Based on Snopes.com, Baio didn't provide any evidence that Marc Mezvinsky, Chelsea Clinton's husband, was related in any way to George Soros.
Is Marc Mezvinsky related to George Soros?
No, Marc Mezvinsky is not related to George Soros. George Soros has nephews Peter and Jeffrey Soros, while Marc Mezvinsky is unrelated to Soros's family.
Is Eve Sanderson related to George Soros?
No, Eve Sanderson is not related to George Soros. While it is true that Robert Soros is the son of George Soros and that Robert Soros was married to Melissa Schiff, Melissa Schiff is not Adam Schiff's sister.

Are 16 States Using Voting Machines from a 'Soros-Controlled Company'?
George Soros's voting machines were another fake news in the media last several years. George Soros has no hand in the management or ownership of Smartmatic.
Is Adam Schiff's sister married to George Soros's son?
No, George Soros's son isn't married to Adam Schiff's sister.
Was George Soros part of the S.S.?
No, this is not true! George Soros was not a German soldier.
Does George Soros own Disney?
No, George Soros does not own Disney. However, his investment company had a significant stake in Disney in 2020. However, less than 1% of George Soros's portfolio today is Disney stocks.