To succeed in forex trading, it's important that you set up and follow a proper forex trading plan.
Without proper planning, no task can be truly successful. It's no exception for forex trading as well. That's why you are recommended to understand the necessity of a forex trading plan and use this plan against your opponents. Let's now talk more about a forex plan example, including its goal, market, research and fundamentals, strategy, rules, and more.
A Forex Trading Plan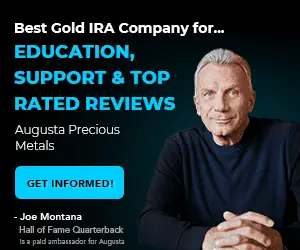 Forex trading plan is peace of information about the trader's current market considerations. These plans have information about open trade price levels, technical and fundamental indicators,  trader's goal, plan about the right timing to close a trade. In the forex trading plan, traders can define their opinion, opportunities. The trading plan significantly impacts post-trading analysis because traders can see where were mistakes in thinking.
Forex plan example
In this forex plan example below, we defined rules for entry and close position based on economic indicators and technical indicators. Besides that, in each forex plan traders need to enter notes to explain trading triggers and write thoughts that were the reason for trading actions.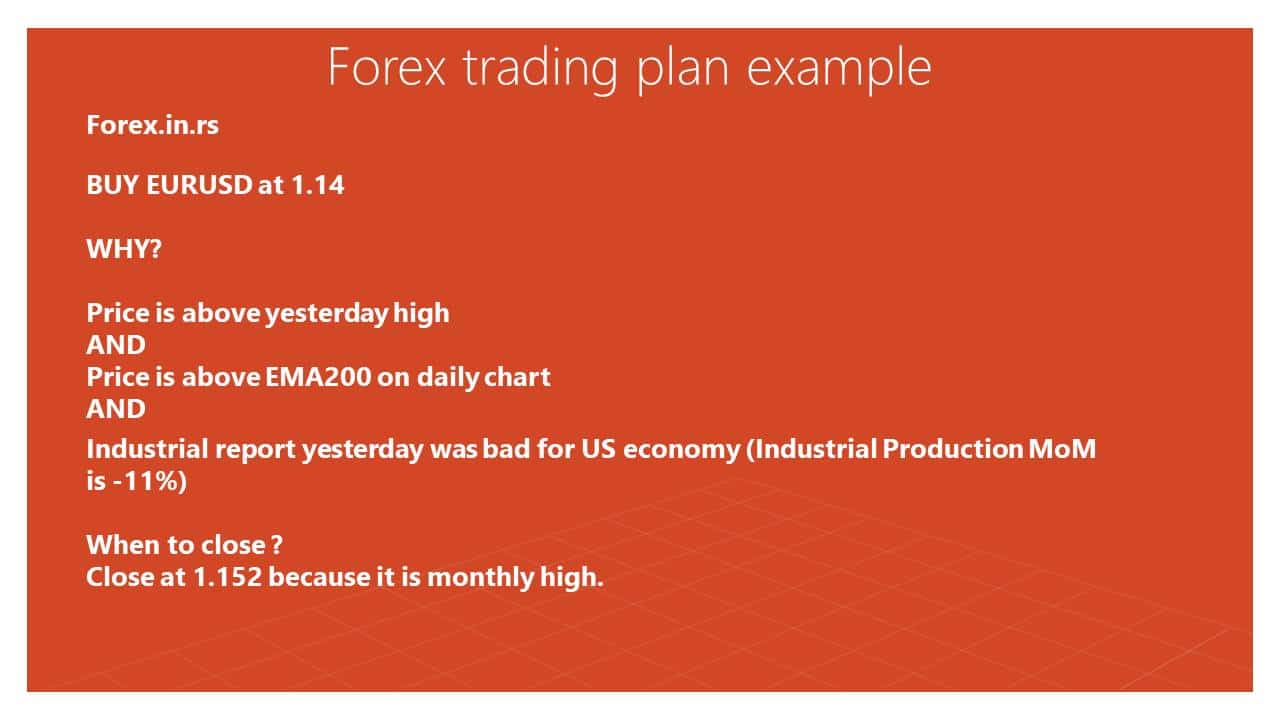 How to develop a forex trading plan?
To develop a forex trading plan you need to define goals and expectations, approximately average trading duration and style, important economical and technical indicators that you want to analyze. In the next step, you need to set entry and exit trading rules that you will strictly follow in your trading plan. Always you need to keep records and notes about your open and closed positions and your thoughts that were the reason for your actions.
Forex Plan Goal:
While talking about the forex trading plan, this is the first thing that you must note. It's the goal. So, what's your goal when it comes to forex trading? Let's now take a simple and straightforward plan, i.e., you will aim to make $200 per day or 20 ticks over a trading period of 20 days.
In this example :
When to close?
Close at 1.152 because it is monthly high
Forex Plan Market:
Once you have finalized your goal, let's now take an in-depth look at your target market. Wondering which target markets you should focus on? Well, you can focus on the EUR/USD spot market.
Let's now find out the trading style. Well, your trading style should be day trading as all the trades are mostly placed in the time period between 8:30 am and 11:00 am on the weekdays.
Or, on certain occasions, you may attempt trading at a bit earlier time for a quick experiment. For example, you may start trading at 7:20 am sometimes as most market-related economic data and information are released at about 7:30 am CST.
Research, analysis, and fundamentals
Once your goal and idea about the target market are set, it's now time to talk about the research and analysis you'll need to perform. Forex trading is profitable and lucrative. But, the market is extremely volatile and dynamic. Thus, you must have a strong idea and knowledge about market situations and what's going on in the market.
Each day before you start trading, it's recommended that you create a trading plan. This trading plan will be valid for that particular day. In addition to filling up the trading plan, you should also do some research about the market's fundamental data. In this way, you will generate a strong idea and knowledge about the market, such as world events, macro trends, and upcoming economic data.
Plus, it's also recommended that you take a closer look at the technical data as well. You should try to figure out the past seven days' technical data to understand if there are any signs of technical movements.

Forex Plan Charts
Since this trading plan mostly focuses on day-trading, you should consider looking into candlestick charts. There are two chart options with two different durations, such as 5 minutes and 4 hours for candlestick charts. These two chart options have two different aims.
For example, if you are eager to identify the major trends, then it's better that you should opt for the 4-hour chart. Similarly, if you are interested in identifying the minor trends, it's better to look at the 5 minutes charts. In this way, you will get proper information about both major trends and little trends.

Forex Plan Strategy
Let's now decide which strategy you should opt for. Design, along with the proper trading plan, is the key to your trading success. For example, you should consider establishing a minor trend first. Although if you look at the 4-hour chart, you will get a broader view of the overall market. But, it's still recommended that you focus on the short term trends.
Here's a key point to note — if there is any consolidation or if you find any non-committal movement on the minor trends, then it's recommended that you stay out of the trading until it's re-presents itself.
You can use any western technical analysis techniques to find out where the market is moving. For example, Moving Averages or DailyFX resistance/support can provide you an idea about the direction where the market is heading. In addition to it, you can use eastern technical analysis to find the entry and exit points of a trade.
Technical analysis should indeed be the basis for your trading. It would also help if you even looked at the fundamental information that may come out from time to time. For instance, if the market swings against the trend, you should focus on the trend reaction's strength. Here're some of the key facts that you should take into account.
 This is the first step where you should determine whether your short term trend is bearish or bullish.
You should also check if there are any key psychological numbers and resistance/support points available. If there are no such options, it's better to analyze the short term trends and then take decisions accordingly.
 If there are psychological numbers and support points available, you should wait until the market reaches the numbers and look for a reversal.
 You may need to trade against the trend if there is a candlestick reversal pattern with the following confirmation options: Hammer, Shooting Star, Morning Star, and Bullish Engulfing.
If you're trading against the short term trend, please set the limit at around the 50% fib retracement level.
Forex plan example rules
 Do not trade during consolidation.
 It would help if you closed out a trade whenever the MAs cross against the trade position.
 Attempt to make at least ten tics every trade, and you should stop at forty tics.
The trading momentum must correspond with the short-term trend, and it will help you find out the ideal entry point.
Before any economic information is released, you should get out of the trade.
 It would help if you got out a trade whenever you think it can go against you.
 Do not make a trade within the ten minutes of the class ending.
So in the forex trading plan, you can create your own format; you need to describe your opinion on your beliefs.