A trading journal allows traders to record detailed information about each trade, facilitating retrospective analysis to identify strengths and weaknesses in their trading strategy. By consistently documenting trades, traders can spot patterns, mistakes, or biases in their decision-making process, allowing continuous improvement and refinement.
Over time, reviewing the journal can help traders build confidence by recognizing successful trades and strategies that consistently yield profits. Writing in a journal encourages traders to be disciplined, accountable, and systematic, reducing impulsive decisions and emotional trading. Ultimately, a trading journal serves as a tangible record of a trader's journey, offering insights that can lead to better risk management, increased consistency, and higher profitability.
However, if you have a lot of trades and accounts, trading journal writing is a tough job. Sometimes, we traders do not have time for trading journal writing and analysis.
In the market, many forex trading journal platforms analyze all your trades and help you improve yourself as a trader.
What is the best forex trading journal?
The best forex trading journal is TraderSync, which stands out as the premier choice for traders due to its comprehensive and interactive features that cover every facet of trade analysis. From detailed charting capabilities, automatic P/L calculations, and AI feedback to robust reporting tools, strategy simulations, and worldwide market support, TraderSync offers an all-inclusive platform that facilitates data-driven decisions, thorough introspection, and optimal strategy refinement.
TRY FOR FREE - TRADING JOURNAL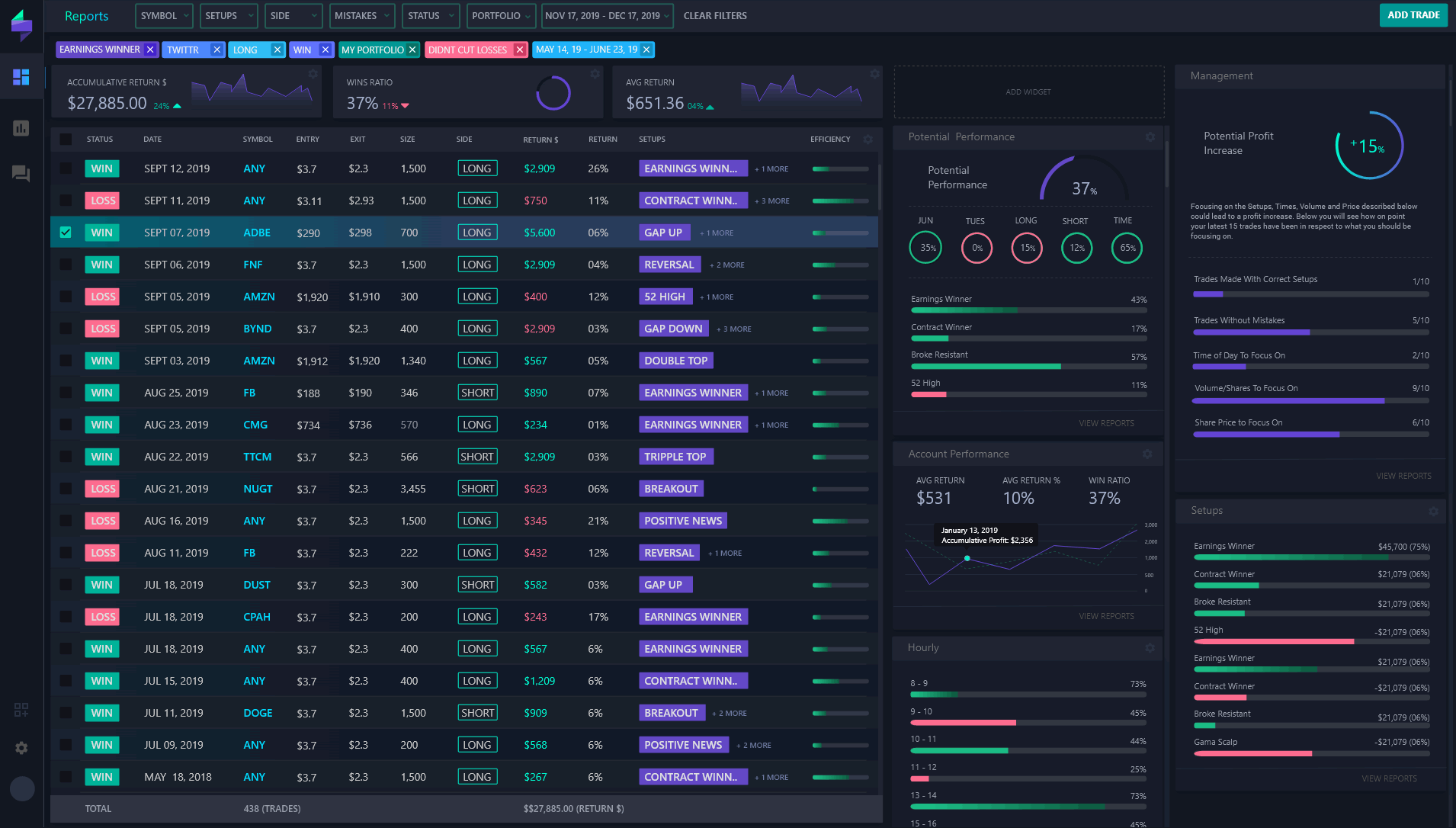 TraderSync's features:
Chart Your Stock Trades: Track entries and exit points using interactive charts.
Track Targets and Stop Losses: Automatically chart targets and stop losses for visual trade planning.
Interactive Trade Charting: Engage with charts for improved understanding of execution timing.
Intraday Charting: Monitor the price action of trades on a minute-by-minute basis.
Upload Screenshots: Add screenshots from your trading platform to recall trade rationales.
Trade-Specific Analytics: Displays metrics like Return per share/contract, overall Return, risk, etc.
Notes: Document reflections and reasons for each trade.
Share Trading Performance: Allow mentors to access your performance, including trade history and reports.
Track Commissions and Fees: Manual entry, importing, or auto-rule setups for tracking commissions.
Share Your Trades: Share trades with mentors or friends.
Sharing Custom Data: Control what information you share, like hiding returns or notes.
Set a Public Profile: Share your overall trading performances with the community.
Reporting: Over ten comprehensive yet user-friendly reporting tools.
Filtering: Narrow down reports to detailed specifics.
Drilldown Reports: Dive deeper into specific report items for a thorough understanding.
Performance Reporting: Compare different setups to determine optimal performance conditions.
Calendar Reporting: Review profitability daily.
Trade Journaling: Chronicle daily trading activities and relevant thoughts.
AI Feedback: AI analyzes patterns in your data and provides feedback in an accessible format.
Simulate New Trading Strategies: Use your trade history to simulate varied trading scenarios.
Worldwide Market Support: Supports markets with trade charting exclusive to U.S.A. equities.
Automatic and Accurate P/L Calculation: Auto-calculates profit/loss for each trade.
Dashboard: Customize the dashboard with over 20 widgets to view pertinent data.
TRY FOR FREE - TRADING JOURNAL
Best Forex Trading Journal Platforms List
Edgewonk

Rating: 4/5
Features: Combines journaling and trading diary, accessible on all devices, trade simulator, data filters, multiple journals, screenshot notebook.
Suitable For: Forex traders seeking in-depth analysis.

ForexBook

Rating: 5/5
Features: Integrates with brokers, imports historical data, connects multiple accounts, and assists in creating trading strategies based on past trades.
Suitable For: Traders looking for an automated journaling solution with a connection to their broker.

Evernote

Rating: 3/5
Features: Create tables, folders, documents, manual trade entry, screenshot addition, free plan available.
Suitable For: Traders seeking a customizable platform focusing on notes and screenshots.

Tradervue

Rating: 2/5
Features: Simple forex journaling, import trade data, analysis of fundamental metrics, tag addition, comments, daily notes, filter trades, mentor access.
Suitable For: Forex traders desiring simplicity with some customization.

Notion

Rating: 2/5
Features: Compile data, add screenshots, store trades in folders, manual entry.
Suitable For: Those looking for a comprehensive but manual platform for detailed journaling.

Trademetria

Rating: 2/5
Features: Automatic importing of historical data, over 30 data points for analysis, screenshots, and note addition.
Suitable For: Traders who prefer automatic data importing with multiple data points.

MyFxBook

Rating: 3/5
Features: In-depth statistics and analysis, limited to trading data without emotion or screenshot documentation.
Suitable For: Traders focusing on statistical analysis.
Conclusion
Forex trading journal platforms are essential for traders aiming to refine their strategies, analyze performance, and keep track of their decisions. These platforms offer a range of features, from automated data importing to detailed statistical analysis, catering to the varying needs of the forex community.
Integrating visual aids like charts and screenshots further augments the learning process. For traders who prefer a more hands-on approach or are on a tight budget, Excel remains a reliable and customizable option for manually logging trades and observations.
TRY FOR FREE - TRADING JOURNAL