XM Partners allows affiliates to benefit from several features, such as a wide selection of marketing tools, including banners, landing pages, and links, which can be used to promote the program and its services. Affiliates will also have access to a detailed reporting system that provides real-time updates on commissions earned. Furthermore, XM Partners has an easy integration process that allows affiliates to quickly set up their account and begin making money in no time.

Another great feature of XM Partners is its 'Competition' service which enables affiliates to host competitions within their website or blog. This allows them to increase their visibility and attract more potential customers to join the program. There are also monthly promotions for new and existing customers where they can benefit from additional bonus points or cash rewards when they reach certain levels or meet specific conditions.
XM partner commission
XM partner commission is up to $25 per lot as a revenue share model for affiliates. XM program offers a 10% commission on second-tier referrals. There is no Limit on Commissions Per Client.
XM Partners is an outstanding forex affiliate program that allows affiliates to earn substantial commissions. The program provides up to $25 per lot commission for affiliates and 10% on 2nd tier referrals, with no limit on earnings from these commissions. In addition, XM Partners offers full support in 25 languages, making it one of the most comprehensive forex affiliate programs on the market.
Finally, XM Partners provides an excellent customer support team who are always available to answer any questions or queries that may arise during your partnership with them. They are highly experienced professionals who are always willing to help you get the most out of your affiliation with them. Whether you need advice about setting up your account or promoting the program, they will provide all the assistance you require to succeed with your forex affiliate career.
Xm.com is a broker situated in Cyprus, and it has clients all over the world. The CySEC regulates the business of xm.com, which guarantees the credibility of xm.com. The leading platform to trade at Forex, commodities, and whatnot is MetaTrader4, and to start trading, you will need an initial deposit of 5 dollars. The platform is supported on PC, iOS, and Android-based mobile devices. XM Review will provide all facts about the broker.
Xm.com offers different types of affiliate programs, and there are four basic ones. One of the most popular affiliate programs is local representation, meaning you act as a local representative for xm.com. Each referred client who makes a trade or deposits a certain amount will get you profit.
Like easy and with good revenue, a money management program allows you to run multiple accounts through the MT4 trading platform and earn money from commissions and trades your accounts manage.
THE XM IB program or XM partner program exists in the partnership section of the XM website. Affiliate payments from XM are every week, usually on Thursday. The affiliate platform is rich and excellent, with many trading tools, banners, analytics dashboards, etc.
XM IB Commissions is going up to $25 per lot: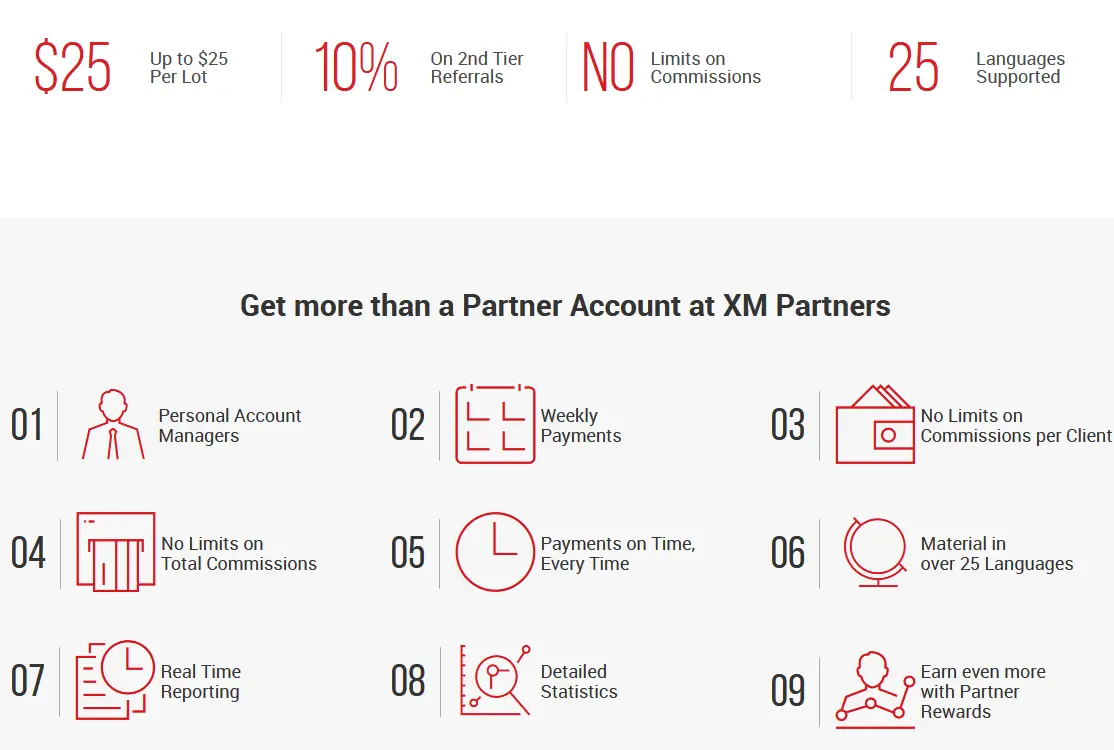 XM partners receive money via bank wire, Skrill, or Neteller. For clients, XM deposit and withdrawal methods are Credit cards, bank wire, Skrill, Neteller, and various electronic payment methods.
XM Partner program benefits:
High Commission Rates: As an XM Partner, you can earn up to $25 per lot traded by referred clients, adding to significant earnings over time.
Multiple Revenue Streams: In addition to commissions on trading volume, XM Partners also offers revenue share, CPA, and hybrid commission models, giving you the flexibility to choose the payment structure that works best for you.
Easy-to-Use Affiliate Dashboard: The XM Partners affiliate dashboard is user-friendly and intuitive, allowing you to track your earnings, manage your referrals, and access marketing materials with ease.
Advanced Tracking and Reporting: XM Partners uses state-of-the-art tracking technology to ensure accurate and timely reporting of your commissions. You can also access detailed reports on your referral activity, giving valuable insights into your marketing efforts.
Generous Promotions and Bonuses: XM Partners frequently offers bonuses and promotions to clients and affiliates, which can help increase your earnings and attract new referrals.
Marketing Support: As an XM Partner, you can access various marketing materials, including banners, landing pages, and email templates, to help promote the platform to your audience.
Dedicated Affiliate Support: XM Partners has a dedicated affiliate support team available 24/7 to answer any questions or concerns.
Introducing new brokers can get you ten bucks for each new client trading a lot, and you also get 10% off those who approach xm.com through you. Introducing a broker program is an excellent chance for brokers with clients in their database.
Like introducing the broker program, there is a web affiliate for those who have websites with novice traders at Forex.
Xm.com works fast, so it takes only a day for newly introduced clients to get all the information necessary for starting their job with us and for you to start earning your commission.