What is considered scalping in forex?
Scalping is a trading strategy where the trader makes a profit after small price changes; generally, after a trade is executed and becomes profitable. The more general definition is that scalping traders keep their trades from a couple of seconds, minutes to a couple of hours.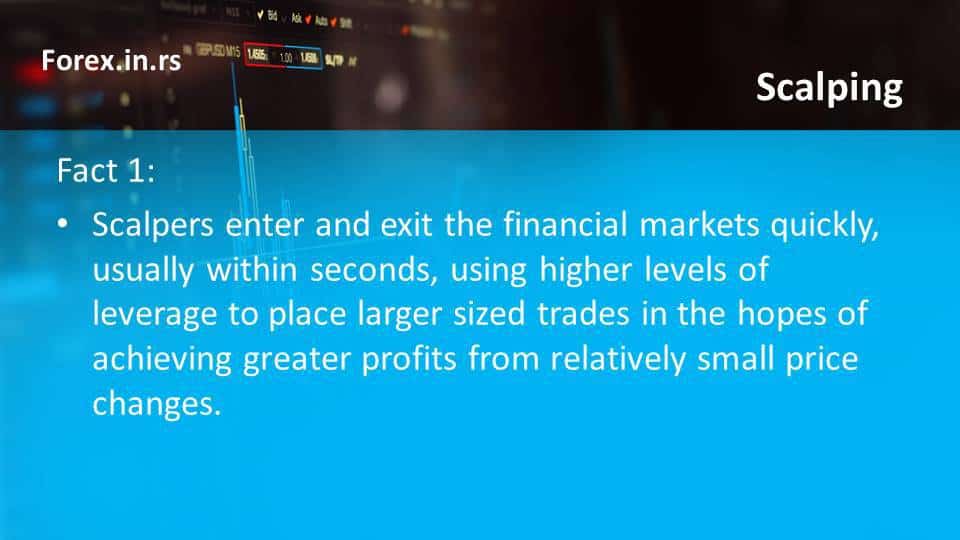 Some corporations define scalping when traders trade 25% from the daily average true range; some traders define scalping when taking a couple of pips. For HFT companies, we are talking about tick profit.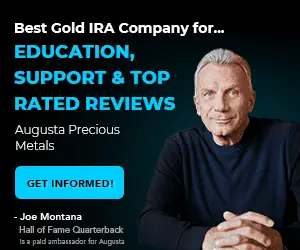 Can You Make Money Scalping Forex?
Scalping strategy in practice usually can not bring a lot of money because of trading costs (frequently trading increases cumulative commissions based on spreads value ) and overtrading problems. However, there are many professional traders in corporations and prop companies that use well-designed scalping strategies that can be repeated many times over the course of the day and can be profitable.


When is scalping a dangerous game?
Scalping is dangerous when traders do not have the correct risk-reward ratio when they risk much more than expected profit.
Scalping trading example:
If you risk 4 pips and your target is 4 pips – it can be a reasonable strategy.
If you risk 30 pips or 150 pips and your target is 2 pips – the strategy is not reasonable.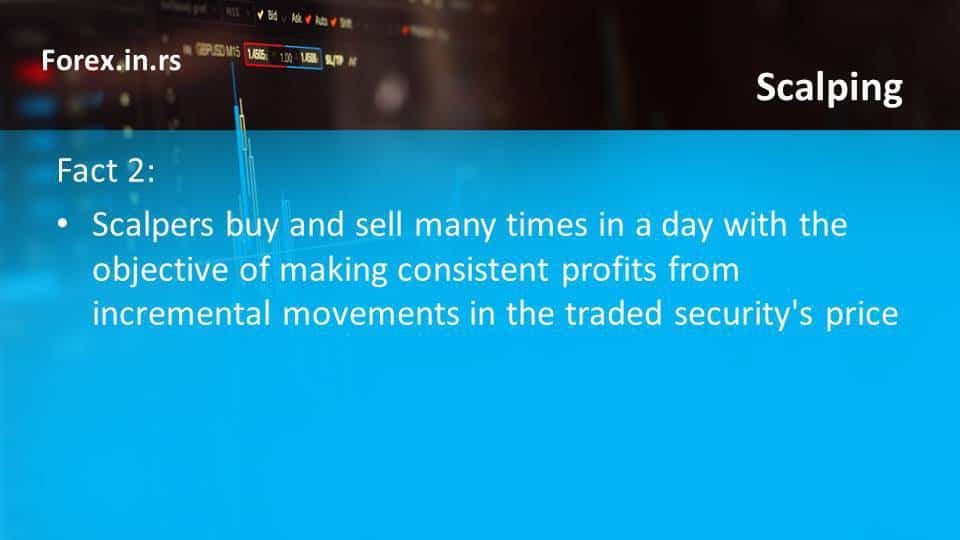 Many people believe that forex trading is an easy way to make some fast money. However, you cannot realize the impact unless you lose your money a few times. You might make some money. But, in the end, you might find that you have lost more than your wins. It is easy to lose money in the forex. If you use the forex scalping method, you might lose all your money.
The scalping method is not always helpful. Some traders consider using this method without being aware of the outcome. You can use position trading to make some money from your investment. In position trading, investors put many trades on a single currency pair. They normally end up with a standard price. Smaller positions can be more effective to minimize the loss.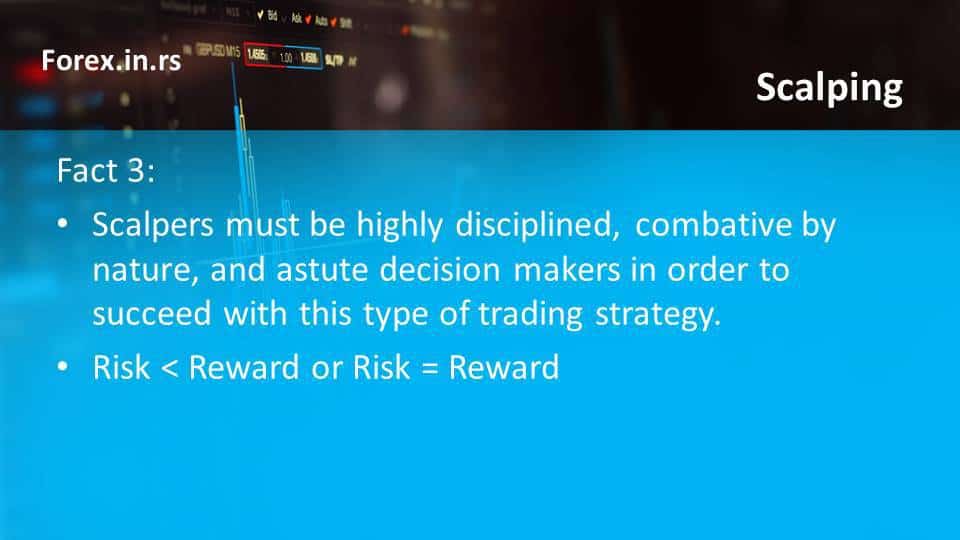 How to Manage the Risk in Forex
When we talk about the risk, we are talking about portfolio risk and account margin. The dangerous thing when the risk-reward ratio is bad when traders risk much more than the expected profit is.
For scalping, we can have: 1/1 risk-reward or 1/2,1/3, etc. but strategy, where we risk 100 pips to make 1 pip profit, is very bad.
Below is account risk and how much gain we need to recover loss: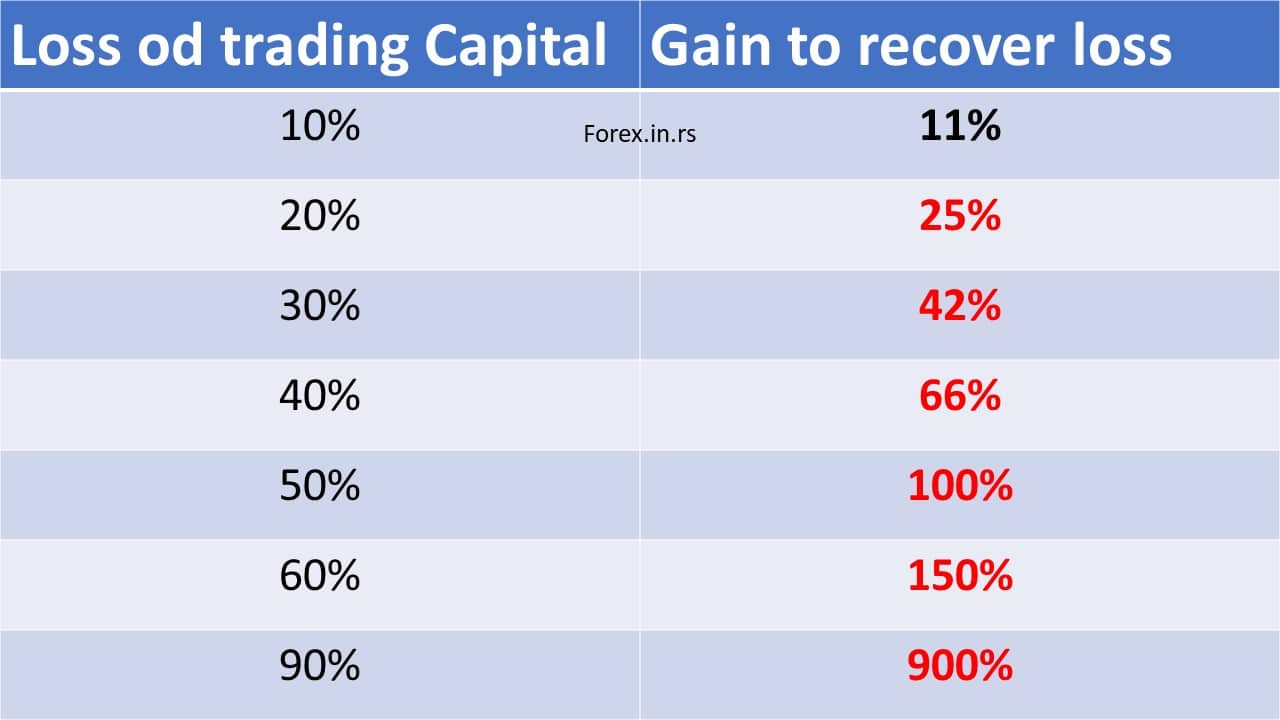 Before discussing the risk and how to manage it, first, you will have to realize that forex trading is not an easy way to make money. You can lose all your hard-earned money by making impulsive decisions. If you want to minimize the risk, you will have to control your emotions. Once you control your emotions, you can balance the possibilities to make a smart decision.
You can decide on the right investment if you keep emotions aside. Emotional decisions are not favorable in forex trading. When you prefer forex scalping, you can choose a random direction and end up investing in larger trades. Just imagine what will happen if the market condition does not go in your favor. You cannot do much except having an empty account.
Scalping Is Not Fun Always
Scalping is not always fun. You might find this method encouraging in the beginning when results are positive. However, it is going to scalp you in the end. Winning positions make scalping fun. But when the result is not favorable, you are not going to enjoy forex scalping. You can lose all your money even without realizing it.
By nature, we want to outsmart the market and bring favorable results. But we cannot change the market condition and cannot convert a losing trade into a winning one. Therefore, it is suggested to avoid forex scalping. But when it is a must, you can consider the following.
Always start with a small investment. You might be tempted to invest a big to make some easy money. If you do so, you might put yourself at risk. Start with small and observe the market condition.
Set a stop to decide the maximum loss. When stopped out, move on.
Scalping is linked to risk. So, be familiar with the trade and then invest. Learn the industry skills to avoid a major loss.
Can scalping be profitable?
In my trading experience, I met great forex and stock scalpers. They are good at their job, and scalping can be profitable. Their strategy is to risk a tiny portion of their portfolio and have at least a risk-reward 1:1. Usually, they specialize in just a couple of assets (a few stocks, energy, gold, major forex pairs, etc. ). So, is scalping trading profitable? Yes, but only for some professional traders. Usually, the scalping strategy is not for beginner traders.
Forex trading can be profitable when you understand the industry and know how to minimize the risk. The key is to make smart decisions and avoid emotional trading. If you are using forex scalping, first, understand the trade and set a stop. You should never invest more than you can afford.