Different trading platforms can often provide you with different index names. For example, various synonyms exist for the same indices., which can confuse. For example, the DOW index can be DIJA, Index 30, Dow 30, Dow Jones, etc.
What is USTEC or NDX 100?
USTEC NASDAQ 100, or NDX 100, represents the index of the 100 most actively traded and largest US companies in nonfinancial sectors.USTEC is created using a modified capitalization methodology where equities weights are determined according to their market capitalization.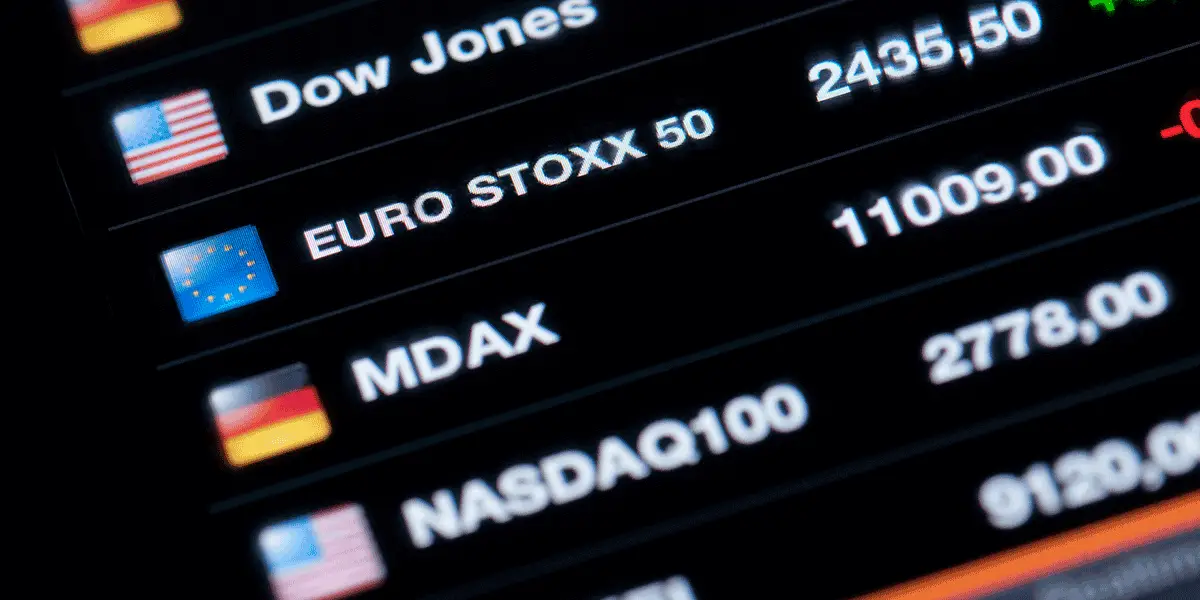 USTEC price chart
NDX 100 chart is presented below:
The NDX 100 is the abbreviated form of Nasdaq-100. This is a type of index of the stock market that is formulated of equity securities. It is noted that the stock comprises a total of one hundred and two such equity securities. The index securities are regarded as being provided by one hundred of the largest companies categorized as nonfinancial entities, which hold a placement on the stock market of Nasdaq. This is considered an index that is a modified format of capitalization that is weighed. This indicates that their capitalizations within the market define the weight of the stocks in this index. It is further realized that designated rules are applied, contributing to the limitations of the impact of the most significant components. It is acknowledged that the NDX 100 correlates to the exchange, and it does not correlate to any financial companies. This means that companies characterized as being economic are placed in a different index called the Nasdaq Financial-100.
Here's a breakdown of the USTEC or NDX 100:
Name and Acronyms:
Description:

Represents the index of the 100 largest non-financial companies listed on the NASDAQ stock exchange.

Characteristics:

Comprises companies from various sectors except financials, which include banks and investment firms.
Includes tech giants like Apple, Amazon, Microsoft, and Google's parent company, Alphabet.
It is known for its heavy technology sector representation, including companies from other sectors.

Weighting Methodology:

It was created using a modified capitalization methodology.
Equity weights are determined according to their market capitalization.
To ensure that no single company dominates the index, there are specific rules in place that prevent any individual company from having too large of a weight.

History:

It was launched in January 1985 as part of the NASDAQ market redesign.

Purpose:

Provides a benchmark to track the performance of the tech sector and other major non-financial companies.
They are used as a basis for various financial products, including options, futures, ETFs, and mutual funds.

Trading:

The index itself is not tradable, but there are various financial products, like ETFs, that track its performance and are tradable.

Rebalancing:

The NASDAQ 100 is evaluated annually in December, based on which some companies might be added or removed from the index.
History of the NDX 100
The NDX 100 was introduced in 1985 on the date of January 31. It was Nasdaq that was responsible for the creation of this index. Thus, it is realized that this index includes service companies, media, transportation, health care, biotechnology, telecommunication, retail, technology, and industrial entities. In the beginning, the starting price that was applied to this index was noted as being two hundred and fifty. But then it closed at nearly eight hundred in 1993 on December 31.
On the next trading day, the base price is reset to a rate of one hundred and twenty-five. This left the price to be half what it was initially, which meant that the price ranked at a lower level than the Nasdaq Composite, which was more well-known to the public. Then 1993 marked the first time that annual changes were applied in advance regarding the index options that were then traded in 1994 at the Chicago Board Options Exchange.
In January 1998, foreign companies were granted access to the NDX 100. However, these foreign companies needed to meet higher standards before having full access to the NDX 100. Then, 2002 ushered in some relaxation concerning those standards for foreign companies. However, there was an increase in the level of standards for firms that were noted as domestic in an effort for all foreign and domestic companies to comply with the same standards.
Investing in the NDX 100
Since March 21, 2007, Investco was noted as being responsible for the sponsorship and oversight of the Invesco QQQ, which is classified as being an exchange-traded fund. It is traded via the usage of the ticker that is noted as being Nasdaq QQQ. So, the ticker name was the standard reference that was applied. But there was also the usage of the nickname, which was regarded as being the queen.
Formerly, it had been referred to by the term Nasdaq-100 Trust Series 1. But then it was transferred from its placement on the American Stock Exchange in 2004 on December 4. There, it had been known by the usage of the symbol of QQQ. But then it was placed on the Nasdaq, where it was provided with a new code of four letters.
Thus, the code was noted as QQQQ, and sometimes, it received the name quad Qs by those who conduct trades. Then, the symbol was changed again in 2011 on March 23, which means that the emblem was once again QQQ. Therefore, in America, the NDX 100 truly holds the position of being ranked among the exchange-traded funds that undergo the most trading activity. Thus, in the derivatives markets, it is relatively common for the Nasdaq-100 to be referred to simply as NDX100.
The Nasdaq 100 trading strategy has improved the market-capitalization biased index containing the major 100 nonfinancial institutions registered on the Nasdaq trading. As a result, it would not be disordered with trading Nasdaq 100.
Nasdaq exchange includes utilizing the technical and fundamental analysis to regulate rate levels to enter trading. Dealers take a stake in which the rate will go, then position take-profits and stop losses to manage the risk. This article will tell you about Nasdaq 100 trading strategies for dealers of all levels and the Nasdaq 100 trading hours summary.
Why Should You Trade Nasdaq 100 Index?
Trading Nasdaq 100 gives dealers a differentiated experience to many organizations in the nonfinancial sector. Other causes to trade the Nasdaq 100 are as follows.
The Nasdaq 100 is one of the most widely followed and most popular indexes. They don't have any deficiencies in fundamental and technical analysis.
The perfect technical chart provides distinct exit and entry signals.
The Nasdaq offers dealers a good deal of fluidity, which hints at tight ranges that provide cheap costs to exit and enter trades.
Dealers can trade the NASDAQ 100 E-mini futures on the (Chicago mercantile exchange) nearly 24/5.
How Can You Trade Nasdaq 100: Strategies and Tips?
Popular Nas trading 100 hours includes the same strategies utilized to exchange a range of financial markets. Before inserting in trade, dealers can enter the exchange based on fundamental or technical analysis. Expert traders stick to plans that include guidelines and principles they will follow to become famous.
How to Exchange the Nasdaq Utilizing Fundamental Analysis?
When dealing with Nasdaq, various essential important variables move the value of the catalog. Traders should be conscious of this adaptability and its probable impact on the directory. The adaptable can value from macro-economic variables of the necessary components of the index.
Here are some of the primary motivators of the Nasdaq 100 index:
The leading companies are trading in the Nasdaq 100. The Nasdaq is a financial market-capitalization-biased index, so the top companies tend to traffic it the most, like Microsoft, Amazon, and Apple. Some catalogs are biased inversely, and this can disturb their value. It is significant to understand the modifications between the leading indices.
Variations in the Central Reserve's stance on financial policy utilize belongings on all share markets, counting the Nasdaq 100 index.
Financial like employment, inventory levels, interest rates, GDP, and CPI. This information can signal what activities the bank will take on financial policy.
Currency and trade wars can influence large organizations in the Nasdaq through trade barriers and tariffs.
Advanced Tips for Trading Nasdaq 100 Index
It is significant for Nasdaq traders to be disciplined and patient before entering an exchange. When looking for an exchange, a trader must know how much they are eager to risk and have sensible anticipation of what they are observing to gain via the trade.
Here Are Some Expert Tips for Trading the Nasdaq 100:
Before starting a trade, you need to think about a risk ratio. It is essential to have an optimistic risk-reward fraction. See our escort to qualities of positive dealers for the data on taking exchange with a promising risk-reward fraction.

They are starting a trade before main financial data announcements must be avoided. Primary financial information can be the reason for massive barbs in volatility; it is good to wait for the financial markets to relax before trading over.

Trace all your deals so that you can perform the deals afterward. By performing this, you can work on and pinpoint your weak part.

Do not deal if you are expressive, bored, or tired—only deal when you have done complete analysis and research is assured in the deal.

Select the perfect trader time frame that is suitable for your needs.
Trading Hour of Nasdaq 100
Nasdaq 100 futures can be dealt on the Chicago Exchange Mercantile (CME) from:
Sunday – Friday 6:00 pm – 5:00 pm ET with a trading halt from 4:15 pm – 4:30 pm ET and a Daily Maintenance period from Monday – Thursday 5:00 pm – 6:00 pm ET.
Some ETFs trace the Nasdaq 100, like Invesco QQQ Trust (QQQ), which deals in NASDAQ trading. This has:
Pre-market trader Hours from 4:00 am to 9:30 am. ET
Market Hours from 9:30 am to 4:00 pm ET
After-market hours from 4:00 pm to 8:00 pm ET
In summary, the USTEC or NDX 100 is an essential financial benchmark that reflects the performance of significant non-financial companies, especially from the tech sector, listed on the NASDAQ exchange.